Water Parks
Blizzard Beach FAQ
Typhoon Lagoon FAQ

Downtown
Disney
Marketplace
Pleasure Island
-- Adventurers Club
West Side
-- Cirque du Soleil
-- DisneyQuest

Disney's Boardwalk
and Epcot
Resort Area
Introduction
Dining
Entertainment
Shopping
Tours
Descriptions and
Reviews
Rate and Review
Sports-Related
Activities
Fishing Excursions
Golf
Miniature Golf
--Fantasia Gardens
--Winter Summerland
Parasailing
Richard Petty Driving
Experience
Running/Jogging Trails
Surfing Class at
Typhoon Lagoon
Wide World of Sports
(WWoS)
Community/
Gatherings
Sharing the Magic


MouseFest

MagicMeets
Other Fun Things
Audience
Participation
Birthday Ideas: Adults
Birthday Ideas: Kids
Carriage Rides
Collecting Character
Autographs
Grand Floridian
Adventures for
Kids
Hidden Mickeys
Overlooked
Attractions
Photography
--Film Tips
--Digital Tips
--Videotaping Tips
Pin Trading Guide
Pixies at WDW!
Pressed Penny &
Quarter Guide
Scrapbooking Magic!
Specialty Cruises
--IllumiNations
Breathless/Pontoon
--Resort Park Cruises
Writers' Corner
Behind the Ears
Meet the Authors

AllEars.Net
Feature Writers
-- Anita Answer
-- Debra Martin Koma
-- Brian Martsolf
-- Josh Olive
-- Michelle Scribner-MacLean
-- Mike Scopa
-- Jack Spence
-- Amy Warren Stoll

Orlando Area
Information
Character Warehouse
Outlet
Directions from
Airport
Grocery Stores
Ground Transportation
Orlando Area Outlets
Radio/TV Stations
Religious Services
Telephone Numbers
by Barbara Bennett and Brian Bennett

of
"You can't judge a book by it's cover" so says the old adage, but when it comes to creating a scrapbook, the cover does say a lot about what's inside. Themed scrapbooking albums give the perfect final touch to a scrapbooking project that includes your personal photographs and other momentos.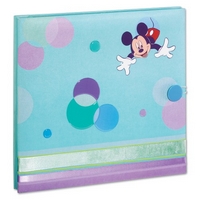 This is the Everyday Mickey 12" x 12" Album, by EK Success.
©EK Success, 2008.
Scrapbooking albums are the single most expensive part of a scrapbooking project. The album also plays a big role in making a good first impression for people that are enjoying your memory book. Today we'll talk about the core of your project, the album. We'll start by sharing some thoughts on the basic purpose of a scrapbook album, then we'll review album sizes, styles, and themes. We'll also consider best practices for using scrapbook albums as we wrap up.
Basic Purpose of an Album
There are two major purposes for a scrapbooking album. First, the album provides an aesthetic quality to your finished project. Keeping your scrapbooking pages in nicely designed albums makes them look nicer as they sit on the book shelf or on the coffee table. Second, and this is really much more important, the album should provide a safe storage place for those pages.
Alot could be said about the appearance of a scrapbooking album. Many albums are surfaced with lovely fabric, leather, and other fine materials. Some albums are embellished with embossing, glitter, embroidery, and other design flourishes that really dress up the album. For a scrapbooking project in which the pages all relate to a specific vacation destination, sport, or event, a themed album may be the perfect solution.
However, the archival qualities of an album should be the highest priority when selecting an album. The albums that are sold at local scrapbooking stores and that are made by reputable scrapbooking manufacturers are certain to be lignin- and acid- free (lignin is a compound that is often present in paper products that tends to break down into acidic components that can cause damage). That is the kind of album you want to use!
Modern scrapbooking albums and even simple plastic-sleeve photo albums are much more safe for photographs and momentoes than the older "magnetic" albums that were popular just a few years ago. Those "magnetic" albums included pages made from thick cardboard that included glue strips and a clear Mylar plastic covering. You could add photos and other items to the page by simply pealing back the plastic page cover, placing your items on the stick page, and returning the cover. Unfortunately, the cardboard pages and the glue that was used to manufacture those album pages had a very high acidity. The result is that many photographs, newspaper clippings, and other important items have been damaged just because the album wasn't designed properly to protect those momentos. (Incidentally, if you need to move your precious photos and other items from a magnetic-style album there are several archival-safe adhesive removers and acid-buffers on the market that you can use to remove any residue and ensure that the damage done by acidic compounds is arrested.)
Album Size
Scrapbooking albums are available in many shapes and sizes, but two sizes are the most widely popular and available: 8" x 8" and 12" x 12" sizes. The vast majority of available off-the-shelf scrapbooking products, such as papers, page overlays, and so on, are for those two most common sizes. Smaller albums, 6" x 6" for instance, are also available and are often used for gift projects. 8 1/2" x 11" scrapbooking albums were very popular five or ten years ago and are still available in stores, but are much less popular now than the 8" x 8" and 12" x 12" sizes.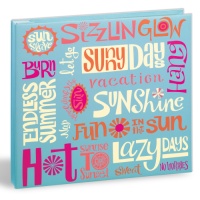 This is the A Day at the Beach 8" x 8" Album, by EK Success.
©EK Success, 2008.
We usually recommend that you use 12" x 12" albums for personal projects simply because it makes sense to have the additional space that is available in a larger album when you have a lot of photographs and other items that you wish to include. 8" x 8" albums are fantastic for gifts and for more narrowly-focused special event projects because they are smaller and can include fewer photographs yet still have a beautiful, elegant appearance. However, that's certainly not a hard and fast rule. We know scrapbookers that use both album sizes for all kinds of projects and are happy to do so.
Album Binding Style
Four styles of album binding dominate the scrapbooking market. They are: pre-bound, three-ring, post-bound, and strap-hinge bound. Each of these has advantages and disadvantages.
Pre-bound (including spiral-bound) albums are basically pre-bound books with blank pages of paper or with blank plastic pockets designed to receive standard-sized scrapbooking pages. (If you choose to use a pre-bound album with paper pages, we urge you to take great care to ensure that the album is archival-safe!) Be sure a pre-bound album has enough pages for your project as these are usually not expandable.
Three-ring (usually "D-ring") binders are like the ones you used in school, but are generally more sturdy and usually more attractive than the binders of old. They include a simple mechanical clamping device that can be opened and closed. If your album has large D-shaped rings you can include many pages but those pages will still lie flat while you're browsing through the album. The biggest advantage of a three-ring album is that the album can hold a very large number of completed pages. Also, the simple ring mechanism allows you to very easily rearrange your pages. The total capacity, in terms of the number of pages that the album can safely bind, of a three-ring album is dependent on the size of the rings. The greatest drawback of using three-ring binders for scrapbook albums is that adjacent pages are separated by the rings when the album is open, which many scrapbookers find objectionable after they've worked hard to design and create coordinated two-page spreads. We also find that over time the clamps of most 3 ring albums separate, allowing pages to slip out.
Strap-hinge albums may also be familiar if you ever had to put together a formal report in school or a special report project for a marketing or sales task. Strap-hinge albums have plastic straps that are affixed to the album cover that are threaded through the pages and inserted into a clamping device (often just metal loops that, unfortunately, are not always very robust and can be pulled out if you pull on the straps a bit to vigorously). One major benefit of strap-bound albums is that they allow adjacent pages to lie flat without the hinge being seen.
Post-bound albums hold the cover and pages together by means of metal posts (usually three) which are screwed together. You can unfasten the posts whenever you wish to add, remove, or rearrange your pages but the process is a bit more tedious than doing the same thing with a three-ring binder. If you have need, expansion posts can be added so you can add more pages to the album, but in general a post-bound album will not have the save page capacity as a 3-ring album. Post-bound albums usually come complete with blank cardstock pages and plastic page protectors. To save on overall album thickness you can certainly remove the blank cardstock pages when you slide your own page layouts into the page protectors. There are two reasons why post-bound albums dominate the market. First, a completed album appears to be permanently bound. In contrast, a three-ring bound album appears to many people to look "temporary" or "unfinished." Also, in contrast to a three-ring bound album, the finished adjacent pages lay right next to each other. For most projects, our design team prefers to use post-bound albums.
EK Success provides these instructions for adding pages to a post-bound album. We've included this tutorial here to show how a post-bound album works, and how easy it is to add or re-arrange pages in a post-bound album:

"Expand your albums with these side loading, double-sided, clear, acid-free and archival safe sheet protectors. Available in convenient 10 packs, with duo-pocket" and reinforced corners. Includes 10 spine spacers and three post extenders. Check the list of EK Success albums for which albums these protectors will fit.

"Follow these 6 steps (refer to pictures) to expand your album with additional pages:
"1. Lift inner flap, unscrew and remove top of posts.
"2. Remove front album cover, page protectors, spacers and spine cover.
"3. Screw in post extenders.
"4. Insert extended spine cover, with wrong side facing up, onto posts. Alternate pages and spine spacers onto posts.
"5. Fold extended spine cover over and place through posts.
"6. Finish by replacing front album cover and screwing tops of posts back on."




All three images ©EK Success, 2008.
Album Design and Theme
Album covers vary greatly in design, materials, and theme. Some are very elegantly covered in rich leather or luxurious cloth. Some are much more inexpensively produced with vinyl and plastic. The differences in texture and appearance cover a wide range and can serve many different purposes. For example, a leather-bound album has a very rich, elegant appearance that may be perfect for a family tree album. A brightly-colored tropical print cloth-covered album may be the best choice for scrapbooking a vacation to Hawaii or the Caribbean.
Many albums that we carry at Mouse Memories are designed around a specific theme or character. For example, we have fabulous albums that feature Mickey Mouse, the rest of the fab five, the Disney Princesses, and Tinker Bell. Other, non-Disney albums include Spiderman, Thomas the Tank Engine, and Dora the Explorer. Sports-themed albums are very popular, too, and include baseball, basketball, volleyball, soccer, football, hockey, cheerleading, and more.

This Fast Pitch Softball 12" x 12" Album, by MBI, is one example of a great themed album.
©MouseMemories, 2008.
Best Practices
When it comes to albums there really isn't much that you can do wrong. About the only thing we would caution you to avoid is the tendency to "over stuff" an album. Albums can handle a certain thickness of pages, and are even designed in most cases to be expandable to handle more, but there is a limit. Besides the possible damage that may result to the album itself, should it be over stuffed, the greater concern is the possible damage that can be done to your scrapbook pages if they are crushed. For very flat page designs, of course, there wouldn't be any damage. For page designs that include dimensional elements, however, an overly-tight album can cause some damage over time. Albums, when not being viewed, should be stored upright on a shelf like a library book would be. That will help protect the album, its binding, and the pages inside so they can be enjoyed for years to come! That, afterall, is the primary goal of scrapbooking!
In the next article, we'll give you a glimpse of some newer non-traditional scrapbooking projects that you can do, including acrylic and chipboard albums, picture frames, and lots more! Until then, enjoy Christmas and New Years with your families - and take lots of pictures!!!