by Barbara Bennett and Brian Bennett

of
There are several different types of adhesives available on the market. Some are designed to hold your photographs to the page. Others are designed to hold larger and thicker embellishments to the page layout. Some are very clean and easy to apply, while others are more messy. Several different companies manufacture adhesives that are specially designed for scrapbooking applications. EK Success, with it's Herma, ZIG, and 3D lines is very well known. 3L, Scotch-brand, Beacon Adhesives, Therm O Web, Tombow, and Glue Dots are just a few of the many others.
In this article we'll discuss some of the products that are available for scrapbooking and paper crafting. We'll tell you about some of our favorites, and what the best applications are for each. Remember for each category there are many more products on the market than we can possibly discuss here. You might find your own favorites are not even listed here.
Adhering paper and photos:
Because this is probably the most common application for scrapbook adhesives, this category offers you the most options. There are tons of choices available, so it's really a matter of finding the one you are most comfortable with. Most of these adhesives are available in a small, handheld application device that allows you to put down small amounts of adhesive.
EK Success offers the following 3 major choices:
HERMA® line of Dotto® permanent or removable adhesive glue dots. You can choose if you'd like an immediate permanent bond, or if your project would be better suited to something that might be removable. The dispenser is refillable, allowing you to save a little money by buying refills and recycling the dispenser.
Vario permanent double-sided adhesive tabs. This product sticks down small squares of paper tabs that are sticky on both sides. Some people love this style of adhesive, but we find it can be difficult to work with. This product is also refillable.
Glue Star removable adhesive. These are great for kid's projects!
Tombow has a Mono Permanent Tape Runner that works well for papers, but also does great with heavier elements that need to be stuck to the page.
There are lots of glue sticks available on the market that now claim to be photo safe. While that may, indeed, be the truth, we do not recommend any glue sticks for use on your projects. They tend to be messy and sticky, sometimes clumpy, and often the hold is not as permanent as you would like it to be.
3L Scrapbook Adhesives offers a tape runner called the E-Z Runner. It is a permanent adhesive that comes in a dispenser and puts down small, thin strips of adhesive easily.

E-Z Runner, by 3L, is one of our
favorite adhesives.
©Mouse Memories, 2008.
OUR FAVORITE PICK: Hands down our design team would choose the E-Z Runner by Scrapbook Adhesives for most paper to paper and photo applications. This is the product that everyone reaches for first, and if we happen to be out of it (which happens regularly because we use so much of it) we often have a mutiny on our hands. This product is not refillable, but comes with 28 feet of adhesive.
Adhering Vellum:
Vellum is a fun, see-through paper-like material (think parchment paper) that has lots of great uses on scrapbooking projects. The trick, though, is that it can be difficult to find a good adhesive to use that won't show through the vellum and be visible in the front of the project. Over the years lots of manufacturers have offered Vellum Adhesives. Some have been awful. Some have been mediocre, and only a few have been good in our experiences.
3M's Scotch makes a Vellum tape that is bought on a roll that is a little over 11 yards long. This is a decent product, but on some applications it can still show through.
Tombow and Therm O Web both also make a Vellum Adhesives, but they are products that we do not have experience with.
There are some spray adhesives for vellum on the market, but these can be messy, and, if you use too much, can cause your paper to wrinkle.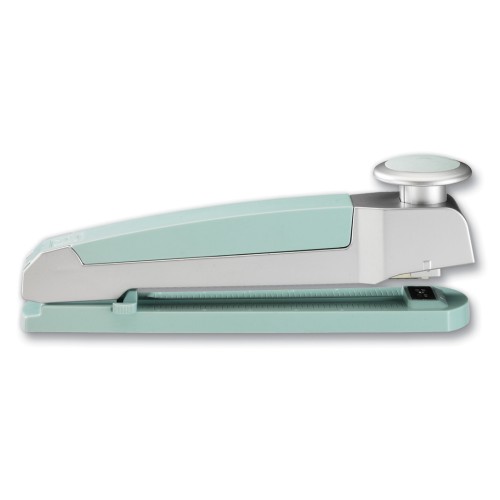 Fastenater® Decorative Stapler, by EK Success
provides a versatile way of adhere vellum and other page elements.
EK Success, 2008.
OUR FAVORITE PICK: None of the above. Some of our favorite ways to attach vellum elements to the page are not even sticky. We like to use eyelets, brads, and staplers like EK Success's Fascinator tool. This is a great tool to use to attach things or just put down wide, themed staple bars on the page. You can also use stickers and attach them partly to the edge of the vellum and then attach the other part of the sticker to the page.
Adhering little tiny elements:
Xyron produces hand-operated machines and refill products that allow you to turn almost any thin (paper, fabric, plastic, or other material) item into a sticker by rolling the item through the Xyron machine and turning a crank handle. The item feeds into the machine and a thin-film of adhesive (either permanent or repositionable) is laid down onto your item. It can be a good way to quickly make a lot of little pieces sticky.
EK Success offers our favorite options for sticking tiny things together. Their ZIG 2 Way Glue Pens, available in several different tip styles and sizes, can be used two different ways. First, you can apply the glue and affix the item immediately while the glue is wet (and colored blue). When the adhesive dries, the bond will be permanent and strong. If you apply the glue and allow the glue to dry before you affix the item, the glue will turn clear and will provide a weaker, temporary bond that allows you to place and reposition the item you are attaching to your page.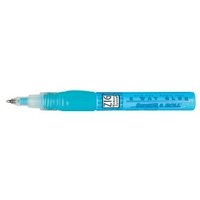 EK Success' ZIG Squeeze & Roll 2-Way Glue
is the perfect adhesive for small items.
EK Success, 2008.
OUR FAVORITE PICK: Zig Squeeze N Roll Glue Pen is our must-have adhesive for small things. It has a tip like a roller point pen which makes it very easy to apply a small drop of glue exactly where you intend to put it.
Adhering elements to make them 3-D:
3D Dots, Squares, and Strips, from EK Success, are basically just double-sided adhesive foam. Since the Dots and Squares are available in different sizes and thicknesses, you can use them for a variety of different applications. The dimensional effects you can create are fabulous. For example, you can create a storage pocket on a page by affixing 3D-Dots, Squares, or Strips to three sides of the pocket while leaving the top open. Then you can slip in whatever item you wish to capture (tickets, park guide maps, monorail driver's licenses, etc.) and they'll be available to view every time you open your scrapbook.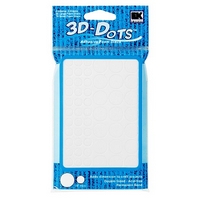 3-D Dots White Adhesive Foam is one
solution for addition dimension to your pages.
EK Success, 2008.
Glue Dots also can help make an element dimensional. They are available in thin or thicker options, so you can choose what's right for your project.
OUR FAVORITE PICK: We don't really have one for this application. We use a mix of Glue Dots, and EK's Dots and Squares. We love them all.
Adhering metal, ribbon, and other thicker elements:
Making Memories produces a product called Metal Glue II which is a liquid adhesive made especially for attaching metal embellishments such as corners, frames and charms.
Making Memories is also the source for Rib Lue, an adhesive specifically designed for gluing ribbon and fabric. Rib Lue is designed to not soak into the material, which makes it great for that particular job. It does, however, take a little bit of time to set.
Scrappy Glue, by Magic Scraps, is not as readily available as it once was, but if you come across some, it is a good, all around embellishment adhesive.
Tombow's Mono Permanent Tape Runner is also a good choice for metals and other embellishments.
Zip Dry Paper Glue by Beacon Adhesive is on our must-have list. It is a unique acid-free, archival quality paper glue that dries super fast and will never wrinkle paper. Zip Dry PaperGlue is strong enough to bond metal and other trims to scrapbooks. It can also attach beads, glitter, rhinestones and wire to paper for adding a special decorative dimension to paper crafts. It is also great for fabric elements like ribbon or felt.
OUR FAVORITE PICK: Zip Dry Paper Glue is, without question, our favorite embellishment adhesive. It's versatility and quick drying feature makes it indispensable!
Cleaning up adhesive:
As neat as we try to be when we're crafting, sometimes we manage to get adhesive where we didn't want it. EK Success makes an Adhesive Remover Tool. Use this tool to eliminate residue from your projects - without any smudging! Shaped like a pencil, it can easily fit into small crevices for neat and clean results. This is also the best tool for completely removing rub-ons.
Therm O Web also makes an Adhesive pick up that is a good product to help fix an oops.
While the specific products mentioned in this article are great products, there are lots of other great products available as well. Experiment with different types of adhesive to find your own favorites. Once you come across one that you love for any category, buy them in multiples, so you never run out of the one you want at midnight when you're scrapping with friends! Adhesive is the one thing you never see on the final project that makes the largest impact on it!