by Barbara Bennett and Brian Bennett

of
In our last article we talked about basic color concepts. We've decided to take that a little deeper to give you a more thorough description of color theory. Why? Because scrapbook pages are pieces of artwork. They are not just any art, though; they carry great meaning to us. The way you use color on a layout can make it ok, good, or GREAT! Sometimes our color choices are affected by our emotions. Other times we just simply like the way they look together. There is nothing wrong with either of these choices! You can choose colors just because you like them. However, learning the basics of color theory can help you determine what colors match, and what your color choices say about your photographs.
The color wheel can be a great tool to help you boost your color confidence. (This will carry over, not only to scrapbook pages, but to interior decorating, fashion choices, and many other parts of our lives.)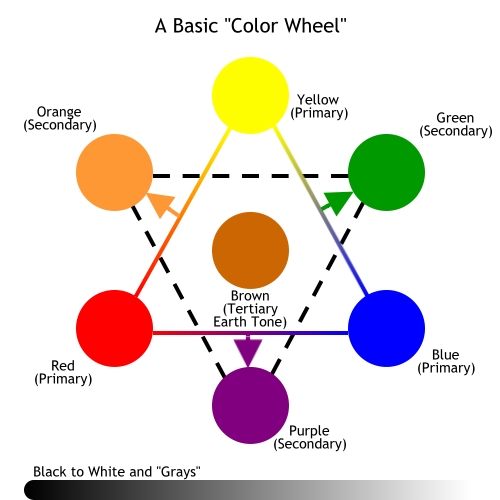 A Basic Color Wheel Chart.
©Mouse Memories, 2008.
There are six basic colors: red, orange, yellow, green, blue and purple. Red, yellow, and blue are considered "Primary Colors" because they are the base colors for all other colors. When two primary colors are mixed together, the result is called a "Secondary Color". Orange, green and purple are "Secondary Colors."
Here are some descriptions of how each of these basic colors tend to make us feel:
Red "Demands attention". If you use red on a layout, the eye will be naturally drawn to it. Be sure this is used where you want your focal point to be.

Orange "Reminds us of fall". Orange is not as strong as red, but still demands attention.

Yellow "Usually makes us feel happy and cheery".

Green "Is a natural color that causes feelings of serenity."

Blue "is also a natural color." It is calming and peaceful. Many spas are decorated with various calming hues of blue.

Purple "Is considered to be a royal color, but can also evoke feelings of youth or creativity."
As you look at the color wheel, you will note that the primary colors of red, yellow, and blue are located in a triangular pattern. Secondary colors are located between the primary colors they are made up of. For example, purple is between red and blue. If you look at the lines that are drawn between the primary colors you can see the various mixes of the primary colors that allow for the mixing of, quite literally, every color of the rainbow.
Primary colors are bright, energetic, and fun so they are often used for layouts featuring children and childhood. Secondary colors have a more complex feel to them, since they are mixes of the other colors, and so they tend to be more visually interesting.
Colors can also be broken up into other categories of warm, cool, and neutral:
Warm Colors: These are colors like reds , yellows , and oranges . They create a warm feeling, reminding us subconsciously of fire and warmth from the sun.

Cool Colors: These are colors like blues , greens , and purples . They create a cool feeling, reminding us of water and the outdoors.

Neutral Colors: These are usually not found on color wheels, but are colors like browns which are a mix of all three of the primary colors and grays which are a mix of black and white. Browns and grays are called earth tones. They don't contrast with anything and are often considered dull.
Here are some more terms and color descriptions:
Tertiary Colors: These are made by mixing one primary color and one secondary color together. Because of this, they are virtually unlimited.
For example, here is now a classic blue and classic green can be mixed to create a lovely teal:

+

=

Complementary Colors: These are color combinations like red and green or blue and orange. Notice that these colors are directly opposite from each other on the color wheel. Just because they are called complementary colors, though, does not necessarily mean they look good together. When used together, they create a very strong contrast. For example, on a green leafed plant, a red flower definitely stands out. They can be useful to make things stand out if that is the desired response. Note how Red and Green are complementary and are often considered "Christmas Colors" (along with gold and silver). Blue and Orange are also complementary. Many successful pages featuring Disney's Goofy are based on this color scheme.
and


and

Analogous Colors: These are colors combinations like blue and green, and can be found right next to each other on the color wheel. There is little contrast between two analogous colors. They match well, though, and are great for calm designs or comfortable layouts.

And

and

As you plan your next layout take a little extra time to think about the colors you'll use and the feelings you want to create for the viewer as they see your completed masterpiece. You'll find that a little extra planning and thought can make a world of difference!
Next time we are planning to provide some information on the sticky topic of Adhesives. Of course, you want your photos and other page elements to be properly affixed to your layout and we'll tell you what products are available and what works well for different situations and applications based on our experience.