by Barbara Bennett and Brian Bennett

of
What's this new series of articles about?
We all take pictures. In this digital age we all take tons of pictures. Why? Because we want to remember a snapshot in time that was important to us. Yet for many people, those pictures that were developed or printed end up in a box where they are rarely seen. The digital pictures end up on a CD or published on the web somewhere. Scrapbooking is about telling a story, both for us to remember, and for future generations to enjoy. More than likely you've heard about scrapbooking. Several years ago, scrapbooking meant taping clippings from the local newspaper into a ring binder to memorialize our kid's efforts in the big game. To some, scrapbooking was even simpler... it meant placing photographs into a sleeved album to look at later. At least those pictures were not tucked in a box somewhere, never to be seen again until someone settling an estate found them in an old box. Of course, in the last few years scrapbooking has taken many leaps forward. It's almost impossible now to go to a store and not see some scrapbooking supplies for sale. They can be found in all sorts of different stores, and on many, many websites.
If you've been curious about this "new wave" of scrapbooking, you'll enjoy this series of articles. We start with the history of scrapbooking, and then take you through the kinds of tools and supplies that are available. We'll teach you how to get started sorting your photos if you're thinking about taking the plunge into this great hobby. We'll show you that scrapbooks can (and should) really be fun to produce. Since we specialize in Disney scrapbooking ourselves, we'll do all of that with a Disney twist that just might convince you to try scrapbooking your photos. Already a scrapbooker? As we go forward we'll work our way through lots of tips and techniques that you'll enjoy as well. If you're like most of us, you've got boxfuls of photographs from all of your Disney trips -- not to mention holidays, birthday parties, family get-togethers, and so on that you can turn into wonderful memory albums that you'll be able to enjoy for the rest of your life before passing them on to your family or friends.
Creating a Basic Page Layout!
Last time, we gave you the following homework:
"Choose 2 or 3 of your labeled envelopes, and do some preliminary shopping so you have supplies at your fingertips. (Be sure to pick up at least one kind of adhesive so you can affix things to the page. You'll also need a pair of scissors, and a 12" trimmer.) Next time we're going to start with pictures and already purchased supplies, and show you with step by step images how to create that layout from start to finish. We'll include some design tips for making your layouts look balanced, and emphasizing your pictures. Have fun shopping!"
Today we're going to create a layout. You'll notice that we're not going to create a "page." Lots of scrapbookers will create individual pages as they work on their albums. However, if you think about opening your scrapbook to look at it, you will always be looking at a 2 page layout - the left page and the right page. We feel very strongly that it will help you develop cohesiveness in your scrapbook if you coordinate your pages into 2 page layouts that utilize the same products and color scheme. (The exceptions to that would be the very first page of the album (which would be a right side only) and the last page of the album (which would be a left side only.) In general, as we create a 2 page spread, we will use the same patterned paper for the background for both sides and then use 1 or 2 colors of a coordinating cardstock color for matting pictures and adding other elements.
Here are the supplies we're planning to use today:

Scrapbooking supplies for our page layout.
©Mouse Memories, 2008.
Step 1: Crop
The first thing we're going to do is crop (or trim) our photos. We're creating a page today from a character meal encounter with Tigger. We definitely want to focus the pictures in on the people and characters, and not necessarily on the dirty dishes on the table in front of them or the strangers sitting at the next table that happened to get in the picture.
Here a picture that we have cropped: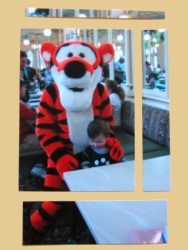 Trimming a picture down to size is called "cropping."
©Mouse Memories, 2008.
You can see we've taken some off of 3 different sides, focusing the picture in on Tigger and the child. We will continue and crop the rest of the pictures in a similar manner. Often we will take two or three pictures from the layout and crop them to the same size. This will help with the design layout as we proceed.
At this point, we also use the 12" paper trimmer to trim the barcode strip off our background paper.
Step 2: Think Through the Basic Layout
As your scrapbooking skills and techniques advance, there will be times that you actually plan the layout as in this Step 2 before you do any cropping of your pictures. That is because some techniques depend on pictures being cropped to specific sizes or shapes. For the layout we are doing today, we are just planning a simple page spread, so we were able to crop the pictures first. We did end up making 4 of the pictures the same size. They are all of the same child with Tigger, so it will be easy to use them in a series as we'll show you later.
After laying out the two background pages side by side, we will begin to lay the pictures on the pages. We are not yet using any adhesive, but just trying to get a feel for the size, shape, and balance of the pictures on the layout. Often we will end up moving things around on the pages several times before we settle on a combination we like. You can see here that we have also included the "Tigger" title and a large sticker of Tigger as we are working to lay things out. The large gap on the left side of the page will be filled in later with some journaling (written narrative that gives further details about the event captured in the photographs that you wish to remember) that we want to add to the page.
One general guideline as you're planning your page is to be sure to take into consideration the direction that the subject of the photo is looking. If you have a side profile picture of your child looking off to the left, you will want to use that picture on the right side of the page so the photo is drawing attention to the center of the layout. If you use it on the left side of the layout, it will appear that the subject is looking right off the page into nothingness.
Though it may change some as we complete the page, here is a picture of the basic layout we have settled on for this project:

The cropped photos on the background paper show our basic page layout.
©Mouse Memories, 2008.
Step 3: Create Cardstock Borders
Because we have chosen a background paper that is very close in color to Tigger, we are going to use borders on each side of the layout that are in a contrasting color. This will allow that dimensional sticker of Tigger that we want to use later to visually "pop off" the page. For our layout we are choosing to use a simple paper tearing technique and two different colors of cardstock that coordinate with the colors in our background paper and photos. We are also adding an inking technique that will make your pages look fantastic. If you wish, you could simplify your border by using just one color or by using simple straight lines with no inking. If you want to try ours, here's what to do:
Choose the color that you want to be the back color of your border. This color will be the one that touches directly up to the background paper, so be sure there is a good contrast. Hold the paper at the top with your left hand, and begin to tear away the edge with your right hand. You will want to tear with your right hand by peeling the paper toward you to give a nice edge. Don't be afraid to let your tearing be uneven. That is part of the effect you're going for. Tear the strip the entire length of the border all in one piece. If you're going to make a two colored layered border like ours, repeat this process with your second color.
If you would like to try the inking technique that we've used you will need to do that now. This is done with colored ink pads. There are several sizes on the market. We like to use little ones because they are easy to control with our hands and because that allows us to have more colors available to coordinate with the pages. If you want to just get started trying this technique, black is a good color to use. It will add extra emphasis and dimension to the edges of any colors you are using. To ink the torn edges of your border, simply hold the border piece with your left hand and run the open ink pad over the edges with your right hand. You will get the feel for this with just a little practice. The cool thing is that it is not a technique that requires perfectly even application. It actually looks better if you vary your strokes to put a little more ink in some places and less in others. Be sure to let your ink dry before you continue to assemble the border. This should take just a few minutes.
Trim the back color of your border piece to the width you want it to be and make a straight cut with the 12" trimmer.
Adhere this piece to the edge of the background paper.
Trim the top color of your border piece to a smaller width, and attach it right on top of the first piece. The widths you choose for steps 3 and 5 of the border will depend on how much room you need for your pictures, and how wide any embellishments might be that you want to use on the border. For our border, we made it just wide enough for the Tigger sticker that we wanted to use.
Repeat this process to make the border for the other side of the layout.
Here is a picture of our layout with the borders completed and the photos just sitting on top in the general pattern we have chosen for them.

The page layout shown with borders added.
©Mouse Memories, 2008.
Step 4: Mat the photos
This is a step that many scrapbookers leave out, but it is one that makes a tremendous difference on the overall look of your pages. To mat a photo, adhere it to the background color you have chosen by lining up 2 of the four sides in a natural corner of the paper. (You will need some adhesive in all 4 corners and a little in the middle.)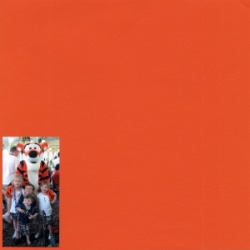 Matting a photo is easy if you line it up against
the straight edge of your paper.
©Mouse Memories, 2008.
Using two already straight edges of the paper will make it simpler to make your mat straight. Cut the other two sides using your trimmer. Making all 4 sides of your mats straight is somewhat of an acquired skill, but one you will improve on with more practice. An alternative to "eyeballing" it would be to measure your cropped photo, decide how thick you want your mat to be, add that dimension to the size of the photo, and then cut the mat to size before adding the photo.
We've also taken the extra step of applying the inking technique we used on the edges of the borders to the edges of the photo mats. This gives those edges more definition and dimension on the page.
Step 5: Assemble layout
With your pictures all matted, you are now ready to assemble the page. Using a small amount of adhesive in all 4 corners and a little in the middle, stick your pictures to the desired position on the page.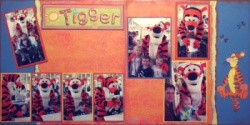 The page layout shown with the matted photos in place.
©Mouse Memories, 2008.
Step 6: Journaling
To this point, we have left an empty spot in the middle of the left side of the page. It is there that we plan to add journalling - written text about the pictures depicted in the layout. Journalling can be added by hand, using special pens designed to be safe for your albums, or it can be added by computer. Many people hesitate to include their own handwriting in their albums because it is not "perfect." We strongly recommend, however, that you use your own handwriting in some layouts of each album project you do. Whether you are in love with your own handwriting or not, it is still part of your heritage, and one that will be treasured by generations to come.
To use your computer for journalling, simply open a word processor, and type the text. Then you can choose the font you want to use for the page. There are lots of free fonts available to download through the internet. You can also purchase specialty fonts individually online, or on CD's containing lots of fonts. Figure out how much room you have left on your layout for your journalling, and adjust the font size accordingly. It usually looks best if you center the text.
We've chosen to print our text onto vellum, a thin, see-through paper that will allow the background pattern to show through. Vellum can be tricky to stick to the page without the adhesive showing. There are specific adhesives designed for vellum, but most still end up showing through. We're opting, instead of using adhesive, to stick our journalling to the page using colored brads that coordinate with our layout. We've also used one of the dragon-fly stickers on one edge of the vellum journalling.
Step 7: Enjoy your masterpiece
The final page layout with final journaling added.
©Mouse Memories, 2008.
Of course, a completed scrapbook project is usually an album full of such page layouts with as many as twenty or more pages bound together that captures the events of an entire vacation or family event. We've only just begun with this single two-page layout, but we hope you'll see tha ' not difficult to put together several page layouts. The fun part is coming up with different looks and ways to emphasize the events that are captured in the photographs. Over the next few articles we'll discuss how to do just that.
Our next article will include a study on color. We'll help you figure out what colors will enhance the colors in your pictures, and what colors will wash them out. We'll also teach you how to choose coordinating and contrasting colors to make your pages amazing!

What is the Scrapbooking Magic Series All About?
Meet Barbara and Brian Bennett