by Barbara Bennett and Brian Bennett

of
Getting Organized!
Last time, we gave you the following homework:
"Your assignment between now and our next article? Choose a trip or project. Get out those pictures and get them sorted into labeled envelopes. In our next article, we'll give you some pointers on how to buy the right products for your pages, without going overboard. We'll also start working on layout design, including how to decide how many pictures to use on a page."
Scrapbookers, especially those of us who are also shopaholics, know that much of the fun of the hobby is in the shopping, but just like clothes or shoes shopping, it's easy to go waaaaay overboard. Almost every scrapbooker I know has stashes of stuff they bought because they were sure they would need it some day. If you have a great organization system for your stuff, that might be ok. A lot of us get caught in the trap though. When we actually get to those pages we bought stuff for 6 months ago, we either don't even remember that we bought it, or we are pretty sure we did but have no idea what we did with it.
Since we have to jump into shopping for your pages, I want to cover organization a little first. Taking some time to get a plan now will save you hundreds of dollars in the long run. There are loads of scrapbook supply organization systems on the market, and most of them are good ones. As your supply inventory grows, you may find that you need different kinds of organization. Paper is addictive. You might not know that yet, but you will soon. Your paper stash will most likely grow faster than you are using it for pages, so you'll need a plan for how to store papers you haven't used yet. For a tight budget, you might just need to designate a flat surface area where can keep papers out of the way until used so they don't get damaged. For a medium budget, you might purchase something like an Iris Scrapbooking Cart seen below. There are several sizes, but this one has drawers large enough to accommodate the 12"x12" papers that are industry standard. Many scrapbookers start with one cart similar to this one, and add more as needed. They can be found in office supply stores, craft stores, and online. This one sells at Office Depot for a little under $50. You could buy single or double shelf units like the one below to get started on a very tight budget. However, you will probably outgrow it quickly so it might be more economical to plan ahead and save for the larger one.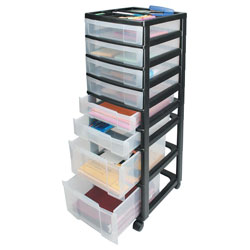 Standard storage products, like this plastic cart from Office Depot,
can be a very cost effective solution for your hobby storage.
For a budget that has few restraints, you might buy a store fixture for scrapbooking papers, such as this one that is currently available on Ebay for $79.95: It has 30 slots for 12 x 12 papers, allowing you to sort your papers by colors and themes.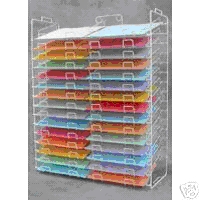 Scrapbooking store fixtures, like this unit on sale on eBay on the day
we finished up this article, can be a great find!
©Mouse Memories, 2008.
An unlimited budget might choose to go straight to a Scrapbook Armoire, such as those shown below by Hobby Hideaway or Creative Havens. There are several styles and price ranges on the market, many of which can be customized to suit your needs, so be sure to do your research before choosing one!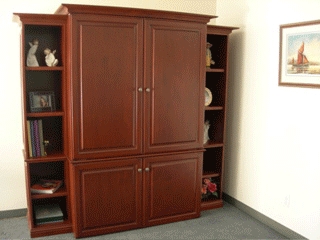 This is a purpose designed scrapbooking armoire by Hobby Hideaway.
©Hobby Hideaway, 2008.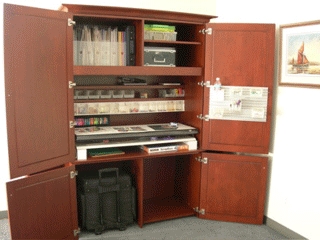 The armoire contains a lot of storage space for your scrapbooking supplies.
©Hobby Hideaway, 2008.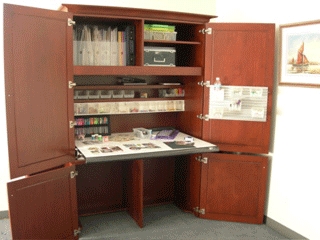 The armoire can even be used as a scrapbooking work station!
©Hobby Hideaway, 2008.
For non-paper supplies, we highly recommend the Clip It Up unit by Simply Renee. Seen below, it consists of an upper tier and lower tier. A 2nd Upper Tier can be added to make what ends up to be a 3 tiered system. This product allows your supplies to be sorted by theme, and available at your fingertips. It has become our favorite organizational tool on the market. We use 3 full ones in our design studio. It is available for purchase on MouseMemories.com.

Clip-It-Up provides storage for a lot of product in a relatively small space.
©Simply Renee , 2008.
That was a slight sidetrack from today's major topic, but does give you a tiny idea of some of the types of organizational products on the market. It's good to have an organization plan before you begin purchasing a bunch of products.
Planning Your Pages...
Let's move on now to actually beginning the planning of and shopping for your page layouts. If you're working along with us as we go, you should have a group of pictures sorted into labeled envelopes. The next step is to take the pictures from one themed envelope and determine how many pages it will be necessary to create to appropriately capture the memories.
If you have 3-5 pictures of a Disney Castle, with or without family members in the picture, you might want to make that into 1 two page spread. If you have 15 Castle pictures, you will either need to make some tough decisions and eliminate some from the project, or plan to add additional pages for the Castle. One other alternative is to crop the pictures into small subsections of the Castle and feature a bunch of close-ups on one page.
As a general guideline, our Mouse Memories design team plans to use 3-5 pictures per page, which would be 6-10 for a two page layout. Occassionally we will create a collage page that uses "leftover" pictures that really didn't fit into a specific theme. We will also include in these collage pages any pictures that did fit a specific theme but did not end up fitting on that theme's layout. A collage page might use tons of pictures that have been closely cropped.
Cropping is the term used for trimming excess from edges of pictures that is not relevant to the picture. This gives a better focus on the important part of the picture, and also helps eliminate distractions. Personally, I love to trim hips from the edges of pictures -- instant liposuction.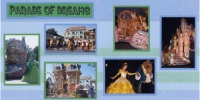 The Parade of Dreams is captured in a lovely two-page layout!
McClennen Project Scrapbooking Page Layout, Produced by
Mouse Memories. ©Mouse Memories, 2008.
...and Shopping!
When you have a good idea how many pages you're going to make for a specific theme, you're ready to begin shopping. But if you've read many scrapbooking magazines or looked at a friend's albums, it can be overwhelming to figure out what you need. Start by searching for papers to match your theme. While many people love to mix and match patterns on a page, we feel that often it can make the page seem busy and detract from the photos. In general, we will search for a patterned background paper (this can be themed, or simply a printed pattern that is in colors that will coordinate with the colors in the pictures), and one or two solid colors to use in each layout.
If we were doing a two page Castle layout with 9 pictures, we would purchase 2 sheets of the same patterned paper to be the background pages, and then either 2 solid sheets of the same color that coordinate with it or 1 sheet of 2 different coordinating colors. The solid colored papers will be used for matting (framing) the photos. This will help them stand out from the patterned background. In the end, we will have purchased 4 sheets of paper for each two page layout.
We also would search for some stickers or other kinds of embellishments that fit the theme, just to add interest to the page. One tendency people have is to buy every embellishment they can find that fits the theme of their page layout. The problem with that is that in the end, you can only use so much of that on any one page. It is better to buy a little and need to purchase one more thing to complete the page than to have 12 products at home and have to figure out what to do with the extra pieces you have invested in.
If you're already done some shopping and want to jump right in, but aren't sure where to start, don't worry. As you first get started, and for a long time after that, there is nothing wrong with copying the ideas of someone else for your pages. (Of course, if you decide to sell them or in any way profit from them, you would need to seek permission.) Otherwise, page layout ideas are free game for "scraplifting." Feel free to search online for galleries of page layout ideas. You should be able to easily find some that you are drawn to because they match your style and personality. This hobby is more personalized than any other I can think of. The end product ' your album or project ' is all about you and your family and should be a reflection of your tastes and styles. As you scrapbook, your style will evolve into you own.
Your assignment if you're working along with us:
Choose 2 or 3 of your labeled envelopes, and do some preliminary shopping so you have supplies at your fingertips. (Be sure to pick up at least one kind of adhesive so you can affix things to the page. You'll also need a pair of scissors, and a 12" trimmer.) Next time we're going to start with pictures and already purchased supplies, and show you with step by step images how to create that layout from start to finish. We'll include some design tips for making your layouts look balanced, and emphasizing your pictures. Have fun shopping!
Check Back Next Month for the Next Article in the Series