Water Parks
Blizzard Beach FAQ
Typhoon Lagoon FAQ
Downtown
Disney
Marketplace
Pleasure Island
West Side
-- Cirque du Soleil
-- DisneyQuest
Disney's Boardwalk
and Epcot
Resort Area
Introduction
Dining
Entertainment
Shopping
Tours
Descriptions and
Reviews
Rate and Review
Sports-Related
Activities
Fishing Excursions
Golf
Miniature Golf
--Fantasia Gardens
--Winter Summerland
Parasailing
Driving
Experiences
Running/Jogging Trails
Surfing Class at
Typhoon Lagoon
ESPN Wide World of Sports
(WWoS)
Community/
Gatherings
AllEars® Team Meets
D23 - The Official Community
for Disney Fans
MagicMeets
Other Fun Things
Audience
Participation
Birthday Ideas: Adults
Birthday Ideas: Kids
Carriage Rides
Collecting Character
Autographs
Desktops/
Wallpapers
Grand Floridian
Adventures for
Kids
Hidden Mickeys
Overlooked
Attractions
Photography
--Film Tips
--Digital Tips
--Videotaping Tips
Pin Trading Guide
Pixies at WDW!
Pressed Penny &
Quarter Guide
Scrapbooking Magic!
Specialty Cruises
--IllumiNations
Breathless/Pontoon
--Pontoon Rentals
--Resort Park Cruises
Writers' Corner
Behind the Ears
Meet the Authors

AllEars.Net
Feature Writers
-- Debra Martin Koma
-- Michelle Scribner-MacLean
-- Mike Scopa
-- Jack Spence
Orlando Area
Information
Character Warehouse
Outlet
Directions from
Airport
Grocery Stores
Ground Transportation
Orlando Area Outlets
Radio/TV Stations
Religious Services
Telephone Numbers
Archives
Adventurers Club
by Barbara Bennett and Brian Bennett

of


Sorting Those Photos!
We all take pictures. In this digital age we all take tons of pictures. Why? Because we want to remember a snapshot in time that was important to us. Yet for many people, those pictures that were developed or printed end up in a box where they are rarely seen. The digital pictures end up on a CD or published on the web somewhere. Scrapbooking is about telling a story, both for us to remember, and for future generations to enjoy.
So you've warily decided to give scrapbooking a try. But if you have boxes and boxes of pictures from the pre-digital age, not to mention all the digital pictures that are on your computer in various stages of organization, where do you start? It really can be an overwhelming question.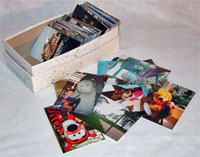 Boxes of unsorted vacation photos collected over the years can make
even the thought of starting a scrapbook project seem daunting.
©Mouse Memories, 2008.
Many scrapbookers start out thinking that they will go back to their childhood, and work their way to the present in their scrapbooks. Except for a rare few personality types, this will not work. It requires that ALL of your pictures be sorted chronologically from the beginning of time to present. That alone is a monumental task! The whole project will seem to be impossible, sabotaging your efforts from the beginning. It is much better to choose a small scale project and ease your way into it. That way you can have fun, and enjoy the creative process. You'll also quickly have a completed project to show off to your family and friends.
There are lots of great approaches to starting scrapbooking. We have two different approaches that we suggest to our clients, depending on their situation. If your interest in scrapbooking is the idea of having album after album of your family life completed and lined up on the shelf like a row of beautiful library books, you might want to start right away working on 12 x 12 pages.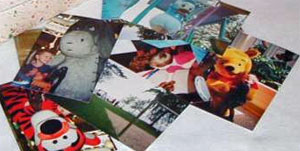 As Julie Andrews sang, "Let's start at the very beginning.
a very good place to start."
©Mouse Memories, 2008.

If you think that you really might not have long term interest in or time to memorialize every facet of your family life, then you would approach scrapbooking differently. You might want to create mini albums or other photo projects that aren't even intended to end up in an album. Home decor items created with photos would be a great example of this. Album pages that are 12 x 12 are really great to work with, though, so there's no reason not to plan your first project to be a stand alone 12 x 12 album, even if you don't think it will eventually become one of thirty volumes of your family history!

In both cases, you will want to choose your first theme to work on. We know that we're biased, but if you have Disney pictures to scrapbook, they are definitely the most fun! Plus, there are so many awesome Disney products on the market that you can create a simple project that looks like a masterpiece!

We're going to assume for the rest of this article that you've chosen a Disney themed project to get started with, but you can certainly apply the same principles to starting with any theme.
Choose your topic. We're assuming that it is a Disney Vacation Trip.


Gather your pictures together. If they are already printed you are ahead of the game. If they are not printed, at least make sure that all the pictures from this trip are in the same folder on your computer.


At this point you will need to make a high level decision about how you want to structure your album. (We've already started with the assumption that it is Disney themed. Now, because we are biased -sorry West Coasters!- we're also going to assume that it is a trip to Walt Disney World.)



Some people are simply chronologically-brained. Is that a term? We're going with it anyway. For you, it won't seem right if the album doesn't follow the chronological timing of your trip. If that is you, you might want to start by sorting your pictures by day on your trip. If you happened to have written a trip report of your trip, this can be a very useful tool in sorting your pictures in order. If you have stacks of printed pictures, just create a label (on scrap paper) for each day of the trip and sort them accordingly. If your pictures are still on your computer, you can subdivide them in your Disney trip folder.


Lots of people are more theme oriented in their albums, and will sort the photos by theme. For a Walt Disney World trip, for instance, your high level sort might be into piles for Magic Kingdom, Epcot, the Hollywood Studios (or MGM if your trip was pre-2008), and Animal Kingdom. You might also have a stack for traveling, hanging out at your hotel, pools or water parks, Downtown Disney, or other attractions you might have visited on your trip.



Whether you are planning your project to be chronological, or theme oriented, you will follow basically the same steps from here on out. You're now ready for a mid-level sort. This is where you have to force yourself to be brutal. In the digital photography age, most people come home from a Disney trip with up to 1000 pictures or even more! A good target for narrowing down your photos is about 150-180 pictures for a full 12"x 12"album. So clearly not all of those 1000 pictures are going to be memorialized in your album. (Of course, you can have multiple volumes of albums if you just can't narrow down your choices, but with every extra album is that much additional work to be done.) Here is one good process for sorting out the rejects.



Eliminate blurry or poorly lit pictures. (If they're just plain bad pictures, toss them. Or, eliminate them from your computer files so they are not taking up space.)


Eliminate duplicates. (If you've printed exact duplicates, save those so you can give them away or use them in a different project.)


Eliminate duplicates that aren't exactly duplicates. You know, the ones where your little darlings were being sooooo cute with Mickey Mouse, so you snapped like 45 pictures most of which are the same except for a small facial expression change. (On the other hand, you may want to be careful here: five or six pictures of the same thing with only slight differences can be made into a wonderful and effective layout. At this point, hold onto such extras since we're really just trying to narrow down the scope of the project, not put a crimp on your creativity. You can always take out a few more at the end when you're working on a specific layout.)


Eliminate pictures that don't portray things you specifically want to remember about the trip. If the kids were fighting with each other just as you snapped the picture, you might not want to feature that on a page, etc. (In this case, we recommend saving the picture for future blackmail use against your children.)


Obviously, you don't want to toss any rejected pictures that are still good photos. You may want them for a future project even if they don't make the cut this time around.



After you complete the initial review process described in step #4, your picture stacks or number of computer files should be much smaller. Now you're going to separate those into what pictures will actually be used on each specific layout. This is an exciting step, because you'll begin to see your album laid out before your eyes. There are lots of expensive organizational products on the market that you could purchase to keep your sorted pictures in as you work on individual layouts. While they can be helpful, they really are not necessary. We recommend, instead, that you have at your fingertips your pictures already sorted through step 4, a stack of plain envelopes, and a pen to label the envelopes.



Take one stack of your pictures at a time. (If you are working with digital pictures that are still on your computer at this time, you can keep subdividing them with sub-folders.) If you're working chronologically, you might start with your Day 1 of the trip stack. If you're working by theme, choose any stack that inspires you. For our example, we'll choose the Magic Kingdomstack.


You now want to sort these into specific themes. Even chronological albums will have themes as you progressed through your day. For example, in our Magic Kingdom stack, we might start by sorting the pictures by land so that all pictures from Fantasyland are all together, etc. There would also probably be a stack of character interaction pictures. We usually make that an entirely separate stack, regardless of where in the park we actually encountered the character.


After that sort of your first stack and while you are still working with those pictures, we're going to sort one more time. Let's say we are working with the Fantasyland stack we sorted from the Magic Kingdom stack. Now you might want to subdivide that directly into themed layouts. You might have 6-8 pictures of your family on Dumbo. Separate that into one set, put it in an envelope, and mark the outside of the envelope Dumbo. If at this point you have several other pictures left of Dumbo, you can still put them all in the same envelope and decide later if you're willing to devote several pages of the book to Dumbo, or if you want to do some further eliminating. It's a Small World might also get it's own envelope filled with pictures. Keep working with this Fantasyland stack until all pictures are sorted by theme into labeled envelopes. Don't be stressed if you have one or two pictures here or there that don't really seem to go with anything else. Maybe while in Fantasyland you stopped for Mickey Head Ice Cream and you have a great stand alone picture of the kids with Mickey dripping down their faces in the stroller. Collect all those seeming misfits into one envelope and mark it. They can become a great part of a collage page later on.


When you have finished sorting the Fantasyland stack, start into the next pile from the Magic Kingdom pictures. When the MK is done, grab another mid-level pile and repeat the process. Just keep working this way through all the sections, until you have sorted all the pictures for your project. One additional step we usually throw in here is to keep one list of what you have sorted. It might look as follows:



Dumbo 8 pictures
It's a Small World 12 pictures
Meeting Mickey 52 pictures (Just kidding we've already eliminated a bunch of these, right?)
Family with Castle 5 pictures
Meeting Pooh 7 pictures



This list, when you are done sorting and it is complete, can become your shopping guide. If you have no pictures of Tigger, you don't need to buy any Tigger products. If you have 52 pictures of Mickey that you can't bear to part with, you might need to plan for several Mickey themed pages, and therefore will need to purchase more Mickey products.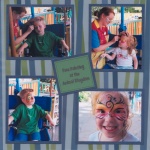 Scrapbooks capture special events that you want to remember for the rest of your life!
Groesbeck Project Scrapbooking Page Layout, Produced by
Mouse Memories. ©Mouse Memories, 2008.
Next Time...
Your assignment between now and our next article? Choose a trip or project. Get out those pictures and get them sorted into labeled envelopes. In our next article, we'll give you some pointers on how to buy the right products for your pages, without going overboard. We'll also start working on layout design, including how to decide how many pictures to use on a page.
Index of All Scrapbooking Magic Articles