by Barbara Bennett and Brian Bennett
of MouseMemories.Com


Anyone that has been involved with scrapbooking over the past few years may find that this article is a bit "basic." However, new scrapbookers and anyone that is considering giving it a try should find the information in this piece helpful.
You might think that paper is paper and stickers are stickers. Period. Actually, though, there is a lot that can be said about both paper and stickers. One very important thing to point out is that any products that you purchase for a scrapbooking project (including paper and stickers) should be purchased with the main purpose of scrapbooking in mind... that is, archiving and protecting your memories that have been captured in photographs, newspaper clippings, and other mementos. Anything that comes into contact with those precious items should be purchased with the product's archival qualities in mind.
Let's review some comments that we made on this issue way back in the first article in this series:
"Most substances (including paper, cloth, photo paper, etc.) contain acid which is the arch enemy of anyone that is trying to preserve photographs and other mementos. Acid content is measured on a pH scale. If a material has a pH value of 7.1 or more, it is said to be alkaline (acid free). Any number below that is considered acidic. A reading of 7.0 is neutral. Substances that are either strongly acidic or strongly alkaline can cause damage to photographs, pages and other sensitive elements. Another chemical arch enemy of scrapbookers is lignin, an organic substance that is found in wood fiber and is therefore naturally found in paper. Lignin is acidic and is the substance that causes paper to turn yellow with age. Fortunately, scrapbooking products produced by reputable manufacturers, have had the lignin removed, and been made to be as close as possible to pH neutral (non-acidic and non-alkaline). Such products are often marked acid- and lignin-free."
We strongly recommend that you do your shopping for your scrapbooking projects at reputable scrapbooking stores and with reputable online retailers. You certainly don't want to use products that will end up destroying the very keepsakes that you're trying so hard to preserve!
Paper 101
Paper can be purchased for scrapbooking projects in many different sizes and styles. By far the most popular scrapbook album size is 12" x 12" so it's not surprising that the most popular paper size is also 12" x 12". However, paper can also be purchased in 8 1/2" x 11" size, which is the most commonly used paper size for office work, of course, but is also used for some scrapbook album projects. 8" x 8" and 6" x 6" are more common scrapbooking sizes, however.
The most common paper that is used for scrapbooks is commonly called cardstock. Cardstock is a thick, heavy weight paper (usually 60-80 pound weight paper, whereas typical copy paper used in an office is only 15-20 pound weight). Cardstock is usually colored. It can be purchased with either a smooth or a textured finish. Scrapbookers often mix and match paper colors and textures to create varying looks on their page designs. A new trend in cardstock production is the multi-colored cardstock sheets which are becoming available. Multi-colored cardstock is special because it is made with layers of varying colors so that you can tear the paper (which is a very easy way of creating mattes for your photos, for example, that results in a fantastic appearance) and expose those various colors.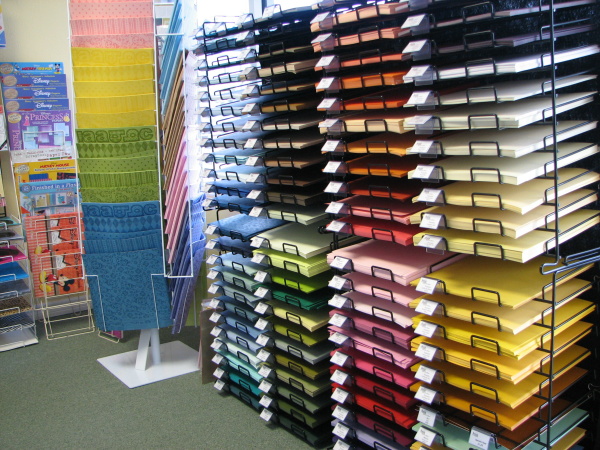 A view of Mouse Memories' display of Prism Prismatics textured cardstock and Creative Imaginations' Pizzazzill pattern-printed cardstock.
Photo ©Mouse Memories, 2008.
Simple printed paper is also a very commonly used scrapbooking staple. Printed paper is usually of a lighter weight than cardstock, but not necessarily so. Some printed papers by some manufacturers are as heavy, or even more so, than common cardstock. A wide variety of images are printed on scrapbooking papers. Some are simple designs and patterns. Others have much more intricate, ornate designs. Photo-realistic designs, in which an actual photograph or collage of photos – sometimes with hand-designs also included – are also very popular. Our design team usually begins every layout by choosing a printed, patterned paper that coordinates with the colors in the pictures, and then coordinating one or two solid colors of cardstock to use as mattes for the pictures.

This simple printed paper is great for scrapbooking trips to Mexico...
or to Epcot's Mexico pavilion... or to WDW's Coronado Springs Resort.
image ©Mouse Memories .
Embellished papers are also readily available, although they aren't used as often as simple cardstock and printed paper just because they cost more. "Gloss-embellished" Papers are printed with some of the design details printed with a high-gloss finish. "Glitter-embellished" papers are accented with shiny flecks that provide a pretty reflective appearance. Embossed papers, which are literally pressed in a die to provide a textured feel, are also available. Specialty papers are also available that can be used to provide an extra dash of excitement to a page layout. Paper that has some texture and the appearance of sports balls (like the pimples on a white golf ball or the leather-texture of a football or basketball) are some examples. Embellished papers can make an "ok" layout exceptional. You do spend a bit more on those papers, but often need fewer other embellishments to make a great layout. If you plan your purchasing wisely, you can use awesome papers AND spend less on your layouts!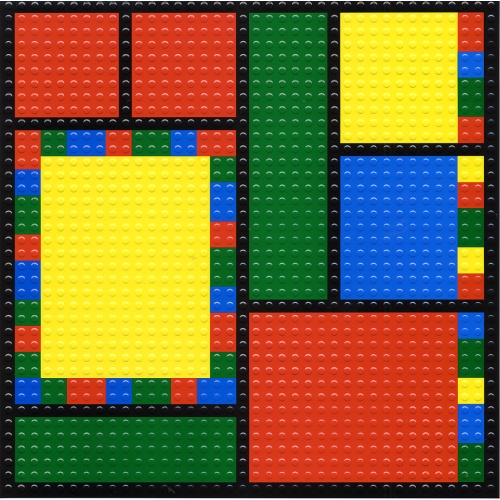 This embossed paper is one of several that are great for page layouts
highlighting pictures of a visit to Legoland, the Lego Imagination Center,
or of your kids playing with the ubiquitous plastic blocks.
image ©Mouse Memories .
The old adage, "if you can dream it, you can do it," has been taken to heart by scrapbook paper manufacturers! The colors, styles, and designs are virtually limitless! One purchasing tip for papers that many veteran scrapbookers find critical is to always buy papers in 2's. When you purchase in 1's, you are much more limited in your creative options as you work on your pages.
Stickers 101
When most people think about stickers, they usually think of a sheet of flat stickers that you peel off and stick down. Stickers are much more diverse than that in the modern scrapbooking world! The term "sticker" of course, implies that the product is self-adhering. However, the variety and style of stickers is even more broad than papers.
Flat stickers are still very much available and very popular. The designs of those flat stickers range from simple designs to very complex, intricate ones to photo-realistic stickers. Flat stickers can be printed on paper or they may be printed on mylar or another plastic material. Something to consider when you purchase your stickers, especially flat ones, is that many older sticker designs include a fairly visible white border around the sticker image. Since many scrapbookers find that border to be unappealing or distracting, most scrapbook sticker manufacturers have moved toward a borderless design. Mylar-based stickers are one great solution that sticker manufacturers came up with that provides the border-less appearance that most scrapbookers prefer.
One step up the evolutionary chain from flat stickers are cardstock stickers. Cardstock stickers are also flat, but because they are printed and cut out of a heavier material they provide a different look to a scrapbook page. They are easy to use to add more dimension to a page by using a pop-dot adhesive between the paper and the sticker. You can also do this with regular flat stickers, but because they are more flimsy, a more complicated process is required to get the same effect. Many scrapbookers feel that cardstock stickers look richer and more elegant than flat stickers.
Many flat and cardstock stickers are embellished, much like embellished papers. Stickers can be found that are glossy, glitter-embellished, and embossed (most embossed stickers are cardstock stickers, because the heavier stock is required to have a nice embossed design).

Here's an example of a flat sticker sheet.
Artwork ©Disney.


This flat sticker sheet has been embellished with glitter.
Artwork ©Disney.


Here is a closeup of the glitter-embellished sticker... you can see the glitter in Ariel's tail and top.
Artwork ©Disney.
That's just the beginning, though. Epoxy stickers (also called "gem" stickers by some manufacturers) are flat stickers with a clear epoxy plastic covering or overlay. The epoxy adds a look of dimension to the sticker which translates into yet another design flourish to enhance your pages.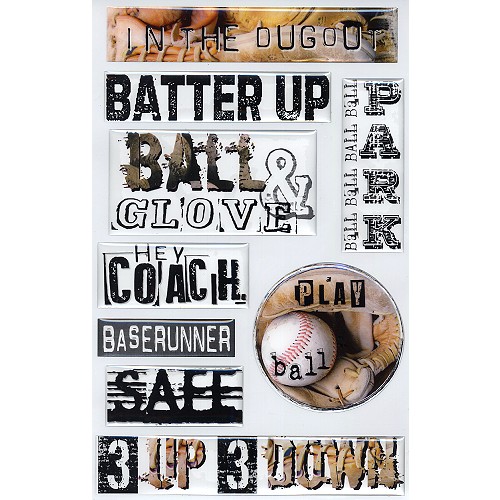 You can see the way that light reflects off the
overlays on this epoxy sticker sheet.
image ©Mouse Memories .
Other stickers are even more complex with multiple layers of different materials such as cloth, plastic, and paper. The resulting stickers provide even more dimensional, layered design possibilities. These stickers can be expensive, but provide a simple to use sophistication to your pages. Below is an example of a dimensional sticker. Obviously, this kind of sticker provides a softer, more luxurious appearance on the scrapbook page than would a "flat" sticker.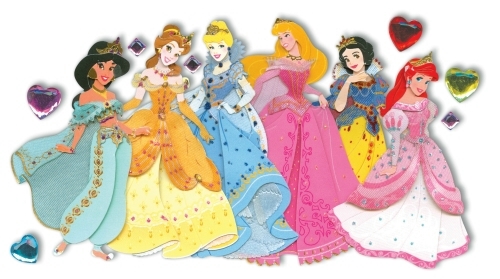 This dimensional sticker, produced by EK Success, is made of layers of paper and fabric.
Small rhinestones and beads provide more decoration and dimension.
©Disney.
With just paper and stickers, which are easily cut and attached, plus your own photos and mementoes, even a beginning scrapbooker can create lovely page layouts that take only minutes to produce. Plus, because paper and stickers tend to be inexpensive, awesome page layouts can be produced on a tight budget! In our next article, we're going to build on Paper 101 and show you several different techniques you can use with simple papers to make great page effects!
Index of All Scrapbooking Magic Articles