by Barbara Bennett and Brian Bennett

of

What In the World IS All of this Stuff?

In our last article, we pointed out that scrapbooking is simply a means of capturing those memories: usually by taking photographs, written text, and other mementos and mounting them in an album. Scrapbookers, though, are starting to think "outside the album." You'll find scrapbook pages everywhere from in albums to hanging on walls as home decor.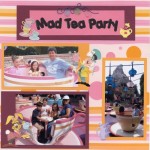 Since time "is the stuff life is made of"... this page captures life in progress!
McClennen Project Scrapbooking Page Layout, Produced by
Mouse Memories. ©Mouse Memories, 2008.

Making cool scrapbook projects shouldn't seem like a difficult task. Some of you might be freaked out by the super fancy, majorly creative pages you've seen in scrapbooking magazines. We know what you're thinking..."I could never do that." Here's the thing... you don't have to! Most scrapbook layouts that can be found in the magazines are not realistic. They are the masterpieces of those designers and have been slaved over for hours. Having the available time and money to complete the over-the-top elaborate layouts found in most magazines is not the world most people live in. It certainly isn't the world I live in and I'm a professional scrapbooker! But to our families, it doesn't matter. When you've created your first scrapbook page, your family is not going to negatively compare it to a magazine layout somewhere. They're going to be ecstatic to see themselves depicted on the page, and they'll be talking about the memories the pictures bring back to mind.

The Tour

There are tons of different products being marketed to scrapbookers. We decided to take you on a photo tour of our own MouseMemories warehouse to introduce you to the kinds of products that are available in the modern scrapbooking and craft industry. These products can help you create great albums filled with pages of your favorite memories.

Pre-Finished Albums

Let's start our tour with the assumption that you're interested enough in scrapbooking that you want to know more about the products that are available and a little bit about the buzz words that scrapbookers like to use.

At the top end of scrapbooking's "easy button" scale is a pre-finished album - an album that comes as an "almost completed" project. The pages have already been assembled into the album for you, and often include embellishments. (Embellishments are the "bling" of a page, usually adding dimension and extra eye appeal.) All you have to do add your photographs and any written text (called "journalling") that you may want. With that, your project is complete and you are the proud owner of a fabulous reminder of the special event that you captured in the album. Prefinished albums are also great to give as gifts! I love to use them as gifts for all occasions. Expecting moms love to receive them as shower gifts! They'll be busy after the baby is born, but can just add photos to complete the album and be able to pass around those proud mommy pictures of their new bundle of work....er...I mean joy. :)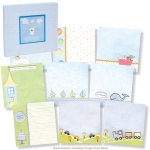 This is a baby boy pre-finished album and some
samples of the pages provided, by EK Success.
©EK Success.
Scrapbooking Kits
If you'd like to delve a little further into the creative process, another good choice might be to go with a Scrapbooking Kit that includes an album, as well as the papers and embellishments necessary to complete the album. These are usually theme specific and can be a great way to get the project done with a minimum of fuss.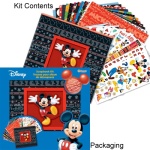 Here's a Scrapbook Kit, including the album
and all necessary products, by Sandylion.
Photo ©Mouse Memories, 2008.
Albums and Accessories
If you don't go with a pre-finished album, or a scrapbooking kit that includes an album, you will be choosing all of your products separately. This is lots of fun as you can totally customize the whole project to your own style. You will need to choose your favorite size. Albums are available in a variety of sizes including 12" x 12", 8" x 8", and 6" x 6". The vast majority of scrapbook hobbyists have settled on a 12" x 12" album size as the typical standard. The 8" x 8" and 6" x 6" albums are usually used for smaller subjects and for gifts. A typical example would be to capture a season of a local youth soccer or little league team. You can also do lots of differently sized and shaped mini-album projects that are just plain fun. We'll get into some more detail on those in a future article.
I recommend that beginners create their first album in a 12" x 12" size. That gives you access to the broadest product lines on the market, and once the first project is completed you'll be able to decide if you'd like to try a different size. When you've chosen your size preference, you will have lots of album choices available to you. You can purchase generic albums that are absolutely beautiful and extremely well-crafted. Although such albums look great, they don't give anyone a clue as to what memories are captured inside. As an alternative, themed albums are available that make it quite clear what kinds of photos and mementos are inside.

This Red Luxe Silk 12" x 12" Album, by Colorbok, is a great
example of a "generic" album that is un-themed, but gorgeous.
©Colorbok.
Some albums feature a "window frame" into which you can place your own photograph. That certainly personalizes the scrapbooking right from the get go. Other albums feature decorative features such as "shadowboxes" which are a themed design feature that appears to pop right out of the cover.

This Spider Man album, by Sandylion, features a shadow box
that makes Spidey to literally "pop-out" of the cover.
©Marvel.

This "Mickey Squares 6" x 6" Accordion Album,"
©Disney.
But there's more to an album that meets the eye when you're looking at the cover. Albums are produced by many different manufacturers and have several different design features. Almost every scrapbooker develops preferences about these alternative designs. In a future article, we're going to go into alot of detail on album types and styles and the pros and cons of each. Not sure what to use to get started? If you've chosen your album size, you can start working on pages and choose the album later.
Page Protectors
Most album types are designed to be expandable so you can add pages as your project grows. We're going to cover more detail on these styles in the next article, but there is one thing you should know right away. If you choose an album to get started with, be sure that extra sets of page protectors, made specifically for that album by the same manufacturer, are readily available. Each manufacturer has made their page protectors a little bit different from everyone else's. Sometimes that makes it really simple to find an album you love, and then really difficult to find the right page protectors so you can expand it. Many long time scrapbookers have learned the hard way to buy refill pages at the same time as the album.
Getting started
We've covered some basics about scrapbooking kits and albums. Now let's get to the fun part - the creation of what goes inside...
Idea Books and Magazines
Scrapbooking is a pastime that blends history (your own family history) with the creative hobby of paper crafting. After working on a few album projects, page ideas will come naturally as you see the photos you're working with, the characters that are included (either Disney's characters or your own family "characters"), the setting and mood of the photographs, and the events and memories that you wish to capture.
To get started, though, idea books and magazines can be extremely helpful. And don't let anybody kid you. Even very seasoned scrapbookers get inspiration from the layouts of other scrapbookers. We call it "scraplifting."

Several idea books are available for various themes. Scrapbooking
magazines (there are bunches) are also great sources for new ideas and
page layout suggestions.
©Disney.
Instant Pages and Page Kits
Many people like the look of a finished scrapbook page, but just don't have the time or inclination to come up with their own page designs, even via "scraplifting." For those scrapbookers, Page Kits are the perfect solution! With a completed design, step-by-step instructions, and all or most necessary materials included, a scrapbooker can take a page kit and turn it into a finished page in just a few minutes. When shopping for page kits, be sure to read the packaging to see exactly what is included, and most importantly, what is not included that may be needed to complete the project in the picture.
Many manufacturers specialize in kits and our store offers a "Kit of the Month" that includes two new kits, from Evelyn Ptak Designs, every month. They're perfect for Disney fans that want great page designs, but don't have time to work from scratch.

Follow the instructions to assemble this two-page 12" x 12" kit, then
crop your Tinker Bell photos and affix them to the mats provided.
©Evelyn Ptak Designs.
"Instant Pages" are also available from some manufacturers. These are usually a pre-assembled kit or a preprinted (but flat) page that requires only that you crop your photos and affix them to the page.
Cardstock and Paper
Cardstock, heavy weight solid colored paper, is the basic raw material of scrapbooking. Other than the photographs and mementos themselves, no other product is used as much or in so many different ways as basic cardstock. Many albums will come pre-loaded with plain white background papers. While layouts with white backgrounds can be nice, don't get stuck in the rut of using them for all of your layouts. Lots of scrapbookers began using white backgrounds for all layouts. That's what was available at the time we were learning scrapbooking. Take it from someone who's been there, done that... you will love your completed pages much more if you branch out and use solid colors that coordinate with the photos on your layout. Keep those white pages, because they can be used later to make photo mats to use on solid color or printed pattern backgrounds.

A view of Mouse Memories' display of Prism Prismatics textured cardstock and Creative Imaginations' Pizzazzill pattern-printed cardstock.
Photo ©Mouse Memories, 2008.


Here is a view of some of Mouse Memories' sports-themed pattern-printed papers.
Photo ©Mouse Memories, 2008.


Here is a view of some of the Disney-licensed and themed pattern-printed papers stored in Mouse Memories' warehouse.
Photo ©Mouse Memories, 2008.
Once you start looking, you'll find that there are thousands of great printed papers available. Don't be intimidated by this fact; embrace it. Paper will become your best friend. Using a paper that is preprinted with a great background that fits your photos is like creating an oil painting masterpiece, but starting with much of the canvas painted already for you. You just need to add the touches... and look like the Master! Papers are now available that are themed, embossed, glittered, textured, shimmery, or gloss coated. It's only fair to warn you: paper becomes an addiction. You'll feel like you never have enough, and you can't wait to see what new kinds are being dreamed up by the manufacturers.
Often manufacturers will combine several similarly-themed papers into a single saleable product called a "Paper Pack." The two advantages to purchasing a paper pack over individual sheets of paper is that you can usually purchase more paper at less cost and you are likely to be purchasing papers that have been designed to be used together so color and patterns will coordinate and look great when used together. In future articles we'll share a lot of great ideas about how to use cardstock and paper to produce nice effects on your scrapbook pages at very little cost.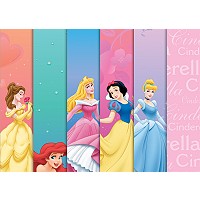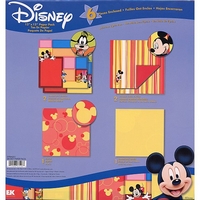 A pair of "Paper Packs": one of princess papers by
Sandylion and one of Mickey Papers by EK Success.
©Disney.
Stickers
Stickers are one of the simplest scrapbooking products to use. Almost everyone has peeled a sticker from its' backing sheet and placed it on something else. Scrapbooking stickers are applied in the very same way as any other sticker. The main difference between scrapbooking stickers and "regular" ones is that most scrapbooking stickers are significantly more decorative. Even "flat" stickers designed for scrapbooking tend to be larger and more detailed in their coloring and shading. Some scrapbooking stickers have an epoxy top surface that make the sticker appear to pop out of the page. Other sticker designs are "dimensional" (that is, made up of several layers much like a dimensional decoupage project).

Here are some of Mouse Memories' Disney-licensed and themed flat roll stickers.
Photo ©Mouse Memories, 2008.


Here is a view of some of the Disney-licensed and themed dimensional stickers and embellishments stocked in the Mouse Memories warehouse.
Photo ©Mouse Memories, 2008
Below is an example of a dimensional sticker. Obviously, this kind of sticker provides a softer, more luxurious appearance on the scrapbook page than would a "flat" sticker.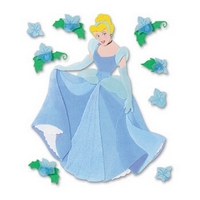 This dimensional sticker, produced by EK Success, is made up of layers of paper and fabric.
©Disney.
Rub On Transfers
Rub On Transfers are also a very old type of product that has been greatly improved and adopted by the scrapbooking industry. For example, the Ariel rub-on transfer sheet shown below measures approximately 4 1/4" x 6" high. By holding the sheet against the scrapbook page that you're working on and rubbing with a popsicle stick or rubbing tool, the full color image that you wish to use is permanently affixed to the page. The advantage of rub-on transfers over stickers is that the resulting image appears almost to be hand-painted onto the page whereas stickers can more easily be identified by sight. Rub ons can also be used in lots of other great crafting products. Not all rub ons are created equal, though. If you know a few scrapbookers, it's likely you know one that refuses to try rub ons. This is probably because she had a bad experience with them. Each manufacturer makes theirs a little bit differently. Some are awesome and easy to use, and some are more difficult to get the whole image to transfer to your project.
You can decide between using a sticker or a rub-on transfer, often, just by looking at the artwork. It's very rare that a scrapbooking manufacturer will release the same artwork in both media.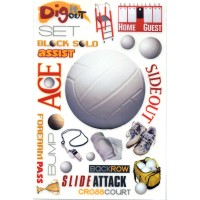 This rub-on transfer provides great artwork for a volleyball-themed page.
©Scrappin' Sports and More.
Alphabets, Words & Phrases, and Titles
One key aspect of scrapbooking is retaining the memories that are captured by the photographs. Words describing the events are often added to give background information, event dates, names of prominent participants, and so on. In fact , ' not uncommon for entire paragraphs to be added to a page to give the whole story.
For Disney vacationers, that's a great thing! Scrapbooking, through the words added to the page, is a natural use of the trip reports that many of us have written over the years. Lesson-learned: When you work on your Disney vacation scrapbook album projects, print out a copy of the associated trip report to use as a reminder of what was actually going on in all of those photos. You can even make a pocket page for the end of the album that allows you to slip the entire trip report in.
On most pages of scrapbooking you'll want to have a title that gives an overview of what the layout is about. You can certainly use pens and write your own titles. You can also use commercially-prepared titles or use commercially-prepared alphabets and piece together the title by stringing those letters together.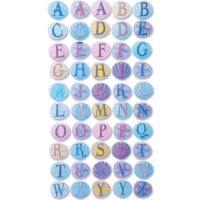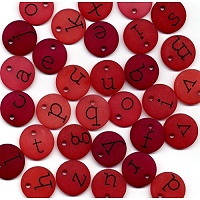 Commercially produced letter stickers and lettered buttons
are easy ways to add titles to your scrapbooking pages.
©EK Success and Buttons Galore.
As an alternative, you can use commercially prepared whole titles for your pages! These often provide fabulous-looking titles at a substantial savings in time and effort.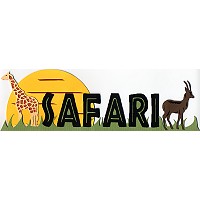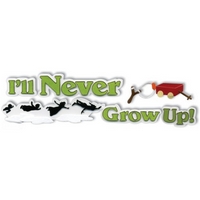 Commercially produced titles are also available to scrapbookers.
©Paperclip Designs and Disney.
Borders
Borders can include titles, but are often just decorative elements that run along an edge of a page either horizontally or vertically. The very simplest of borders can be a strip of differently-colored cardstock affixed to the background piece to provide contrast.
Borders can be self-adhesive (i.e. stickers), rub-ons, or non-adhesive elements. Each of them shown below are approximately 12" in length and are designed to span the entire length of a page.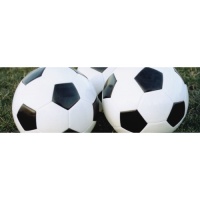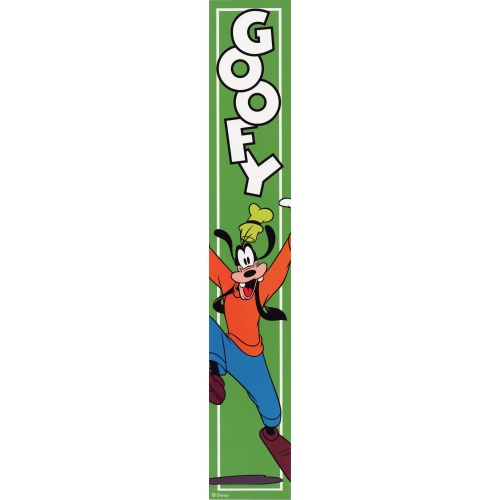 Borders can add some additional detail or decoration to a page.
©Paper Wizard, Scrapbooking 101, and Disney.
Die and Laser Cuts
Die cuts are paper products usually cut out of simple cardstock with a mechanical die and die cut machine. Die cuts can be of various sizes, but are usually smaller than an 8 1/2" x 11" piece of cardstock. Many stores sell die cuts and some stores even allow customers to use the store's die cut machine to cut them out. However, over time die cuts are giving way to laser cut products, which are much more detailed. Laser cuts are also usually paper products, although other materials can be cut with laser cutting machines too.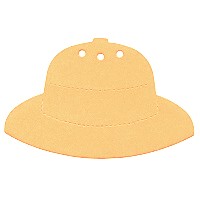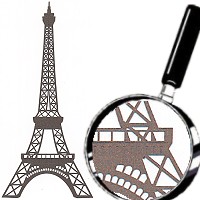 Die cuts can be simple, like the pith hat at left or more complex like the streetlamp in center.
But really complex cut out designs, like the Eiffel Tower (©Paper Wizard) at right, require a laser machine.
Die and Laser Cut Kits
Several pieces of cut paper and other materials can be layered together to create absolutely stunning designs. Although easy to assemble (for the scrapbooker), these designs are complicated to produce and are usually done by manufacturers with lots of experience with laser cutting machines.

Extremely intricate designs, like this "50th Anniversary Castle," are produced by
combining several layers of paper and other materials all cut by a laser machine.
©Paper Wizard.
Embellishments
Embellishments are a very broad category of products that can be used by scrapbookers to add design flourishes to their pages. Frankly, they are not needed to produce a scrapbook that does the job of capturing memories, but for the crafty among us, embellishments can be used to make even simple page designs look spectacular.
Simple craft products such as buttons, ribbons, fibers, patches, eyelets, and brads can be applied to a page in various patterns or arrangements to add color and style. Those products, along with cardstock, can be combined into more detailed embellishments such as tags, shaker boxes, and layered elements of a page. Fortunately, many manufacturers produce prefabricated embellishments that you can simply apply to your pages.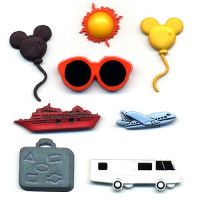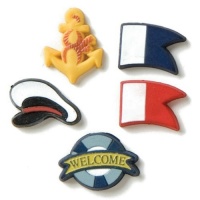 Manufacturers produce buttons, brads, and patches & Ribbons embellishments.
©Buttons Galore and Karen Foster Design.

Licensed prefabricated embellishments are available, too, like this one from EK Success.
©Disney.
Tags
Tags can be considered embellishments, but so many options exist that many scrapbookers think of them as separate products. Still, their purpose is the same... to dress-up a page with additional style and decoration.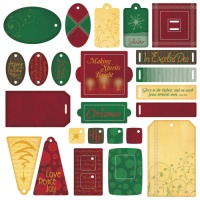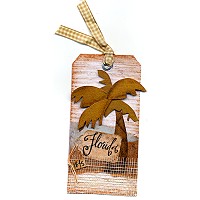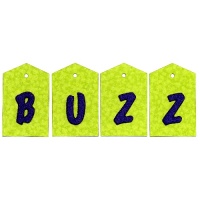 Tag Examples: Flat Christmas tags on a sheet, a very fancy layered Florida tag, and fuzzy letters on simple tags.
©Be Blessed Scrapbooking, Reminisce, and Paperclip Designs.
Page Overlays
A page overlay is a product, usually printed on a transparency, that is designed to be placed on top of the completed page to provide a final touch to the layout.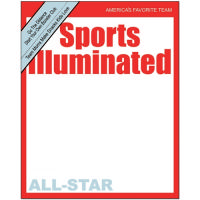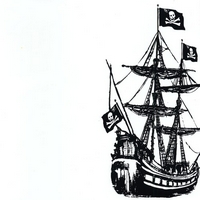 Overlay Examples: A magazine cover and an intricately-detailed pirate ship both printed on transparencies.
©Creative Imaginations and Hambly Studios.
Paper Punches (Characters and Theme Icons)
Paper punches are mechanical devices, the cutting surfaces themselves (called "dies") usually being made of zinc, that are designed to punch a designed shape from paper. With many punches, you have the choice of using the punched out shape itself, or using the paper that the shape was punched out of.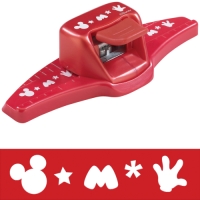 Paper Punch Examples: Mickey Border Punch, a dolphin design, and Nemo.
©Disney and EK Success.
In the photos above, the Mickey Border Punch can be used to create a punched border all along one edge of a piece of paper. The "wings" on the punch are designed to allow you to line up previously punched paper with the die so you can continue the run. The dolphin punch shows how you can use both the punch-out and the punched paper in your designs. The Nemo punch on the right shows how intricate these punches can be, with a design that brings out the details of the clown fish.
Rubber Stamps and Accessories
Rubber stamps, ink pads (in various colors), and stamp mounts are very commonly used in papercrafting. Actually, they are more often used in cardmaking than in scrapbooking, but many good scrapbook pages have become fabulous when a rubber stamping detail was added to the design.
Smaller rubber stamps are great for creating borders because they can be used repetitively in a concentrated area without overwhelming the whole page. Larger stamps are best used as page features to really draw out some specific detail in your photographs. For those papercrafters that have the patience to color these rubber stamps the way the manufacturers show in their samples, absolutely incredible results can be had.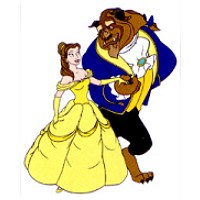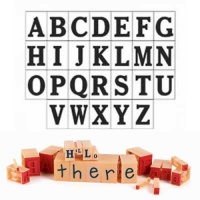 Beauty and the Beast and Cars Rubber Stamp Set are great character stamps. The Snap-Stamps Alphabet,
by Karen Foster Design, allows you to attach several letters and then stamp them together to create great title effects.
©Disney and Karen Foster Design.
Templates
Templates are to be used just like you would expect. Hold the template down and trace around it and you'll create a likeness that can be shaded or colored or even left alone if you like the minimalist look. You can also use chalks to create shading in the image, or an embossing tool or embossing powders with a heat gun to give it dimension. One advantage that templates, rubber stamps, and paper punches have over other scrapbooking products is that they are durable. They can be used over and over again. The trick to having durable products in your scrapbooking repertoire is to come up with many different ways to use them so your pages are enhanced by them and not made to look repetitious. Lots of scrapbookers pay attention to what their friends have purchased when it comes to these types of items so that they can buy different ones and share.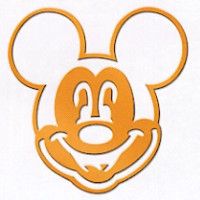 These Mickey and Piglet brass templates can be used over and over again.
©Disney.
Adhesives
Once you've decided where you want various elements of your page to be, you'll need to use something to fix them in place. Rub-on transfers and stickers are self-adhesive and are designed to go where you put them and no move about. Most other parts of a designed page layout are not self-adhesive and need to be stuck on. One classic example is if you cut a piece of cardstock as a mat on which to mount a photograph. After cutting the cardstock to the proper size, you'll need to use some adhesive to attach the photograph to the mat and, in turn, to attach the mat to the page. Other page elements need to be affixed in a similar way.
The varieties of adhesives that are available to scrapbookers is astounding. Most scrapbookers will use adhesive tabs or glues along with a refillable dispenser of some sort for adhering photographs and paper items, although some prefer to use a spray on adhesive for such large applications.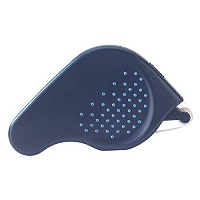 These refillable adhesive tab (left) and a glue-dot dispensers
(right) are commonly-used scrapbooking adhesives.
©EK Success.
Glue pens are a good choice when mounting light and small items to the page. Metal glue, which has a thicker consistency, is often used for larger, heavier embellishments. Simple white glue (make sure you have an acid free version such as "Scrappy Glue") can be used with glitter, scrapbooking tinsel, jewels, sequins, buttons, and more. "Scrappy Glue" is a specially formulated, super strong, neutral PH (acid free) glue designed specifically for mixed media adhesion in scrapbooking. It dries quickly, dries clear, and is thick enough to retain its' shape upon application.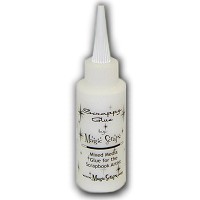 Glue pens and white glue are also
commonly-used scrapbooking adhesives.
©EK Success and Advantus Corporation.
Pop-dots, which are available in black or white, square or round, and in various sizes (from 1/8" to 1" thick) are basically self-adhesive (on both sides) precut pieces of foam. You can use them like double-sided tape but with thickness to make certain elements pop-out of the page at various heights. Pop-dots can certainly be used to create some fun effects.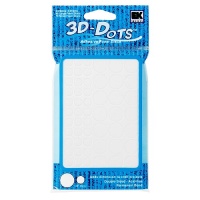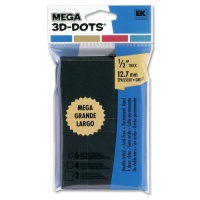 Pop-dots, such as EK Success' 3D-Dots, can be used to add
dimensional appearance to your scrapbooking pages.
©EK Success.
Adhesive tapes are often used in scrapbooking, too. Two very popular types of adhesive tape are two-sided tape (for mounting photographs and paper elements to the page) and vellum tape. Vellum tape is a specially-designed tape that does not show when you use it to affix vellum papers. Vellum is often used to make a paper project look more formal (such as for wedding invitations). Unfortunately, vellum is also translucent (which means that is is partially "see through") and so regular tapes and adhesives ruin the appearance of vellum when mounted on a page.
Adhesive Recommendations
As you get started, you really just need a few kinds of adhesive. Others can be added later as you decide to try new techniques and products. We highly recommend that you start with the following 3 specific products:
EZ Runner - This is a double sided tape runner. It is the basic adhesive we use to attach photos to mats, mats to paper, and most paper elements to the layout. With a little practice, it allows you to put down a tiny strip of adhesive, or a much longer strip if it is necessary. This particular one is not refillable as some on the market are. However, the refilling process in those is often complicated, and you can easily end up with a mess. We much prefer to use an EZ Runner and replace the whole thing when necessary. Our custom design department buys this product in bulk because it is the one adhesive we can't live without.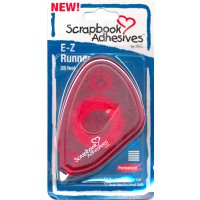 This "Tape Runner" is one of the most commonly-used scrapbooking adhesives.
©3-L Corporation.
The Zig Squeeze and Roll Pen by EK Success is our favorite for small pieces. It works kind of like a ball point pen, and allows you to add just a tiny dot of adhesive exactly where you want to.
The other adhesive type we don't want to live without is our pop dots (we usually use "3D Dots" by EK Success, but other brands are fine, too). Mentioned above, they give you an extra layer of dimension on your pages that adds a great touch.
Tools and Accessories
This is the part of scrapbooking that some husbands finally identify with. You can easily spend hundreds of dollars on special tools and accessories for scrapbooking, but only a few basics really are necessary. The others provide bells and whistles and can make some tasks go more quickly or easily, but the basics can get the job done.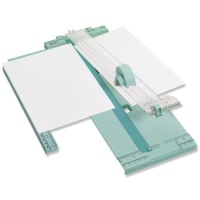 Scissors, straightedge trimmers, and guillotine trimmers provide basic cutting tools.
©EK Success.
Aside from adhesives mentioned above, you will also NEED a good pair of sharp, pointed scissors, and a 12" paper trimmer. I also prefer to use a smaller guillotine style trimmer to crop photos, but it can be done on the 12" paper trimmer.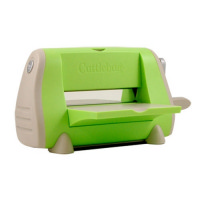 The Cricut™ Expression Personal Electronic Cutter (left) and Cuttlebug™ Die Cut
Machine (right) by Provo Craft provide the ultimate in desk top cutting capabilities.
©Provo Craft & Novelty.
Just keep in mind, "there is nothing new under the sun," and all of things that these fancy tools can do today had been done for years and years (perhaps with a little more time and patience) with much simpler tools on a much lower budget.
Well, that just about wraps it up. We've looked at several different types of products and discussed how they can be used in a scrapbooking project. We shown you a few pictures of the Mouse Memories warehouse along the way. We hope we've taken some of the mystery away from scrapbooking. It's not a difficult hobby and it doesn't have to cost a fortune. Most important, the result of capturing those special events throughout your life will be priceless.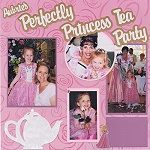 Tea Time... not Tee Time.
Groesbeck Project Scrapbooking Page, Produced by
Mouse Memories. ©Mouse Memories, 2008.
Next time, we'll discuss how to begin YOUR scrapbook project.
Between now and then you may want to get that box of photographs from under the bed and make a quick stop at your local scrapbook store (or MouseMemories.Com) to purchase the adhesives and basic cutting tools we mentioned during the warehouse tour!
We'll begin next time by discussing how to sort those photos, then we'll start making some basic decisions about the album project we're going to tackle, finally we'll get our feet wet by designing some easy page layouts that go well with those photos.
Editor's Note: Many of the pictures in this article show actual scrapbooking products that are sold by Mouse Memories. In order to help the article "flow" we have provided medium-sized images that should be a good balance between page load time and visibility. For those pictures with extra detail that just can't be made out in the smaller-sized image, we've provided a button that allows you to see the image in a larger size.
Since its' founding Mouse Memories has operated as an Internet-based business so visiting our warehouse is quite different from shopping in a typical local scrapbooking store. Our warehouse was laid out to optimize our job of pulling and shipping on-line orders, so our products are not organized by theme, but by supplier. Also, few items in the warehouse are price marked, since the prices are clearly shown on the site. Our point of sale system is tied to our website inventory control system so we can track inventory regardless of who (web customer or walk-in guest) purchases our products. The bottom line is that we encourage our guests to ask our staff if they need any assistance while they're in the building. We're happy to help!

The Mouse Memories Warehouse, located in Kissimmee, Florida.
Photo ©Mouse Memories, 2008


One view from inside the Mouse Memories Warehouse.
Photo ©Mouse Memories, 2008


This sign is posted to let our guests know that our warehouse is a unique place to shop.
Photo ©Mouse Memories, 2008
---
Index of All Scrapbooking Magic Articles