A CM from TDS took our Group Photo.
Left to Right Front Row: Deb, Conni, Dorothy, Nancy, Judy, DC Deb, Alex, Rusty.
Back Row: Carol, Floe, Steve, Rolie, Jane, Mike, Brian
WOO HOO! Well, the first Washington DC Metro area RADP Meet was July 22, 1997 at the Tyson's Corner Mall in Northern Virginia! What a grand time we all had! Mike and Judy Tuchman (jtuchman@smart.net) orchestrated the evening and had folks meet up at The Disney Store starting around 5:30.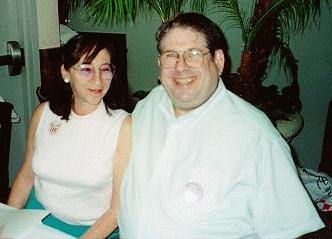 I arrived about 6:30 to find a whole group of radp'ers milling about! I was accompanied by one of my housemates, Carol (a huge fan of WDW) - who has listened to me talk "adnausium" at home about the newsgroup and RADP meets.
How neat it was to arrive and see all those cool RADP buttons! Sure made it easy to know who to go introduce myself to! Mike and Judy were handing out buttons in, as Mike puts it, "Seven Decorator Colors".
Having met Mike and Judy at the May WDW RADP meet, I spotted Mike immediately and we began talking. Mike was sharing his pictures of the castle-cake cake that was in the lobby of the Grand Floridian.
I then met Jane Preisman who had planned to stay for dinner and have her husband join her/us but something came up and she was unable to stay. She did hang around long enough for the "official" photo. We missed you at dinner Jane -- next time! ok?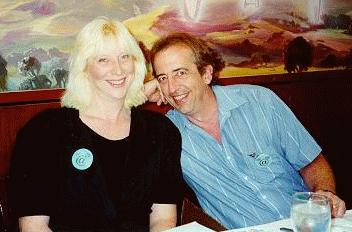 I spotted this man and knew right away, before hearing his voice, that it was radp's own Dr. D Steve Denham joined by his lovely wife Floe. I gave Steve a big hug and thanked him for all his wonderful wonderful RADP posts and support over the many months we've been on RADP. He is just as nice as he could be! In talking with Steve, I found out he works for the same Department I do and works about 5 minutes from me... AND that he knows a very good friend of mine... I could hear Walt in the clouds humming "It's a Small World...." Steve and Floe are leaving this weekend, however, to move to St. Louis! I wish them both all the best! We will miss Steve greatly while he's away from RADP...though he did assure me he'd find his way back to us somewhere down the road!
About this time, we had wandered down the mall to AMERICA, where Mike and Judy had made dinner reservations. The restaurant was very large and featured foods from all over the United States. In fact, there were so many items on the menu, it was hard to choose. Most of the folks around me (including myself) enjoyed their dinners. We were seated in a back room which was separated from the rest of the patrons by partitions... the folks lets us arrange (and rearrange) the tables as we liked and were most accommodating (albeit at bit slow - but hey - we had great company!)
Ok, so after everyone ordered drinks, I went around the table to meet the folks I hadn't yet. Next to Steve and Floe was -- Rusty Wyatt webmaster of a super cool website featuring Epcot and IllumiNations. Rusty drove all the way up from Richmond Virginia, about 2 hours. He was most excited as Thursday he will be flying in the sky on his way to WDW! (Rusty is ECFan on IRC).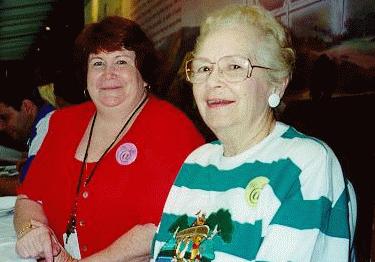 Conni Nyers (O2BNHI@aol.com) and her mother Dorothy Harding were next to Rusty. I had not met either of them before...they were sweet wonderful people. Dorothy had a wonderful smile and a great POOH shirt on!
Next were Mike and Judy. Mike was showing us all his way cool Kodak Advantage camera -- wow does that camera have some features! I knew that Mike was his department's MKC coordinator but didn't realize that Mike writes Tuchman's Tips for the folks that sign up for a MKC card! Mike and Judy always have lots of neat Disney stories to share! Also, it was Mike's Birthday so after dinner the waitress brought out a dessert complete with candle and we all sang to Mike! Hope you had a great Birthday Mike!
Nancy McClellan was seated next to Mike and Judy. Nancy is real into Disneyanna collecting and also (i hope I got this right) was the curator at the Animation Art Gallery that was in Washington DC for awhile. Nancy and I talked Disney T-Shirts. I was wearing one of my favorites I got in 91? from the Studios -- it's Black with Mickey and Minnie walking down Hollywood Blvd, GMRide in the background... I just love finding unique Disney *park* t-shirts... but i digress.
Rolie Johnston was next...he's from Hawaii and his wife Drake (drake@access.digex.net) is a regular poster on radp. Rolie is here for several months on business and living with family. We had a nice chat about RADP and WDWIG.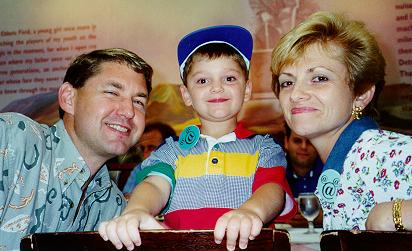 DCDeb! (budman@erols.com) WOO HOO! The Town Crier herself -- along with 5 year old Alex and husband Brian. I had a great time talking with them. Alex told me all about Star Tours Weekend at the Studios and all the characters he met! Deb was so so nice and had gotten an autograph of David Prowse aka Darth Vader for me during her trip. Deb and I talked about their trip in February; Brian and I talked about work stuffs and then our conversation meandered around to another one of my favorite topics -- wines. (And Deb, the whole time i talked to Brian i was secretly sending him sublime messages so you don't have to wait 3-4 years to get back to WDW! hehe) Alex was so so well behaved and a real delight to meet!
Lisa Harris (lisa_harris@atk.com) just happened to be in the DC area on business all the way from Minnesota and was able to join us! Lisa, unfortunately arrived after the group photo). Many of you may not realize that Lisa organized the very first RADP meet at WDW in early December 1996! Lisa is also part of the WDWIG Team writing the All Star Music FAQ! She was the first person to email me from Innoventions which was so cool! Lisa's Disney claim to fame (my words not hers) was that on a recent WDW trip she rode Horizons for 2 solid hours! And YES, the CMs made her get on and off each ride cycle! We had met in December but had not gotten much chance to talk, so it was loads of fun sitting next to her and listening to someone who visits WDW *more* than I do and is equally obsessed!
Well, this is probably way more than any of you wanted to know, but are my recollections of a wonderful evening of sharing and getting to know folks. As with all RADP meets, I wish I had been able to talk more with everyone who was there. While we certainly did our share of chatting about WDW (and not one person asked about Test Track! HA!), we also spent a great deal of time talking about the other parts of our lives. What continues to be so special to me is how the *Magic of Disney* enables people from all over the world - from all walks of life - with such different backgrounds and interests -- to come together and talk and laugh and share. Special thanks to Mike and Judy for organizing the gathering!
Y'all who were present, PLEASE share your thoughts on the evening (I'm sure I left things out) and I'll gladly include them in the write-up on WDWIG in Friday's update along with our photos!
deb <who had a wonderful time...can you tell???>
---
Rusty Wyatt Writes:
I just wanted to say I had a wonderful time. It was so nice to meet everyone that was able to show up. There were 15 of us all-together. I have to wonder what TDS CM's were thinking.....
Anyway, I'd never been to a RADP meet before, so I don't really have anything to compare this one too. If Deb will allow, I'd just go by the expressions on her face. It was a VERY enjoyable meet. Everyone seemed to have a great time.. I thought it was great. Even when I compare it to passing through the local monsoon's during my trek to DC.
I really wanted to get around and chat with more people than I had a chance to, but with so many people there it was kinda hard... For the ones I was able to chat with, thank you for a wonderful evening. DCDeb (TDC TownCrier), her husband Brian, their son Alex, Connie Nyers, and her mom -- thank you for the wonderful conversations.
And Debbie. It was so nice to put a face with the type that everyone on this group loves. I hope to stop in on the meet at the GF if my plane trip allows for it.
Thanks to all who attended and thanks again to Judy and Mike for organizing the whole thing.. BTW, I really like AMERICA. (kinda had that American Adventure feeling)
See you all after my trip!

  ()_()
   (_)  Rusty
---
Jane Preisman writes:
Thanks for the great report Deb......and I just wanted to say how nice it was to meet all of you and I'm so sorry I had to leave early :-(. (Stupid cell phone.......I either have to give work an incorrect number or just leave it turned OFF).
Sounds like you had a wonderful time at dinner.......I wish I could have been there....sigh. If the next meet is at Lake Forest and "The Junior Ranger" is tied up at work AGAIN we can just go across the street en mass and drag him out!!!!!!!
Jane - TDC Bench Warmer & Magic Monitor
---
DCDeb - Deb Komo writes:
Well, I had really hoped to post about this awesome get-together first thing this a.m., but I also knew I had to get to the gym and spin off some of that delish Chicken and Penne (did anybody notice that I ate every last morsel? No? Thank goodness!)...
Anyway, what more could we possibly add to your report, Deb? For those of you who couldn't be with us, it's really too bad, because it was a *great* time.
It was quite a thrill to meet such illustrious radp legends as Dr. D, the Tuchmans, and, of course, Deb Wills (who was nice to me, even though everyone has been giving *me* credit for being the producer of *her* fabuloso web site -- she didn't even ask me to change my nickname!), as well as everyone else who made the effort to come. And I do mean effort -- even though it was a DC-area meet, I was really impressed with our long-distance attendees: Rusty drove up all the way from Richmond, and both Rolie and Lisa were here from out of state!
Not to embarrass Deb Wills or anything (although I'm sure this will), I just wanted to report to those of you who have never met her, that there is a reason her WDWIG is so wonderful -- because *she* is. She made sure she spent time with everyone during dinner and her post on this meet shows how considerate -- and thorough -- she is. I just knew when I saw her site and her many thoughtful radp posts that I would like this woman -- and I was right. As I have said before, some people just have that Disney magic in their souls and they don't even know it.
This is not to say, of course, that everyone else in attendance was any less wonderful, however. In spite of my TDC persona, I'm basically shy, and it's a little hard for me to walk into a group of strangers (and, believe me, I don't think we could get any stranger ;-)!), but I felt so comfortable around everyone -- in fact, you all looked *so* familiar to me! I'm so glad I was there! *Now* my husband and son understand why I check in with the ng sometimes 2-3 times a day, why I chuckle to myself in front of the computer, and why, when I do get on the IRC (which is not as frequently as I'd like) I am frequently falling out of my chair laughing as I type.
Many thanks to the Tuchmans for organizing the event, and for the radp pins (but, I hate to admit it, it wasn't until this a.m. that I realized those little @ symbols were in the shape of Mickey! can you say "duh, Deb!"? It must have been the wine ;-) )
I also wanted to thank everyone for being so sweet to our son, who had a terrific time, even though he was the only (actual) kid. He especially enjoyed relating his vast Disney and Star Wars knowledge to Deb and Lisa. [Unfortunately, I think we kept him out a little too late -- he never naps any more, but he's fallen asleep here on my lap (we were just checking out Rusty's web site and playing that Spectromagic music again "sniffle"; when he nodded right off!).]
For those of you who couldn't make it to our little soiree, we missed you. [We had (briefly) entertained the idea of bringing our laptop and joining the IRC chat during the meet, but, obviously we thought better of it...] And for those of you who are feeling a little uncertain about going to that radp meet that's going to be held in your town, or even in one of the parks during your next visit, I have one word of advice -- GO! These aren't just some strangers you've never met before -- they are *friends*.
Thanks again to everyone there -- hope the next time we meet we're all in our favorite Laughing Place!
dcdeb - TDC Town Crier who, thanks to her radp friends, is probably a lot closer to another WDW vacation than she was yesterday -- everyone, keep sending Brian those telepathic messages and e-mails!!!!!
---
The Great DrD - Steve Denham writes:
Who else had a *wonderful* time? Steve and Floé, that's who! When Floé and I entered The Disney Store at about a quarter till six, it was easy to tell who the birthday boy and his wife were. Mike Tuchman is a jovial giant, and he was holding court in the middle of the store. "Here, you need a _blue_ button."; Thanks for organizing this for us Mike and Judy--you are super folks. I'm sorry Floé and I had to leave early and missed the cake, but my alarm goes off at 4:20 AM, and we just had to leave.
My personal highlight was meeting Deb Wills and her housemate Carol (and the hug from gardenia that she brought). I didn't mean to get broken up when I left, but you've done so much for this group, I'm going to miss you while I'm cyber disconnected. Rusty, Rolie, Lisa, dcDeb, Nancy, and Connie--and all assorted folks whose names I don't recall--thanks for taking the time to assemble.
In some ways, this was a difficult thing to do. One doesn't go out and make new friends, and then disappear from the scene--but in fact that is what I was doing. In the words of the White Rabbit, "No time to say hello. Goodbye"; I'll be leaving for St. Louis next Monday, and Floé will follow whenever our house is ready to sell (very soon, I hope). As a result, it was kind of a farewell dinner too.
Thank you everyone.
Steve Denham - TDC Barbie Headhunter
---
Rolie Writes: I had a great time. It is so wonderful when I can get together with a group of people with the same interest. And Disney is such a big interest. That made for some exciting conversation ! I hope to all meet you again and Drake is now sorry she had to miss meeting you all ! Have a Disney day !
-Rolie