August 2013 Walt Disney World Bits and Bites
Feature Article
This article appeared in the July 30, 2013 Issue #723 of ALL EARS® (ISSN: 1533-0753)
Editor's Note: This story/information was accurate when it was published. Please be sure to confirm all current rates, information and other details before planning your trip.
= = = = = = = = = = = = = = = = =


STEP BACK IN TIME
= = = = = = = = = = = = = = = = =
by Deb Wills
Each month, we rummage around in our archives for this featurette, which indulges in a bit of nostalgia, taking you back in history for a glimpse of Walt Disney World and The Walt Disney Company through the ages. This month, we take a look at Epcot's Mission: SPACE, which started sending guests on a mission to Mars 10 years ago this month.
After closing in January 1999, Epcot's beloved Horizons attraction, with its famous orange scent and deep sea, desert and space adventures, sat idle for several years while speculation ran rampant. Rumors of a "space"-oriented attraction filled Internet message boards and the dreams of many hopeful Disney fans. Eventually, the walls of Horizons began to come down and it was announced that a new, state-of-the-art space travel attraction would take its place. It would be called Mission: SPACE. It was probably the most anticipated attraction at Walt Disney World since its neighbor Test Track had opened a few years before.
Finally, in August 2003, Mission: Space began its preview, or soft openings, first for Annual Passholders and then to all shortly thereafter.
"Guests who accept the mission will engage in a one-of-a-kind astronaut experience that launches them into a simulated space adventure — from pulse-racing liftoff to the sensations of traveling through outer space on a mission to Mars," claimed an official Walt Disney World press release. "The new attraction is the most technologically advanced ever created by Disney. In association with former NASA advisors, astronauts and scientists, Walt Disney Imagineering developed Mission: SPACE as the first ride system ever created to take guests straight up in simulated flight."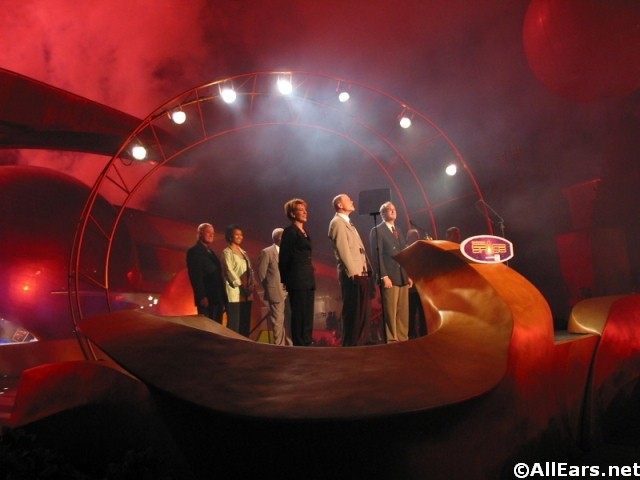 The official grand opening (held in October 2003) was attended by Michael Eisner, NASA Administrator Sean O'Keefe, HP's Carley Fiorina, and current and former astronauts including Buzz Aldrin, Jim Lovell and Wally Schirra.
Some interesting facts about the attraction:
— It took more than 650 Walt Disney Imagineers more than 350,000 hours (the equivalent of 40 years of time) to develop Mission: SPACE. The Imagineers' efforts took place over a five-year period.
— Imagineers state that much of the technology used for Mission: SPACE had to be invented to make the attraction possible.
— Nearly 100 shades of red were mocked up before Imagineers decided on the color of the red planet that dominates the dramatic facade of Mission: SPACE.
— The 29 missions that the United States and the Soviet Union sent to the moon between 1959 and 1976 are each designated on the moon sphere in the Planetary Plaza of Mission: SPACE.
— Jupiter, at 16 feet in diameter, is the biggest celestial body in the Planetary Plaza of Mission: SPACE. Earth is 10 feet in diameter and the moon is 12 feet in diameter. (As they exist in our galaxy, Earth is 7,926 miles in diameter; the moon is 2,160 miles in diameter and Jupiter is 88,700 miles in diameter.)
— Close inspection of the Gravity Wheel reveals the logo for the one-time Epcot attraction Horizons affixed to the hub of the wheel. Horizons, which was located on the site of Mission: SPACE, featured a look at plausible future habitats, including — space!
RELATED LINKS:
Attraction Information Sheet: http://allears.net/tp/ep/e_ms.htm
To Boldly Go Where I Will Never Go Again (feature article by Deb Wills): http://allears.net/ae/issue204.htm
The AllEars.Net's "Live" Soft Opening Report: http://allears.net/tp/ep/e_ms4.htm
= = = = = = = = = = = = = = = = =


HIDDEN MICKEYS ALERT
= = = = = = = = = = = = = = = = =
Steve Barrett, author of the Hidden Mickeys books and webmaster of www.HiddenMickeyGuy.com, challenges the Hidden Mickey Hunter in you to locate the following images in the Magic Kingdom at Walt Disney World.
1. The Jungle Cruise Rock Mickey is back! At the front middle of the scene with the safari group on a pole above a rhinoceros, three gray rocks form a classic Mickey. I hope this Hidden Mickey stays around for a while! (Thanks to Cheryl Klein.)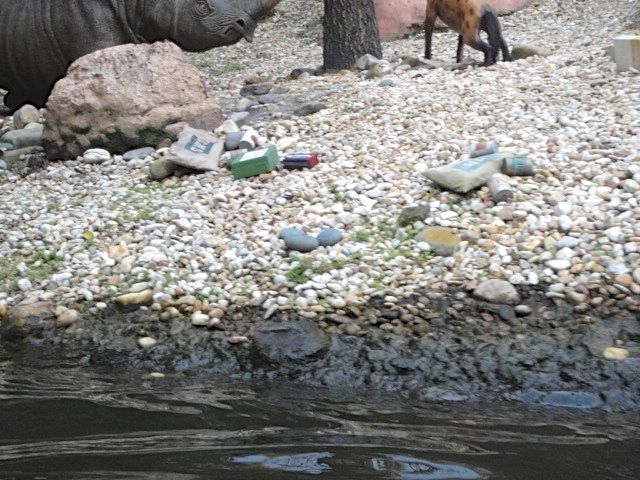 http://allears.net/btp/images/hidden-mickey-405.jpg
2. Several antique maps on the wall inside the Bonjour Village Gifts shop have circles that simulate classic Mickeys. The most convincing image is an upside-down classic Mickey with a globe as the "head" on the "Terrestrial Globe" map on the left wall. (Thanks to Wayne and Angie Vaughn.)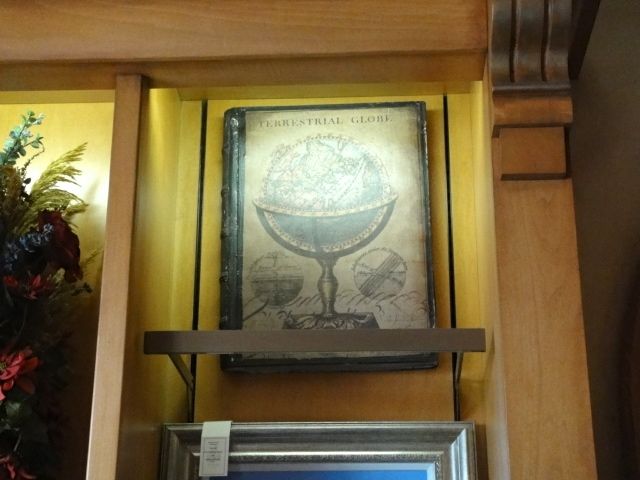 http://allears.net/btp/images/hidden-mickey-406.jpg
3. In New Fantasyland, a faint classic Mickey in swirls is on top of a short rock wall to the left of the check-in station at the beginning of the entrance walkway to Be Our Guest restaurant. It's on top of the last flat rectangular stone before the wall ends at the left side of the station. As you can see, it's quite subtle and difficult to photograph! The Mickey image is sideways in the photo with the "ears" to the left. (Thanks to Monte Kremin.)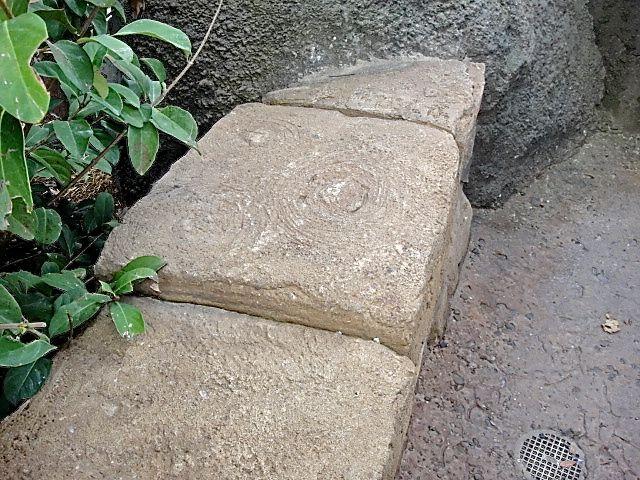 http://allears.net/btp/images/hidden-mickey-407.jpg
=-=-=-=-=-=-=-=-=-=-=-=-=-=-=-=
You can find a selection of past Hidden Mickey Alerts here:
http://allears.net/btp/hiddenm2.htm
And check out our Searching Disney with Steve blog:
http://land.allears.net/blogs/stevebarrett/
= = = = = = = = = = = = = = = = = =

RATE & REVIEW SPOTLIGHT
= = = = = = = = = = = = = = = = = =
Compiled by AllEars® Team Member Cathy Bock
In this monthly featurette, we take a look at recent comments made in the AllEars.Net Rate & Review section about a particular restaurant, resort, event, etc. This month, we examine what AllEars® readers are saying about lunch at the new Be Our Guest restaurant, which is located at the Magic Kingdom.
Be Our Guest is a counter service restaurant for lunch and a table service restaurant for dinner. AllEars® reviewers give it an average rating of 8.5 and it is recommended by 93% of reviewers.
From recent reviews:
Food (general): "Easily could share the portions."; "refillable drinks were a pleasant bonus"; "only con is the kids' lunch menu"; "food was amazing"; "menu is very good, but I wish there would have been a lighter offering (like a half sandwich) to go with the soup"; "food was excellent, everyone was well pleased".
Entrees: "had the Braised Pork which was delicious"; "baguette was old and stale"; "had the Tuna Nicoise Salad – it was very good"; "daughter and husband had the Grilled Steak Sandwich with garlic butter spread and pommes frites. The meat was tough and the sauce (horseradish/mayo) made it really heavy"; "had the roast beef sandwich and the carved turkey sandwich. Both were huge and very good."; "had the pork, ham and cheese, steak sandwich and a variety of cupcakes. All were met with rave reviews"; "ham and gruyere sandwich was very good, but I think hubby's roast beef sandwich was a little bland".
Desserts: "tried 3 cupcakes… strawberry was excellent – the lemon and chocolate were good"; "cupcake was delicious!"; "cupcakes were very good".
Service: "water station and umbrellas that were available helped as did having menus while in line so we could be ready to order"; "cast members were on top of things"; "cashier did not understand the product…charged us for a meal we didn't order too"; "cast members need to be applauded for their patience in dealing with some of the rude customers".
Atmosphere: "we chose the Ballroom, loved the snowflakes coming down outside the windows"; "atmosphere was great"; "has a real up-scale feel"; "West Wing area may be too scary for little ones"; "an amazing attention to detail"; "Love the theme of the restaurant".
Overall: "Line-up early to eat lunch!"; "one of the best or maybe the best QS dining option in all of Disney"; "it's worth every penny and the long wait"; "glad I got to experience it but I won't be rushing back"; "biggest dislike was that we had to wait 30 minutes just to get in the castle, and then another 15 to order once we got inside".
Adult Menu: http://allears.net/dining/menu/be-our-guest/lunch
Child Menu: http://allears.net/dining/menu/be-our-guest/child-lunch
If you have recently eaten at Be Our Guest, we'd love to have your review!
http://land.allears.net/reviewpost/showproduct.php?product=657&title=be-our-guest-counter-service-lunch&cat=36
= = = = = = = = = = = = = = = = =


MONTHLY REMIND-EARS
= = = = = = = = = = = = = = = = =
EVENTS
Animal Kingdom
August: Cotton-Top Tamarin Month
August 1: Primate Day
August 9 -11: Disney Design Group Artist Quynh Kimball will be at Once Upon a Toy in the Downtown Disney Marketplace from 6 to 9 p.m. to showcase some of his Disney-inspired board games, including Monopoly, Scrabble and Memory.
August 13: The next Trading Night at the Walt Disney World Resort will be at ESPN Wide World of Sports Grill Restaurant and the adjacent lobby area, from 6 to 9 p.m. Space will be extremely limited, so limit the number of items that you bring. There will be a Product Preview Section and Artist Signing Area, but the Vinylmation team will not offer trading at its table. Food and beverage concession areas will be open.
August 30 – September 2 (Labor Day Weekend): Dream Cars Weekend will be held at Disney's Coronado Springs Resort. The Mustang Club of America Grand National 2013 show will be held that same weekend at the Walt Disney World Speedway. Collector and specialty cars of all generations will be on display at the resort; more than 800 Mustangs and Fords are also expected. The weekend will also feature the Dream Builders Marketplace in Coronado Springs exhibition hall, where you can meet Dream Builders, see their custom creations and shop for the latest in automotive accessories and apparel. The event is free for spectators, though parking fees may apply. Other related event tickets are sold separately. For more about Dream Cars Weekend, visit http://www.dreamcarsweekend.com/
-=-=-=-=-=-=-=-=-=-
Don't forget to check our Events page for current updates: http://allears.net/pl/events.htm
-=-=-=-=-=-=-=-=-=-=-=-=-=-=-=-=-=-=-
REHABS AND CLOSINGS
Magic Kingdom
Fantasyland Expansion continues with the opening of Princess Fairytale Hall in 2013 and the debut of a new Disney "mountain" in the form of the Seven Dwarfs Mine Train in 2014.
Epcot
The Fountain View closed in March 2013 and will reopen soon as a Starbucks location. The cast member costumes there will be themed to match the park's futuristic theme. The Starbucks location will offer the full complement of Starbucks signature beverages, artisan breakfast sandwiches and a wide selection of baked goods, including muffins, scones and specialty treats.
http://land.allears.net/blogs/dnews/2012/11/starbucks_locations_at_magic_k.html
Spice Road Table, a new waterfront eatery, will be open by year-end at the Morocco Pavilion in Epcot's World Showcase. The new restaurant will have indoor and outdoor seating, and will feature small plates and refreshments inspired by the cuisine of the Mediterranean. More enhancements to the pavilion and news on Spice Road Table will be released as menus are finalized.
Disney's Hollywood Studios
Muppet*Vision 3D will be closed August 6 through September 2 for refurbishment.
All-Star Sports Resort
The End Zone Food Court at Disney's All-Star Sports Resort will be closed for refurbishment from August 5 until December 20, 2013. During this time, made-to-order food will not be available. Grab-and-go food items (cold sandwiches, cereal, etc.) will be available in a temporary location — the Game Point Arcade. (Arcade games will not be available during this refurbishment.) Motor coach transportation to the other All-Star Resorts will be available throughout the day during this period, and two motor coaches will run during mealtimes. You will be able to board motor coaches from the porte-cochere outside the All-Star Sports lobby. Coaches will travel to the porte-cocheres at both All-Star Music and All-Star Movies. This transportation will also be available if you'd like to enjoy the Note'able Games and Reel Fun arcades at the other All-Star resorts.
Contemporary Resort
California Grill closed for an extensive renovation in February 2013. The restaurant is slated to reopen in late summer and will be sporting a new look.
The 14th floor rooms and suites of the Contemporary Resort are closed for refurbishment. Some renovations planned for these suites include: a hard and soft goods refurbishment (things like bedspreads, linens, furnishings, etc.); improvements to the concierge lounge that will capitalize on the sweeping views of Cinderella Castle, nightly fireworks and the Seven Seas Lagoon or Bay Lake; enhancements to the corridors and elevator foyer. The new room design and in-room amenities will be reflective of high-end suites at all deluxe Disney Resorts. The health and wellness concept that was mentioned last year will not be included on that floor or within the suites; however, most of the design concepts previously shown for these suites will be incorporated. The refurbishment is expected to last through late summer 2013 (dates are subject to change).
Downtown Disney
Downtown Disney is undergoing a multi-year transformation into Disney Springs, which will treat guests to more shopping, dining and entertainment amid open-air promenades, springs and waterfront charm. Disney Springs will feature an eclectic and contemporary mix from Disney and other noteworthy brands, from boutique shops to unique flagship anchor stores. Disney Springs will double the number of shops, restaurants and other venues for guests to explore, resulting in more than 150 establishments. Drawing inspiration from Florida's waterfront towns and natural beauty, Disney Springs will include four outdoor neighborhoods interconnected by a flowing spring and vibrant lakefront. In addition to a new gateway with a signature water tower and grand entry, the destination will feature:
— The Town Center, which offers a mix of shopping and dining along a promenade.
— A commercial district called The Landing, with inspired dining and waterfront views.
— The family-friendly Marketplace that will continue to delight guests of all ages by combining new experiences, such as an over-the-water pedestrian causeway, along with classic Disney favorites, including an expanded World of Disney store.
— A West Side that provides an exuberant atmosphere with lively entertainment, along with a series of new elevated spaces that provide both shade and an overlook to the activity below.
The project will create an estimated 1,200 construction jobs and nearly 4,000 operational roles. New areas will open in phases. Disney Springs is expected to be complete in 2016.
http://land.allears.net/blogs/dnews/2013/03/disney_unveils_vision_for_disn_1.html
As part of the Disney Springs expansion, Downtown Disney parking lots H-K (near West Side locations such as AMC Theatres and House of Blues) closed July 22 to make room for a parking garage expected to open in late 2014. To compensate for the closed areas, "overflow" parking areas have been designated and will be open most Fridays, Saturdays and Sundays, as well as holidays, special events and other busy days throughout the next few years of the expansion project. Overflow lots include those at Team Disney, Casting and SunTrust. Signage along Buena Vista Drive will direct guests to parking areas. Shuttles will operate from 5 p.m. to 3 a.m. on days that overflow parking is open to transport guests between Team Disney and Downtown Disney West Side near Cirque du Soleil. If you have reservations at a Downtown Disney location, be sure to allow ample time for parking under these new conditions.
The Osprey Ridge golf course will close to play on August 12, 2013, for 10 to 12 months, as it prepares for its transition over to the Four Seasons resort that is currently under construction and scheduled to open in 2014. The Four Seasons resort is being built on the site of the old Disney Eagle Pines golf course, which closed back in 2007. Also on that site is the new Disney Golden Oak residential community, whose residents will also have access to Osprey Ridge. For more about golfing at Walt Disney World:
The Palm golf course is closed for a major rehab through November 16. The work will include a redesign by Arnold Palmer Course Design. For more details visit:
http://www.wdwgolf.com/2013/05/23/palm-course-to-close-june-10-2013-for-renovations-by-arnold-palmer-course-design/
-=-=-=-=-=-=-=-=-=-
A complete list of rehabs can be found here: http://allears.net/tp/rehabs.htm
= = = = = = = = = = = = = = = = =


MAGICAL MOMENTS
= = = = = = = = = = = = = = = = =
Sue Klinkhamer: Last November was our third stay at Port Orleans French Quarter, our favorite resort. My 4-year-old granddaughter started picking up the acorns that line the paths. I suggested we put them in a plastic bag and take them to Epcot the next day and give them to Chip and Dale at their meet and greet site. We were first in line to see them after a break. I was expecting they would take the bag and give it to the handler. To the delight of my granddaughter and my family they took the bag and did a five-minute skit about the nuts. They hugged my granddaughter and thanked her. Everyone in line enjoyed it too! I got it all on video and we watch it all the time. It was really above and beyond!
Amy VanSwol: My husband grew up to his dad reading him the Uncle Remus stories. As a result he's always been fond of the characters on Splash Mountain. He's especially fond of Brer Bear because he reminds my husband so much of his father, who passed away a few years ago. Before going to Disney World a few weeks ago, my husband expressed an interest in wanting to meet Brer Bear. He had read about the hoedown that takes place in Frontierland, but there was no information about exactly when it was. One day, my husband had been really missing his dad and we had talked about him quite a bit on the train back to Frontierland. As we exited and wound our way around Splash Mountain, I found myself walking right next to Brer Bear! I shouted out, "You are my husband's absolute favorite!" He then stopped and grabbed my husband and kids in a hug and posed for a picture. We thought this was great enough and we followed him a little way down the street. Pretty soon the street just broke out in dancing and the hoedown had begun. Brer Bear grabbed my son's hand and began dancing with him, while I snapped away with the camera, tears streaming down my cheeks. He then grabbed my hand and my husband's hand and before I knew it we were part of the show! I have a fantastic picture of my husband hugging Brer Bear at the end. When I hugged him, I thanked him for this magical moment. We really felt Papa with us that day, and Disney had no idea how much that meant to us all.
Sunny G.: My husband and I visited Disney World on our honeymoon in 1993 and then we went the next five years — just the two of us, to the most romantic place on Earth! We started our family and life got very busy. We finally made a trip back to our favorite place in February 2013 with our four children, ages 15, 13, 11, and 9. Our youngest is a girl, our only girl, and her interest in princesses has waxed and waned. Christmas 2012 I made a large package full of Disney surprises and wrapped it in Mickey Mouse paper. At the very bottom of the box was a beautiful golden dress, just like Belle's. Attached was a note from Beast that requested the presence of my daughter to join him at Be Our Guest on Valentine's Day for dinner. My daughter was in awe. (Yay! Big risk, big reward!) I was nervous about how the encounter would transpire. [On Valentine's Day, at the restaurant,] my daughter changed into her dress and golden shoes. I fixed her hair just like Belle's and I even allowed her to apply lip gloss. As she walked out of the bathroom, the cast members all greeted her as "Belle." One even stated, "I didn't know you would be joining us for dinner. I will let the Master know." My daughter looked at me with wide eyes and did a cute little silent clap. We were so blessed to be seated right in "the Master's" path as he walked through the dining room. Each time he would walk by, my daughter would jump to her feet and say, "Beast, it's me! I am wearing the dress you sent me." Every time she said it, it brought tears to my eyes. Upon leaving the restaurant, we were ready to enter the library and say our goodbyes. NO ONE else was in the library when we entered and no one else came in. My daughter got to dance with Beast for five minutes, uninterrupted. He hugged her, she sat on his knee… and then they danced some more. I thanked Beast for the lovely dress that he sent my daughter for Christmas and said she was so honored to join him on Valentine's Day. He hugged me, hugged my daughter and we walked out. A cast member yelled from the library, "Excuse me!" We both turned around… and there was Beast holding his heart. Then he blew one last kiss to my daughter. This is why I love Disney! They do EVERYTHING well.
-=-=-=-=-=-=-=-=-=-=-=-=-=-=-=-=-=-=-=-=-
We just bet you have a story to tell about an unforgettable moment during your Disney vacation! Please send your favorite memory for inclusion in a future AllEars® to: allearsnet@yahoo.com
Thank you all for sharing!
-o-o-o-o-o-o-o-o-o-o-o-
Editor's Note: This story/information was accurate when it was published. Please be sure to confirm all current rates, information and other details before planning your trip.