Character Greeting Trails Camp Minnie-Mickey Animal Kingdom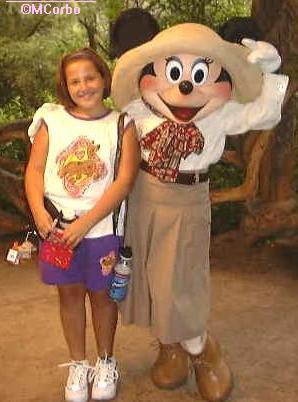 Amidst a Northeastern forest of cedar and birch trees you will find Camp Minnie-Mickey and the Character Greeting Trails.
During the month of December, the characters were dressed in holiday wear; Santa Goofy; Casual Winterwear for Minnie, etc.
Mickey and Minnie, Pluto and Goofy, Pooh and Tigger, Terk and Rafiki are usually out and about for photos and autographs. Each of the trails is marked with the characters that are appearing.
If you are not planning to see the first showing of Festival of the Lion King, this is a good time to see the characters with short waits.
"We also found that if you wait until the Festival of the Lion King is going that you can have a private audience with the characters in Camp Minnie-Mickey." (Sharon, Ron and Cameron)
There are Halloween Meet and Greet surprises at Animal Kingdom! At Camp Minnie-Mickey, we were thrilled to see Chip and Dale appearing at a Meet and Greet in their ghost costumes! What a neat family picture! We also saw Mickey and Minnie in costume and were told by a Cast Member that every 1/2 hour, when Mickey and Minnie would go in for a break, they would change and come out in a different costume! On Discovery Island behind Disney Outfitters, just before going over the bridge to DinoLand U.S.A. you may be familiar with this spot as the place to meet Pooh and his friends — but we were elated to find him and his friends also in costume and an extra-special friend who is rarely spotted — Rabbit! (Deb Fansler)