All the Christmas Joys of the Disneyland Hotel
by Autumn Hilden
AllEars® Guest Columnist
Feature Article
This article appeared in the December 19, 2017 Issue #952 of ALL EARS® (ISSN: 1533-0753)
Editor's Note: This story/information was accurate when it was published. Please be sure to confirm all current rates, information and other details before planning your trip.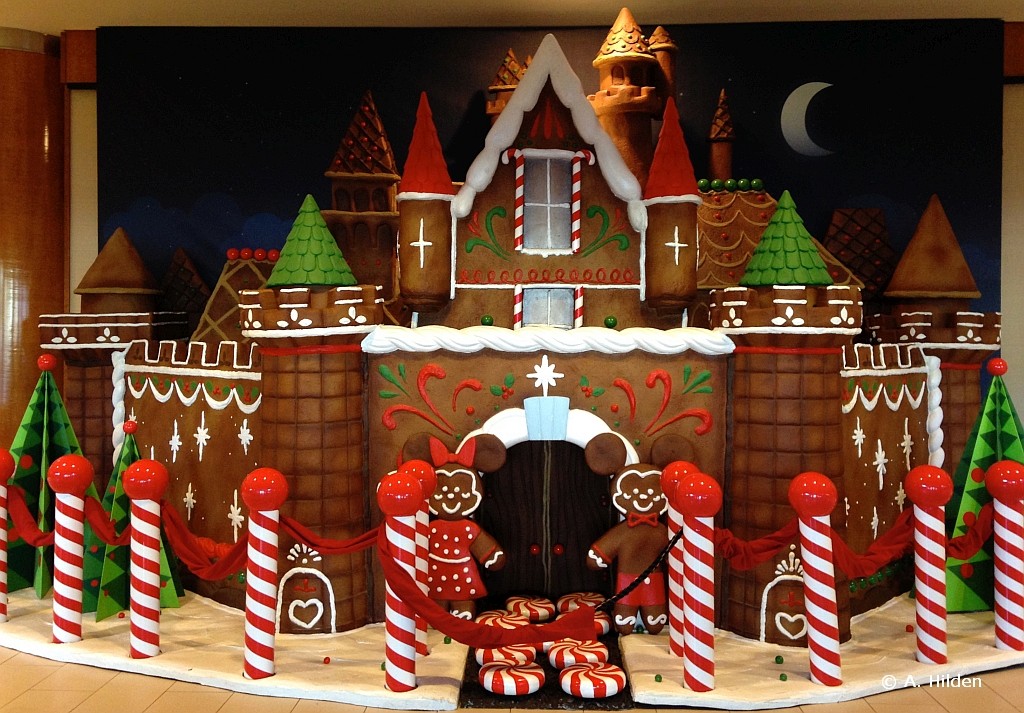 Disneyland is well-known for being at peak magic during the holidays, but just how far does that Christmas pixie dust spread around the resort? The answer puts Disneyland on the "nice" list: it glitters all the way over the hills and through the palm trees to the resort's hotels. And can you get a little holly and ivy without all the peak crowds? Yes! All three resort hotels play host to festive decor, menu items, and attractions, but the Disneyland Hotel goes just a little bit farther with its yuletide cheer. Here's what to expect when you celebrate the holidays at the happiest hotel on earth.
First, expect Christmas. While Disneyland and Disney California Adventure celebrate Hanukkah, Diwali, Kwanzaa, and Lunar New Year with music, parades, food, special character greetings, and more, these winter holidays are noticeably absent at the resort's hotels. Keep a sharp eye out for some merchandise at the Fantasia gift shop in the Disneyland Hotel and one option for Hanukkah gifts through Disney Floral and Gifts. If you have a good listening ear, you might recognize a song or two peppered in the holiday music loop, too.
Speaking of music, the Dickensian carolers that roam the Grand Californian resort and spa make appearances at the Disneyland Hotel, too. Their costumes are the one out-of-place element to the Christmas experience at the Disneyland Hotel, which otherwise presents a fun, retro Christmas vibe in its decor and other offerings.
Right away you'll notice some swingin' silver Christmas trees in the hotel's lobby. These mid-century marvels are ultra appropriate for a hotel honoring the park's inception in 1955. They're scaled for the lobby's lower ceilings, which means that, unlike the Grand Californian and the Paradise Pier, there is no showstopper tree at the Disneyland Hotel. But what they're missing in size they make up for in quality and quantity.
To start off the festivities, each tower has its own tribute trees. The Adventure tower boasts two trees: a merry ode to the wild Jungle Cruise, surrounded by shipping box-themed gifts, and a coniferous monument to Indiana Jones. The latter is topped with Indy's signature hat and a dangerous-looking spear. Naughty list alert!
Over at Frontier Tower you'll find a more general Frontierland tree, rustic and reminiscent of a downhome holiday.
There are trees scattered throughout the rest of the resort, but the Tangaroa Terrace tree is a standout, decorated in island style with orchids, hibiscus, kukui nut garland, and luminary shells. Make a special point to see this beauty.
Christmas visitors have tons of great photo ops at the Disneyland Hotel. In addition to the trove of trees, make sure to stage your own perfect mid-century holiday fete on the living room set outside of Fantasia gifts. It features all the record players, flagstone, and acorn fireplaces required for the ultimate Beat party and is there for your photographic enjoyment. Also take time to pose in front the (faux) gingerbread re-creation of Sleeping Beauty Castle. You can't miss it! If you want real gingerbread architecture, head over to the Grand Californian for their Arts & Crafts masterpiece.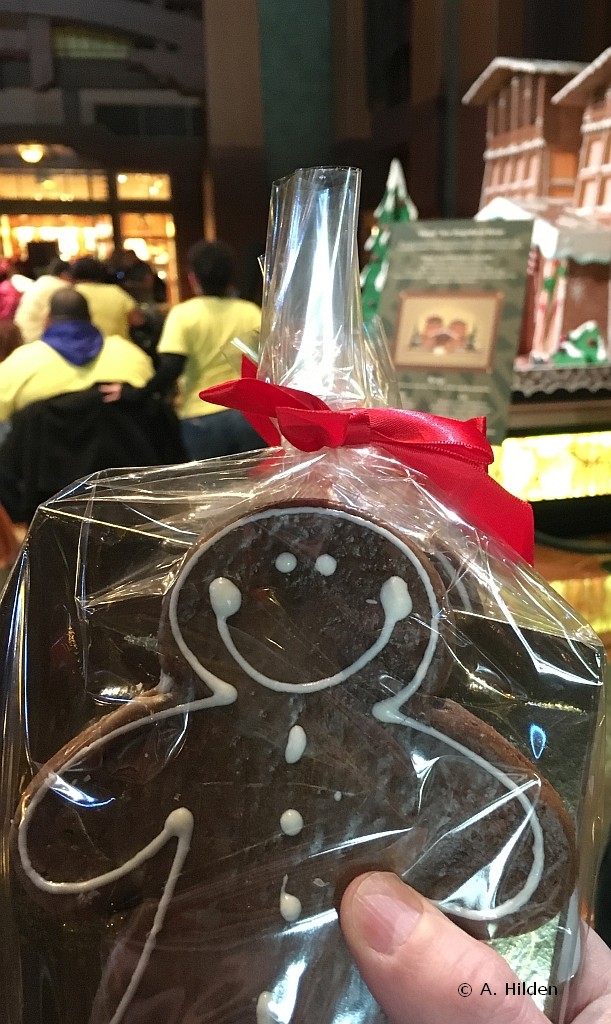 It's time to feast! The signature holiday food event at the Disneyland Hotel is the Very Merry Holiday Tea Party at Steakhouse 55. You'll find beautiful treats and a plush atmosphere every Friday, Saturday and Sunday afternoon at the upscale eatery. Toast the season with champagne, red and green caprese salad, white chocolate cranberry scones, gingerbread cookies, mulled spice tea, and more.
If you like your holiday cheer with a tropical twist, visit Trader Sam's Enchanted Tiki Bar and clink glasses of Sam's Christmas concoctions: Under the Swizzletoe, Rum around the Christmas Tree, and Sam's Sleigh Ride. These seasonal drinks are exclusive to Sam's, so celebrate while you can.
Finally, stop in at the Coffee House for some traditional goodies. You'll find the pumpkin spice latte you're not ready to give up yet, as well as hot cocoa, peppermint mochas, eggnog, gingerbread men, and a shortbread cookie snowman. You'll probably want to treat yourself to several snacks during this most wonderful time of the year.
Southern California gets cold at night, especially during the holidays (low temps arrive shortly after sundown and are generally in the 40s and 50s but can dip into the 30s), so stock up on winter gear as you shop the resort. There's a selection of hats, scarves, and gloves that feature festive sparkle, as well as all the cozy jingle jammies you could want for celebrating Christmas morning. Seasonal sweatshirts, blankets and loungewear will inspire you to cuddle up, and of course there's plenty of yuletide decor, ornaments, and housewares ready to help you ring in the season right from your hotel room.
Cheers to you and yours this holiday season!
= = = = = = = = = = = = =
RELATED LINKS
= = = = = = = = = = = = =
Disney California Adventure's Festival of Holidays
Festival of Holidays Marketplace Menus
VIDEOS: DCA's Festival of Holidays Playlist
Other AllEars® features by Autumn Hilden can be found in our Archives.
= = = = = = = = = = = = =
ABOUT THE AUTHOR
= = = = = = = = = = = = =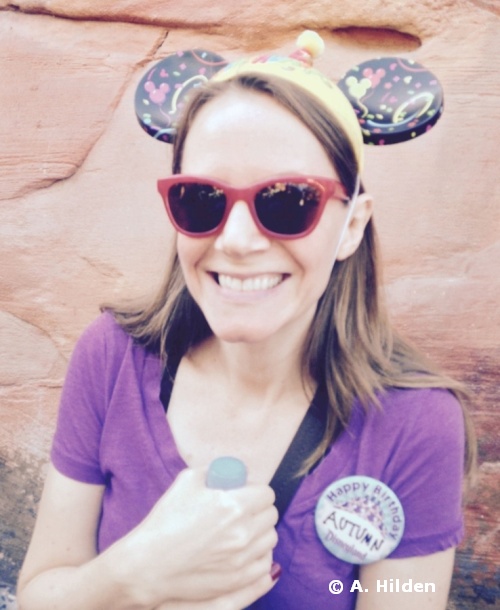 Autumn Hilden is a Los Angeles-based writer and editor. She has worked for Disney Publishing Worldwide and The Jim Henson Company and is currently writing books for young adults. Autumn grew up taking family photos in front of the waterfall pool at the Polynesian Village Resort and selecting "desert" for the final flight on Horizons. She now embraces Disneyland as her Happiest Place on Earth. You can follow her on Twitter here.
-o-o-o-o-o-o-o-o-o-o-o-
Editor's Note: This story/information was accurate when it was published. Please be sure to confirm all current rates, information and other details before planning your trip.