This Little Piggy Went Wheee...
to Epcot's
2002 International
Food & Wine Festival
by Debra Martin Koma
ALL EARS™ Senior Editor

This review was originally published
in the October 29, 2002, issue #162 of ALL EARS®
Don't let anyone tell you that you can ever have too much of a good thing. I just returned from spending two days at the Epcot International Food and Wine Festival at Walt Disney World and I'm ready to go back!
In case you hadn't heard, this is the seventh year that Epcot's World Showcase has hosted this event, which features more than 20 booths with representative samplings of cuisines and beverages from around the globe.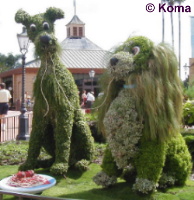 The festival began Saturday, October 19, 2002, and I was there at "rope drop" at 11 a.m. Well, I was actually in Epcot at 9 a.m., perusing the tchotchkes (look for the Mickey wine charms for $8!) for sale at the Festival Welcome Center, where I was offered an eye-opener of champagne. I demurred, knowing that I was going to have to pace myself if I wanted to make it all around World Showcase that day. It was the last time I turned a sample down all weekend!
Glancing at the program I obtained upon entering Epcot, I noted that the 25 food and wine booths this year featured items ranging from the very familiar (pizza and cannoli at the Italy booth, stuffed cabbage at the Poland booth) to the exotic (green mussels at the New Zealand booth, octopus on purple potato salad at the Spain booth). It seemed like a good mix, with something for everyone, and I was determined to try some of the more out-of-the-ordinary taste treats. Except maybe that octopus!
I began my journey in Canada, and strolled around World Showcase's 1.1 miles counter-clockwise, at first just peeking at the wares displayed. It was a little too early for me to think about putting the Goat Cheese Polenta from the California booth into my mouth. And Australia's Shrimp on the Barbie? Nope, I wasn't quite ready for that at 11 a.m., either. But by the time I reached France, I knew I had to start somewhere. First booth I encountered once I'd made up my mind to begin? Cognac, port and truffles. I love chocolate as much as, if not more than, the next guy, but I knew that if I started there, this report would have consisted of three words: Cognac. Truffles. Yum.
In the interest of research, I passed. The sacrifice I make for you readers.
To the France booth! Alsatian Onion Tart ($1.50) and Coq au Vin ($3) caught my eye, and both were winners. The tart was creamy, with just a hint of sweet onion, atop a flaky pastry, while the tender chicken with tiny champignon mushrooms and pearl onions was bathed in a savory wine sauce. Off to an auspicious start!
The next sample tried, a Creamy Baked Chickpea and Crispy Bacon Pie ($2.50) from the Chile & Argentina stand, was flavorful and served warm on a bed of red pepper sauce garnished with coriander. The Concha y Toro Xplorador Malbec ($2.25), a deep, dry red wine, was a perfect accompaniment.
After sampling such savories, my tastebuds were ready for a sweet. Alas, the land of my forefathers, Italy, offered the first disappointment of the day. The Cannoli Siciliani ($1.75) was scantily stuffed with a grainy, lemony filling that couldn't be saved by the numerous teeny chocolate chips – very unlike the creamy mascarpone filling I'm used to. The saving grace? The nearby stand, not strictly part of the Food and Wine Festival, that was selling strawberries hand-dipped in white and milk chocolate! Wow. Washed down with a sample of the light Placido Pinot Grigio ($2.50), the succulent fruit more than satisfied my sweet teeth.
This unevenness, though, was the earmark of the food booths around World Showcase. Some offerings were exceptionally good, others poor representations of their countries' cuisines. I would not, for example, recommend the Seared Scallops ($4.50) or Gazpacho Andaluz ($2.50) in the Andalucia, Spain, booth –- the former too rubbery and tasteless, the latter too bland, almost like a virgin Bloody Mary.
But why dwell on the negatives, when there were so many positives?
Other highlights I discovered as I ate my way around the World?
China's Chicken Sha Cha ($3), a skewer of crispy chicken in a mildly seasoned peanut sauce; Russia's Moskowshaya Kusock ($3.50) -– Braised Duck served over Cucumbers in a sour cream dressing (the cukes, not the duck!); South Africa's Bobotie ($2.50), a flavorful version of meat loaf with curry; and, what I called the bargain of the festival, Ireland's Toasted Oatmeal and Whiskey Flan. For a mere buck you get a sweet morsel of creamy flan adorned with a crumbly cinnamon-oatmeal topping. Yum.
I wanted to try the Gator Medallions listed at the Fresh from Florida booth, but the line there stretched on forever on Saturday. When I returned on Sunday, gator was off the menu. Next time, I guess.
Oh, but I did finally get back to the Taste of California stand to sample their Goat Cheese Polenta ($2.50). Thank goodness I did! It was, by far, my favorite item at any of the booths. Rich, creamy corn meal polenta, garnished with crumbled goat cheese and accented with sun-dried tomato and basil pesto. I could have eaten several bowls of that.. luckily for my figure, I quit at one.
Since I attended the Food & Wine Festival over two days, I was able to see that, in general, the opening day, a Saturday, was far crazier crowd-wise. Lines by 2 p.m. on Saturday were 15-20 people long! By contrast, on Sunday afternoon there were just a few folks waiting at each booth -- some booths were even queue-free. This seemed to affect food quality, since many samples tried on Sunday were dried out from having been under a heat lamp or on a warming tray too long. That poor onion tart, for example.
If you're going, you'll be happy to learn that this year you can purchase your treats with your credit card or your Disney resort room key –- in years past, it was a cash-only deal.
---
There's far more going on during the Food and Wine Festival than the food booths, though. One of the most exciting things to witness was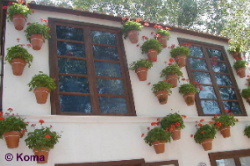 the unveiling of the Andalucia, Spain, exhibit, located between Epcot's Germany Pavilion and the African Outpost. Rumors have been rampant lately that Spain may announce a permanent pavilion at Epcot, and this exhibit had lots of folks wondering out loud whether the gossip had some basis in truth. The stucco structures, decorated with hundreds of pots of bright red geraniums, were definitely temporary, but hinted at what a Spanish pavilion might feature. As colorful flamenco dancers performed with a live acoustic band, an elegant gentleman in the background poured sherry with a flourish. There were also displays on Spanish production of olive oil and sherry, capped off by tasting areas. Spanish olive oil will never replace Italian, in my book, but it was fun to be able to dab some crusty bread in the almost-green liquid and try it.
| | |
| --- | --- |
| | |
In addition to the featured areas of Andalucia, Spain, and the Cape of South Africa, the Festival also spotlights a variety of cooking demonstrations and wine seminars. Most of these take place in either the outdoor Terrace (located between France and Morocco) or in the Odyssey, the former counter service now used exclusively for special events, located over by Epcot's Baby Care Center. They're first-come, first-served, so rather hard to get in, but I did manage to snag a seat at one of each.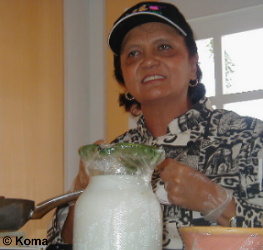 Cass Abrahams, a chef from Capetown, South Africa, gave a lively presentation as she prepared the country's national dish, Bobotie, or curried meat loaf. Sharing not only the recipe, but a bit of the history and culture of her native land, Abrahams' demonstration was a fine example of how a multinational festival such as Epcot's can bridge the world's cultural gaps.
The only wine seminar I was able to attend was, unfortunately, as dry as the wines set out for us to sample. Presented by Alfonso Undurraga, fifth generation winemaker for Viña Undurraga, the Chilean vineyards, the seminar focused almost exclusively on the climates and geography of the wine-producing regions of Chile. Appropriate for true oenophiles, I'm sure, however it was clear from several snoozing spectators that much of the crowd gathered in the dimly lit Odyssey was there more to sample the four types of wine set out on the tables than to learn about the valleys and sub-regions of the South American country. In the end, though, we did taste the wines, which were quite good –- a lightweight 2001 Sauvignon Blanc, an oaky 1999 Reserve Chardonnay, the heavier 1999 Reserve Merlot, and an unusual 1999 Reserve Carmenere, a dry peppery red.
Bobby Flay, who hosts his own cooking show on TV's Food Network was also on hand on opening day. A variety of other well-respected chefs, both local and national, are slated to give demonstrations during the festival's upcoming weeks.
---
A final aspect of the Food and Wine Festival is the special dinner events available for an extra, and often quite hefty, fee. The Signature and Reserve Dinners sold out quickly, but I was able to attend a special tasting event called Party for the Senses, held at the World Showplace (formerly the Millennium Village). These "parties" replace the previous "Grand Tasting" events of last year, which were held in the Odyssey. For $79, guests receive preferred seating for the 5 p.m. performance of the current musical group playing at America Gardens Theater for the "Eat to the Beat" series. From 6 to 9 p.m., guests mingle as they sample the efforts of more than 15 chefs while sipping wines, champagnes and beers from all over the world.
My opening night Party for the Senses kicked off with a less than stellar performance of The Temptations Review featuring Dennis Edwards. Judging from the audience's lackluster response, I don't think I was the only one disappointed at the dearth of familiar Temptations tunes during this half-hour set –- but the music was not my main reason for being there.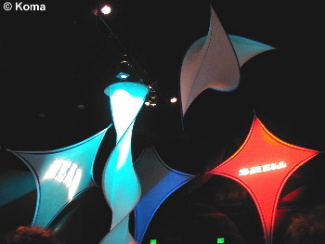 After the concert, my dining companions and I sauntered to the World Showplace (located between the UK and Canada pavilions) and awaited the 6 p.m. opening. Cast Members there greeted us, passing out coupons that entitled us to our complimentary Food and Wine Festival Wine Glass, which we were to use throughout the evening. Once we were allowed into the lobby of the Showplace, we were greeted by brightly colored banners, each themed to a different sense (Sight, Smell, Taste, etc.), and redeemed our coupons, receiving both the beautifully etched wine glass and a cleverly designed plate with a notch to hold the glass as we roamed the room.
Upon entering the main room, we saw there were many small tables, an apparent improvement over last year's Grand Tastings, at which guests were forced to stand for the duration as they ate. We made a beeline for the back of the room and were able to secure a table for four. Although there were six in our party, this proved to not be an issue –- a nearby Cast Member named Millie took care of us, eventually providing us with two additional chairs.
Before I began my evening's sampling, I perused the plan that had been given to me. There were 18 food stations, 18 beverage stations, and not one sounded as though it had a loser. Where to begin?
I opted for the Lamb with Honey Sauce, from Chef Pepe Garcia Marin of Cordoba, Spain, and a taste of the Kunde Zinfandel –- neither was a bad choice. The deep, almost astringent zin complimented the sweet, rich lamb beautifully. From there I went on to a breath-taking selection of savory samples: Peppered Beef Tenderloin, Sauteed Duck Breast, Veal Envelopes with Smoked Ham and Jack Cheese Sauce – all from various Walt Disney World Resort Chefs. One notable standout was the Chicken Yoghurt Curry, by South African chef Cass Abrahams, who I had met earlier at a cooking demonstration in World Showcase. Yet every morsel I popped into my mouth was more outrageously delicious than the last –- everything was a varying degree of good: excellent, terrific, wonderful, and downright awesome! The last was the melt-in-your-mouth Caramelized Day Boat Scallops with Meyer Lemon Tarragon Risotto. Talk about a taste sensation -– if I could have gotten away with it, I would have not only gone back for seconds, but thirds, fourths, and fifths.
Of the wines I sampled, the two most memorable were the De Loach Vineyards Estate Bottled, Russian River Valley Zinfandel and the Lincourt Syrah. Unfortunately, neither were available for purchase at the Event Store (although many other vintages were).
Desserts were quite certainly not neglected, although there was a notable absence of dessert wines. There to tantalize our taste buds were Epcot's own Lothar Neumaier and dessert chefs Trude and Susan, who served up Fresh Berries in Sabayon in a Meringue Basket, as well as a scrumptious Tri-Flavor Flan (intense raspberry, apricot and coconut) on a Tuille Cookie, and an almost too-sweet Mango and Coconut Sorbet in an Apricot Cone. Other delectable desserts included a warm Five Spice Cake with Cherry Sorbet and Plum Spice Wine (from the Yacht and Beach Club chef) and Banana Cream on Kataifi Macadamia Nut Crust.
Since it was a "Party for the Senses", the event planners had made sure that our senses of hearing and sight were also delighted. A harpist provided dulcet tones throughout the event, while guests were also treated to several appearances of Imaginum (the living statues who perform daily in Epcot's France pavilion), DiVine, the walking vine/performance artist featured at Disney's Animal Kingdom, and the Living Fountain, a "statue" who gracefully, magically, spouts water from her fingertips and even the top of her head –- you really need to see her to believe her.
So... after all this eating and drinking and enjoying myself to the utmost, I think you can understand why I say this little piggy, went wheeeeeee... all the way home.
But I'd rather be going back to the Food and Wine Festival!
The Epcot International Food and Wine Festival runs until November 17. Though the major dinner events are already sold out, a Cast Member told us there are still tickets available for the "Party for the Senses." Call 407-WDISNEY to reserve your space.
-o-o-o-o-o-o-o-o-o-o-o-
Editor's Note: This story/information was accurate when it was published. Please be sure to confirm all current rates, information and other details before planning your trip.