AllEars® Newsletter
WELCOME TO THE HOME OF
an unofficial electronic newsletter about The Walt Disney World Resort in Orlando, Florida, published weekly in conjunction with AllEars.Net, Deb's Unofficial Walt Disney World Information Guide

Established September 1999
Library of Congress ISSN:1533-0753
---
AllEars® is delivered FREE each week to about 140,000 subscribers who share an interest in the Walt Disney World resort in Orlando, Florida. You should be one of them! Sign up today!
Click here to start receiving AllEars®, the FREE weekly electronic newsletter with the most current, accurate and comprehensive information for folks interested in Walt Disney World. Each AllEars® is chock full of facts, helpful tips and, of course, the latest Walt Disney World news, as well as restaurant and resort reviews, previews, interviews, snippets of timely information and insightful guest columns.
Once you've subscribed, don't forget to set your preferences to receive our special promotional mailing called EARS THE DEAL™. A few times each month, we'll send you a bonus email with money-saving offers and promotions for Walt Disney World and the Orlando area, exclusive to you, our AllEars® subscribers! (Click HERE for instructions on subscribing to Ears the Deal™!)

To get a taste of what AllEars® has to offer each and every week, click on the links below -- these tidbits are from our November 2015 "WDW Bits and Bites" issue:
---
STEP BACK IN TIME
by Debra Martin Koma
AllEars® Editor
Ever wonder what Walt Disney World and The Walt Disney Company were like way back when? We rummage around in our archives for this monthly feature, which takes you back in history for a glimpse of Walt Disney World through the ages.
This month we take a look at what was going on around Walt Disney World in November 2000, 15 years ago! Some things have changed dramatically in the past decade and a half, and others... well, the more things change, the more they stay the same!
-- Then, as now, the Epcot International Food and Wine Festival was taking place. It was set to wrap up on November 19.
-- The Wilderness Lodge was about to unveil its Disney Vacation Club addition, the Villas at Wilderness Lodge, whose grand opening was to be held November 15. Other changes around the resort at that time: Roaring Fork Snacks had been expanded, the game arcade had been relocated and renamed Buttons and Bells, and the Wilderness Lodge Mercantile had been expanded to include groceries and a video library. A quiet pool and a health club had also been added to the resort.
-- A new exhibit had just opened at the Japan Pavilion's Bijutsu-kan Gallery spotlighting Japanese baseball memorabilia. (A new exhibit featuring Japan's "cute" culture recently opened in that same space.)
-- Holiday decorations were going up all around the Walt Disney World Resort, and narrators for the Candlelight Processional had been announced, including: Jodi Benson, Ben Vereen, Gary Sinise, Robby Benson and Phylicia Rashad.
-- Advance purchase tickets for Mickey's Very Merry Christmas Party (offered on eight nights that year) were on sale for $31.80 for adults, $21.20 for children. (Today's advance purchase prices for the event, which is offered on 20 dates: $78.81 adults, $73.49 for children.)
-- New Year's Eve preparations were also being made and entertainment for the evening had been announced. Sister Hazel and Vertical Horizon were to play a special concert at the then-named Disney-MGM Studios, while Pleasure Island was set to host Duran Duran for its annual New Year's Eve party. Interestingly, to me at least, is that Duran Duran has endured and has just released a new album. Pleasure Island? Not so much.
Source: Eyes & Ears cast publication, November 9, 2000
---
MAGICAL MOMENTS
Gary V.: I had a "Magical" Disney Experience weeks after coming home from our vacation. While staying at the Animal Kingdom Lodge in September I shared with a cast member that I was collecting bear pins. She said she had some Christmas Bear pins at home and would give them to me for my collection. We left the next day and didn't see her before we left. Last Thursday a package came to my house with 10 Christmas Bear pins and four other bear pins enclosed. It was like I was again on vacation. This cast member's action was well above and beyond what her job required. I have shared pictures of the pins with many of my friends, explaining to them why we enjoy visiting Disney as often as we can.
Peter Babikan: My family and I are big Disney fans and have gone seven times over the past 10 years. However, this most recent trip we took was the most memorable. We decided to stay at the Contemporary Resort and just focus on the Magic Kingdom. Upon arrival, we were greeted by a cast member who escorted us to the check-in desk. It is here that things got sooo much better for us. While checking in one of the cast members told us he had to get our MagicBands. We already had MagicBands on our wrists, but he told us they had ordered duplicates. We did not think anything of it. Check-in was just about complete when we were asked to turn around for a surprise. Two cast members were standing there, one holding balloons and a note card. She said, "On behalf of Walt Disney World and the Contemporary staff, we are pleased to announce that the Babikan Family has been chosen as our Family of the Day!" We were upgraded to a Family Suite on the 14th (concierge) floor! We were in complete shock. Our next 2-1/2 days were filled with special memories and the staff of the 14th floor made us feel so at home, like we were family. The last night we were there we planned to watch the Wishes fireworks from the balcony of the Concierge Lounge. That night, my 6-year-old daughter had lost a tooth at Tony's Town Square Restaurant and my wife told one of the cast members. While we were getting ready to watch the fireworks, a cast member asked if we were going back to our room soon. When I told her no, she then said that Tinker Bell often visits the rooms of children who lose their teeth while at Disney World. When the fireworks ended, we headed back to our room. There on one of the beds were three balloons, a few "gifts" and a very special note from Tinker Bell. My daughter's expression of pure joy was priceless and one my wife and I will never forget. She was so happy and could not believe that Tinker Bell visited our room. Little touches like this and selecting families as "Family of the Day" make lasting memories and are why we love going back year after year to Disney World.
Susan S.: My husband and I were celebrating our 32nd anniversary on July 16. On our way back to our Old Key West villa I stopped by the Hospitality House to see if I could pick up two anniversary buttons to wear to dinner that night. The two women that I talked to were very accommodating and when a gentleman in a suit walked by they told him about our celebration. He congratulated me and asked my name and room number. I thought it possible that we might get some balloons sent to us, but little did I know what was in store for us when I returned back to our room after dinner. We were sent a beautiful tray with sparkling cider, chocolates, glasses and special coins to make a wish upon. When I thanked him the next day he said he had nothing to do with the gift -- it was Disney Magic. Truer words have not been spoken.
-=-=-=-=-=-=-=-=-=-=-=-=-=-=-=-=-=-=-=-=-
We just bet you have a story to tell about an unforgettable moment during your Disney vacation! Please send your favorite memory for inclusion in a future AllEars® to: allearsnet@yahoo.com
Thank you all for sharing!
---
ARCHIVES
Feature Archives
Missed the last issue of AllEars®? Or just want to re-read that feature on cruises again? You'll find a listing of past AllEars® newsletter features here.
Tips Archives
We have a searchable database of all the tips that appear in our newsletters! Take a look at the archive of our helpful ideas here!

If you want to receive the rest of the AllEars® news and other juicy bits of timely WDW information, you must be a subscriber! Why not sign up now?
http://www.mailermailer.com/x?oid=02757g
---
Copyright - Disclaimer - Reprint - Contact
©1999-2015, All Rights Reserved. RYI Enterprises, LLC.
RYI Enterprises, LLC owns and operates AllEars.Net, which comprises Deb's Unofficial Walt Disney World Information Guide and the AllEars® weekly newsletter (allears.net). AllEars.Net and AllEars® are not affiliated with, authorized or endorsed by, or in any way officially connected with, The Walt Disney Company, Disney Enterprises, Inc., or any of their affiliates. For official Disney information, visit http://www.disney.com

Editor in Chief: Deb Wills
Editor: Debra Martin Koma
For prompt replies to questions or comments about this newsletter or info that appears on AllEars.Net, send a query using our feedback form.

Direct any US Mail correspondence to:
Deb Wills
President
RYI Enterprises, LLC
8297 ChampionsGate Blvd. #360
ChampionsGate, FL 33896
NOTE: No parts of this newsletter may be reprinted without prior written permission from RYI Enterprises, LLC and AllEars.Net.
Advertisements appearing in AllEars® are paid advertisements and are not meant as an endorsement by Deb Wills, RYI Enterprises, LLC, AllEars® or AllEars.Net.
---
READER FEEDBACK
We are nothing without our readers! Please drop us a line and let us know what you're thinking! We can't wait to hear from you. Use our handy Feedback Form to reach us. See what others are saying about us here!
---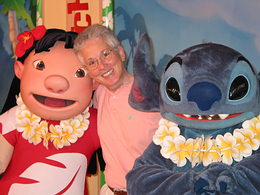 AllEars® is published by Deb Wills, a recognized Walt Disney World expert who also publishes one of the worldwide web's most popular sites, AllEars.Net, which receives more than 7 million page views per month from visitors around the globe.
Deb Wills
Editor-in-Chief and Publisher

AllEars® Editor is Debra Martin Koma.
-o-o-o-o-o-o-o-o-o-o-o-
Editor's Note: This story/information was accurate when it was published. Please be sure to confirm all current rates, information and other details before planning your trip.