AllEars® Newsletter
WELCOME TO THE HOME OF
an unofficial electronic newsletter about The Walt Disney World Resort in Orlando, Florida, published weekly in conjunction with AllEars.Net, Deb's Unofficial Walt Disney World Information Guide

Established September 1999
Library of Congress ISSN:1533-0753
---
AllEars® is delivered FREE each week to more than 130,000 subscribers who share an interest in the Walt Disney World resort in Orlando, Florida. You should be one of them! Sign up today!
Click here to start receiving AllEars®, the FREE weekly electronic newsletter with the most current, accurate and comprehensive information for folks interested in Walt Disney World. Each AllEars® is chock full of facts, helpful tips and, of course, the latest Walt Disney World news, as well as restaurant and resort reviews, previews, interviews, snippets of timely information and insightful guest columns.
Once you've subscribed, don't forget to set your preferences to receive our special promotional mailing called EARS THE DEAL™. A few times each month, we'll send you a bonus email with money-saving offers and promotions for Walt Disney World and the Orlando area, exclusive to you, our AllEars® subscribers! (Click HERE for instructions on subscribing to Ears the Deal™!)

To get a taste of what AllEars® has to offer each and every week, click on the links below -- these tidbits are from our July 2016 "WDW Bits and Bites" issue:
---
STEP BACK IN TIME
by Deb Wills
AllEars.Net Founder
We rummage around in our archives for this featurette, which indulges in a bit of nostalgia, taking you back in history for a glimpse of Walt Disney World and The Walt Disney Company through the ages. This month, we go back to July 2, 1976, as Walt Disney World prepared for the 4th of July celebration during the country's Bicentennial. (Source: Eyes and Ears cast member publication, Vol. 6, No. 27.)

SNAP, CRACKLE, BOOM - Sky Spectacular Explodes to Life this Weekend!

"No matter how you try to describe it, our four-night salute to America's bicentennial will be an extravaganza of such proportions as to truly boggle the imagination. Guests will have a choice of four nights to celebrate our nation's Bicentennial birthday, amid a party that will include fireworks spectaculars, 'America on Parade' performances and special entertainment.

"Starting at 10 p.m. each evening will be a 30-minutes Sky Spectacular, a breathtaking exhibit of more than 2,000 individual fireworks shells and flares; four huge hot-air balloons, 55 feet in height and illuminated with sparkling lights; and a mammoth flag carried over the Magic Kingdom beneath a helicopter.

"At the height of the spectacular, shells will be bursting, the world's largest sound system will be broadcasting, the Electrical Water Pageant with its sparkling American flags and stars will sail across the Seven Seas Lagoon, a giant American flag measuring 60 x 100 feet will be lifted, four hot-air balloons will go up and 12 boat-towed kite flyers will pass overhead trailing sparklers."
Do you remember this special Bicentennial Independence Day celebration? If so, drop us a note HERE.
---
MAGICAL MOMENTS
Heart-warming Magical Moments brought to us by the amazing Disney cast members!
Dee Dee: This year on February 14, I was escorting five Girl Scouts back to the hotel after a long day of park touring. It was about 9 p.m. and we were all dragging as we waited for the bus from Magic Kingdom back to our Disney hotel. A bus rolled in, but all the windows were dark and I worried that it was a training bus or not in service. After it pulled to a halt, suddenly all the lights went on and inside we could see that it was decorated for Valentine's Day! There were streamers, helium balloons, Valentine's tinsel. It looked adorable. We asked the driver if he had decorated the bus and he said that a team had decorated several buses for the holiday. We were energized by the bus ride and went to bed with sweet dreams. Disney continues to surprise me with all of the imagination and creativity it puts into every aspect of the visitor experience.
Mike Lofton: My family and I (all adults) had a surprise Disney moment that you talk about all the time. On the first full day at the Magic Kingdom, we had everything lined up with FastPasses, our dinner reservation, and a day of fun ahead. We were about an hour away from our first FastPass when we decided to do the Jungle Cruise. The wait time was 20 minutes, so we thought we'd be done in plenty of time for Big Thunder Mountain Railroad. Ninety minutes later we finished up the Jungle Cruise and were late for Big Thunder Mountain. Then the Disney Magic began. Not only did the cast members let us FastPass Thunder Mountain, but I got a personal phone call from Disney giving my family an additional FastPass on any ride in the park that day. A minor inconvenience turned into a special Disney day as we enjoyed the Seven Dwarfs Mine Train after dark as our special FastPass of the day. Disney Magic is alive and well and made our trip very special!
Trish: My friend and I were visiting Disney World this past January 2016, and after six fun-filled days, we went back to the Magic Kingdom for our last day. I purposely wore my Dole Whip T-shirt because we had decided to have one last snack before leaving. I went up to the counter to order, and while smiling, I pointed to my T-shirt and said, "I'll have one of these!" The friendly cast members were really pleased that I had worn the T-shirt, and when I started to pay, they said, "You deserve one on us." I was really excited, and I took their pictures as well as a picture of me with my delicious Dole Whip snack. What a magical send-off for our last day!
-=-=-=-=-=-=-=-=-=-=-=-=-=-=-=-=-=-=-=-=-
We just bet you have a story to tell about an unforgettable moment during your Disney vacation! Please send your favorite memory for inclusion in a future AllEars® to: allearsnet@yahoo.com
Thank you all for sharing!
---
ARCHIVES
Feature Archives
Missed the last issue of AllEars®? Or just want to re-read that feature on cruises again? You'll find a listing of past AllEars® newsletter features here.
Tips Archives
We have a searchable database of all the tips that appear in our newsletters! Take a look at the archive of our helpful ideas here!

If you want to receive the rest of the AllEars® news and other juicy bits of timely WDW information, you must be a subscriber! Why not sign up now?
http://www.mailermailer.com/x?oid=02757g
---
Copyright - Disclaimer - Reprint - Contact
©1999-2016, All Rights Reserved. RYI Enterprises, LLC.
RYI Enterprises, LLC owns and operates AllEars.Net, which comprises Deb's Unofficial Walt Disney World Information Guide and the AllEars® weekly newsletter (allears.net). AllEars.Net and AllEars® are not affiliated with, authorized or endorsed by, or in any way officially connected with, The Walt Disney Company, Disney Enterprises, Inc., or any of their affiliates. For official Disney information, visit http://www.disney.com

Editor in Chief: Deb Wills
Editor: Debra Martin Koma
For prompt replies to questions or comments about this newsletter or info that appears on AllEars.Net, send a query using our feedback form.

Direct any US Mail correspondence to:
Deb Wills
President
RYI Enterprises, LLC
8297 ChampionsGate Blvd. #360
ChampionsGate, FL 33896
NOTE: No parts of this newsletter may be reprinted without prior written permission from RYI Enterprises, LLC and AllEars.Net.
Advertisements appearing in AllEars® are paid advertisements and are not meant as an endorsement by Deb Wills, RYI Enterprises, LLC, AllEars® or AllEars.Net.
---
READER FEEDBACK
We are nothing without our readers! Please drop us a line and let us know what you're thinking! We can't wait to hear from you. Use our handy Feedback Form to reach us. See what others are saying about us here!
---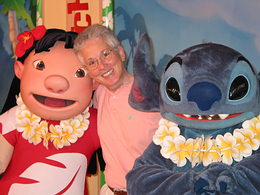 AllEars® is published by Deb Wills, a recognized Walt Disney World expert who also publishes one of the worldwide web's most popular sites, AllEars.Net, which receives more than 7 million page views per month from visitors around the globe.
Deb Wills
Editor-in-Chief and Publisher

AllEars® Editor is Debra Martin Koma.
-o-o-o-o-o-o-o-o-o-o-o-
Editor's Note: This story/information was accurate when it was published. Please be sure to confirm all current rates, information and other details before planning your trip.