AllEars® Newsletter
WELCOME TO THE HOME OF
an unofficial electronic newsletter about The Walt Disney World Resort in Orlando, Florida, published weekly in conjunction with AllEars.Net, Deb's Unofficial Walt Disney World Information Guide

Established September 1999
Library of Congress ISSN:1533-0753
---
AllEars® is delivered FREE each week to more than 148,000 subscribers who share an interest in the Walt Disney World resort in Orlando, Florida. You should be one of them! Sign up today!
Click here to start receiving AllEars®, the FREE weekly electronic newsletter with the most current, accurate and comprehensive information for folks interested in Walt Disney World. Each AllEars® is chock full of facts, helpful tips and, of course, the latest Walt Disney World news, as well as restaurant and resort reviews, previews, interviews, snippets of timely information and insightful guest columns.
Once you've subscribed, don't forget to set your preferences to receive our special promotional mailing called EARS THE DEAL™. A few times each month, we'll send you a bonus email with money-saving offers and promotions for Walt Disney World and the Orlando area, exclusive to you, our AllEars® subscribers! (Click HERE for instructions on subscribing to Ears the Deal™!)

To get a taste of what AllEars® has to offer each and every week, click on the links below -- these tidbits are from our October 2014 "WDW Bits and Bites" issue:
---
STEP BACK IN TIME
by Deb Koma
AllEars® Editor
Each month, we rummage around in our archives for this featurette, which indulges in a bit of nostalgia, taking you back in history for a glimpse of Walt Disney World and The Walt Disney Company through the ages. This month, we take a look back to October 1996, when the Magic Kingdom celebrated its 25th anniversary.
As most Walt Disney World fans know, October is an important anniversary month for the Florida theme parks. The Magic Kingdom opened on October 1, 1971, and Epcot opened on October 1, 1982. (Disney Legend Julie Andrews was also born on this date, in 1935, but maybe it's just me who celebrates the birth of the Mary Poppins actress!) And while Disney may not be big on observing little anniversaries, when it's a major milestone, they do it up in a big way. That's why I've been remembering October 1996 and the 25th anniversary celebration of the Magic Kingdom. More specifically, I've been thinking about what became quite a controversial symbol of that anniversary -- the conversion of Cinderella Castle into a bright pink, candy-coated Castle Cake, known as the "Cakestle" by some.
I know it's not a popular opinion, but I loved the Cakestle, which, at 185-feet tall, was billed at the time as the world's largest birthday cake. Maybe it's because that's how I remember the Castle from my second-ever trip to Disney. There it stood at the end of Main Street, U.S.A., all pink and frosted, with Lifesavers ringing the candle-topped spires and gumdrops dotting the sides. It was so festive, how could you not love it? To me, it was like a Hansel-and-Gretel dream come true, and I thought it celebrated the landmark anniversary in spectacular fashion.
I know, I know... not everyone felt that way. Some compared the pink color to the shade of Pepto-Bismol, others complained about the tacky desecration of the most revered symbol of the Most Magical Place on Earth. I think that Disney heard the dissatisfaction loud and clear. It was returned to its former grandeur after the celebration ended in January 1998 and has been relatively unaltered since. Yes, the castle was gilded a bit during the celebration of Disneyland's 50th, but it was subtle in comparison to the Cakestle. And no one complains about the magical "Dream Lights" that have been setting the castle a-twinkle the past few winters because they are beautifully well done. No, I'm fairly certain this beloved icon won't undergo any drastic transformations like the Cakestle ever again.
But as a tribute to its memory, which lingers on in the memories of many, here are some fun facts about that Cakestle that make it one of my fondest Walt Disney World memories:
-- It took 55,040 tablespoons of three shades of pink paint icing to cover the castle. (I think that translated into something like 400 gallons!)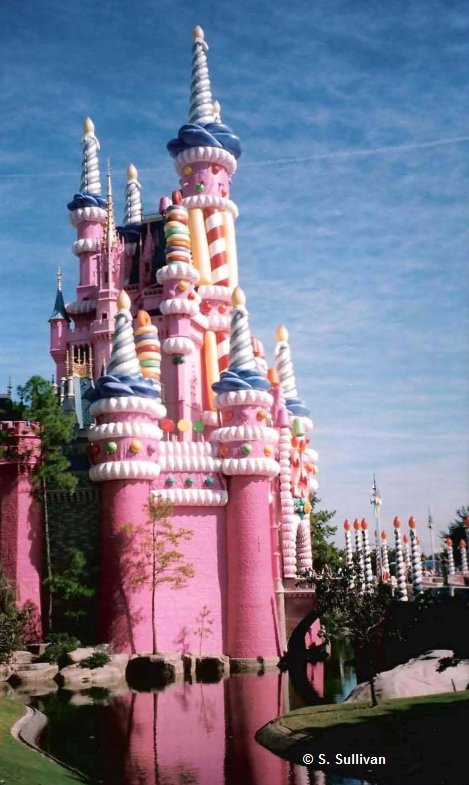 -- There were 25 glowing candles atop the castle spires, plus one to grow on, ranging in height from 12 feet to 36 feet.

-- There were more than 120 pieces of "candy," which included: 16 green candy stars, each two feet wide; 16 red candy hearts, each five feet wide; 12 gumdrops, five feet high; 30 lollipops, three feet wide each; 50 giant gumballs; three candy stacks with basketball-sized bonbons; 20-foot-tall peppermint candy sticks; and 25-foot high stacks of tractor-tire-sized Lifesavers.
Doesn't that sound fantastic, not to mention delicious, to you? No? Well, don't worry. I'm sure the castle is safe from another such a makeover, even though Walt Disney World's 45th anniversary IS coming up in 2016.
What about you? Did love the Cakestle? Or did you loathe it? I can't be alone, can I? Have any photos you'd like to share? Please send them along to allearsnet@yahoo.com with CASTLE CAKE in the subject line.
=-=-=-=-=-=-=-=-=-=-=

RELATED LINKS
Walt Disney World Chronicles: Cinderella Castle:
http://allears.net/ae/issue760.htm
Cinderella Castle in Gold for the 50th Anniversary:
http://allears.net/tp/mk/castlegold.htm
Remembering October 1971:
http://allears.net/ae/issue630.htm
Castle Dream Lights:
http://allears.net/tp/castle-dream-lights-magic-kingdom.htm
Magic Kingdom's 25th Anniversary:
http://allears.net/tp/mk/25anv.htm
---
RATE AND REVIEW SPOTLIGHT
Compiled by AllEars® Team Member Cathy Bock:
In this monthly featurette, we take a look at recent comments made in the AllEars.Net Rate & Review section about a particular restaurant, resort, event, etc. This month, we examine what AllEars® readers are saying about the Coral Reef Restaurant, which is located at the Living Seas at Epcot.
Coral Reef is a table service restaurant serving lunch and dinner. AllEars® reviewers give it an average rating of 7.4 and it is recommended by 81% of reviewers.
From recent reviews:
Food (general): "food is amazing"; "overall, it was pretty good"; "food was beautifully arranged on the plates, but tasted bland and fishy"; "food is always good".
Entrees: "always order the Mahi Mahi and Shrimp and every time it comes out perfect"; "mashed potatoes were amazing"; "pasta was the shell kind and was very under done. There was very little lobster and the sauce was watery and bland"; "son had the lobster & shrimp "mac & Cheese" which he loved"; "salmon which was cooked perfectly"; "husband got the steak and it was horrible"; "got the pasta with lobster and shrimp. The shrimp were tiny, the cream sauce was watery and the asparagus was cut up so tiny it had no taste".
Desserts: "dessert was the best part of the meal"; "desserts were beautiful and the turtle cheesecake was pretty yummy"; "recommend the chocolate wave and the cupcakes for the kiddos".
Service: "service was decent"; "service was quite good"; "service was wonderful"; "so poor reported to management who basically shrugged it off"; "every employee was friendly"; "messed up our bill".
Atmosphere: "atmosphere and location are great too with being next to the large fish tank"; "love looking at the fish and sea animals in the tanks"; "aquarium is magnificent"; "you won't be seeing much unless you are on the floor level near the tanks"; "excellent to sit there watching the fish and turtles"; "atmosphere was nice".
Overall: "definitely recommend!"; "will come back"; "doubt we will be coming back to the Coral Reef anytime soon"; "our experience was anything but wonderful"; "we won't be going back"; "Recommend but watch the service".
If you have recently eaten at the Coral Reef Restaurant, we'd love to have your review!
http://land.allears.net/reviewpost/showproduct.php?product=83&title=coral-reef-lunch-dinner&cat=34
And don't forget to check out the rest of our Rate & Review boards here:
http://land.allears.net/reviewpost/
---
MAGICAL MOMENTS
Robin Tater: After viewing the Electrical Water Pageant from the beach at Wilderness Lodge, we hopped a boat over to Fort Wilderness. My kids and I were the only ones on the boat. Our driver heard my youngest daughter going on and on about the crocodile in the pageant and did his best to get us over toward it before the parade ended. Sadly we weren't quite fast enough. He then radioed over and suddenly the crocodile was back on just for her! My daughter was thrilled to see her beloved crocodile again, and I teared up knowing how such a simple gesture can mean so much. Thank you for making a little girl's day. She talked about it nonstop for a week.

Sheila Spohn: My young grandson had a terrible migraine and was so ill he could not leave the room. I stayed with him so the others could enjoy going to the parks. When he was able to eat, all he wanted was a bowl of chicken soup. I called the All Star Music desk and they said they did not make chicken soup at any of the eating areas there. About an hour later, there was a knock on the door. A chef stood with a huge hot bowl of chicken soup for my grandson! What a wonderful surprise! I offered to pay and offered a tip and both were rejected. My grandson ate every bit of the soup. We have never forgotten this act of generosity and magical moment. Thank you, Disney.
Loretta Flaherty: I just want to tell your readers that even adults have magical moments in Walt Disney World. I have a handsome, 24-year-old, autistic son who adores Snow White. He beams when he sees her. We make it a point to stop by Germany in Epcot for just such an encounter, and to take some photos. Of course, if he's happy, we're happy. Well, one visit, after that was done and we started to walk away, Snow White called out, "Mom, I want to give you a hug." I walked back to her, and it was like I was a kid all over again. My husband had two beaming "kids" on his hands for the rest of the day.
-=-=-=-=-=-=-=-=-=-=-=-=-=-=-=-=-=-=-=-=-
We just bet you have a story to tell about an unforgettable moment during your Disney vacation! Please send your favorite memory for inclusion in a future AllEars® to: allearsnet@yahoo.com
Thank you all for sharing!
---
ARCHIVES
Feature Archives
Missed the last issue of AllEars®? Or just want to re-read that feature on cruises again? You'll find a listing of past AllEars® newsletter features here.
Tips Archives
We have a searchable database of all the tips that appear in our newsletters! Take a look at the archive of our helpful ideas here!

If you want to receive the rest of the AllEars® news and other juicy bits of timely WDW information, you must be a subscriber! Why not sign up now?
http://www.mailermailer.com/x?oid=02757g
---
Copyright - Disclaimer - Reprint - Contact
©1999-2014, All Rights Reserved. RYI Enterprises, LLC.
RYI Enterprises, LLC owns and operates AllEars.Net, which comprises Deb's Unofficial Walt Disney World Information Guide and the AllEars® weekly newsletter (allears.net). AllEars.Net and AllEars® are not affiliated with, authorized or endorsed by, or in any way officially connected with, The Walt Disney Company, Disney Enterprises, Inc., or any of their affiliates. For official Disney information, visit http://www.disney.com

Editor in Chief: Deb Wills
Editor: Debra Martin Koma
For prompt replies to questions or comments about this newsletter or info that appears on AllEars.Net, send a query using our feedback form:
http://allears.net/forms/feedback.htm
Direct any US Mail correspondence to:
Deb Wills
President
RYI Enterprises, LLC
8297 ChampionsGate Blvd. #360
ChampionsGate, FL 33896
NOTE: No parts of this newsletter may be reprinted without prior written permission from RYI Enterprises, LLC and AllEars.Net.
Terms of Use: http://allears.net/terms.htm
Privacy Policy: http://allears.net/privacy.htm
Advertisements appearing in AllEars® are paid advertisements and are not meant as an endorsement by Deb Wills, RYI Enterprises, LLC, AllEars® or AllEars.Net.
---
READER FEEDBACK
We are nothing without our readers! Please drop us a line and let us know what you're thinking! We can't wait to hear from you. Use our handy Feedback Form to reach us. See what others are saying about us here!
---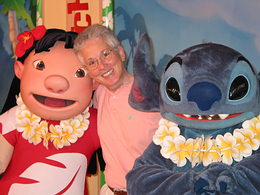 AllEars® is published by Deb Wills, a recognized Walt Disney World expert who also publishes one of the worldwide web's most popular sites, AllEars.Net, which receives more than 7 million page views per month from visitors around the globe.
Deb Wills
Editor-in-Chief and Publisher

AllEars® Editor is Debra Martin Koma.
-o-o-o-o-o-o-o-o-o-o-o-
Editor's Note: This story/information was accurate when it was published. Please be sure to confirm all current rates, information and other details before planning your trip.