AllEars® Newsletter
WELCOME TO THE HOME OF
an unofficial electronic newsletter about The Walt Disney World Resort in Orlando, Florida, published weekly in conjunction with AllEars.Net, Deb's Unofficial Walt Disney World Information Guide

Established September 1999
Library of Congress ISSN:1533-0753
---
AllEars® is delivered FREE each week to about 136,000 subscribers who share an interest in the Walt Disney World resort in Orlando, Florida. You should be one of them! Sign up today!
Click here to start receiving AllEars®, the FREE weekly electronic newsletter with the most current, accurate and comprehensive information for folks interested in Walt Disney World. Each AllEars® is chock full of facts, helpful tips and, of course, the latest Walt Disney World news, as well as restaurant and resort reviews, previews, interviews, snippets of timely information and insightful guest columns.
Once you've subscribed, don't forget to set your preferences to receive our special promotional mailing called EARS THE DEAL™. A few times each month, we'll send you a bonus email with money-saving offers and promotions for Walt Disney World and the Orlando area, exclusive to you, our AllEars® subscribers! (Click HERE for instructions on subscribing to Ears the Deal™!)

To get a taste of what AllEars® has to offer each and every week, click on the links below -- these tidbits are from our April 2016 "WDW Bits and Bites" issue:
---
STEP BACK IN TIME
by Debra Martin Koma
AllEars® Editor
by Debra Martin Koma
AllEars® Editor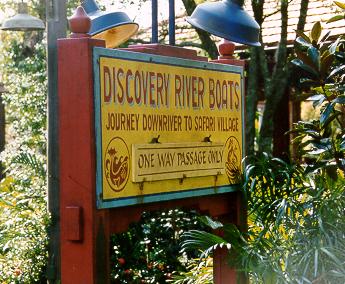 Each month, we rummage around in our archives for this featurette, which indulges in a bit of nostalgia, taking you back in history for a glimpse of Walt Disney World and The Walt Disney Company through the ages. This month, as we anticipate a host of changes at Disney's Animal Kingdom later in April, we take a look at the early days of the park and one of its original (and shortest-lived) attractions, the Discovery River Boats.
Back when Disney's Animal Kingdom opened in 1998, the Discovery River Boats provided a short cruise through the waterways of Animal Kingdom. The Imagineers originally intended that the five natural gas-powered boats would provide guests with an orientation of Animal Kingdom, and provide transportation from one side of the park to another. Guests could board Discovery River Boats at one of two stations, one located near the entrance to Dinoland and the other in Asia.
At early cast member previews in March 1998, the lines waiting to board the whimsically named Darting Dragonfly, Otter Nonsense, Leaping Lizard, Crocodile Belle and Hasty Hippo were more than an hour long. When the park opened there were very few attractions operating, and so the lines grew even longer. Tired guests did not appreciate waiting for a 10-minute boat ride that went in a circle with nothing to look at. Animal handlers were on the boats for a show-and-tell with small critters such as tarantulas, geckos, and scorpions, but this did little to entertain the masses.
Disney closed the ride for retooling a few times, reopening it as the Discovery River Taxis and then eventually the Radio Disney River Cruise, with Radio Disney DJ voices as part of the ride. But plagued by long waits, slow boarding and difficulties with the steering, the boats were closed permanently in August 1999, after just 16 months of operation.
---
MAGICAL MOMENTS
Heart-warming Magical Moments brought to us by the amazing Disney cast members!
Jessica M.: My parents and I took our first Disney cruise in 2004. Our first magical moment was that my father actually won the trip in the late Hollywood Studios' Who Wants to Be a Millionaire Play It! attraction (but that's a whole other magical moment.) I was 10 at the time and one night on the cruise, my father and I took a walk around the desolate ship near the gift shops. We were peering into the dark, locked up windows when two hands suddenly covered my face from behind, blocking my vision. I turned to see Peter Pan who took off running down the hall as he screamed, "Off to Neverland!" He reached the end of the hallway, and turned back to my father and me with a wink before disappearing around the corner. As an annual Disney-goer, I've had my fair share of unrivaled Disney magic, but whenever I'm walking home from college classes or in a big hallway by myself, I always wonder: Where's Peter now?
Becca Burger: In March of 2015 my sister and I took our families to Disney with our parents. Growing up we went to Disney almost every year, and it was wonderful to bring all the grandchildren to Disney with my parents. Our father's health has not been perfect recently and Disney has always been a favorite place for him to visit, especially with his grandchildren. On our last day, right near closing, we rode Kilimanjaro Safaris in Animal Kingdom. We enjoyed a wonderful tour with other families as the animals were being quite active. When the tour ended, it took a few minutes to unload the 10 members and get my father to his wheelchair. As I looked around, there were no other people in line to board the vehicle, and the park still had 20 more minutes before close. I leaned over to the cast member and asked politely if we could ride again. Excitedly she said "Yes! I'd love to give a private safari ride to a beautiful family!" So our family boarded again, she gave the children official safari guide cards, and we had a one-on-one tour! It was amazing and so personal! We could not have asked for a better way to end our Disney vacation! My father still talks about how this was his favorite moment of the trip! Thank you, Disney!
Trix: I was fortunate enough 10 years ago to spend my 40th birthday in Disney World, but recently I was even MORE fortunate to have spent my 50th birthday in Disneyland! It had been 25 years since I had last been to California and had never seen Disney's California Adventure. My husband and I were walking along Paradise Pier when we came to "Toy Story Midway Mania." What a pleasant surprise as I hadn't realized they had one in California! As we stood there deciding if we should wait in the 35-minute line, and finally deciding we would, a cast member came up to us and said, "Hey folks, ever been on this before?" I said, "Yes, but in Florida. We've never been here." He dropped the rope and said, "Come with me." He led us through the exit and right onto the ride! It's such a small thing, but was SUCH a happy moment. My husband isn't nearly the Disney nut I am (he actually just tolerates it for me), but he likes that ride a lot and we had an absolute blast! Thank you to the cast of The Happiest Place on Earth. And thanks for giving me a magical moment as part of my 50th birthday trip!
Cindy: My youngest son and I made a special pre-kindergarten trip to Disney last summer when he was 5 years old. He loved pin-trading and penny smashing and kept a lanyard around his neck for his supplies. One evening in Epcot, he left it in a restroom stall at the UK pavilion. We found a spot to watch the fireworks and were talking about the day when he suddenly looked up at me in a panic and announced that he had left his lanyard in the restroom stall. We hurried back to the UK restrooms and he ran to the stall, but the lanyard was not there. He was close to tears, and I tried to assure him that someone had probably found it and turned it into the lost and found. We went into the closest store and asked the clerk if anyone had turned in a lanyard with pin case. It was not there, but the clerk got on the phone to call lost and found. He then called around to find the restroom attendant. My son was quiet, but he was clutching my hand and large tears were now rolling down his cheeks. I told him not to worry. Unfortunately, I had not thought to put any identification in the pin bag, so there was no way for anyone to call us. The clerk suggested we head to the nearest pin cart and that he would have someone contact us there. Within 10 minutes from when we realized the bag was lost, the attendant for the UK restroom had run back from her next cleaning stop with the lanyard bag. She had found the lanyard, but hadn't even had a chance to turn it in yet. My son gave her a big hug, and took a deep breath. We bought a Union Jack Mickey head pin to remember his good luck! I love that everyone at Disney works to keep the magic alive. That cast member saved the day for my 5-year-old boy!
-=-=-=-=-=-=-=-=-=-=-=-=-=-=-=-=-=-=-=-=-
We just bet you have a story to tell about an unforgettable moment during your Disney vacation! Please send your favorite memory for inclusion in a future AllEars® to: allearsnet@yahoo.com
Thank you all for sharing!
---
ARCHIVES
Feature Archives
Missed the last issue of AllEars®? Or just want to re-read that feature on cruises again? You'll find a listing of past AllEars® newsletter features here.
Tips Archives
We have a searchable database of all the tips that appear in our newsletters! Take a look at the archive of our helpful ideas here!

If you want to receive the rest of the AllEars® news and other juicy bits of timely WDW information, you must be a subscriber! Why not sign up now?
http://www.mailermailer.com/x?oid=02757g
---
Copyright - Disclaimer - Reprint - Contact
©1999-2016, All Rights Reserved. RYI Enterprises, LLC.
RYI Enterprises, LLC owns and operates AllEars.Net, which comprises Deb's Unofficial Walt Disney World Information Guide and the AllEars® weekly newsletter (allears.net). AllEars.Net and AllEars® are not affiliated with, authorized or endorsed by, or in any way officially connected with, The Walt Disney Company, Disney Enterprises, Inc., or any of their affiliates. For official Disney information, visit http://www.disney.com

Editor in Chief: Deb Wills
Editor: Debra Martin Koma
For prompt replies to questions or comments about this newsletter or info that appears on AllEars.Net, send a query using our feedback form.

Direct any US Mail correspondence to:
Deb Wills
President
RYI Enterprises, LLC
8297 ChampionsGate Blvd. #360
ChampionsGate, FL 33896
NOTE: No parts of this newsletter may be reprinted without prior written permission from RYI Enterprises, LLC and AllEars.Net.
Advertisements appearing in AllEars® are paid advertisements and are not meant as an endorsement by Deb Wills, RYI Enterprises, LLC, AllEars® or AllEars.Net.
---
READER FEEDBACK
We are nothing without our readers! Please drop us a line and let us know what you're thinking! We can't wait to hear from you. Use our handy Feedback Form to reach us. See what others are saying about us here!
---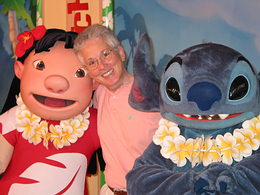 AllEars® is published by Deb Wills, a recognized Walt Disney World expert who also publishes one of the worldwide web's most popular sites, AllEars.Net, which receives more than 7 million page views per month from visitors around the globe.
Deb Wills
Editor-in-Chief and Publisher

AllEars® Editor is Debra Martin Koma.
-o-o-o-o-o-o-o-o-o-o-o-
Editor's Note: This story/information was accurate when it was published. Please be sure to confirm all current rates, information and other details before planning your trip.