AllEars® Newsletter

WELCOME TO THE HOME OF
an unofficial electronic newsletter about The Walt Disney World Resort in Orlando, Florida, published weekly in conjunction with AllEars.Net, Deb's Unofficial Walt Disney World Information Guide


Established September 1999 Library of Congress ISSN:1533-0753
---
AllEars® is delivered FREE each week to 130,000 subscribers who share an interest in the Walt Disney World resort in Orlando, Florida. You should be one of them! Sign up today!
Click here to start receiving AllEars®, the FREE weekly electronic newsletter with the most current, accurate and comprehensive information for folks interested in Walt Disney World. Each AllEars® is chock full of facts, helpful tips and, of course, the latest Walt Disney World news, as well as restaurant and resort reviews, previews, interviews, snippets of timely information and insightful guest columns.
Once you've subscribed, don't forget to set your preferences to receive our special promotional mailing called EARS THE DEAL™. A few times each month, we'll send you a bonus email with money-saving offers and promotions for Walt Disney World and the Orlando area, exclusive to you, our AllEars® subscribers! (Click HERE for instructions on subscribing to Ears the Deal™!)

To get a taste of what AllEars® has to offer each and every week, click on the links below -- these tidbits are from our October 2016 "WDW Bits and Bites" issue:
---
STEP BACK IN TIME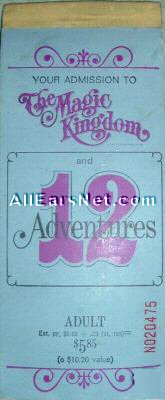 We rummage around in our archives for this monthly featurette, which indulges in a bit of nostalgia, taking you back in history for a glimpse of Walt Disney World and The Walt Disney Company through the ages. This month, as Walt Disney World turns the ripe old age of 45, we take a look at the early days, all the way back to October 1972, when the Vacation Kingdom consisted of just the Magic Kingdom and a few hotels.
Some interesting Magic Kingdom tidbits from this era:
-- The first pneumatic refuse removal system (called AVAC, Automatic Vacuum Collection System) in the Western Hemisphere was in use, whisking refuse away from guest areas at high speed.
-- WDW boasted the world's largest food operation, with the capacity to serve 175,000 meals per day. Since its opening a year prior, WDW had at that time produced more than 19 miles of brownies.
-- The Magic Kingdom had two character parades daily, at 12:30 and 5:30 p.m., except during extended park hours.
-- One of the "new attractions" at the time was the Water Ski Spectacular, which was performed Saturdays through Wednesdays at 7 p.m. on the Seven Seas Lagoon. There was a separate charge for this show of $1/adult, $.50/child (3-11).
At this time, the Contemporary Resort was the world's only hotel to feature a monorail train running through it. The resort's mural, "The Pueblo Village," was one of the world's largest, at 18,000 square feet. Restaurants at the resort in those days included El Pueblo on the fourth floor and the Gulf Coast Room, which featured French dining, on the second. The Top of the World, on the 15th floor, had entertainment twice nightly. Room rates for the 1,057 rooms ranged from $29/night to $44/night, depending on location.
Meanwhile at the Polynesian Village Resort, there were 492 rooms in eight longhouses, also going for $29/night to $44/night. The resort's Papeete Bay Verandah had a Kaui-Pono Polynesian Revue dinner show nightly, while over on the beach there was the nightly South Seas Luau.
Fort Wilderness, along with its 500 campsites (at $11/night), offered a variety of activities: a night nature excursion ($3/person); canoes ($2/hour); bicycles ($1/hour), including tandems and three-wheelers ($2/hour); and over at the Tri-Circle-D Ranch pony rides ($.50) and a petting zoo (where it cost 5 cents for feed!).
Finally, I know we can't compare 1972 prices with today's, but it's still fun to see what admission was back then. General admission (including transportation) was $3.75/adult, $2.75/junior (age 12-17) and $1.25/child (age 3-11). A 12-adventure ticket book (which included admission and transportation) cost $6.30, $5.85, and $5.30 respectively.
Yeah, times have changed.
Source: Eyes and Ears of Walt Disney World (cast member publication), October 14, 1972
=-=-=-=-=-=-=-=-=

RELATED LINKS

As part of the Walt Disney World 40th anniversary celebration, AllEars.Net had the chance to speak with several cast members who were working at the Magic Kingdom on opening day in 1971:

Kevin Myers
Darlene Kennedy
Heather Will-Browne
Magic Kingdom's 40th Anniversary Ceremony Photo Gallery
---
MAGICAL MOMENTS
Heart-warming Magical Moments brought to us by the amazing Disney cast members!
Carol C.: Our family are Disney fanatics. A few years ago my husband, son and daughter-in-law, daughter and fiance stayed at All Star Music as a celebration for our daughter graduating from college. The kids flew down, but my husband and I drove. On the last day my daughter said she had seen a mug in Animal Kingdom that had a picture of a tiger and Pooh with a magnifying glass asking, "Is that you Tigger?" She said she wished she bought it, but there was not time to go back to Animal Kingdom. My husband and I were staying that night and leaving in the morning so we said we would see if we could find it. We searched but couldn't find it. Cast members told us when we got back to our hotel to talk to the gift shop and see if they could have one sent to us. We went to the gift shop and they said they would contact Animal Kingdom and see if it could be sent over the next morning. When we went back in the morning it was not there yet, but they had sent one of their workers over to Animal Kingdom. The cast member came back with the mug -- we were excited because it was exactly what our daughter wanted. My husband took out his wallet to pay but the cast member handed us the wrapped up mug. We looked at her, very confused, and said we didn't pay for it yet. She said, "Have a magical day," smiled and added, "see you next year." This act of kindness was so nice... I have told many people about it. Disney has the best customer service and the stories you print just prove Disney does try to do it right.
Neal M.: During a past trip to Walt Disney World, we purchased tickets to Mickey's Not-So-Scary Halloween party. My two sons were dressed up, one as Stitch and the other as a Power Ranger. After entering the park, I approached a cast member who was handing out flyers about the party and asked him if I could have one. He responded, "Sure, if you could do me a favor." I was thinking, "What could he possibly want from me?" To my surprise, he asked if I would allow my kids to ride in the Halloween parade. They got to ride on a float in the parade, making that trip one we will never forget.
Jenna Daire: On a trip to tour the national parks of Florida, we surprised our daughters with one day at the Magic Kingdom. It was our 5-year-old's first trip, and we only had one day to spare, so we had an ambitious itinerary... My husband waited in line at a FastPass kiosk in the heat for more than 45 minutes and didn't want to leave the line when we reached our lunch reservation time for "Be Our Guest." Since your entire party must be present to be seated, we were torn, but my husband ended up leaving the FastPass line and joined us for lunch. When we were seated, our server was joking with us and said, "Well, I have some bad news." Our faces must have shown our worn-down state, and my youngest was close to crying. I quickly told the server to break it to us gently since we had waited for a good while to gain FastPasses, but had no luck. She was going to say that the bad news was that our food was ready early, but she changed course and said she needed to check on one more thing. Five minutes later she came out with five FastPasses good anywhere in the park at any time. She told my daughter the Beast had heard our story and wanted to treat us to any ride she wanted. Oh, the Magic! (It sounds like one week after our trip, Disney rolled out an app for FastPass service, which we were glad to hear.) We used that FastPass to get back on track with our plan and are proud to say we made it until midnight! My 5-year-old will never forget that kindness, and neither will we!
-=-=-=-=-=-=-=-=-=-=-=-=-=-=-=-=-=-=-=-=-
We just bet you have a story to tell about an unforgettable moment during your Disney vacation! Please send your favorite memory for inclusion in a future AllEars® to: allearsnet@yahoo.com
Thank you all for sharing!
---
ARCHIVES
Feature Archives
Missed the last issue of AllEars®? Or just want to re-read that feature on cruises again? You'll find a listing of past AllEars® newsletter features here.
Tips Archives
We have a searchable database of all the tips that appear in our newsletters! Take a look at the archive of our helpful ideas here!

If you want to receive the rest of the AllEars® news and other juicy bits of timely WDW information, you must be a subscriber! Why not sign up now?
http://www.mailermailer.com/x?oid=02757g
---
Copyright - Disclaimer - Reprint - Contact
©1999-2016, All Rights Reserved. RYI Enterprises, LLC.
RYI Enterprises, LLC owns and operates AllEars.Net, which comprises Deb's Unofficial Walt Disney World Information Guide and the AllEars® weekly newsletter (allears.net). AllEars.Net and AllEars® are not affiliated with, authorized or endorsed by, or in any way officially connected with, The Walt Disney Company, Disney Enterprises, Inc., or any of their affiliates. For official Disney information, visit http://www.disney.com

Editor in Chief: Deb Wills
Editor: Debra Martin Koma
For prompt replies to questions or comments about this newsletter or info that appears on AllEars.Net, send a query using our feedback form.

Direct any US Mail correspondence to:
Deb Wills
President
RYI Enterprises, LLC
8297 ChampionsGate Blvd. #360
ChampionsGate, FL 33896
NOTE: No parts of this newsletter may be reprinted without prior written permission from RYI Enterprises, LLC and AllEars.Net.
Advertisements appearing in AllEars® are paid advertisements and are not meant as an endorsement by Deb Wills, RYI Enterprises, LLC, AllEars® or AllEars.Net.
---
READER FEEDBACK
We are nothing without our readers! Please drop us a line and let us know what you're thinking! We can't wait to hear from you. Use our handy Feedback Form to reach us. See what others are saying about us here!
---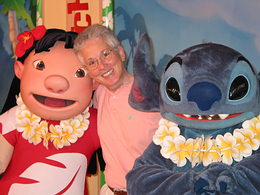 AllEars® is published by Deb Wills, a recognized Walt Disney World expert who also publishes one of the worldwide web's most popular sites, AllEars.Net, which receives more than 7 million page views per month from visitors around the globe.
Deb Wills
Editor-in-Chief and Publisher

AllEars® Editor is Debra Martin Koma.
-o-o-o-o-o-o-o-o-o-o-o-
Editor's Note: This story/information was accurate when it was published. Please be sure to confirm all current rates, information and other details before planning your trip.