AllEars® Newsletter
WELCOME TO THE HOME OF
an unofficial electronic newsletter about The Walt Disney World Resort in Orlando, Florida, published weekly in conjunction with AllEars.Net, Deb's Unofficial Walt Disney World Information Guide

Established September 1999
Library of Congress ISSN:1533-0753
---
AllEars® is delivered FREE each week to more than 148,000 subscribers who share an interest in the Walt Disney World resort in Orlando, Florida. You should be one of them! Sign up today!
Click here to start receiving AllEars®, the FREE weekly electronic newsletter with the most current, accurate and comprehensive information for folks interested in Walt Disney World. Each AllEars® is chock full of facts, helpful tips and, of course, the latest Walt Disney World news, as well as restaurant and resort reviews, previews, interviews, snippets of timely information and insightful guest columns.
Once you've subscribed, don't forget to set your preferences to receive our special promotional mailing called EARS THE DEAL™. A few times each month, we'll send you a bonus email with money-saving offers and promotions for Walt Disney World and the Orlando area, exclusive to you, our AllEars® subscribers! (Click HERE for instructions on subscribing to Ears the Deal™!)

To get a taste of what AllEars® has to offer each and every week, click on the links below -- these tidbits are from our November 2014 "WDW Bits and Bites" issue:
---
STEP BACK IN TIME

by Deb Wills
AllEars® Editor-in-Chief


Each month, we rummage around in our archives for this featurette, which indulges in a bit of nostalgia, taking you back in history for a glimpse of Walt Disney World and The Walt Disney Company through the ages. This month, we go 20 years back, all the way to November 1994!
At that time, Honey I Shrunk the Audience, an interactive 3-D adventure, opened in Epcot's Future World, replacing Captain EO, a 3-D film that starred singer Michael Jackson. It was one of the most creative and multi-sensory 3D experiences of its time. Water sprayed, the seating platform moved and rats ran around your feet.

The 20-minute misadventure followed Professor Wayne Szalinski (Rick Moranis) and was based on the "Honey, I Shrunk the Kids" series of films. In the attraction, Professor Szalinski was about to accept the Inventor of the Year Award from Nigel Channing (ex-Monty Python comedian Eric Idle). Szalinkski has a little mishap with the remote for his hoverpod and flies out of control around the Imagination Institute. As part of the award ceremony, Professor Szalinski then demonstrates his Dimensional Duplicator and Incredible Shrinking Machine. The audience, too, is then shrunk as part of the misdirected laser beam. There were some super special effects, including feeling the wind from the hoverpod when the Professor flies into the theater. It was a VERY realistic 3-D motion picture. If you do not like snakes, lions, or mice, then you may not have enjoyed this experience. Parts of this movie were quite loud and may have been too much for young children.

The show was produced by Kodak.

In a rather circular turn of events, after the death of Michael Jackson in 2010, the original Captain EO film was brought back and replaced Honey, I Shrunk the Audience.
A sad side note: Marcia Strassman, who played Szalinski's wife in the "Honey, I Shrunk..." films and the attraction, passed away this past week at the age of 66, from breast cancer.

=-=-=-=-=-=-=-=-=-=-=
RELATED LINKS

Captain EO attraction page

Captain EO Archive
Honey, I Shrunk the Audience - Disneyland
---
RATE AND REVIEW SPOTLIGHT
Compiled by AllEars® Team Member Cathy Bock:
In this monthly featurette, we take a look at recent comments made in the AllEars.Net Rate & Review section about a particular restaurant, resort, event, etc. This month, we examine what AllEars® readers are saying about Mickey's Very Merry Christmas Party, which starts this year on November 7! If you're thinking of going, here are some reader comments from our Rate & Review section on last year's party that might help you make up your mind.
Mickey's Very Merry Christmas Party is recommended by 82 percent of our reviewers, with an average rating of 7 out of 10.
-- "For the money paid, not sure it was worth it. The lines to see the parades, fireworks, etc. were just wayyyy too crowded. Felt like a sardine... One main reason to go was to see "unique" character meet-and-greets. Line for 7 Dwarfs was 1-1/2 hours. Really? Forget that... Did have a lot of short lines for rides, which was nice. It was all just too much in too short of time. Go to see special events or go to have short lines for the rides and skip the other offerings, but not both because you'll be unhappy like me."
-- "We attended the party on December 12 (second time we have attended). It was less crowded than I have seen in the past, but still pretty difficult to maneuver around. We loved the snow on Main Street and ended up with a very good spot for the parade. (We never attempted to find a spot on Main Street because it was just too crowded.)"
-- "We visit Magic Kingdom many times a year and at this party we had the best position we've EVER had for fireworks, the parade, and very little wait time in lines... usually only as long as it took us to walk through the waiting area. The cookies and hot chocolate were nothing exceptional, but certainly satisfied us... Though I never saw anyone escorted out, I personally witnessed the cast members checking wristbands just to enter a store. And the crowds certainly thinned quickly after 7 p.m. We all thought it was absolutely magical... one of the best days/nights we've EVER had at Magic Kingdom."
-- "This was our fourth MVMCP and probably our last until Disney can fix the crowd problem. We attended on December 5, which was sold out. We have visited many times and know that there are always going to be crowds in the Magic Kingdom, but what we experienced this night was completely unacceptable. The crowd on Main Street and around the castle between the parades and during the fireworks was unimaginable!"
-- "All in all, everything we saw we enjoyed, but was it worth $180? Not sure."

-- "We went for the first party of the season, which has been sold out for over a week. It wasn't packed full of people at all. We were able to get right onto rides, got to have a front row seat and sit for the parade by the castle, enjoyed the fireworks in peace. Also we walked right up and got cookies and hot chocolate with little to no waiting at all. It was amazing. Also, we saw many, many, many people getting escorted out by cast members when they did not have a bracelet."
Want to read more? Check out other Mickey's Very Merry Christmas Party comments from our Rate & Review section.
And don't forget to check out the rest of our Rate & Review boards!
---
MAGICAL MOMENTS
Stacey M. Krieger: My husband and I went to Epcot for our first anniversary. We had on the complimentary "Happy Anniversary" pins. As we walked into the American Adventure the greeter hustled up to us and asked us where we were from. I told him and he said, "We've been waiting for you!" and ushered us into a little private room off to the left of the viewing area for the Voices of Liberty. He dialed something on a telephone and handed it to me. It was Mickey Mouse calling to wish us a Happy Anniversary! Very cute. It made our grins just a little bigger as we celebrated our special day!
Maureen Kolis: One of our favorites during every trip to Disney World for my husband and me is the Safari. We've never been disappointed during the experience...the animals are always out and active, and our Safari guides have provided informative and entertaining commentary. Our most recent vacation, however, provided us with an unforgettable experience on the Safari. We had "FastPassed," hoping to take one of the last Safaris of the day to see the animals migrating back to their overnight shelters for their food. As it turned out, the day was rainy and the temperature had dipped into the 50s. The park was emptying of people, so when we arrived we were boarded onto one of the vehicles all by ourselves. We waited for others to arrive, but time was running out since it was the end of the day, so our driver, Tim, told us we would have our own personal Safari experience! And what an experience it was! He asked us to move to the seat right behind him, and then proceeded to treat us to a most amazing Safari, even stopping for extra time so he could point out things that we had never seen before! And we did see the "parade" of elephants, giraffes, zebras, and so many other beautiful creatures as they went "home" for the night. We've never experienced anything like that before... and I'm sure we never will again! OUR magic was provided by Tim, and we'll never forget his generous sharing!
Cindy W.: Back in 2002, on our very first trip to Walt Disney World, we stayed a week on-site and went to all the parks twice! We made many memories, but the best was on our third day: We got up early to be first in line at Animal Kingdom, first through the gate and at the front by the ropes. Our aim was be first in line at Kilimanjaro Safari. As we were waiting for the park to open, a cast member approached my daughter, who was celebrating her 10th birthday (though the cast member didn't know that), and asked if she wanted to help open the park! Our 5-year-old son was invited along as well. Soon they were dressed in safari hats and were introduced to Minnie and Mickey and several other characters, all dressed in their safari garb.  My daughter was given the microphone to welcome everyone to Animal Kingdom before the gates opened. Our children were given Animal Kingdom pins by the cast members, and had a special photo shoot with Minnie and Mickey and all the other characters. What a magical day that was! We still made it on one of the first safari rides too!
-=-=-=-=-=-=-=-=-=-=-=-=-=-=-=-=-=-=-=-=-
We just bet you have a story to tell about an unforgettable moment during your Disney vacation! Please send your favorite memory for inclusion in a future AllEars® to: allearsnet@yahoo.com
Thank you all for sharing!
---
ARCHIVES
Feature Archives
Missed the last issue of AllEars®? Or just want to re-read that feature on cruises again? You'll find a listing of past AllEars® newsletter features here.
Tips Archives
We have a searchable database of all the tips that appear in our newsletters! Take a look at the archive of our helpful ideas here!

If you want to receive the rest of the AllEars® news and other juicy bits of timely WDW information, you must be a subscriber! Why not sign up now?
http://www.mailermailer.com/x?oid=02757g
---
Copyright - Disclaimer - Reprint - Contact
©1999-2014, All Rights Reserved. RYI Enterprises, LLC.
RYI Enterprises, LLC owns and operates AllEars.Net, which comprises Deb's Unofficial Walt Disney World Information Guide and the AllEars® weekly newsletter (allears.net). AllEars.Net and AllEars® are not affiliated with, authorized or endorsed by, or in any way officially connected with, The Walt Disney Company, Disney Enterprises, Inc., or any of their affiliates. For official Disney information, visit http://www.disney.com

Editor in Chief: Deb Wills
Editor: Debra Martin Koma
For prompt replies to questions or comments about this newsletter or info that appears on AllEars.Net, send a query using our feedback form:
http://allears.net/forms/feedback.htm
Direct any US Mail correspondence to:
Deb Wills
President
RYI Enterprises, LLC
8297 ChampionsGate Blvd. #360
ChampionsGate, FL 33896
NOTE: No parts of this newsletter may be reprinted without prior written permission from RYI Enterprises, LLC and AllEars.Net.
Terms of Use: http://allears.net/terms.htm
Privacy Policy: http://allears.net/privacy.htm
Advertisements appearing in AllEars® are paid advertisements and are not meant as an endorsement by Deb Wills, RYI Enterprises, LLC, AllEars® or AllEars.Net.
---
READER FEEDBACK
We are nothing without our readers! Please drop us a line and let us know what you're thinking! We can't wait to hear from you. Use our handy Feedback Form to reach us. See what others are saying about us here!
---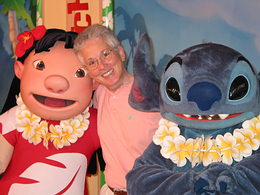 AllEars® is published by Deb Wills, a recognized Walt Disney World expert who also publishes one of the worldwide web's most popular sites, AllEars.Net, which receives more than 7 million page views per month from visitors around the globe.
Deb Wills
Editor-in-Chief and Publisher

AllEars® Editor is Debra Martin Koma.
-o-o-o-o-o-o-o-o-o-o-o-
Editor's Note: This story/information was accurate when it was published. Please be sure to confirm all current rates, information and other details before planning your trip.