AllEars® Newsletter
WELCOME TO THE HOME OF
an unofficial electronic newsletter about The Walt Disney World Resort in Orlando, Florida, published weekly in conjunction with AllEars.Net, Deb's Unofficial Walt Disney World Information Guide

Established September 1999
Library of Congress ISSN:1533-0753
---
AllEars® is delivered FREE each week to more than 146,000 subscribers who share an interest in the Walt Disney World resort in Orlando, Florida. You should be one of them! Sign up today!
Click here to start receiving AllEars®, the FREE weekly electronic newsletter with the most current, accurate and comprehensive information for folks interested in Walt Disney World. Each AllEars® is chock full of facts, helpful tips and, of course, the latest Walt Disney World news, as well as restaurant and resort reviews, previews, interviews, snippets of timely information and insightful guest columns.
Once you've subscribed, don't forget to set your preferences to receive our special promotional mailing called EARS THE DEAL™. A few times each month, we'll send you a bonus email with money-saving offers and promotions for Walt Disney World and the Orlando area, exclusive to you, our AllEars® subscribers! (Click HERE for instructions on subscribing to Ears the Deal™!)

To get a taste of what AllEars® has to offer each and every week, click on the links below -- these tidbits are from our January 2015 "WDW Bits and Bites" issue:
---
STEP BACK IN TIME

Each month, we rummage around in our archives for this featurette, which indulges in a bit of nostalgia, taking you back in history for a glimpse of Walt Disney World and The Walt Disney Company through the ages. This month, we take a look back at what we were anticipating in the January 2001 issue of this newsletter. As you can see, 2001 was the beginning of a year chock-full of new and exciting things:
-- In March 2001, the new pool at the Polynesian was projected to open.
-- In April 2001, Disney's Animal Kingdom Lodge resort was scheduled to open.
-- A new show, Who Wants To Be A Millionaire - Play It!, was set to open at the Disney-MGM Studios in the spring.
-- The Magic Carpets of Aladdin was to open during the summer of 2001.
-- Chester and Hester's Midway and Dino-Rama was set to open at some point in 2001 at Disney's Animal Kingdom.
-- October 2001 was to mark the start of the "One Hundred Years of Disney" celebration and the 30th Anniversary of Walt Disney World, with new parades at the Magic Kingdom and also in Animal Kingdom.
-- Disney's next value resort, Pop Century, was scheduled to open Phase I in December 2001.
-- The 2000 that was part of Spaceship Earth's shimmering icon was to be replaced by the word Epcot. The 2000 was to be removed in January 2001, with the full project expected to be completed by May. Two hundred fifty thousand shimmering metallic eye-catchers were to be used to spell the word "Epcot".
-- The popular Millennium Village, the pavilion created especially for the Millennium Celebration, ended its successful run on January 1, 2001, after 15 months as a World Showcase celebration of countries and cultures. The space was set to become a convention and meeting facility opening in the spring of 2001.
What will the year 2015 bring? AllEarsNet TV co-hosts Deb Wills and Deb Koma look back at Walt Disney World in 2014 and at what's ahead in 2015 in the latest episode of the weekly show.
---
MAGICAL MOMENTS
As a year-end treat to mark the end of the holiday season, we thought we'd share a larger-than-usual helping of those wonderful, heart-warming Magical Moments brought to us by the amazing Disney cast members!
Karen Jackson: I wanted to let you know about magical moment we had on our trip in October 2014. We had couple of nights at the BoardWalk Villas as a treat for our anniversary, five years since we married at Sea Breeze Point. When we checked in the cast member, Martha, realized it had been my husband's birthday the day before, so she gave him a birthday badge. When we went to our room later that day there was a birthday card and a balloon from Mickey, and a message from Mickey and Minnie on the phone. My husband was 54 -- it just goes to show that the magic isn't just for kids! It was a highlight of the trip and he is still talking about it now.
Megan Delaney: In March 2014 I went to Disney with my family (my husband Chris and two daughters Fiona, age 8, and Maeve, age 5). I had just finished my Ph.D. and was feeling very relieved and relaxed. We were all wearing "I'm Celebrating!" buttons. We went to the Liberty Tree Tavern for lunch and as we were standing in line the nice host asked me what I was celebrating. I told him and he gave me a big smile and asked if he could borrow my pin. He went into the back and when he had come back he had written "Being Smart" on my button. It was great and my daughters loved it, too.
Darren S Wells: November 2007 was when we had some very Magical Moments. It was Super Soap Weekend, so my wife got to meet all her favorite actors. It was one Magical Moment after another, but this is the one that sticks out the most for me. My family had gone over to Mickey's Backyard BBQ for dinner. After enjoying dinner, I was in a hurry to get my family to the boat dock. I was looking around at the crowd of people that would need to leave and didn't want to delay. Against her will, my wife agreed and we headed down to the dock. Well, my plan worked. There were very few of us there, so we boarded the next boat with ease. On the way back over to the Magic Kingdom, Wishes started. The boat captain came on the radio and asked if we minded if he slowed down so we could watch the show. Did we mind? Are you kidding me?! We basically had a private showing of Wishes from the boat. We could hear the music clearly.
Sandy Tuttle from Indiana: My husband and I just returned from a trip to Walt Disney World. We had a FP+ time to visit Mickey at Magic Kingdom in Town Square. While the standard wait time was 25 minutes, we were able to get right in with no wait time. Mickey was great! He was very accommodating of my scooter and he even played Jingle Bells on my horn! The photographer was right on the spot and even got pictures of the Magical Moment! Thanks to all in the room at Town Square for helping to give this girl a true Magical Moment!
Donna & Larry Komidar: Years ago, I had purchased a book for Valentine's Day called Disney for Romantics and noticed there was a fireworks cruise at Epcot for a small group. I mentioned it to my husband, as we were going to be celebrating our 25th wedding anniversary in June. He is very good about details. We have meetings all year preparing for our Disney trip the following year, involving family and friends we invite to go with us. He said since we had so many children for that year, we'd be better off waiting until the following year when we were taking two other couples to share a three-bedroom villa at Old Key West. When the following year came around I was typing our itinerary so everyone would know what time we had scheduled various parks/meals/etc. Oh NO! No fireworks cruise was listed! He had not done it and by that time it was too late. Heading into our 27th anniversary, I reminded him and it was added to our schedule. Of course, his sister with her three children would be with us, as well as another couple, but I was excited. While we waited at the dock of BoardWalk where we were instructed to meet our boat, my husband and his buddy wandered off to watch fish. The captain came up and introduced himself and while we chatted I happened to mention this was a belated celebration. He told me we'd be leaving in about 15 minutes and excused himself. Imagine my joy and amazement when we finally were on the water. We parked under the bridge from England to France facing the islands in the middle of the lake at Epcot. Then the captain brought out a cake for us that said, "Happy 25th Anniversary"! It still brings tears to my eyes and is one of my BEST Memories! (By the way, we celebrated our 41st this past June.)
Rich Kostner: Over the last 20 years, my wife and I have visited Disney World many times -- while we were dating, on our honeymoon, after we were married and after our children were born. On our first trip there we ate at the Biergarten in the Germany pavilion in Epcot, and our server's name was Sylvia. She was a wonderful server and was extremely friendly and kind to us. Every time we returned to Biergarten over the years, we asked if Sylvia was working and if she was, we sat at one of her tables. She remembered us almost every time and it was like a little reunion. We have not seen her there for the last seven or so years and when we asked about her, the younger staff were not sure who we were talking about. We just got back from the World and, as luck would have it, as we were being seated we were told our server would be "Sylvia". We laughed at the coincidence, but imagine our surprise when it was THE Sylvia! She remembered us and couldn't get over how big our girls were! It has been years! She reminded us that she has worked at the Biergarten for 32 years, since Epcot opened! She talked with us the whole time we were there and even told the hosts to not seat the other part of our table so we could visit more. She said she will be 65 next year and may go back to live in Germany part of the year and then come back here for the rest of the time. We hope to keep seeing her at Epcot for a long time to come. Thank you for your awesome newsletter that has given us our Disney fix over the years, in between visits!
-=-=-=-=-=-=-=-=-=-=-=-=-=-=-=-=-=-=-=-=-
We just bet you have a story to tell about an unforgettable moment during your Disney vacation! Please send your favorite memory for inclusion in a future AllEars® to: allearsnet@yahoo.com
Thank you all for sharing!
---
ARCHIVES
Feature Archives
Missed the last issue of AllEars®? Or just want to re-read that feature on cruises again? You'll find a listing of past AllEars® newsletter features here.
Tips Archives
We have a searchable database of all the tips that appear in our newsletters! Take a look at the archive of our helpful ideas here!

If you want to receive the rest of the AllEars® news and other juicy bits of timely WDW information, you must be a subscriber! Why not sign up now?
http://www.mailermailer.com/x?oid=02757g
---
Copyright - Disclaimer - Reprint - Contact
©1999-2015, All Rights Reserved. RYI Enterprises, LLC.
RYI Enterprises, LLC owns and operates AllEars.Net, which comprises Deb's Unofficial Walt Disney World Information Guide and the AllEars® weekly newsletter (allears.net). AllEars.Net and AllEars® are not affiliated with, authorized or endorsed by, or in any way officially connected with, The Walt Disney Company, Disney Enterprises, Inc., or any of their affiliates. For official Disney information, visit http://www.disney.com

Editor in Chief: Deb Wills
Editor: Debra Martin Koma
For prompt replies to questions or comments about this newsletter or info that appears on AllEars.Net, send a query using our feedback form:
http://allears.net/forms/feedback.htm
Direct any US Mail correspondence to:
Deb Wills
President
RYI Enterprises, LLC
8297 ChampionsGate Blvd. #360
ChampionsGate, FL 33896
NOTE: No parts of this newsletter may be reprinted without prior written permission from RYI Enterprises, LLC and AllEars.Net.
Terms of Use: http://allears.net/terms.htm
Privacy Policy: http://allears.net/privacy.htm
Advertisements appearing in AllEars® are paid advertisements and are not meant as an endorsement by Deb Wills, RYI Enterprises, LLC, AllEars® or AllEars.Net.
---
READER FEEDBACK
We are nothing without our readers! Please drop us a line and let us know what you're thinking! We can't wait to hear from you. Use our handy Feedback Form to reach us. See what others are saying about us here!
---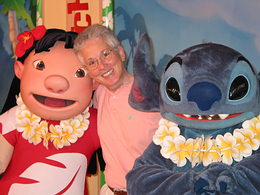 AllEars® is published by Deb Wills, a recognized Walt Disney World expert who also publishes one of the worldwide web's most popular sites, AllEars.Net, which receives more than 7 million page views per month from visitors around the globe.
Deb Wills
Editor-in-Chief and Publisher

AllEars® Editor is Debra Martin Koma.
-o-o-o-o-o-o-o-o-o-o-o-
Editor's Note: This story/information was accurate when it was published. Please be sure to confirm all current rates, information and other details before planning your trip.