AllEars® Newsletter
WELCOME TO THE HOME OF
an unofficial electronic newsletter about The Walt Disney World Resort in Orlando, Florida, published weekly in conjunction with AllEars.Net, Deb's Unofficial Walt Disney World Information Guide

Established September 1999
Library of Congress ISSN:1533-0753
---
AllEars® is delivered FREE each week to more than 148,000 subscribers who share an interest in the Walt Disney World resort in Orlando, Florida. You should be one of them! Sign up today!
Click here to start receiving AllEars®, the FREE weekly electronic newsletter with the most current, accurate and comprehensive information for folks interested in Walt Disney World. Each AllEars® is chock full of facts, helpful tips and, of course, the latest Walt Disney World news, as well as restaurant and resort reviews, previews, interviews, snippets of timely information and insightful guest columns.
Once you've subscribed, don't forget to set your preferences to receive our special promotional mailing called EARS THE DEAL™. A few times each month, we'll send you a bonus email with money-saving offers and promotions for Walt Disney World and the Orlando area, exclusive to you, our AllEars® subscribers! (Click HERE for instructions on subscribing to Ears the Deal™!)

To get a taste of what AllEars® has to offer each and every week, click on the links below -- these tidbits are from our June 2014 "WDW Bits and Bites" issue:
---
STEP BACK IN TIME
by Debra Martin Koma
AllEars® Editor
Each month, we rummage around in our archives for this featurette, which indulges in a bit of nostalgia, taking you back in history for a glimpse of Walt Disney World and The Walt Disney Company through the ages. This month, we take a look back at some significant or interesting (at least to us!) June dates in Walt Disney World history.
42 Years Ago...

... In June 1972, at the Polynesian, you could enjoy your favorite beverage aboard the 65-foot Chinese junk docked at the marina. Called "The Eastern Winds," the junk served as a colorful and intimate cocktail lounge, complete with deck and cabin lounge areas, piped-in music and hostesses dressed in Asian attire. I found this interesting in light of the ongoing renovation of the Polynesian, which includes the addition of a new lounge called Trader Sam's Grog Grotto.
41 Years Ago...
... On June 1, 1973, the Swan Boats opened in the Magic Kingdom. Now, not only are the Swan Boats gone, but the Swan Boat Dock is being removed as part of a project to enhance the "hub" area in front of Cinderella Castle in the Magic Kingdom.
26 Years Ago...
... On June 28, 1988, the Grand Floridian Resort and Spa opened. Recently, this resort was expanded to included Disney Vacation Club units.
19 Years Ago...
... On June 5, 1995, Michael Eisner announced Disney's Animal Kingdom. 19 years ago? That hardly seems possible!
14 Years Ago...
... In June 2000, then-Vice President of Epcot Operations George Kalogridis joined the team at the Disneyland Resort, with full responsibility for the daily management of the Disneyland and Disney's California Adventure Parks. Kalogridis is now President of Walt Disney World Resort.
13 Years Ago...
... As of June 10, 2001, the Villains character dinner at the Grand Floridian was replaced by a Pooh and Friends meal. Interesting that this character meal has undergone so many changes over the years. It is currently a dinner featuring Cinderella, Prince Charming and the Evil Stepsisters, but oh, how I wish it still allowed us to meet our favorite villains on a regular basis!
7 Years Ago...
... On June 1, 2007, all Disney Resort Hotels became nonsmoking.
4 Years Ago

... On June 5, 2010: SpectroMagic, which first debuted on October 1, 1991, left the Magic Kingdom for a few years in 1999, then returned in 2001, ended its run (forever?) at Walt Disney World. This was my favorite Disney parade, so this is a day that will live in infamy.
1 Year Ago
... On June 18, 2013, the first Starbucks opened at Walt Disney World when the Main Street Bakery reopened in the Magic Kingdom. Since then, Walt Disney World has opened a Starbucks in Epcot's Fountainview and one at Downtown Disney, with another, larger Starbucks set to open at Downtown Disney West Side soon.
And THIS YEAR...
... On June 9, 2014, Donald Duck will turn 80! He first appeared in the 1934 cartoon The Wise Little Hen, which was part of the Silly Symphonies series of theatrical cartoon shorts. The film's release date of June 9 is officially recognized by the Walt Disney Company as Donald's birthday. Happy Birthday, Donald!
---
RATE AND REVIEW SPOTLIGHT
Compiled by AllEars® Editor Deb Koma:
Are you in the midst of planning for your upcoming fall trip? Trying to decide whether to splurge on the special event known as Mickey's Not So Scary Halloween Party? Maybe some comments on last year's event from our readers will help!
Mickey's Not So Scary Halloween Party is recommended by 84 percent of our readers, and has an overall rating of 7.5 out of 10.
Here are a few random comments from last year's party-goers:
-- "This was our 5th MNSSHP in 10 years. Most enjoyable this visit was definitely the fireworks. Outstanding! Prior to the fireworks was an amazing light show on the castle. We very much enjoyed seeing the creative costumes, especially the groups who dressed as a theme. Each year we see more and more of the adults dressed in costume. Even though so many people were crammed into the park, those people were not on the rides because the ride lines were short or nonexistent. Now for the negatives. The ticket price goes up every year, with nothing to show for the increased cost. It was very crowded, more so than any MNSSHP we attended in the past. The parade is the same year after year. Same music, same floats. Surely they could change it up a bit. Most of the restaurants and shops closed too early. The times and places were not posted for characters. There were so many people leaving the park at the end of the night, it took literally hours to get back to our resort. I agree the party is something you should attend at least once, but those who have already attended in the past may want to consider how best to invest their vacation funds."
-- "Our group of eight (five adults, three children) attended the MNSSHP on October 14th. We were let into the park at 4 p.m. and had dining reservations at Liberty Tree Inn at 4:20. Very nice that we didn't have to use a park pass to get in for our dining. While we were waiting to be admitted into the park I did notice long lines of people waiting to get in also and I was a little worried that we would have long lines and wait time for the rides. It was amazing! I don't know where everyone went but we had no lines at all except for Big Thunder Mountain Railroad, we waited five minutes. It was nice to be able to walk right on to Splash Mountain and Pirates. The candy stations were very visible so they were easy to find and I loved that they did a trick-or-treat trail, where we were able to stay in one area and visit four or more candy stations. The party was great and I would highly recommend, especially if you haven't done it before. Well worth it."
-- "This was such a fun time for us. The lines for everything were short, even for popular rides. The special food items are great and the treats at the trick or treating stations were plentiful. The parade, dancing, and decorations all made for a special night. With them letting people with party tickets in at 4 p.m. that means eight whole hours to enjoy everything. With that in mind I can't complain about the price."
-- "This was a great event. Not everyone can say they've trick-or-treated at the Magic Kingdom. My kids (and myself) had SO much fun. We had a 6:20 dinner reservation at Be Our Guest castle, which I highly recommend! Then we went trick-or-treating, rode rides with no lines, saw many characters, and awesome Villain show and spectacular fireworks. We went on Thursday Oct. 3. Were there crowds, of course! Expect a lot, then you won't be disappointed. A must do for all Halloween fanatics, like myself. We had so much candy, we couldn't take it all home!"
-- "I would say this is a home run if the tickets weren't so so so expensive! We came home with so much candy it was ridiculous! My kids weren't interested in characters, so I have no idea how that aspect is, but we did go to one of the dance parties and it was really neat. I really loved the Boo to You parade and Hallowishes. They were definitely unique and worthwhile. There were absolutely no lines for rides, which was great. All in all, if you've never done it I think it is great, but I wouldn't say that I would do it twice."
-- "Had a wonderful time. Rode a ton of rides, saw a bunch of characters. The lines for characters were long though. The candy lines were long but moved quickly. They gave more and more candy toward the end of the night. The fireworks were awesome, the parade good, the castle show was awesome. I know I'm different in this area but I didn't care for the Jack character and some of the "dark" things that didn't seem much like Disney to me. However you can also easily avoid that if you wish. All in all it was a blast."
Still undecided? Read more from our readers about last year's Halloween Parties:
http://land.allears.net/reviewpost/showproduct.php?product=222&title=mickey-s-not-so-scary-halloween-party-magic-kingdom&cat=65
And don't forget to check out the rest of our Rate & Review section here: http://land.allears.net/reviewpost/
---
MAGICAL MOMENTS
Raelene Vautrin: As is our tradition, we spent the last morning of our recent Walt Disney World trip having breakfast at Trail's End Buffet. Delicious as always! As were walking back toward our bus, a server from Trail's End asked us if we wanted to "come see the show." She then said that there was a new cast for the Hoop Dee Doo Revue and they were doing a dress rehearsal. Well, we jumped at the chance. We have always wanted to go, but when traveling with a larger group, it has been cost-prohibitive. We went in and were told to sit anywhere. Quite a few folks were there and the show had just started. We were given gingham napkins, which came in handy later as anyone who has been to the show knows. For the next hour or so we just sat back and enjoyed ourselves while all thoughts of driving back to Georgia were put aside. The "new" cast was so talented and engaging. The songs were great and the jokes were corny but fun. My 5-year-old grandson was in stitches. It was a delay in our plan to return but a welcome one. We really enjoyed it and now my 16-year-old actor daughter has aspirations to be "Claire" in the future. Thanks again Disney for a bit of magic, you never let us down.
Shannon Conway: I took my daughter (4) and my mother to Disney World in November. It was a girls-only trip and just wonderful. My family are big fans of Disney World and have been going since the late '70s. This was going to be my daughter's first trip and my mother wanted to be sure that she got to do all the really special things. So our second day there she had booked a reservation for me and my daughter for breakfast with Cinderella. When we got up that morning my daughter wasn't moving too quickly and I was rushing her to get out to the bus to get to Magic Kingdom. The bus came, we hopped on and I thought "whew! We should get there with about 20 minutes to spare to walk to the castle…perfect!". Then I realized (in my panic) we got on the bus going to Hollywood Studios by mistake. Oh boy! When we arrived there I asked the bus driver what the best way to get from there to MK was…that would involve getting on another bus to go to the Transportation stop and from there to MK. "Would we make it there in 20 minutes?" I asked. "Well, you might." I'm sure I looked completely crestfallen and explained the mistake I made and why we were in such a rush. There was no one else on the bus and the driver thought for a second and then said, "Sit yourself down, I'll take you there." I get a little teary-eyed just thinking about it. I heard him talking to his supervisor explaining he was doing an extra run and it shouldn't take him too far off schedule, but these people had to have breakfast with Cinderella and he could get them there. He saved us from missing that wonderful experience and I am very grateful. You always hear about the extra step that Disney takes, and this was a prime example -- he went out of his way for us, when it wasn't necessary. It really is the people there who make all the difference.
GAMCC: We recently returned from a family trip to Walt Disney World and we have reason to thank the cast members who helped to make the trip more special. The first was our server Heather at Raglan Road, where we went to celebrate the fact that our granddaughter had survived leukemia. She had undergone chemotherapy treatments and it was a difficult time for all of us, so we were thrilled to be able to go to our favourite place to celebrate (we were also celebrating her mother's 50th birthday). Our granddaughter had been hoping that her favourite dessert would be on the menu -- deep-fried Mars Bar -- but it wasn't listed. We knew that Cookes of Dublin next door made them, so my son asked Heather if it would be possible to get one for her. Lo and behold when the desserts were served to other members of the family, the manager came up to our granddaughter, said, "Special delivery!" and presented her with her dessert. It made her day complete! Heather and her manager had certainly gone above and beyond to make the day great. There are so many great cast members who are helpful to the guests and I would like to thank them all for doing a super job to make vacations special.
-=-=-=-=-=-=-=-=-=-=-=-=-=-=-=-=-=-=-=-=-
We just bet you have a story to tell about an unforgettable moment during your Disney vacation! Please send your favorite memory for inclusion in a future AllEars® to: allearsnet@yahoo.com
Thank you all for sharing!
---
ARCHIVES
Feature Archives
Missed the last issue of AllEars®? Or just want to re-read that feature on cruises again? You'll find a listing of past AllEars® newsletter features here.
Tips Archives
We have a searchable database of all the tips that appear in our newsletters! Take a look at the archive of our helpful ideas here!

If you want to receive the rest of the AllEars® news and other juicy bits of timely WDW information, you must be a subscriber! Why not sign up now?
http://www.mailermailer.com/x?oid=02757g
---
Copyright - Disclaimer - Reprint - Contact
©1999-2014, All Rights Reserved. RYI Enterprises, LLC.
RYI Enterprises, LLC owns and operates AllEars.Net, which comprises Deb's Unofficial Walt Disney World Information Guide and the AllEars® weekly newsletter (allears.net), and the Ears to Ears™ moderated forum on yahoogroups (email earstoears-subscribe@yahoogroups.com to subscribe). AllEars.Net and AllEars® are not affiliated with, authorized or endorsed by, or in any way officially connected with, The Walt Disney Company, Disney Enterprises, Inc., or any of their affiliates. For official Disney information, visit http://www.disney.com

Editor in Chief: Deb Wills
Editor: Debra Martin Koma
For prompt replies to questions or comments about this newsletter or info that appears on AllEars.Net, send a query using our feedback form:
http://allears.net/forms/feedback.htm
Direct any US Mail correspondence to:
Deb Wills
President
RYI Enterprises, LLC
8297 ChampionsGate Blvd. #360
ChampionsGate, FL 33896
For advertising-related issues ONLY contact: admin@allears.net
NOTE: Any other mail sent to this address will NOT be answered.No parts of this newsletter may be reprinted without prior written permission from RYI Enterprises, LLC and AllEars.Net.
Terms of Use: http://allears.net/terms.htm
Privacy Policy: http://allears.net/privacy.htm
Advertisements appearing in AllEars® are paid advertisements and are not meant as an endorsement by Deb Wills, RYI Enterprises, LLC, AllEars® or AllEars.Net.
---
READER FEEDBACK
We are nothing without our readers! Please drop us a line and let us know what you're thinking! We can't wait to hear from you. Use our handy Feedback Form to reach us. See what others are saying about us here!
---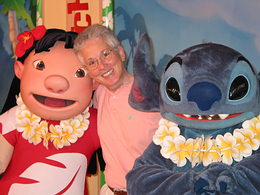 AllEars® is published by Deb Wills, a recognized Walt Disney World expert who also publishes one of the worldwide web's most popular sites, AllEars.Net, which receives more than 7 million page views per month from visitors around the globe.
Deb Wills
Editor-in-Chief and Publisher

AllEars® Editor is Debra Martin Koma.
-o-o-o-o-o-o-o-o-o-o-o-
Editor's Note: This story/information was accurate when it was published. Please be sure to confirm all current rates, information and other details before planning your trip.