AllEars® Newsletter
WELCOME TO THE HOME OF
an unofficial electronic newsletter about The Walt Disney World Resort in Orlando, Florida, published weekly in conjunction with AllEars.Net, Deb's Unofficial Walt Disney World Information Guide

Established September 1999
Library of Congress ISSN:1533-0753
---
AllEars® is delivered FREE each week to more than 148,000 subscribers who share an interest in the Walt Disney World resort in Orlando, Florida. You should be one of them! Sign up today!
Click here to start receiving AllEars®, the FREE weekly electronic newsletter with the most current, accurate and comprehensive information for folks interested in Walt Disney World. Each AllEars® is chock full of facts, helpful tips and, of course, the latest Walt Disney World news, as well as restaurant and resort reviews, previews, interviews, snippets of timely information and insightful guest columns.
Once you've subscribed, don't forget to set your preferences to receive our special promotional mailing called EARS THE DEAL™. A few times each month, we'll send you a bonus email with money-saving offers and promotions for Walt Disney World and the Orlando area, exclusive to you, our AllEars® subscribers! (Click HERE for instructions on subscribing to Ears the Deal™!)

To get a taste of what AllEars® has to offer each and every week, click on the links below -- these tidbits are from our April 2014 "WDW Bits and Bites" issue:
---
STEP BACK IN TIME
by Debra Martin Koma
AllEars® Editor
Each month, we rummage around in our archives for this featurette, which indulges in a bit of nostalgia, taking you back in history for a glimpse of Walt Disney World and The Walt Disney Company through the ages. This month, we take a look at the iconic attraction "it's a small world," which turns 50 this year!
As many Disney fans know, Walt Disney originally designed "it's a small world" for the Pepsi-Cola Company to benefit UNICEF (the United Nations Children's Fund) at the 1964-65 New York World's Fair. When the Fair closed, the attraction made its way to Disneyland and was so popular that it was duplicated and became one of the original attractions when Walt Disney World's Magic Kingdom opened on October 1, 1971. In fact, there is a version of this attraction at each of the Disney resorts around the world.
Here are some "fun facts" about the attraction, so endearing to some, and so dreaded (because of its repetitious theme song) by others.
-- There are a total of 289 dolls that "sing" the familiar song, "it's a small world," in five languages (English, Italian, Japanese, Spanish and Swedish). Academy Award-winning composers Richard M. Sherman and Robert B. Sherman, who won two Oscars for their work on Disney's feature film "Mary Poppins," were asked by Walt Disney to create a simple, yet catchy, piece that could be sung in many different languages while guests traveled by boat through the attraction -- thus, the famous "it's a small world" theme song was born. The song was recorded by a church choir in London, a school chorus in Rome, TV performers in Mexico City and kids from Tokyo and Burbank, California. It was later spliced together with sounds and styles that represent 25 countries.
-- The original name of the attraction was to be "The Children of the World," but after the Sherman brothers wrote their immortal song, the name was changed to "it's a small world." Note that the name is always seen in quotes and all of the letters are lower case.
-- Walt Disney Imagineer artist Mary Blair created the conceptual drawings and doll designs.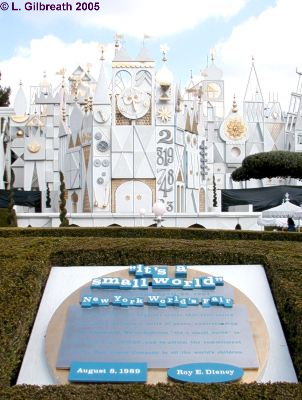 -- You can hear the following international songs while waiting in the pre-show area:

"Ach Du Lieber Augustin," or, O Du Lieber Augustin (1815 - Germany/Austria)
"Alouette" (1879 - France/Canada)
"Chiapanecas" (1938 - Mexico)
"Estaba La Pajara Pinta (Spain)
"Funiculi Funicula" (1880 - Italy)
"Hava Nagila" (1963 - Israel)
"Irish Washerwoman", or, The Scotch Bagpipe Melody (1792 - Ireland)
"London Bridge" (1744 - England)
-- 29 characters from Disney and Disney*Pixar movies were added to the Disneyland version of the attraction during its 2008-09 refurbishment. These include Peter Pan and Tinker Bell, Alice in Wonderland and the White Rabbit, Cinderella, Jacques, and Gus, Pinocchio and Jiminy Cricket, Mulan and Mushu, Aladdin, Jasmine, and Abu, Donald Duck, Panchito and Jose Carioca, Simba, Pumbaa and Timon, Ariel and Flounder, Dory and Nemo, Lilo and Stitch, and Jessie, Bullseye, and Woody.
To celebrate the attraction's 50th anniversary, on Thursday, April 10, 2014, guests and cast members at Disney Parks around the world will unite in song. To learn how to be a part of this global sing-along celebration, visit the website:
http://www.smallworld50.com/en/home
There you can record a video of yourself singing the classic song and create a virtual "it's a small world" doll. The Walt Disney Company will donate $150,000 to benefit UNICEF in honor of the 50th anniversary of "it's a small world," plus $1 for every sing-along video recorded and another USD $1 for every virtual doll created, up to USD $100,000.
==============
RELATED LINKS
==============
Disneyland "it's a small world":
http://allears.net/dlr/tp/dl/small.htm
Disneyland's "it's a small world" holiday edition:
http://allears.net/dlr/tp/xmas/dlxmasgal2.htm
Walt Disney World "it's a small world":
http://allears.net/tp/mk/mk_small.htm
Hong Kong "it's a small world":
http://land.allears.net/blogs/jackspence/2008/05/hong_kong_disneyland_its_a_sma.html
Disneyland Paris "it's a small world":
http://land.allears.net/blogs/jackspence/2009/03/fantasyland_part_5_its_a_small_1.html
Video of the Walt Disney World attraction:
http://www.youtube.com/watch?v=P1kfDj646YE
Do you have memories of seeing "it's a small world" at the World's Fair? Any photos? Send them along to: allearsnet@yahoo.com
---
RATE AND REVIEW SPOTLIGHT
Compiled by AllEars® Team Member Cathy Bock
In this monthly featurette, we take a look at recent comments made in the AllEars.Net Rate & Review section about a particular restaurant, resort, event, etc. This month, we examine what AllEars® readers are saying about lunch and dinner at Tusker House, which is located at the Animal Kingdom park.
Tusker House serves a buffet lunch (with characters) and dinner (no characters). AllEars® reviewers give it an average rating of 8 and it is recommended by 89 percent of reviewers.
From recent reviews:
Food (general): "Love the food choices"; "really did not enjoy the food here that much"; "group of 10 all completely enjoyed our buffet dinner"; "really enjoyed all of the food"; "seemed to be more healthy dining choices"; "food was fantastic!"; "food was subpar as were the choices"; "kids loved what they ate".
Characters: "CM made sure we saw everyone and got pictures"; " Donald was very personable"; "characters were amazing!"; "can see multiple characters and not wait in line"; "characters were amazing with our daughter who has special needs"; "come around in a very organized fashion to each table".
Service: "staff here are great!"; "waiter was also fun and interacted well"; "Staff members checked to make sure we had seen all the characters"; "was very good"; "service was amazing".
Atmosphere: "decor is pretty"; "nice little break in the day to sit down inside the nice restaurant"; "tables were nicely spaced".
Overall: "would not hesitate in recommending this to anyone"; "consider it the #1 character lunch at WDW"; "wasn't horrible but I wouldn't schedule it again"; "Would definitely make reservations for this again".
Tusker House Menu: http://allears.net/dining/menu/tusker-house-restaurant/lunch-dinner
And don't forget to check out all of our Rate & Review section here: http://land.allears.net/reviewpost/
---
MAGICAL MOMENTS
Jen Martin: While waiting for our meals at the Rose and Crown Pub in Epcot, our server stopped by to check on us and let us know our meals would be coming out shortly after some delays in the kitchen. Since the kids, 3 and 6 at the time, were waiting very patiently for their food, she rewarded their patience with a pence apiece that she had brought over from the UK! The kids were excited to see pennies from another country, and we were touched by her thoughtfulness. Such a great experience and unique souvenir!
Susan Trudeau: My daughter had a necklace with a fish-eye kaleidoscope attached. We stood in line to meet Tink and friends, who made a great fuss about the "multiplier." She was thrilled as the crowd of fairies clustered around her taking turns looking through the necklace. The next year, we went back and my daughter wore the multiplier again. As we stood in line, the lens fell out. She was freaking out, but so was I. I was nervous because her expectations were so high, but as we went in, Terence was first. He screamed, "TINK! THE MULTIPLIER GIRL IS BACK!" All the fairies rushed over. My daughter explained that the lens fell out in line, but Tink said she would fix it since was a Tinker. She took it over to the side and she fixed it. My husband, an engineer, could not fix it. I could not believe this. The same fairies, a year later, and then Tink fixed the multiplier. That is why I am devoted to Disney.

Carole: My husband and I experienced a Magical Moment at Epcot this March thanks to a sweet cast member named Billy. We asked for a Fastpass for Soarin'. He tried many combinations, but the best he could do was for 6:30 that evening. We thanked him for his effort, told him we had another event that evening and would unfortunately be out of the park by then. He said he felt a Magical Moment coming on and gave us a pass for any one ride in the park at any time for five people. We couldn't believe our good fortune and decided to share it with three more people. We walked over to Soarin' and approached three college-age girls who were standing in front of the ride. We asked them if they would like to be our guests and enjoy our good fortune. They were thrilled and joined us. Billy made OUR day magical, and we, in turn, made THEIR day magical! It was a PAY IT FORWARD Magical Day for my husband and me!
-=-=-=-=-=-=-=-=-=-=-=-=-=-=-=-=-=-=-=-=-
We just bet you have a story to tell about an unforgettable moment during your Disney vacation! Please send your favorite memory for inclusion in a future AllEars® to: allearsnet@yahoo.com
This month we also have a collection of photographic magical moments of "Family Fun." See them in our photo feature, "Wandering the World":
http://allears.net/tp/wander/wander.htm
Thank you all for sharing!
---
ARCHIVES
Feature Archives
Missed the last issue of AllEars®? Or just want to re-read that feature on cruises again? You'll find a listing of past AllEars® newsletter features here.
Tips Archives
We have a searchable database of all the tips that appear in our newsletters! Take a look at the archive of our helpful ideas here!

If you want to receive the rest of the AllEars® news and other juicy bits of timely WDW information, you must be a subscriber! Why not sign up now?
http://www.mailermailer.com/x?oid=02757g
---
Copyright - Disclaimer - Reprint - Contact
©1999-2014, All Rights Reserved. RYI Enterprises, LLC.
RYI Enterprises, LLC owns and operates AllEars.Net, which comprises Deb's Unofficial Walt Disney World Information Guide and the AllEars® weekly newsletter (allears.net), and the Ears to Ears™ moderated forum on yahoogroups (email earstoears-subscribe@yahoogroups.com to subscribe). AllEars.Net and AllEars® are not affiliated with, authorized or endorsed by, or in any way officially connected with, The Walt Disney Company, Disney Enterprises, Inc., or any of their affiliates. For official Disney information, visit http://www.disney.com

Editor in Chief: Deb Wills
Editor: Debra Martin Koma
For prompt replies to questions or comments about this newsletter or info that appears on AllEars.Net, send a query using our feedback form:
http://allears.net/forms/feedback.htm
Direct any US Mail correspondence to:
Deb Wills
President
RYI Enterprises, LLC
8297 ChampionsGate Blvd. #360
ChampionsGate, FL 33896
For advertising-related issues ONLY contact: admin@allears.net
NOTE: Any other mail sent to this address will NOT be answered.No parts of this newsletter may be reprinted without prior written permission from RYI Enterprises, LLC and AllEars.Net.
Terms of Use: http://allears.net/terms.htm
Privacy Policy: http://allears.net/privacy.htm
Advertisements appearing in AllEars® are paid advertisements and are not meant as an endorsement by Deb Wills, RYI Enterprises, LLC, AllEars® or AllEars.Net.
---
READER FEEDBACK
We are nothing without our readers! Please drop us a line and let us know what you're thinking! We can't wait to hear from you. Use our handy Feedback Form to reach us. See what others are saying about us here!
---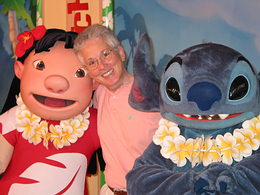 AllEars® is published by Deb Wills, a recognized Walt Disney World expert who also publishes one of the worldwide web's most popular sites, AllEars.Net, which receives more than 7 million page views per month from visitors around the globe.
Deb Wills
Editor-in-Chief and Publisher

AllEars® Editor is Debra Martin Koma.
-o-o-o-o-o-o-o-o-o-o-o-
Editor's Note: This story/information was accurate when it was published. Please be sure to confirm all current rates, information and other details before planning your trip.