AllEars® Newsletter
WELCOME TO THE HOME OF
an unofficial electronic newsletter about The Walt Disney World Resort in Orlando, Florida, published weekly in conjunction with AllEars.Net, Deb's Unofficial Walt Disney World Information Guide

Established September 1999
Library of Congress ISSN:1533-0753
---
AllEars® is delivered FREE each week to more than 148,000 subscribers who share an interest in the Walt Disney World resort in Orlando, Florida. You should be one of them! Sign up today!
Click here to start receiving AllEars®, the FREE weekly electronic newsletter with the most current, accurate and comprehensive information for folks interested in Walt Disney World. Each AllEars® is chock full of facts, helpful tips and, of course, the latest Walt Disney World news, as well as restaurant and resort reviews, previews, interviews, snippets of timely information and insightful guest columns.
Once you've subscribed, don't forget to set your preferences to receive our special promotional mailing called EARS THE DEAL™. A few times each month, we'll send you a bonus email with money-saving offers and promotions for Walt Disney World and the Orlando area, exclusive to you, our AllEars® subscribers! (Click HERE for instructions on subscribing to Ears the Deal™!)

To get a taste of what AllEars® has to offer each and every week, click on the links below -- these tidbits are from our November 2013 "WDW Bits and Bites" issue:
---
STEP BACK IN TIME
Ever wonder what Walt Disney World was like way back when? Each month, we rummage around in the archives for this featurette, which indulges in a bit of nostalgia, taking you back in history for a glimpse of Walt Disney World and The Walt Disney Company through the ages. This month, let's take a look at the year 1988 -- 25 years ago!
Back in 1988, there were seven Walt Disney Resort hotels that were open or about to open. Typical hotel rates:
-- Contemporary Garden Wing $135
-- Polynesian Village Resort $135
-- The Disney Inn (now known as Shades of Green) $125
-- Disney Village Resort Treehouse Villas (now known as the Saratoga Springs Treehouse Villas) $250
-- Grand Floridian Beach Resort $250 for Concierge
-- Caribbean Beach $65
-- Fort Wilderness Campground $30 with hookups

Prices listed were for value season and standard view unless otherwise noted. By contrast, today's rates for the Polynesian START at $422 per night! The Caribbean Beach standard rooms start at $162 per night. Interestingly, though, the Fort Wilderness Campground rates are still fairly modest, starting at $65 per night for a campsite with full hookup.

Epcot's longstanding tours, Gardens of the World and Hidden Treasures of World Showcase, were offered for $12 per person. The latter tour no longer exists, and Gardens of the World is only available during the Flower and Garden Festival.

A 3-Day World Passport for resort guests was $77 for adults and $62 for children under 10; a 5-day World Passport cost $107 for adults and $85 for kids. World Passports were valid at Epcot Center and the Magic Kingdom. An Annual Passport was $165. And the one-day ticket price? A mere $28! The latest ticket increase in June 2013 brought the price of a one-day theme park pass to Walt Disney World up to around $100 for adults.

On the dining front, Le Cellier in Canada offered buffeteria service for lunch and dinner, featuring pork pie, rib roast, fruit platters and desserts. The Contemporary's Pueblo Room served dinner on the fourth floor, while the Top of the World (now California Grill) offered breakfast, lunch and dinner. At the Polynesian, folks dined at the Coral Isle Cafe (Kona Cafe), the Papeete Bay Verandah (now 'Ohana) and the Tangaroa Terrace. At the Walt Disney World Village (now Downtown Disney Marketplace), you could still dine at the several restaurants located on the Empress Lilly Riverboat. And who remembers Minnie Mia's Pizzeria?! As for the always popular character meals, breakfast was $8.95 and $5.95 respectively for adults and children at the Contemporary, and on the Empress Lilly, $7.95 and $5.50.
Boy, have times changed!
---
RATE AND REVIEW SPOTLIGHT
Compiled by AllEars® Team Member Cathy Bock
In this monthly featurette, we take a look at recent comments made in the AllEars.Net Rate & Review section about a particular restaurant, resort, event, etc. This month, we examine what AllEars® readers are saying about breakfast at Chef Mickey's, which is located at the Contemporary Resort.
Chef Mickey's is a buffet character breakfast featuring Mickey, Minnie, Pluto, Goofy, Donald Duck. AllEars® reviewers give it an average rating of 8.3 and it is recommended by 93% of reviewers.
From recent reviews:
Food (general): "food was just ok"; "very average and didn't offer any distinctive breakfast items"; "selection of food was good"; "BEST breakfast on the Disney Property"; "food is always good and fresh and plentiful"; "good but not outstanding"; "plentiful and was constantly being replenished"; "hot items were hot and the cold items were chilled"; "we come for the food"; "food was very good"; "were not thrilled with the food".
Characters: "excellent character interaction"; "interaction was good"; "characters spend a tremendous amount of time at each table"; "characters were hilarious"; "spent a great deal of time with my kids"; "Mickey and friends were fun even for me and DD20"; "never rush their visits and always are funny".
Service: "really only so/so"; "server was very attentive"; "wait staff seems to be enjoying themselves as much as the guests"; "waitress surprised me and my husband with a cupcake to celebrate our 6th wedding anniversary"; "Service was great"; "was quick, efficient, and kept us posted about which characters were on their way".
Atmosphere: "so big you could only see the characters if they were close to your table"; "loud with characters and kids and monorail"; "restaurant was filthy"; "good location".
Overall: "we're going to give this one a rest on future trips"; "always enjoy Chef Mickey's"; "not to be missed for families and couples alike"; "a very good experience"; "Chef Mickeys is #1"; "will eat here again".
Chef Mickey's Breakfast Menu: http://allears.net/menu/menu_cmb.htm
If you have recently eaten breakfast at Chef Mickey's, we'd love to have your review!
http://land.allears.net/reviewpost/showproduct.php?product=163&title=chef-mickey-s-breakfast&cat=43
And please leave your thoughts on anything else Disney on our Rate & Review section:
http://land.allears.net/reviewpost/
---
MAGICAL MOMENTS
Brenna Wolfe: I've fallen in love with the street characters of Hollywood Studios. I seek them out to photograph on every trip. On our last visit, we wandered into Sweet Spells candy shop and there were two characters waiting for their cue to go out onto the street. In the meantime, they started up a conversation with me, my husband, and my son (4). They talked to us just like they knew us forever. They asked if there was anything they could do for us and all I could think is that I want my favorite thing at Disney World and my son photographed together. They gladly obliged. It made my trip and it was such a simple, but a heartfelt thing to me! This place is truly magical.
Rodrigo Barros: My last trip was extra special since it was my wife's first time, and also our boy Peter's, who was 5 at the time. During our visit to the Magic Kingdom, we ran into Peter Pan. Since we're Brazilian, our boy was a bit shy to interact with the characters, so I'd always be on hand to translate. I quickly told Pan that, besides Peter Parker, he was a great influence for us naming our boy. Oh, he loved that so much! He then proceeded to teach our Peter how to build a sword out of twigs and leaves! He hopped on a planter, pulled Peter with him, built very small swords for both and then battled for a while. My wife told me later, "So THAT's why you love WDW so much, huh?" And Peter still talks about it.

Susan Hughes: People often debate whether to bring younger children to Walt Disney World, fearful that they will spend a great deal of money on a trip the child won't remember. We brought our now 17-year-old daughter to WDW for the first time when she was 3-1/2. Since we had made a point of watching "Cinderella" before our vacation, we went to The Magic Kingdom our first day in the parks. When our young daughter took her first look up Main Street and saw Cinderella's Castle looming large before her, her little jaw dropped open and she turned to us and exclaimed, "Oh, Mommy -- Daddy -- it IS real!" We got our money's worth in her first magical moment! She doesn't remember everything about that trip, but none of us have forgotten her first glimpse of the "real" castle. On every subsequent trip back to the Magic Kingdom, our first glimpse of the castle brings back that very special memory.
-=-=-=-=-=-=-=-=-=-=-=-=-=-=-=-=-=-=-=-=-
We just bet you have a story to tell about an unforgettable moment during your Disney vacation! Please send your favorite memory for inclusion in a future AllEars® to: allearsnet@yahoo.com
This month we also have a collection of magical "Fun in the Magic Kingdom" moments captured in photographs. See them in our photo feature, "Wandering the World":
http://allears.net/tp/wander/wander.htm
Thank you all for sharing!
---
ARCHIVES
Feature Archives
Missed the last issue of AllEars®? Or just want to re-read that feature on cruises again? You'll find a listing of past AllEars® newsletter features here.
Tips Archives
We have a searchable database of all the tips that appear in our newsletters! Take a look at the archive of our helpful ideas here!

If you want to receive the rest of the AllEars® news and other juicy bits of timely WDW information, you must be a subscriber! Why not sign up now?
http://www.mailermailer.com/x?oid=02757g
---
Copyright - Disclaimer - Reprint - Contact
©1999-2013, All Rights Reserved. RYI Enterprises, LLC.
RYI Enterprises, LLC owns and operates AllEars.Net, which comprises Deb's Unofficial Walt Disney World Information Guide and the AllEars® weekly newsletter (allears.net), and the Ears to Ears™ moderated forum on yahoogroups (email earstoears-subscribe@yahoogroups.com to subscribe). AllEars.Net and AllEars® are not affiliated with, authorized or endorsed by, or in any way officially connected with, The Walt Disney Company, Disney Enterprises, Inc., or any of their affiliates. For official Disney information, visit http://www.disney.com

Editor in Chief: Deb Wills
Editor: Debra Martin Koma
For prompt replies to questions or comments about this newsletter or info that appears on AllEars.Net, send a query using our feedback form:
http://allears.net/forms/feedback.htm
Direct any US Mail correspondence to:
Deb Wills
President
RYI Enterprises, LLC
8297 ChampionsGate Blvd. #360
ChampionsGate, FL 33896
For advertising-related issues ONLY contact: admin@allears.net
NOTE: Any other mail sent to this address will NOT be answered.No parts of this newsletter may be reprinted without prior written permission from RYI Enterprises, LLC and AllEars.Net.
Terms of Use: http://allears.net/terms.htm
Privacy Policy: http://allears.net/privacy.htm
Advertisements appearing in AllEars® are paid advertisements and are not meant as an endorsement by Deb Wills, RYI Enterprises, LLC, AllEars® or AllEars.Net.
---
READER FEEDBACK
We are nothing without our readers! Please drop us a line and let us know what you're thinking! We can't wait to hear from you. Use our handy Feedback Form to reach us. See what others are saying about us here!
---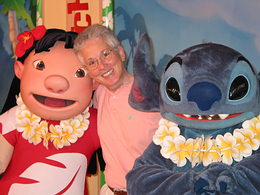 AllEars® is published by Deb Wills, a recognized Walt Disney World expert who also publishes one of the worldwide web's most popular sites, AllEars.Net, which receives more than 7 million page views per month from visitors around the globe.
Deb Wills
Editor-in-Chief and Publisher

AllEars® Editor is Debra Martin Koma.
-o-o-o-o-o-o-o-o-o-o-o-
Editor's Note: This story/information was accurate when it was published. Please be sure to confirm all current rates, information and other details before planning your trip.