A Hula Skirt for Zamgwar
by Zamgwar
AllEars® Guest Columnist
Feature Article
This article appeared in the August 14, 2012 Issue #673 of ALL EARS® (ISSN: 1533-0753)
EDITOR'S NOTE: Many years ago, in the early days of AllEars®, our friend Zamgwar wrote regularly about Disney in a series of features that he called "My 2cents." However, as many of us know, Real Life often gets in the way of doing what you love, and Zamgwar was so consumed by his work at the "Zamgwar Institute" that he was unable to continue sharing his "2cents" with us. Happily, though, he and his wife, fondly dubbed She Who Must Be Obeyed, just returned from a visit to Disney's Aulani in Hawaii, and he has written about this tropical Disney Vacation Club resort in his own inimitable Zamgwar style. Welcome back, dear Zamgwar!
In the world in which I grew up, there were no extended family vacations. A "big trip" meant packing up the car and leaving at sunrise for a long weekend at rich Uncle Charlie's house in the Poconos. Disneyland existed only on TV and in Viewmaster 3D slides. I was an East Coaster. Only movie stars and Uncle Charlie went to California.
And Hawaii? That was the other side of the world. It was the exotic palm-treed Polynesian paradise accessible only to adventurers and the super rich. Even Uncle Charlie hadn't been to Hawaii.
Well, break out the pith helmet or call me Rockefeller because "She Who Must Be Obeyed" and I have just returned from eight nights at Disney's Aulani Resort and Spa and as far as we are concerned, it IS paradise on Earth.
To set a baseline, we are two middle-aged folks (based on living to 114) who traveled without children, friends or family. We have been Disney Vacation Club members for 12 years. When Aulani opened last August I immediately starting hearing Hawaiian music in my pillow at night. With surprisingly little coaxing ("She Who Must Be Obeyed" is NOT the world's best flyer) on the first day our DVC booking window opened in November, we started our countdown clock to Hawaii.
Seven months later, we were wheels down in Honolulu, wearing Aloha shirts, and cruising west on the H1 in a mustang convertible with ear-to-ear grins.
It is IMPORTANT to note we did not go to Hawaii to see Aulani. We went to Aulani to see Hawaii. With that as a premise, I say without hesitation, this was the BEST vacation we have had in our lives. AND we've had some OUTRAGEOUS vacations!
===============
THE RESORT
===============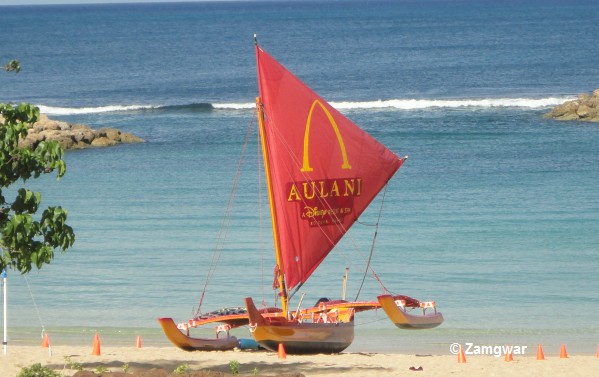 A picture of a hamburger always looks better than an actual hamburger. That is not the case with Aulani. Having obsessively planned for our trip, I had seen thousands of pictures and I can say that not one of them did it justice. The distinctive canoe-shaped buildings first appear when you are miles away. The moment you turn off the exit for Ko Olina, lush landscaping and waterfalls replace the dry hills you have passed along the way. Stepping out of your car you are greeted by name with a warm "Aloha", a lei, and a refreshing glass of flavored water.
We were greeted with another type of tasty beverage in a martini glass, but that my friends, is a story best told in person rather than on the Internet.
The lobby is open to the elements on three sides and instantly embraces and decompresses whatever travel stress you might have had. Rich wood and Hawaiian art are everywhere. Trade winds caress your back from behind and an expansive open-air porch overlooks the Waikolohe Valley before you.
Our 14th floor deluxe studio overlooked the valley to a sweeping ocean view. From the moment I stepped out on my balcony, the scene actually caused my eyes to tear. I say I was overcome by its beauty, She Who Must Be Obeyed says it's "mano-pause."
Richly landscaped, the valley features winding paths and bridges, a snorkeling reef with peek-a-boo windows, a wonderful lazy river (I floated daily), the "Menehune Bridge" children's water area, a huge zero-entry pool, four hot tubs, a koi pond, and the central lava formation with two water slides.
Like the "Tree of Life" at Animal Kingdom, there are dozens of animals (maybe hundreds) to be found in the lava mountain and the rock around the resort. Unlike the "Tree of Life" they are incredibly subtle in design, and take a while to see. Some can only be seen depending on where the sun is in the sky and how it causes shadows to fall. At night when the torches, lights and pool accent lights come on, the eye candy value increases tenfold.
Beyond the valley is the beach and lagoon. The crystal clear, calm, soft green tropical sea draws you like a magnet. In our entire time at Aulani, we never had trouble finding a chair, poolside or seaside. Umbrellas and beach floats are happily provided free of charge. We were there at maximum occupancy. If there ever were chair problems, there are no more.
A beautiful ocean walkway stretches the length of all the Ko Olina beachfront resorts. The three-mile roundtrip walk was a must for us each morning, and offered incredible views of the stereotypical spiny Hawaiian mountains further down the coast.
As a whole, no matter which way you look, to be at Aulani, is to be in a postcard.
===============
THINGS TO EAT
===============
Probably the single biggest complaint I had read in reviews about Aulani in some way regarded food. For the MOST part we did not find food an issue at Aulani. It is important to remember where you are. You are at a drop-dead gorgeous resort in Hawaii. Hawaii is one of the most remote places on the planet. Food is not going to be cheap. For that matter, nothing (except coconuts) is going to be cheap.
Many of the original problems of food access and variety seem to have been solved. There is hot food of some sort available everywhere. Every bar had something — burgers, fries, grilled veggie wraps, chicken wings, sushi, and cheese platters ranging in price from $10 to $14. There are children's menus with $5-$7 treats. The menus changed from lunch-type food to dinner-type food after 5 p.m.
The Makahiki restaurant now offers lunch with LARGE build your own sandwiches, burgers, LARGE salads and individual pizzas in the $11-$13 range and with kids' items for $7.50. The new Mama's Snack Shop offers hot dogs, a delicious Portuguese sausage in a hollowed-out baguette with Dijon mustard, chicken tenders, and chicken tender dogs (???) for $5.75-$6.75.
Finding food for my wife is always a problem. The best thing She Who Must Be Obeyed makes for dinner is reservations. The few things she eats are mostly vegetable things. (I, on the other hand, enjoy everything from escargot to meat of dubious origin served on sticks from a cart.) She always found something to eat while we were in the resort.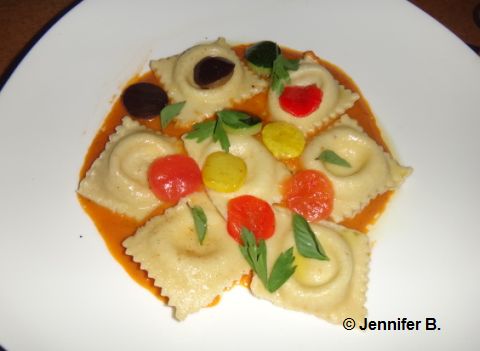 We both felt the premier restaurant, AMA AMA, is one of the finest restaurants we have ever eaten in. Whatever problems existed in the past are gone. The location is to die for, and the menu is extraordinary. Without planning to, we ate there five times, three times for dinner, twice for breakfast. Reservations are a must!
There are a number of items on the menu that are almost a meal on their own. With a filled refillable mug it is possible to enjoy the setting without breaking the bank. The onion soup is rich and filling, and She Who Must Be Obeyed enjoyed the Cobb-like salad (chopped like the Brown Derby in WDW) so much, she ordered it as dinner twice.
Unfortunately they don't sell refillable martini glasses and I was literally on a fish-eating frenzy, so our dinners at AMA AMA did average $120 for two before tip. That's about the cost of any upper-end restaurant where I live, only AMA AMA had better food and a better view. While that is totally acceptable for a couple on their big vacation, it will kill a family of five in almost any economic bracket.
There are a number of "off campus" options that make Aulani much more affordable for families. There are good, reasonably priced family restaurants less than two miles away in Kapolei. I regularly saw people carrying in pizzas from Papa John's and Pizza Hut. We stopped at the Safeway and stocked up on snacks, waters and other goodies. There is an ABC market within a short walk that has freshly made salads, sandwiches, prepared hot foods, and basic needs (milk, beer, wine, soda, chips, etc.) for about 60 percent of the cost within the resort.
===============
LOCATION
===============
We thought the location was idyllically relaxing and ideal for seeing Hawaii. Your mileage may vary. There are definitely two factors that will impact your concept of location.
First and foremost is having a car and knowledge of when the rush hours are. With both, a day-trip will become a magical day of exploration. We found that if you leave after 8:45 a.m. and return before 3 p.m., nothing is really that far or a hassle to get to.
For example: One day after breakfast, we drove out of Aulani at 9:25 and were climbing Diamond Head by 10:10. After our descent we took a leisurely, mind-blowingly scenic drive around the southeastern shore (stopping, it seemed, every mile for pictures), had a great lunch at a roadside place, made our way back over the mountains via the fabled Pali Highway, and were back floating in the lazy river by 4 p.m.
Other trips we took had the following travel times:
Pearl Harbor on a Sunday morning: 20 minutes.
Waimea Falls for a hike and swim in the falls: 25 minutes.
The north shore — GIANT SEA TURTLES feeding and the fabled shrimp trucks: 40 minutes (though travel can get slow along north shore beaches on weekends).
We COULD have been in downtown Honolulu in a half-hour easily, but we never made it into town. How embarrassing is THAT? We meant to. The King Kamehameha statue was on my list of musts! There was just so much spectacular scenery to see. Think Alaska, only tropical and with great fresh roadside food everywhere.
In Alaska, when you stop on the roadside, there's a chance YOU might be food.
The second factor with location is age. We were up early, not by choice, but because between the sun, adventuring, and nightly cocktails we were normally out like a light by 11. Sometimes by 10. This really wasn't a problem because by 11 Aulani is also out like a light, with pools closing at 10 and bars ceasing to serve at 11. If I were in my 20s, my Hawaiian experience would require the nightlife of Waikiki. The relaxing, laid-back Ko Olina location would cause me to tear my hair out.
Perhaps that is an explanation for the midlife state of my hair.
===============
THINGS TO DO
===============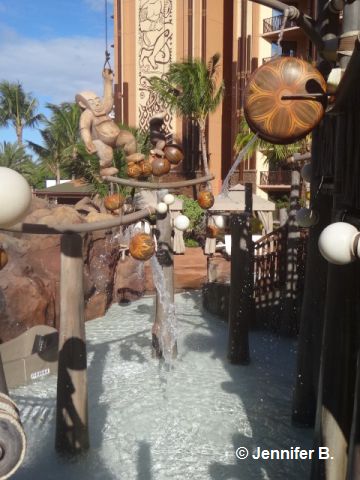 In case you have been living under a rock, you already understand the main purpose of Aulani is to celebrate the Hawaiian culture. While Disney quality exists everywhere, the Disney brand is very low-key. Don't expect big fuzzy-headed characters in your face. Kids however, seemed to love this place. They were in the pools every moment they were open and I heard dozens of kids BEGGING to go back to "Aunty's Beach House." I saw a mixed age group of 20 or so people taking a hula class. There were well-attended lei-making classes, yoga classes, and workout sessions.
A kid and "tween" favorite were the four Menehune trails. Those who may have read my articles years ago, know above all I am a fan of "the Little Things" Disney does at the parks. They are an added level of entertainment not readily seen by the average guest. Armed with iPhones (which are provided free) kids (and more than a few adults) follow "Aunty's" directions to locations around the resort where the mythical Menehune (they are an important part of the resort backstory) work their magic.
Arriving at a location may cause drums to beat, statues to come alive, blowholes to erupt, water to spray on lazy river tubers, gifts to appear, lights to come on, rocks to rise from the water, lava to flow, and even a small group of plastic baby sea turtles to swim by. While absolutely a kid-oriented thing, it was a hoot to see this hidden level of built-in technology everywhere.
Adults may also use the iPhones to take an indoor and outdoor tour (which was developed in part by a class at a local high school) of Aulani.
Most nights there are two musical groups performing live in a bar or a restaurant. The Starlit Hui is like a luau without having to roast a pig or eat poi. There was an open-air movie night that was scheduled. If you get the right "UNCLE" (The older Hawaiian one with the beard — think Mr. Miyagi from the original Karate Kid) "talking story" at the firepit can be an absolute charmer.
My wife thought the Laniwai Spa was one of the nicest spas she has ever been to. She also mentioned there were tons of little girls getting a treatment, which included fingernails, toes, hair, make-up and a Hawaiian dress for $100. We guessed it was the Aulani version of a Princess makeover. She also thought it was important to mention there are no longer day passes being sold to the spa and access only comes with a spa treatment, NOT A salon treatment.
There were many other happenings mentioned in the daily activity paper (Iwa). I only mentioned the ones we actually encountered during our stay.
===============
THE CAST
===============
In all my Disney days AND non-Disney travels, I have NEVER experienced a better staff. Not even close. It has often been quoted that it is the cast that makes the magic and separates Disney Parks from other theme parks. AULANI IS THE CAST. There is a sense of family and culture here that is unlike anything I have experienced anywhere before. Speaking to one cast member, she compared it to the early days of Disneyland, when Walt was regularly on-site and so many cast members knew each other.
That same feeling permeates every part of the Aulani resort, at least for now. It seems like many of the cast members grew up together, went to school together and meet at "Zippy's" (another story for another time) after long nights of partying. She Who Must Be Obeyed even commented that our favorite bartender, Anna Joy, was someone we would become best friends with in the real world.
Often when a vacation ends, my wife and I are ready to go home. We miss our beds, our cats and need a break from the eating, exploring and drinking. We both wanted to stay in Aulani and Hawaii longer, because of the place, and the people. When leaving we felt a sense of sorrow as if we were leaving friends. If you let this amazing cast into your heart they too will let you into their family. To have people at a resort put down their work and come hug you goodbye just doesn't happen any place that I have ever been. To paraphrase a quote from "Tangled", "Best Cast EVER."
===============
IS IT TOO FAR AWAY?
===============
She Who Must Be Obeyed hates flying, which is a paradox because she loves traveling. To her credit, with minor whimpering, an incantation of takeoff prayers and a number of "lucky charms and crystals" she does travel by plane. The concept of flying 10, 11, 12 hours from the east coast however, did not sit well with her. We broke it up by adding two other places we had never been to our vacation. We spent two days in San Francisco going, and three days in Las Vegas coming back. In retrospect, Vegas, while fun, was a bad follow-up to the laid-back serenity of Hawaii.
While in Hawaii we also flew to the island of waterfalls and rainbows, Kauai, for an overnight. If you are keeping count, over a 14-day period, my fear of flying spouse took six flights. My wife was indeed, "The Brave Little Toaster."
All in all our time in Hawaii and Aulani was near perfection. In our entire stay we had only two minor comments about the entire resort, both of which I'm sure will be tweaked in the future. Remember, the place hasn't even been open a year yet.
The first is that the menu of the dinner buffet does need to be adjusted either price-wise or food-wise. We both were much happier with the ala carte offering of the Makahiki Restaurant at dinner, and glad it is now an option. The next area that needs a tweak is the incredibly inviting infinity hot tubs. At least one should be for adults only. There is nothing less romantic than to arrive at the most romantic spot in the place, and finding it a boiling cauldron of kid soup.
In my time there, I asked 47 different guests their thoughts on Aulani. Every one of them had no complaints and all were having a great time. Of course 30 of those I spoke with were having drinks at a bar. People having drinks at a bar in paradise rarely complain. The other 17 were on elevators and may have been afraid to say something bad to the big guy in the aloha shirt, while locked into such a small space.
Would She Who Must Be Obeyed or I go again? We will be going back in three years, this time for 10 days. She Who Must Be Obeyed has proclaimed it.
So let it be written, so let it be done.
John
Office of the Best Vacation EVER
The Zamgwar Institute
zamgwar@aol.com
===============
RELATED LINKS
===============
Zamgwar's video postcard of Aulani:
http://www.youtube.com/watch?v=EwOvJmnzrXA
Alice McNutt Miller's guest blog on excursions around the Aulani Resort area:
http://land.allears.net/blogs/guestblog/2012/08/fun_and_mostly_frugal_excursio.html
Andrew Rossi's blog, "Dining in Paradise:"
http://land.allears.net/blogs/guestblog/2012/08/dining_in_paradise_at_disneys.html
Zamgwar's Other Articles for AllEars.Net:
http://allears.net/btp/zamgwar.htm
-o-o-o-o-o-o-o-o-o-o-o-
Editor's Note: This story/information was accurate when it was published. Please be sure to confirm all current rates, information and other details before planning your trip.