In case you missed it, Disney recently announced a few huge policy changes!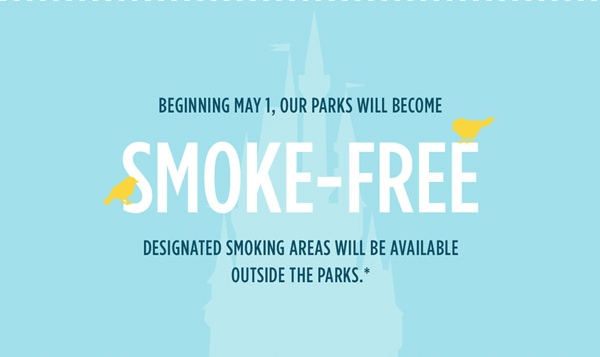 Beginning May 1, smoking will no longer be permitted inside Walt Disney World or Disneyland theme parks.
Additionally, strollers must adhere to stricter size guidelines.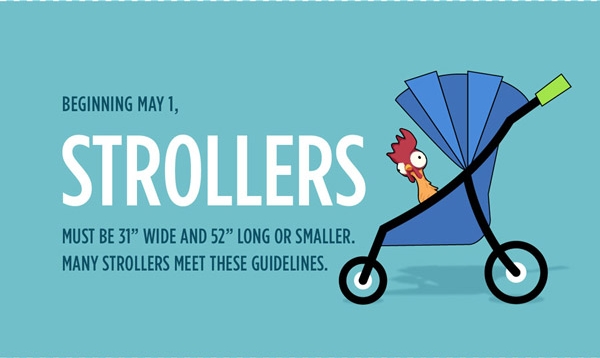 And stroller wagons are no longer permitted.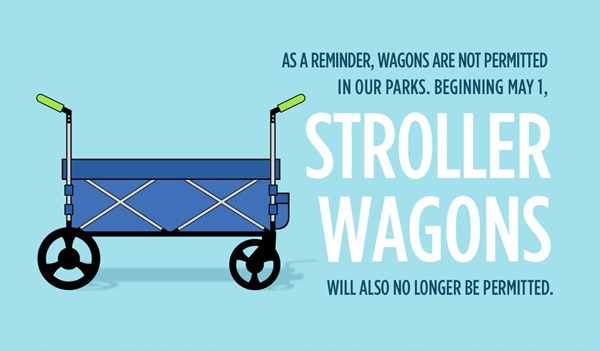 Lastly, no loose or dry ice will be allowed in coolers, starting March 28.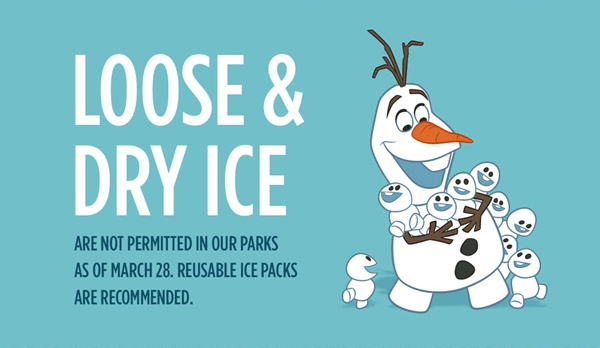 You can read our full news post here!
But for now, we wanted to answer some of the many questions we've heard and seen regarding the new policies.
1. What's wrong with wagons?
Disney has actually had a rule against wagons for a very long time. Guests used to try to bring in actual wagons — like the little red ones — to pull their kids and items around all day. When Disney banned them, "stroller-wagons" became more frequently used in the park, with Keenz being the most popular brand.
The reason for banning wagons, and now stroller-wagons, is safety. You're not supposed to pull anything through the park — whether it be a suitcase, cooler, or a wagon. It's much safer to push something in front of you. Pulling it behind you, where you cannot see, could result in it tipping over, knocking into others, and is a tripping hazard.
Additionally, large wagons and stroller wagons congest areas that are already packed — like Main Street after fireworks. Disney is never going to be able to eliminate the crowds, but restrictions like this can (hopefully) help.
2. Why are they banning ice?
The reason is two-fold, but again safety tops the list. The first is that any time a cooler full of items buried in loose ice comes through security, the security guard is required to search the entire cooler. They are searching for items that you're not allowed to bring into the park such as alcohol, as well as weapons and other banned items.
While the search is for your safety, it takes a very long time to search an entire cooler. This creates an unnecessary bottleneck at an already crowded choke-point.
Additionally, guests were often annoyed or mad that security dug through their coolers! People were upset about the spread of germs — the guards go through quite a lot of bags, and you may not want them to then touch your food and ice.
3. How am I supposed to keep my food cold then?
We recommend using resusable freezer packs! Or freeze water bottles and use them as your ice. That way you'll save room as once it melts, you've got water to enjoy.
4. Can I have ice in my cup?
Yes. If you are walking into the park with an iced coffee or any other beverage (not alcohol) you can of course have ice in your cup. Security isn't going to make you toss it out! They know how precious iced coffee is.
5. How dare Disney get rid of smoking areas! Is that even legal?
Friendly reminder that Disney is private property and they can do whatever they want. (Pretty much.) They likely wouldn't remove smoking areas unless they received an excess of complaints or negative feedback from others.
6. Well, where am I supposed to smoke now?
Smoking is still permitted in designated areas in Disney Springs and resorts. Additionally, there will be smoking areas outside the park entries.
7. No problem, I can still vape in the park.
Wrong. Guests who wish to vape will need to do so in the designated smoking areas outside the parks, in resorts, or Disney Springs.
8. Well if I can't smoke in a Disney Park, why can I drink?
There are likely many factors for this, but the most obvious and safety critical is that drinking does not directly negatively affect the health of those around you.
9. My stroller is really big. Can I bring it in?
Any stroller can come in, as long as it meets the requirements. Measure it from the widest and longest points before you head to Walt Disney World — it must be less than 31″ wide and 52″ long. The strollers in Disney Parks available for rent are within the guidelines, and we predict local stroller rental companies will ensure their fleets make the cut as well.
So there you have it — we answered a few of the most common questions we've seen about the new policies. Do you have more questions? Let us know in the comments!
Remember! When you're in Disney tag @allearsnet in your photos!
Be sure to check out our YouTube Channel for reviews, news, information and more! 
Click below to subscribe to the AllEars® newsletter so you don't miss any of the latest Disney news!