A few months ago, the menu at Disneyland's Golden Horseshoe Restaurant was revamped, adding new items such as Loaded Potato Skins and Chicken Wings.  And now there's also a vegetarian option: Pepper Jack Mac.  On the dessert side, house-made chocolate chip cookies were incorporated into the ice cream offerings.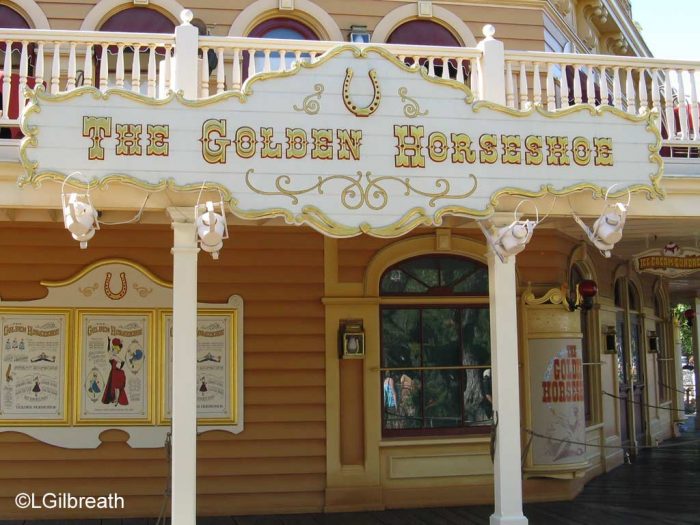 Fried fish and chips and chicken strips and chips had long been the staples here, so I was interested in trying something different.  Those items are still available next door at the Stage Door Cafe.  And while they aren't listed on the posted overhead menu, they are now available there again, no doubt in response to guest feedback.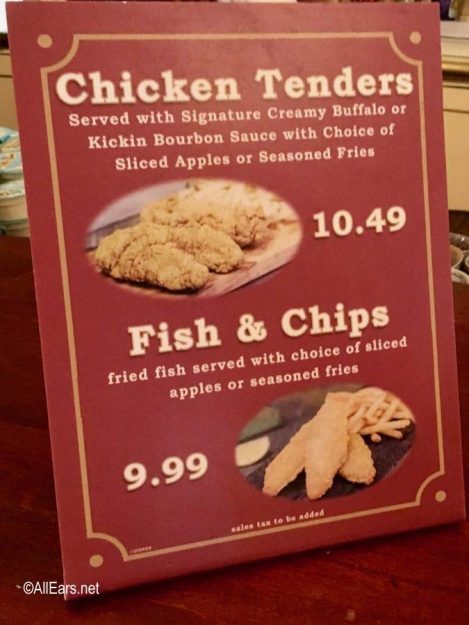 On a recent visit I opted for a new menu item: Vegetarian Pepper Jack Mac.  The description was intriguing: "Golden fried pepper jack mac & cheese bites topped with pasilla cheese sauce and cowboy caviar, garnished with shredded cheese, chives, and parsley."  $8.49 for a plate of it.
I was pleased that it wasn't overly spicy – it had just a little bit of heat, but not too much.  The mac & cheese bites were nicely crunchy on the outside.  I would have said the inside was all pepper jack – I really didn't get the macaroni texture.  The pasilla cheese sauce was good – I wished this dish had come with tortilla chips to scoop up the cheese sauce.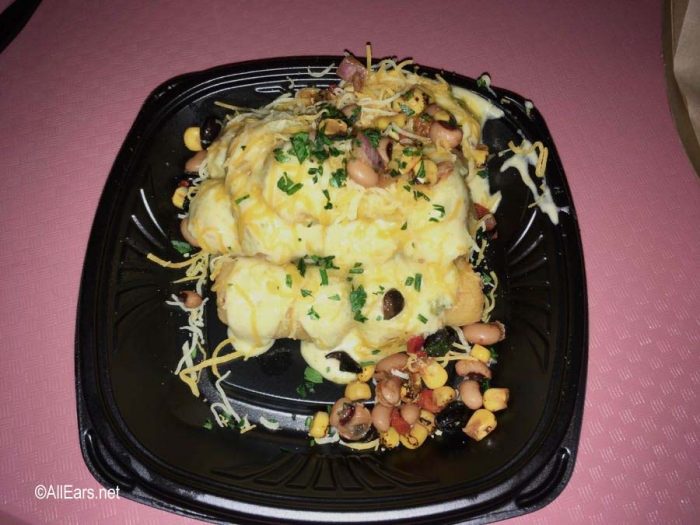 The "cowboy caviar" was a bean salad made with black eyed peas, black beans, roasted corn kernels, onions, and tomatoes.  Not spicy at all, as I recall.  It added some additional color and flavor to the dish.
I quite enjoyed this, and would order it again – it would be a good snack to share with another person.  Though again, I'd love to see some chips served with it.
For carnivores there's the Pepper Jack Chili Mac, which is the same mac and cheese bites but topped with meat chili.
To finish off my meal I tried the Mini Ice Cream Sandwiches ($6.49).  Their idea of "mini" and my idea of "mini" are two different things, though!  I was thinking more of a bite-size sandwich, but this was two ice cream sandwiches made with four of their house-made chocolate chip cookies. Vanilla ice cream in both:  one with caramel sauce and one with chocolate sauce.  The cookies were a decent size – about  3″ in diameter, like I would make at home.  I couldn't get a whole sandwich into my mouth – I had to take the top cookie off.  The cookies themselves were surprisingly good – they were a little crunchy and a little chewy – they really did have that "homemade" texture and flavor.  They were also slightly irregular in size, indicating they were not mass-produced.  My only real "complaint" is that I would have preferred more sauce on both of them.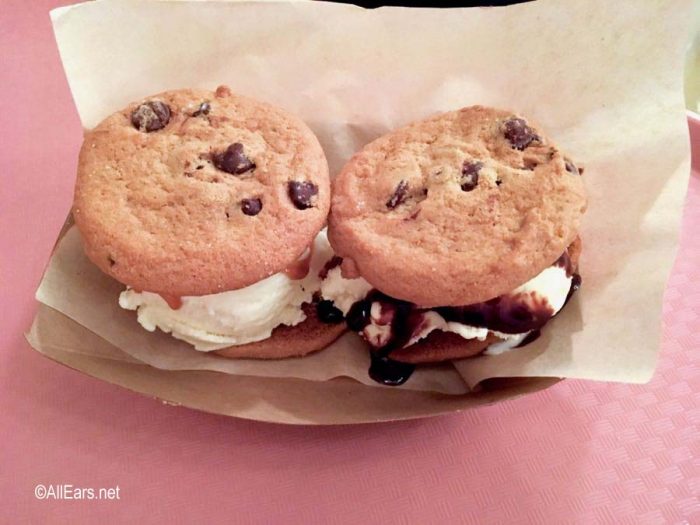 This is another dish that would be fun to share with a friend.
The only real negative for me: the pickup process was odd.  Ice cream pickup is at one end of the counter and food pickup is at the other.  Because I'd ordered both I had to go to both places.  Even though the restaurant wasn't busy the mac and cheese took a while, and my ice cream was melting. Unfortunately Mobile Order is not available at the Golden Horseshoe.
Have you tried the new menu at the Golden Horseshoe?  Let us know what you thought about this or other Disneyland Resort restaurants in our Rate and Review section!