Raglan Road's popular 'Great Irish Hooley' Festival returns to Disney Springs over Labor Day Weekend, Aug. 31-Sept. 3, 2018, for the seventh year. This high-voltage Irish music festival will serve up a colorful live playlist of traditional Irish, Celt grass, folk, blues and soul both inside and outside the Pub.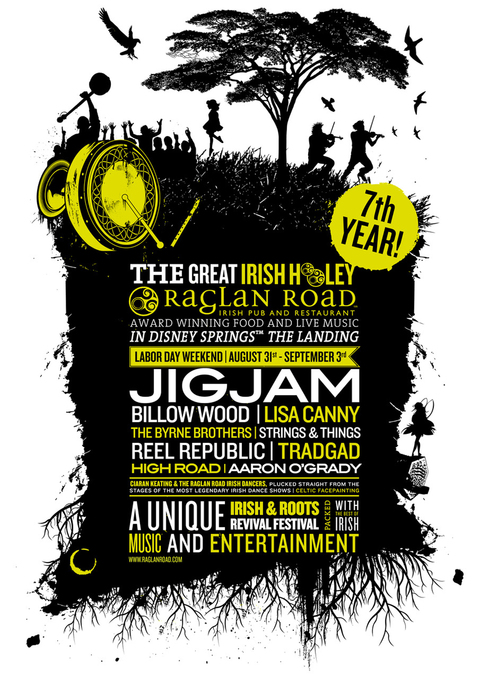 The Hooley (a traditional Irish social celebration) kicks off at 3 p.m. Friday, Aug. 31, and continues all day Saturday through late Monday, Sept. 3, into the wee hours — all with
no cover charge
. This year's high-energy Hooley combines music ranging from trad to rock tunes with entertainment and fun for the whole family. The Hooley also will feature Celtic face-painting and guests can even learn some traditional Irish dance steps — no experience necessary! Throughout the Hooley, guests can step up to one of Raglan Road's 130-year-old imported-from-Ireland bars or grab a table for authentic contemporary Irish fare.
The 'Great Irish Hooley' features performances by nine Irish bands and the new Raglan Road Irish Dance Troupe. Indoor shows on the pub's Grand Room stage will feature crisp acoustics and stunning video choreography. Bands also will play the pub's patio stage, where fans can enjoy dinner, drinks and toe-tapping entertainment alfresco.
This year's Hooley entertainment headliners include:
JigJam
The multi-award-winning Irish quartet will bring their captivating brand of "CeltGrass" (AKA I-Grass) blending the best of traditional Irish music with Bluegrass and Americana. (Friday through Monday)
Lisa Canny Band
The talented Lisa Canny, 7-time All-Ireland champion on harp and banjo, is an emerging Irish force blending pop and hip-hop with traditional Irish rhythms. (Saturday through Monday)
Billow Wood
Known as Flat Out when they played Raglan Road in 2016, this male/female four-piece band fuses their unique brand of instrumentation with multi-vocals and harmonies for a blend of Irish and folk music. (Monday)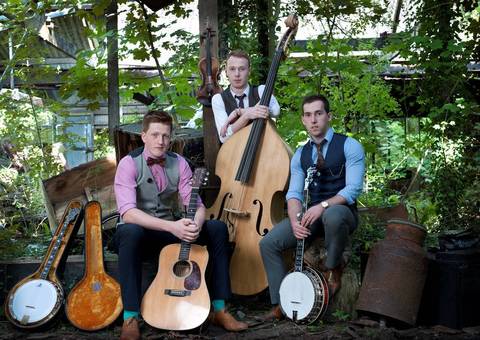 The Raglan Road Irish Dancers, plucked from the casts and stages of the world's greatest Irish dance shows, will perform throughout the Great Irish Hooley. And champion Irish dancer Ciaran Keating, Raglan Road's show choreographer, will host an entertaining workshop that traces the origins of Irish dance from earliest jigs and reels through contemporary times.
Additional music acts throughout the long weekend will include:

Strings & Things — Strings & Things are an original Irish folk/trad crossover four-piece band from Tipperary/Galway. Over the years together they have created their own original sound and produced a variety of crossover songs by putting their own stamp on them.
The Byrne Brothers — A traditional Irish music family from Donegal. They are Luca, 13 (button accordion); Finn, 11 (banjo, mandolin and whistle); Dempsey, 8, (whistle and bodhran); and father, Tommy (guitar, Uilleann pipes, fiddle, whistles, bagpipes and bodhran). Their show combines traditional Irish tunes with modern dance beats, and they love to interact with every audience.
Reel Republic — Hailing from the southwest corner of Ireland, Reel Republic are four musicians revving up audiences with a solid spectrum of Irish tunes and songs.
TradGad — Three lads from Kerry, Dublin and Edinburgh charm Raglan Road audiences singing and playing guitar, fiddle, mandolin, Uileann pipes, tin whistle, banjo and bazouki.
High Road — Three musicians hailing from Dublin, Kilkenny and Glasgow meet in the middle to play a crowd-pleasing symphony of traditional Irish tunes and songs.

Aaron O'Grady — An Irish import who will entice and beguile with his eclectic mix of Irish music.
The complete entertainment schedule will be posted at www.raglanroad.com and www.greatirishhooley.com closer to the event.