Take a look at the following images. Some seem closer than others to qualifying as Hidden Mickeys.
In Disney's Animal Kingdom, as you enter Pandora – The World of Avatar from Discovery Island, search along the right side of the walkway for these circular splotches on the lower side of a lamppost. You'll encounter them after the walkway splits, and you curve to the right. The image faces you as you approach the pole. Do the splotches in the middle form a sideways classic Hidden Mickey? (Thanks to Max Weitkamp).

Along the entrance queue of "Na'vi River Journey" in Pandora, glance up at one or more of these light fixtures. From certain vantage points, the center large bulb seems to line up with smaller bulbs into a Mickey image, or does it? (Thanks to Sharon Smith).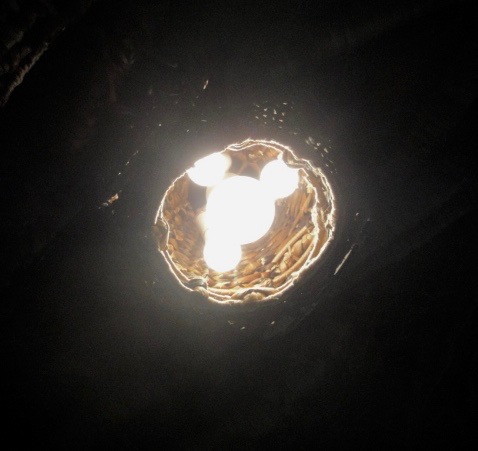 At Winter Summerland, you'll walk past this blue and yellow gift box at the 16th (and 17th) hole of the Winter Course. Do you see a yellow Hidden Mickey on the top of the box (a yellow candy glob in the middle with two yellow suns for "ears"). (Thanks to Lindsey Stephens).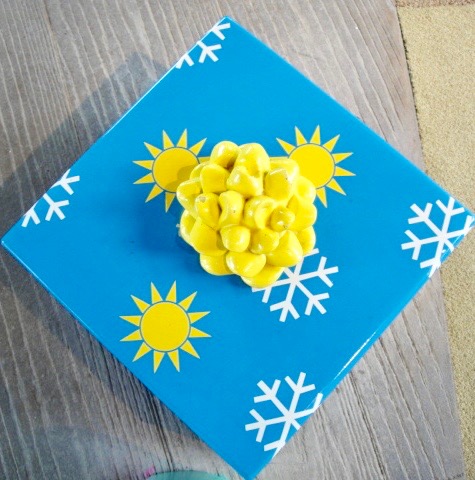 At Disney's All-Star Sports Resort, inside a display case on the wall to the right of the entrance to the Sport Goofy gift shop, some Mickey images are drawn on the front of a cereal box. An obvious classic Mickey is above the "S" in "CHAMPS," but notice the small black Mickey shapes at the bottom of circles above the "CH." For some reason, it's difficult to get a crisp photo through the covers of the display case and over the cereal box. Are there Hidden Mickeys here? (Thanks to James and Alana Girard).

This last image seems more decorative to me, but if anyone thinks that it qualifies as a Hidden Mickey, please let me know! It's on top of a candy rack at the rear of the gift shop at Disney's All-Star Music Resort. (Thanks to Justin Lewicki).