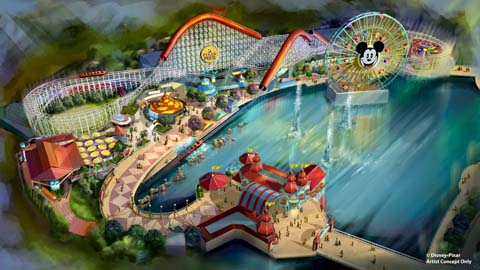 At a media preview on Tuesday I learned quite a bit more detail about the Pixar Pier transformation. There will be ongoing work over the next couple of years, but much of it will be done in the initial phase opening on June 23.
We've heard before that Pixar Pier is a series of "neighborhoods". These neighborhoods all have names now:
Incredibles Park
Toy Story Boardwalk
Pixar Promenade
Inside Out Headquarters
The basic information is in Disney's press release, so I'm not going to repeat most of that here, and instead will pass along some of the additional information we heard from the Imagineers as they gave us a verbal tour of the area. Speaking with us were:
Roger Gould – Creative Director, Theme Parks, Pixar Animation Studios

Tasha Sounart – Associative Creative Director, Theme Parks, Pixar Animation Studios

Jeffrey Shaver-Moskowitz – Executive Producer, Walt Disney Imagineering

Tracey Noce – Creative Director, Walt Disney Imagineering
Guests enter Pixar Pier under the big marquee. The Pixar Lamp will be centered atop the marquee, and will have animation and movement. Unfortunately that will not be in place when Pixar Pier opens, and will arrive later this year.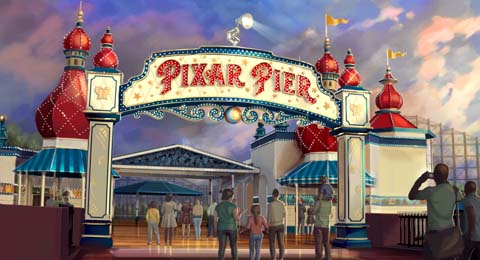 The Lamplight Lounge might be the location that most guests are looking forward to. The former Ariel's Grotto will be transformed into a stylish California gastro-pub. I'll have more information on that, and the food and beverages, in an upcoming blog. Reservations will be available for the downstairs dining area, which will serve "Pix & Bits" (dishes designed to be shared) and "Bigger Bites" (entree portions, though they could also be shared). The upstairs area (formerly the Cove Bar) will continue to be first come, first serve, and will serve a modified menu with just the shareable items. Of course a selection of creatively named signature cocktails will be available in both areas, along with a selection of beer and wine, some of them exclusive to the location.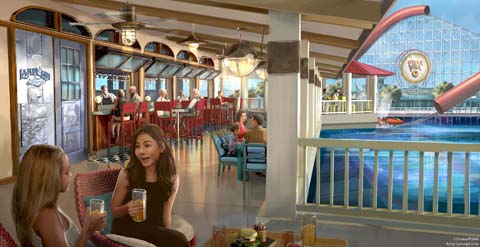 The Knick's Knacks shop is already open. It celebrates the art of Pixar. Some of the merchandise is exclusive to that shop. There's an artist there, and sketches of Pixar characters can be purchased and drawn by request.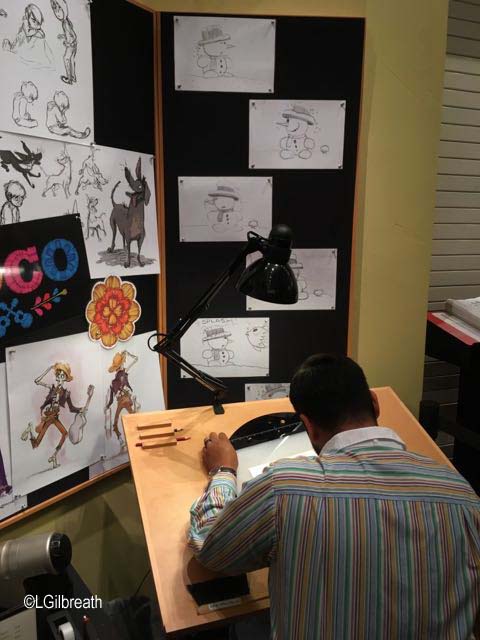 Adorable Snowman Frosted Treats is also already open, and has been very popular. I don't know if anyone keeps track of the most photographed food items, but if so, the extremely photogenic Pixar Pier Parfait has got to rank way up there. Layers of non-dairy lemon soft serve with blue raspberry slush in between, topped with a cherry. It's Snow Capped Lemon is another offering there, featuring the same non-dairy lemon soft serve topped with white chocolate. ("Regular" chocolate and vanilla soft serve are also available.)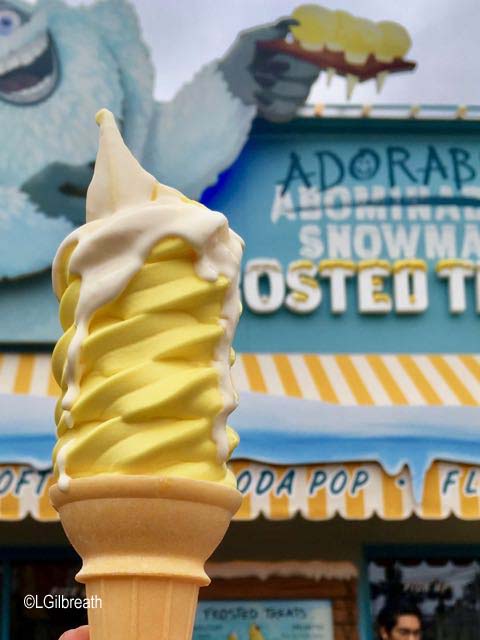 Along the boardwalk between Adorable Snowman and the Incredicoaster will be billboards featuring Pixar characters. It's a way to include beloved Pixar characters that aren't a part of one of the featured neighborhoods.
Incredibles Park
The look of Incredibles Park is mid-century modern, inspired by the movies, particularly the Incredibles home in "Incredibles 2." Lots of triangles and circles.
The colors associated with that style are somewhat drab, so to brighten it up there are three huge and colorful hand-painted abstract murals. One of them features stylized versions of the characters.

The main attraction, of course, is the Incredicoaster. Lots of information on this one, but I don't want to spoil it. Disney also prepared a release which includes scene descriptions and fun facts – be aware that it contains spoilers. The story, in a nutshell: Municiberg has a classic old roller coaster. In gratitude to the Incredibles family it is being re-dedicated to them and the family is participating in the inaugural launch. Jack-Jack, who is too small to ride, throws a super-powered temper tantrum, and his family races to corral him and save riders from his uncontrolled super powers.
Jack's Cookie Num-Nums is located at the Incredicoaster's exit, where the photo location used to be. It sounded like there would be several different cookies available, but the signature cookie is a brown butter cookie served warm, almost like a miniature pie. Flavored milks will also be sold there.
Edna Mode and other Incredibles characters will be available for meet and greet opportunities.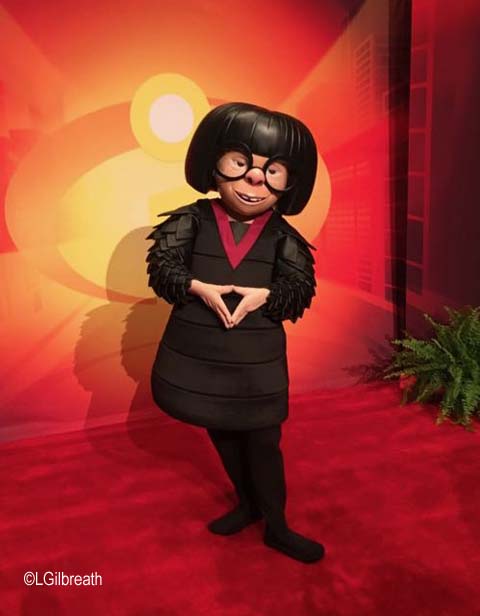 Between Incredibles Park and Jessie's Critter Coaster, which is part of the Toy Story Boardwalk neighborhood, will be a water wall. You can see part of it in the photo below, as well as in the concept art. It's designed to provide some white noise to hide the sound from the carousel, as well as to cool the area a little bit. It also fits in with the look of something from the Incredibles home.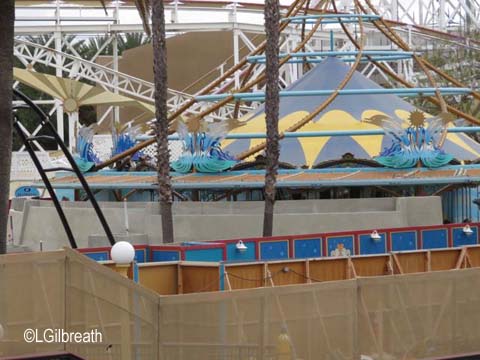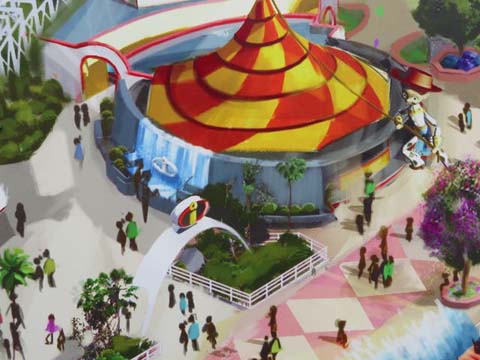 Toy Story Boardwalk
The two attractions in the Toy Story Boardwalk will be the existing Toy Story Midway Mania and the new Jessie's Critter Coaster, which doesn't open until 2019. There will be a couple of food kiosks, though. Buzz Lightyear, in Spanish mode, is represented by Señor Buzz Churros. No additional information on this one about regular churros or specialty churros.
Poultry Palace is inspired by the Poultry Palace fun meal box in "Toy Story Toon: Small Fry." Turkey legs will be available. There's also a photo op with "Fun Size" Emperor Zurg.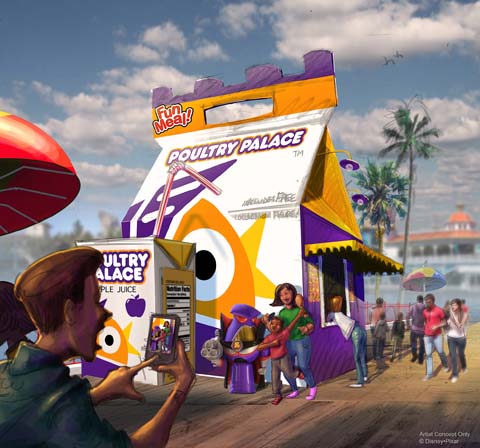 Pixar Promenade
The Pixar Promenade attraction is the former Mickey's Fun Wheel, which becomes the Pixar Pal-A-Round. There are 12 pairs of character friends, one on each of the 24 gondolas. For example, Hector and Miguel, Dug and Russell, WALL-E and EVE, Dory and Nemo. I think it will be fun to see which ones are the swinging cars and which are stationary. 🙂 (Mickey's head will remain on the other side of the wheel – when asked about that the Imagineers said that Mickey is their host, and looks out over the entire park. Also, Mickey and friends continue to have a presence on Paradise Bay, with Silly Symphony Swings and Goofy's Sky School.)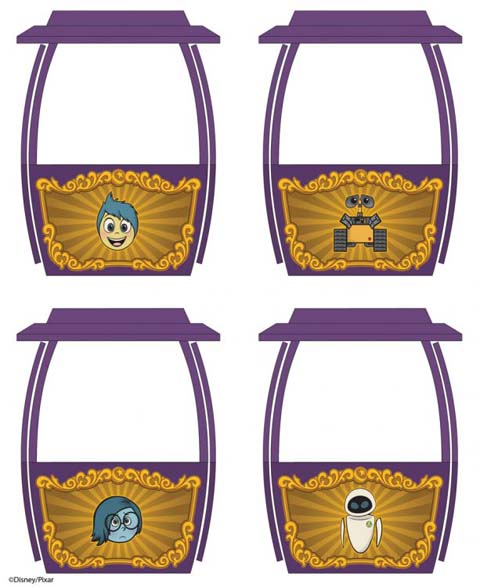 The Promenade will include a new bandshell, and the Pixarmonic Orchestra will move there as its permanent home. I found that interesting, since I thought they were only performing during Pixar Fest. The bandshell will also be used for Pixar meet and greets. The entire Promenade area will have a lot more seating and shade than in the past. It's designed to have a park-like atmosphere, and be a place for guests to sit and take a break, rather than simply walk through it. This has been a very under-utilized area of the park, so it will be interesting to see if this works.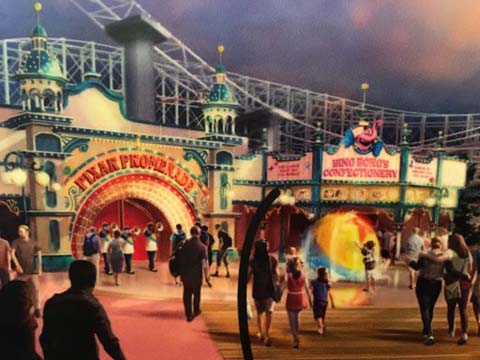 Also in Pixar Promenade will be a large interactive Pixar Ball, somewhat like the large marble sphere in Disneyland's Tomorrowland.
The Games of the Boardwalk are also part of the Pixar Promenade, and received a Pixar makeover.
La Luna Star Catcher is a fishing game.
In Heimlich's Candy Corn Toss, players try to throw candy corn into Heimlich's mouth. As Heimlich's Chew Chew Train in Flik's Fun Faire is closing soon to become part of Avengers Land, some of Heimlich's dialog from that attraction will be re-purposed and used at the Candy Corn Toss. (The voice of Heimlich, Pixar artist/writer Joe Ranft, died unexpectedly in 2005, and his fellow Pixarians continue to remember him.)
WALL-E Space Race – WALL-E and EVE go up into space, propelled by players triggering a fire extinguisher.
Bullseye Stallion Stampede – a horse racing game where players roll balls to move the horses along.
Bing Bong's Sweet Stuff will not open until later this year. Some of the Pixar Fest treats such as character candy apples and cake pops will have a more permanent home in this shop. A Jangles the Clown figure will preside over a slush area where guests can customize the flavor of their slush. Rainbow Unicorn will offer cotton candy, where the stick is a unicorn horn lollipop with cotton candy around it.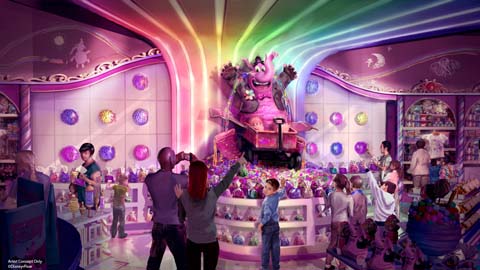 The dining location here is Angry Dogs, a hot dog stand run by Anger from "Inside Out." The angrier he gets, the more spicy the hot dogs get. A vegetarian option will be available. Condiments will include spicy sriracha and spicy mustard.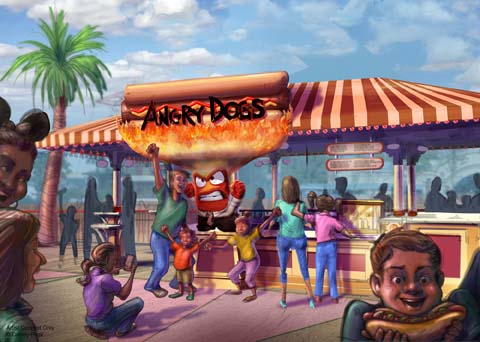 Inside Out Headquarters
There's still no details on the fourth neighborhood, Inside Out Headquarters, though the press release promises a "whimsical family-friendly attraction". The concept art shows a flying attraction, something like Flik's Flyers.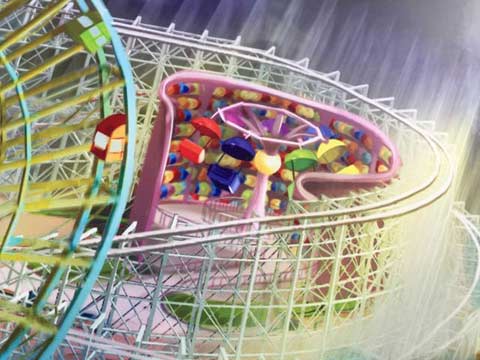 There are many Pixar "Easter Eggs" throughout Pixar Pier, as well as hidden Mickeys.
Pixar Pier is scheduled to open to the public on June 23.
Disclaimer: I was an invited media guest to the Pixar Pier Preview. My opinions are my own.