"I have a good feeling about this."
–Han Solo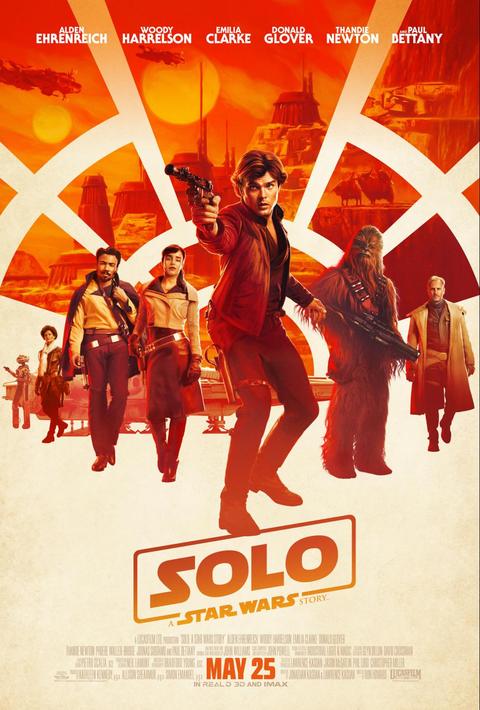 May 25th, Lucasfilm delivers the next installment of the Star Wars anthology films, "Solo: A Star Wars Story." It recounts the origin of the infamous rogue and scoundrel Han Solo and his initial encounters with some of his lifelong friends and frienemies.
In anticipation of the opening, cast and filmmakers held a press junket to discuss revisiting the legendary character and adding to his mythos. In attendance was Thandie Newton (Val), Phoebe Waller-Bridge (L3-37), Woody Harrelson (Tobias Beckett), Donald Glover (Lando Calrissian), Alden Ehrenreich (Han Solo), Emilia Clarke (Qi'Ra), Joonas Suotamo (Chewbacca), and Paul Bettany (Dryden Vos), along with screenwriters Lawrence Kasdan and Jonathan Kasdan, and director Ron Howard.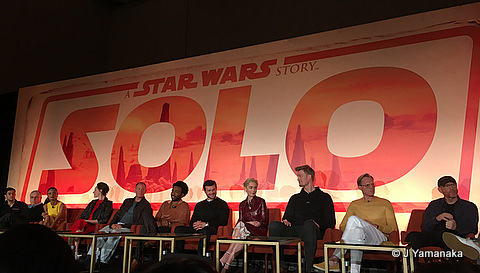 Full video of the press conference (some dicey language:)
Some quotes from the panel: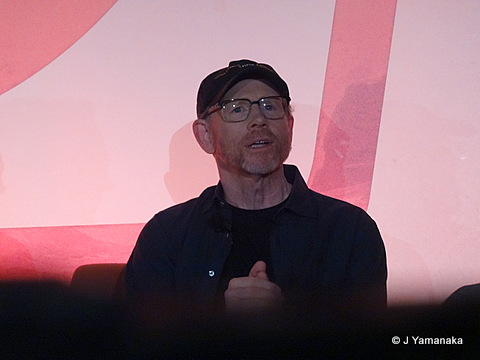 Howard on what excited him about the film: "I'm very excited about the character relationships, because this is a little bit different from the other movies. It's really this one guy's adventure story. It's why I feel like in some ways it's kind of similar to 'Raiders of the Lost Ark,' which Larry also wrote. It is a single hero's journey. There's a lot of fun in that journey and a lot of twists and turns, but it's really about that character. We had that going with this. And so all of the different relationships are very important to me because it's all about what impact all these characters are going to have on this young Han Solo. So that was interesting.
"The excitement was again, making even the action scenes be cool, be Star Wars, but really be about testing Han Solo. What does this mean? What does this tell us about Han Solo? And so it kind of defined the way the action scenes would be cut, would be shot, and roll out. It's challenging, but it was really fun and exciting work, and the big surprise for me was what a blast it was to do those action scenes."
The Kasdans on getting to tell Han's story:
Lawrence: "From the moment I was relatively young and I first saw Han Solo in the Cantina, I immediately sparked to him. He lifted up the whole movie instantly and I loved the movie, but at that moment I thought oh, this movie has got me. This is a kind of character that I have loved always…this is a character who's reckless, who's cynical, doesn't trust anybody, who's a little bit stupid — I love that — he just does things that he shouldn't do, he gets in over his head instantly."
Jonathan: "Andi I think he wanted me to write with him because I am all those things."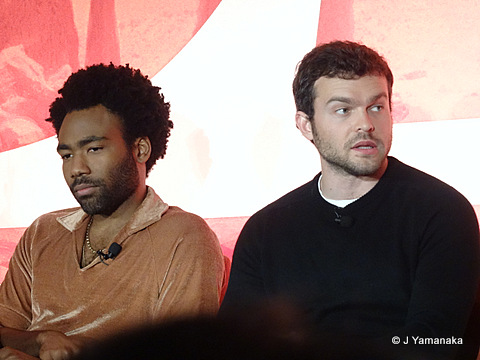 Ehrenreich on getting feedback from Harrison Ford: "Right before we started shooting, I wanted to talk to Harrison, just to kind of pay respect and have him give us the blessing for the film. So we had lunch, I guess, two years ago or something, and he was really encouraging, really supportive. Then we went off, shot the film and everything like that, and today I was doing an interview and they were talking about is there anything else you'd like to ask him, and I was like 'well, uhm,' and they're like 'well you have your chance' and he was behind me. And is just so effusive about the movie and it meant so much to me and I know for Ron and Kathy and everyone, you know it's such a huge deal to have him really genuinely love it, really genuinely enjoy the film and it meant a lot to me that he took the time to come out here."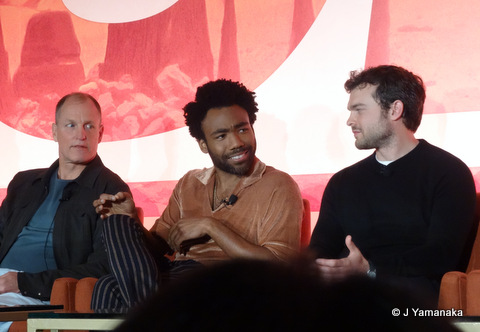 Glover on taking on the role of Lando: "When I heard they were making these, I told my agent 'if they're doing anything with Lando, I have to be Lando" and he was like 'I hear you… I don't like your odds." That was exactly what I needed to hear, because I really did audition like it was the only role I wanted in the world, because it really was."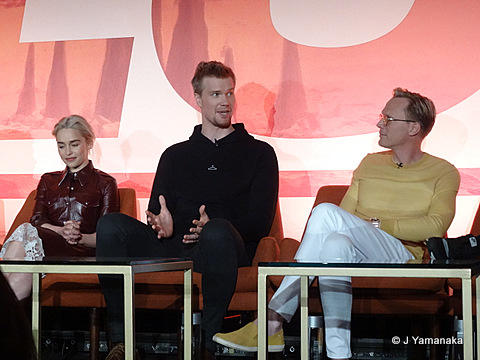 Suotamo on becoming the well-loved Chewbacca: "This was a life-changer for me. I was borderline jobless when I got this role, you know. My now-fiancee (my then-girlfriend) has seen me go from living with my Mom to becoming Chewbacca. That's the span of our relationship. She says I've been like this the whole time, it's just now that this behavior suits me."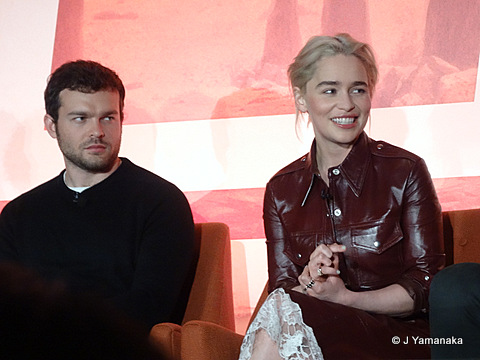 Clarke on the femme fatale, Qi'ra: "We meet her quite early on, with Han, and then they get separated for whatever reason. When we find her again, she seems to have lived a pretty dark life in that time. So when you re-find her, you can't quite figure out what it is that's happened to her in the time you haven't been with her, and who it is that she is now. I think that's a question that keeps coming up throughout the movie."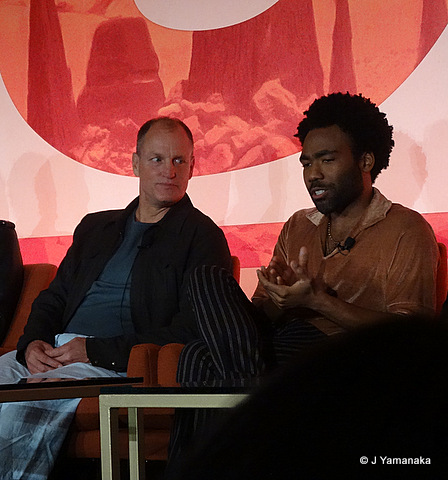 Harrelson on how he sees Beckett: "Well, I felt it was a really easy character for me to play 'cause he's a scoundrel and a thief."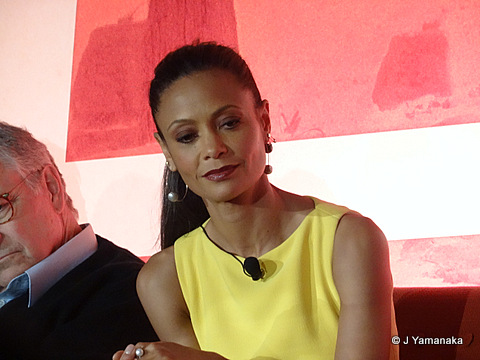 Newton on being on such legendary sets: "The first day I was on set, and I had my son with me and he was two years old, and he didn't know anything about Star Wars, he's two, right? And we were on this amazing set–it was extraordinary–and I was chatting with the crew and stuff, and my kid just started to walk away and we watched where he was going. He was going towards R2-D2. And everyone kind of moved to the side, and my kid just walked over, and the guy who was operating R2-D2's remote control saw my son, knew it was my kid, and started to make R2-D2 kind of chat with my kid…but not in language, in R2-D2 speak. And my son would sort of gabble back and R2 gabbled to him, and it ended, I kid you not, with my son hugging R2-D2. And that was the first impression my son has had of that character, of Star Wars, and what I mean is like, this is the stuff that dreams are made of."
Waller-Bridge on L3 as an individual: "She's a self-made droid, so she created herself out of parts of other droids which sounds kind of frightening when you put it like that…she creates herself out of astromech droids and protocol droids and so she turned herself into a unique creature that's kind of taller, stronger, more independent than she originally was. She's got a great attitude, she's very upbeat, she's very fun to be around…yeah, she's fearless, she's uncensored, she is very funny, and she's revolutionary–she has an agenda which is bigger than the sum of her parts…and it's great to play that. It's great to play a droid with a message."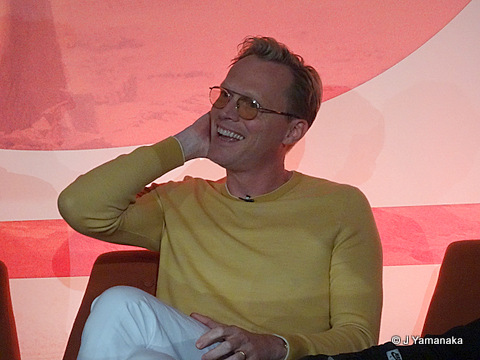 Bettany on what he wanted to do with Vos: "Having texted Ron, having said 'hey Ron, have you ever spent long winter evenings like I have, wondering why you're not in the Star Wars franchise?' and he said 'give me a minute"…so I came on set really quickly and he whispered 'oligarch' in my ear and I went 'GOT IT.' It was just lovely to play somebody–having come from Avengers where Vision is fundamentally good–just to someone who's deliciously bad and really okay with it. Just no neurosis, no guilt, just super happy about being evil…he's really good at hurting people, and you know, some people are really good at piano or whatever…"
"Solo: A Star Wars Story" opens in U.S. theaters on May 25, 2018.
Shop Solo: A Star Wars Story! Make the Kessel Run and explore new t-shirts, action packed toys and more.