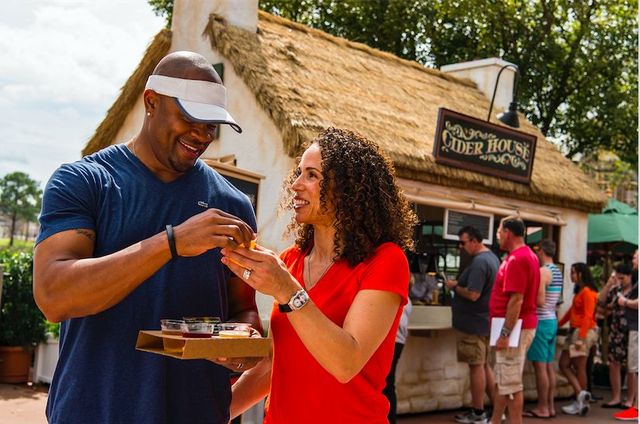 National Beer Day is right around the corner (April 7) and the brews below were highlighted by the F&B experts from Disney Parks and feature unique and delicious brews available from coast-to-coast. Enjoy one (or two) of the below to make this special day even more magical.
Sakura Kolsch, Crooked Can Brewing Co., served at Morimoto Asia, Disney Springs – A true collaboration between Morimoto Asia and Crooked Can brewing, the Sakura Kolsch or Cherry Blossom Kolsch is dry hopped with Cherry Blossom tea. It is a unique and one of a kind beer that complements so many of Chef Morimoto's dishes including sushi.
Morimoto Soba Ale served at Morimoto Asia, Disney Springs – part of the Signature Series of Rogue Ales, launched in the Spring of 2003 with internationally acclaimed Chef Masaharu Morimoto–a James Beard awarded chef and one of the stars of the Food Network series, Iron Chef. The delicate flavor of roasted Soba brings a nutty finish to this light and refreshing ale. A perfect accompaniment to lighter cuisine.
Cantillion served at The Edison, Disney Springs — One of the most highly regarded and coveted beers in the world, this Belgium-based brew specializes in the the (almost) lost style of Lambics. Lambics are particularly interesting as they really are the "terroir" of beer. Brewed only 5 months a year, this beer is cooled off and inoculated with wild yeast that floats in from the open windows, settling in the Koelschip, which uses the cool fall and spring air to cool the wort and to give the yeast it's local flavor and terroir — a true adventure for the nose and the palate. The Edison's current selection special is the rare version Fou' Foune or a Lambic aged on apricots.
Birra Frangante, Birrificio Del Ducato, served at Maria & Enzo's, Disney Springs – Translated as "fragrant beer" in Italian, this brew from Parma Italy borders on a Belgian pale ale style, but much more fragrant and aromatic. Paired beautifully with 24 month-aged prosciutto di Parma.
Mo'ara High Country Ale served at Satu'li Canteen, Disney's Animal Kingdom Theme Park – Features an herbal spice hop aroma and notes of caramel, toffee and nuts. A perfect refreshment after riding a banshee on Pandora's Flight of Passage.
Hawkes' Grog Ale served at Satu'li Canteen, Disney's Animal Kingdom Theme Park – a light, wheaty ale made by Terrapin Beer Co. It's a Golden Ale with a green color and contains the flavors of wheat and citrus all followed by a creamy finish.
Safari Amber, served at Dawa Bar in Africa at Animal Kingdom – Whether you are riding with the Yeti on Expedition Everest or spotting animals on the Kilimanjaro Safaris, make sure to stop in Dawa Bar at Animal Kingdom for this delicious and refreshing lager. With a subtle citrus taste, it is the perfect refresher on a hot day.
Lucky Buddha, served at Yak and Yeti Restaurant at Disney's Animal Kingdom – If you're lucky enough to be spending the day at Animal Kingdom, drinking a Lucky Buddha Beer, you're lucky enough. Served in a green bottle sculpted with a signature laughing buddha, this true asian style lager with a crisp, clean finish is the perfect afternoon refreshment.

Goose Island Bourbon County Stout served at Enzo's Hideaway, Disney Springs – The original bourbon barrel aged stout with rich, luscious notes of chocolate, vanilla and a nice roasted barley note. This brew is a perfect fit to this speakeasy bar that rotates its "smuggled selections" regularly.
Monarch Milk Stout served at Florida Fresh, Epcot's International Flower & Garden Festival — This brew from First Magnitude brewing Co. in Gainesville Florida is smooth with a hint of sweetness. Rich and dark in color, this milk stout is the like cream added to your morning coffee…with a little kick.
Violet Lemonade Ale served at Pineapple Promenade, Epcot's International Flower & Garden Festival — This Playalinda Brewing Company beer from Titusville Florida is refreshingly sweet and sour, a perfect complement to bright Florida sun.
Sunshine Greetings Orange Hibiscuses Wheat Al, Epcot's Flower & Garden Festival — this beer is brewed with hibiscus and orange peel. Light, fruity & refreshing, this ale has a light pinkish hue and a bright, floral aroma. Light citrus notes blend seamlessly with the rosy / gently-tart character of the hibiscus – Subtle malt sweetness backs the easy going floral notes, giving this beer complexity paired with superb drinkability.
Unibroue Blanche de Chambly, served at Le Cellier in Canada – World Showcase at Epcot -the first beer Unibroue ever brewed with pale golden, Belgian white ale pairs perfectly with the Canadian Cheddar Cheese soup, or the Oatmeal Stout-Braised Short Ribs.
Kungaloosh Spiced Excursion Ale served at at Nomad Lounge, Tiffins and Thirsty River, Disney's Animal Kingdom Theme Park —This African-inspired deep amber ale is brewed exclusively for Walt Disney World with sorghum and a special blend of spices including cinnamon and cardamom.
Full Sail Session Lager, served at 50's Prime Time Cafe, Hollywood Studios – Session Premium lager is a crisp, smooth, and refreshing import-style lager, like the kind of beer made back in the pre-Prohibition days. Crisp, smooth, light bodied, but with a nice creaminess when you swish it. There is a lot of flavor in here for a pale lager.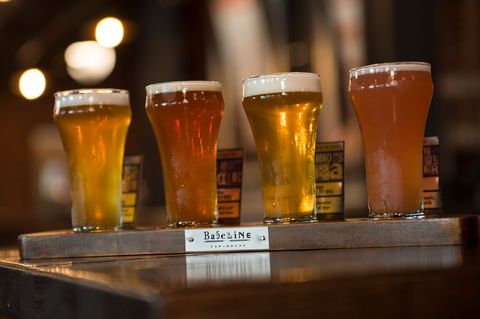 Stone Delicious IPA served at BaseLine Tap House at Disney's Hollywood Studios — Intensely citrusy, beautifully bitter beer brings a magnificent lemon candy-like flavor that's balanced by hop spice.
Golden Road Hefeweizen, served at BaseLine Tap House at Disney's Hollywood Studios — this Bavarian-style wheat beer has hints of banana and clove on the nose from the German yeast. A medium body and smooth crisp finish that has you ready for the next sip.