Looking for some Easter fun for your furry friends this weekend? Best Friends Pet Care at Walt Disney World — and each of its other 56 locations — is hosting a Spring Egg Hunt, and the public is invited!
From 10 a.m. to 2 p.m., dogs and their owners are invited to a free event that will include spring photo opportunities, prizes and a canine egg hunt with treats. Plus, check out the Best Friends facility for doggie day camps and boarding.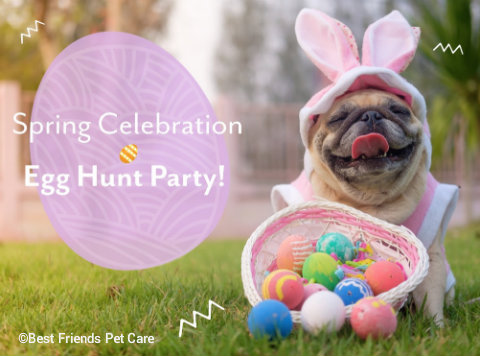 Best Friends Pet Care opened a luxury kennel at Walt Disney World in 2010. The national chain is known for its customized services and the individual attention that employees give each client. The Lake Buena Vista facility, located across from the Port Orleans resort, took those concepts a step farther, offering pets some over-the-top amenities, including a private dog park with a walking trail and a 1,300-square-foot "canines only" splash pad.
The facility with 17,000 square feet of air-conditioned indoor space and 10,000 square feet of covered outdoor runs and play areas is able to accommodate as many as 300 pets for both daytime and overnight boarding. Dog owners can choose from a variety of accommodations, ranging from a standard 32-square-foot all-indoor suite, to an expansive 226-square-foot VIP (Very Important Pet) suite with television, raised bedding and private outdoor yard. Feline guests will spend their visit in the separate "Kitty City" pavilion — away from the dogs — in two- and four-room condos. There also is a special area for the boarding of pocket pets, small mammals and birds.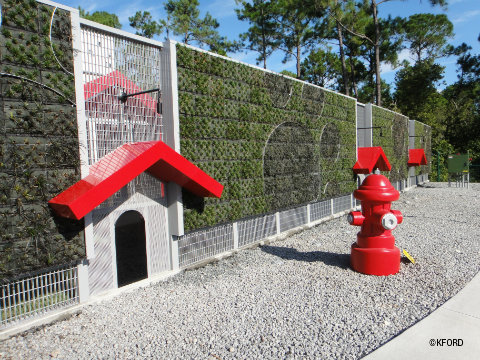 Other features of the resort include a grooming salon, which provides go-home-fresh baths and haircuts for pets, and two 1,100-square-foot camp rooms for play group and doggy day-camp, each opening onto an outdoor play-yard.
Pet parents can choose from a range of a la carte activities for pet guests from one-on-one playtimes and social playgroup with other doggy guests, to cuddle time and bedtime stories with staff. Additional amenities and upgrades include ice cream treats, bottled water and premium orthopedic bedding. Feline guests can also enjoy private playtimes, activity toys in their suites, and treats such as "Cookies and Milk" or "Tuna on a Ritz."
Prices for overnight boarding start at $44 per night for a standard indoor room with two potty walks. (Owners staying at Walt Disney World hotels pay $41 per night.) A full-day for Doggie Day Camp costs $27 per day.
Proof of vaccinations is required, including both canine Influenza vaccines (H3N2 and H3N8). Also, there is a seven-day waiting period after the second booster before dogs can attend day camp or group play.
Best Friends Pet Care is open 365 days a year. Operating hours vary based on Walt Disney World park hours, but generally the facility is open from one hour before the the earliest park opening to one hour after the latest park closing. Reservations can be made online at wdw.bestfriendspetcare.com or by calling 407-209-3126.
If you have utilized Best Friends Pet Care, please share your experience to help others!