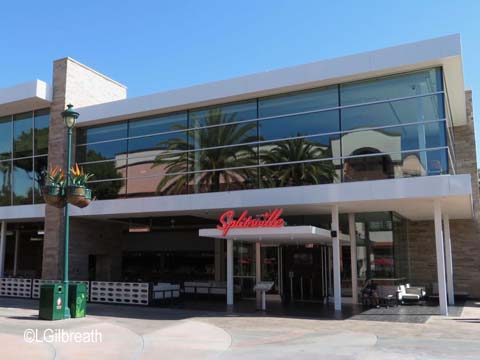 Splitsville Luxury Lanes officially opened its Anaheim location in Downtown Disney on Thursday, March 15. The location had been in "soft opening" since January. The two-story bowling alley, bar, and restaurant complex is located near Tortilla Jo's in the space formerly occupied by House of Blues.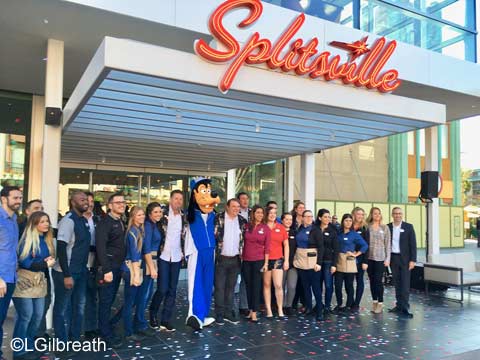 Splitsville owners Guy Revelle and Mark Gibson, along with Splitsville cast members, celebrated the opening with a little help from Goofy. (Love the Mr. Announcer voice).
Though there are 20 bowling lanes at Splitsville, most of the space is dedicated to dining, either in one of the dining rooms or one of the bars. The menu features up-scale versions of bowling alley favorites such as burgers, sliders, nachos, and fries, but also includes hand-tossed pizzas, a large selection of sushi, and a variety of salads, sandwiches, and entrees.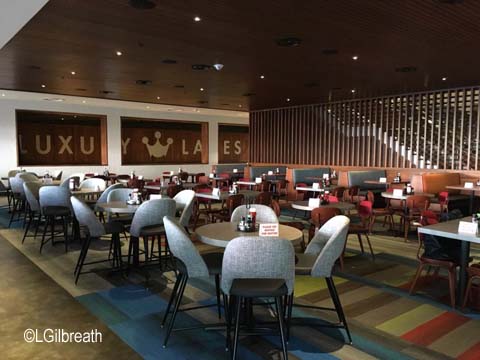 Hand-crafted cocktails are available from the bars, and some popular cocktails are on tap. Beer selections are on draft as well as by the bottle, and feature some local craft brews in addition to macro brews. Wine is available by the glass or bottle. Coca-Cola Freestyle machines are available upstairs and downstairs, with the option of a souvenir bowling pin sipper for an additional charge.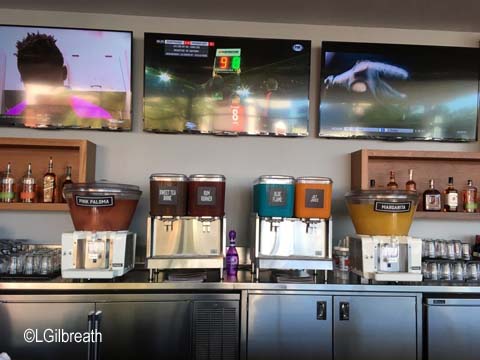 The decor is mid-century modern with brick, stone, and wood. The spaces feel light and open and not like a typical bowling alley. There are lots of grays and blues, designed to look very Californian, specifically Palm Springs. Splitsville co-owner Guy Revelle had his own joke about the idea behind the design: "If Frank Lloyd Wright and Richard Neutra went out to a bar and started drinking some cocktails and decided they wanted to open up a bowling alley, this is what they would open."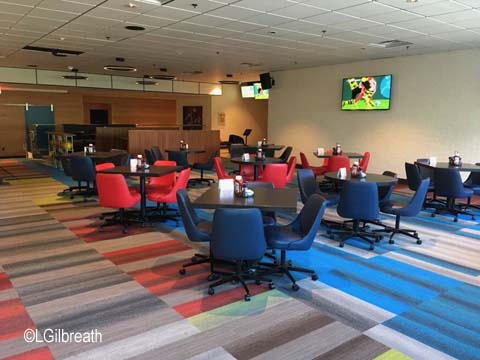 I asked him how they came up with the concept. "We treat bowling as a game, not a sport. We don't do league play. We're all about having fun. That's the reason you see the little sign 'Etiquette, Schmetiquette.'"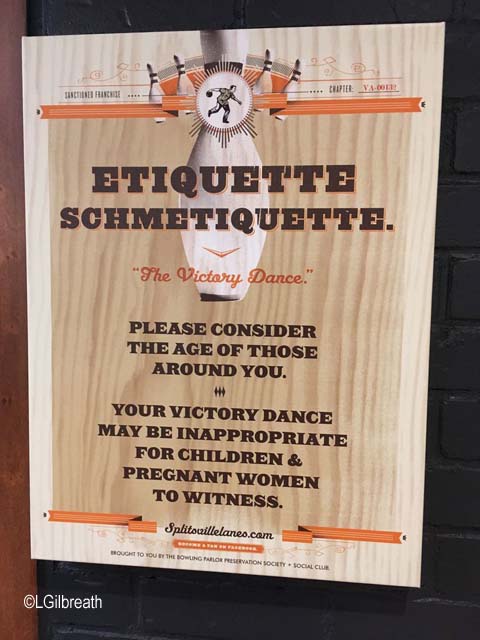 "We said how can we create energy pockets, how can we create a place for food and beverage…usually when you go to a bowling alley they're all side by side by side…[here] I'm sitting in the lounge, having a cocktail, hanging out, and you've got an energy pocket of people over here giving high fives, yelling, having fun…it just gives you that energy and makes for a fun time."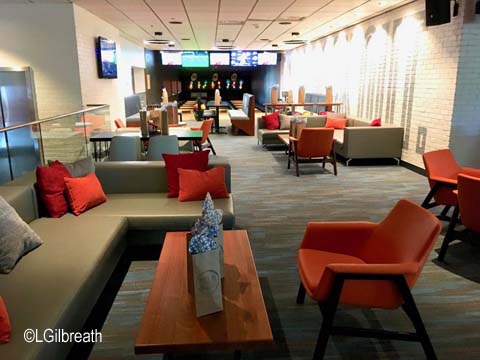 I mentioned that there are 20 bowling lanes. Rather than 20 lanes side-by-side, they are in sets of 2-4 lanes, and placed in multiple areas on both floors.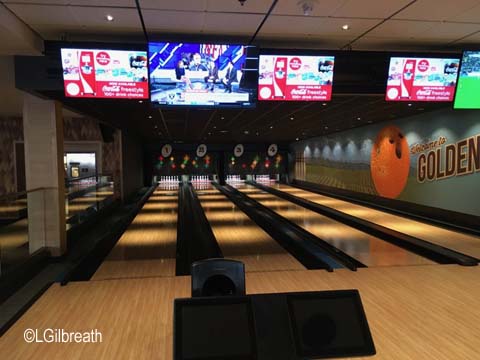 Each lane has its own seating and table area.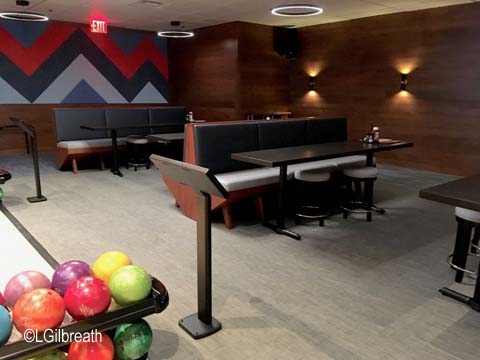 The separation of lane areas allows for some privacy for those who wish to book multiple lanes for a special occasion such as a birthday party. (There are specific birthday party packages which include food and beverage as well as bowling lanes.) Lane reservations are available in advance by calling Splitsville directly – there's no on-line reservation service. Those interested in dining reservations only can book on-line through Disney Dining or OpenTable.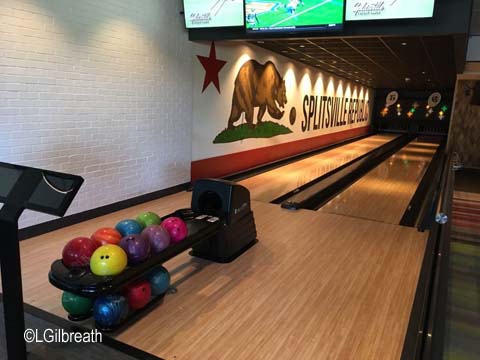 The length of a lane reservation is determined by party size. An hour for 1-2 people, increased in 15-minute increments for every two additional people. All lanes can accommodate up to 8 bowlers. Walk-ups are welcome, pending availability. Whether reserved in advance or as a walk-up, everyone using a bowling lane receives a Lane Concierge who will help them get set up with shoe rental, lane assignment, and scoring setup, as well as introduce them to their food and beverage server.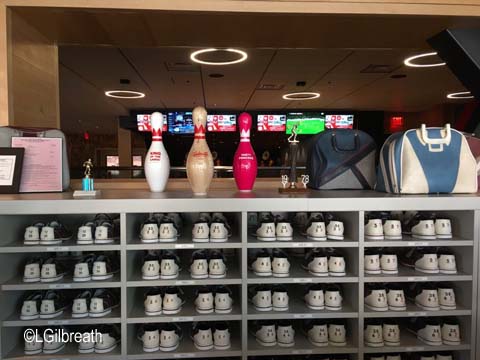 Current rates are $19/bowler Monday-Friday from opening until 4 p.m.; $24/bowler from 4 p.m. until closing; $24/bowler on Saturday and Sunday. Shoe rental is included in the rate. Bowling balls are also provided.
And I must mention the bowling balls – the "small" bowling balls feature Mickey and Minnie.
Annual Passholders, DVC Members, and members of the military receive a 10% discount on food and non-alcoholic beverage. That discount also applies to walk-up bowlers, but there's no discount on bowling if an advance reservation is made (food and beverage discounts still apply).
One of my favorite spaces was the large outdoor bar area. It's covered, but open on the sides with a variety of seating options, from bar stools to tables and chairs to comfy sofas and chairs. There's live entertainment there every evening, and also in the afternoon on Saturday and Sunday.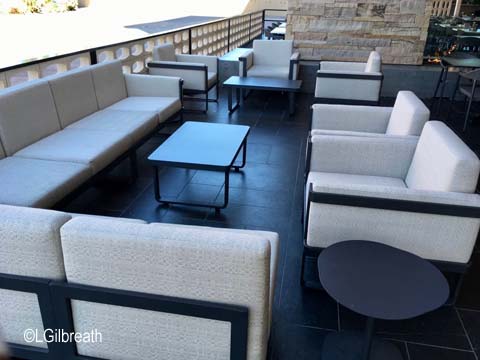 There's even a fireplace, with seating on both sides of it.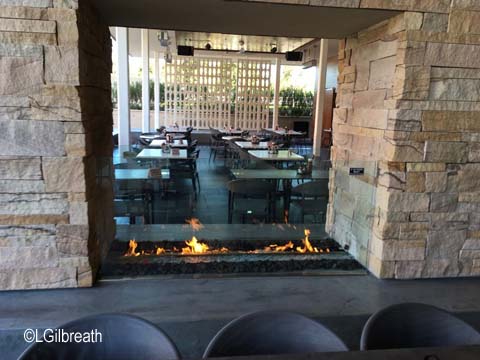 Upstairs there's another bar and dining area with floor to ceiling windows that overlook Downtown Disney.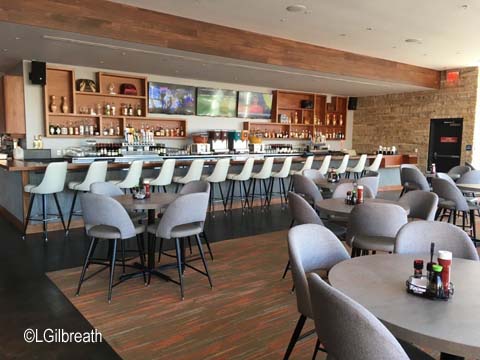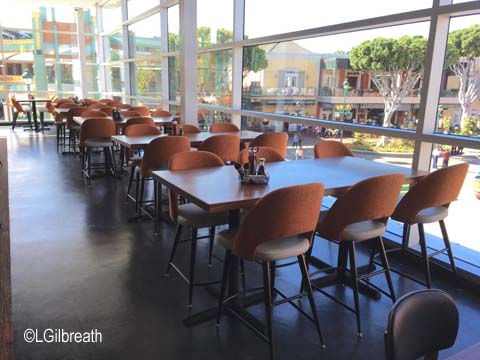 For those familiar with the location in Disney Springs, this one differs in a few ways. It's a bit smaller, and there's 20 bowling lanes rather than 30. No pool tables, and no sushi bar. The colors are different – Florida is more bright blues and reds. The menus are quite similar – I found it amusing that Florida offers a Southwestern Salad and California offers a Southern Goddess Salad.
Speaking of food…I'm sure some of you are interested in that. At a media reception I had the opportunity to try a few of the food items.
The pizzas are hand-tossed, with dough that's made in-house each day. The Fig and Prosciutto pizza was excellent. I couldn't have told you that there were figs on it – all the flavors blended together and it was simply delicious.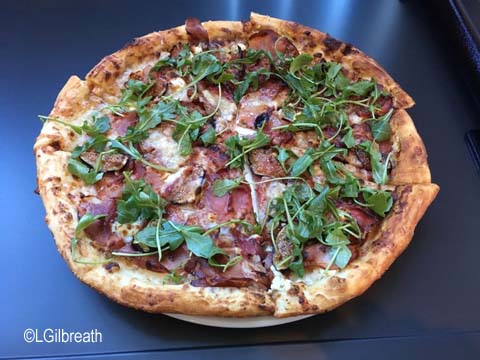 I also tried a couple of pieces of sushi, which I believe were from the Ninja Crunch and Fantasy rolls. So fresh and so good.
There were also samples of their Filet Sliders and Cheeseburger Sliders. (All burger patties are certified Angus beef, arriving fresh daily, never frozen.)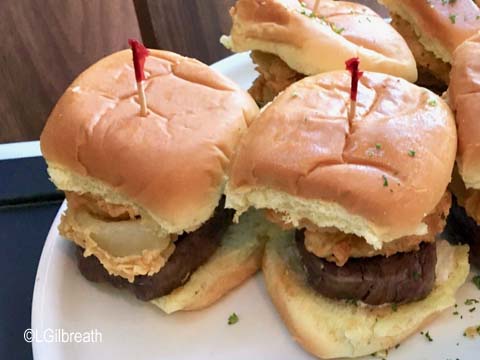 The Cone of Fries is crinkle-cut fries with house seasoning and a house-made chive dressing. Also very good.
I'm looking forward to returning and sampling more of the foods and beverages. The assistant general manager told me about a "fig and berry" cocktail that sounds wonderful.
While it might be called "Splitsville Luxury Lanes", it's really much more about the experience and the food than it is the bowling. Said Guy Revelle:
"We want [people] to walk through the door and say: 'Wow, never seen a bowling alley like this before.' Then they're going to get great customer service, have a great food experience, have a great drink experience. When they talk to other people what we want them to say is: 'We did this and this and this, and oh, by the way, we bowled.'"
Disclaimer: I was an invited media guest to the opening of Splitsville Luxury Lanes. My opinions are my own.