If you are looking for a family friendly way to celebrate St. Patrick's Day in Orlando, get yourself to Raglan Road at Disney Springs! The restaurant's popular party runs all weekend with authentic contemporary Irish cuisine, beers and cocktails. But perhaps the best treat is the selection of entertainment that is presented in addition to the Raglan Road Irish Dancers that are always in residence.
Raglan Road will host eight bands that perform various styles of Irish music from noon to 1 a.m. during the celebration. New this year is The Maguires, a family band from Wicklow. They play traditional Irish music and modern songs, both favorite covers and their own original music. The band is made up of Emma, 17, on fiddle, flute and whistle; Aoife, 15, on concertina and uilleann pipes; Sean, 12, on bodhran; and their father, Phillip, on guitar.
I was delighted to hear them perform during a preview of Raglan Road's Mighty St. Patrick's Day Festival and to have the opportunity to speak with them. Of course I wanted to know how they got started playing music together.
"I'm responsible for that, I guess," Phillip said. "I started brainwashing them when they were very little. I used to do a lot of set dancing all around Ireland when I was in my 20s so it was a lovely way to spend time together. … Also, my dad did play and he taught me the whistle when I was young."
From that exposure to music, Emma's love of music was born at age 4, and she brought the family along with her.
"Very early on, it became very clear that Emma had a voracious appetite for music and she just took it away," Phillips said. "Very quickly it became the case where we said we would stop going to lessons and practicing if they misbehaved rather than the other way around."
And when Aoife and Sean each turned 6 years old, they had been bitten by the music bug as well and they learned quickly. The children are all classically trained musicians.
Their first stage performance was in March 2014 to a packed concert theater of 200 people in Bray, Co. Wicklow. Now, four years later, the band has performed at festivals and concerts all over Ireland. The musicians made their United States debut in the summer of 2017 with performances in Montana, Milwaukee, New York, Boston, Philadelphia and Connecticut.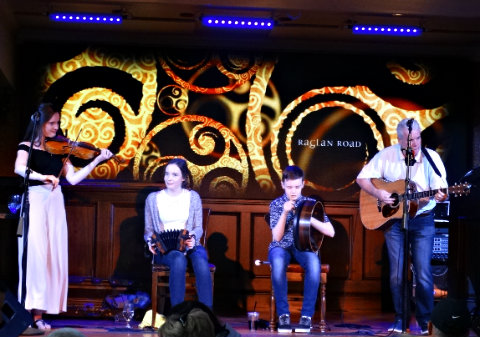 The Maguires will be performing at Raglan Road through April 2, so there are many opportunities to see them. Here is their schedule this weekend:
Today (March 16): Patio stage — 4:30, 5:30, 6:30, 7:30 p.m.
Saturday (March 17): Patio stage — 1:30, 2:30, 4:30, 5:30 p.m.
Sunday (March 18): Patio stage — 4, 5, 6:30, 7:30 p.m.
Be sure to check RaglanRoad.com for times and dates for additional performances by The Maguires and for the complete lineup of live entertainment during the Mighty St. Patrick's Day Festival this weekend.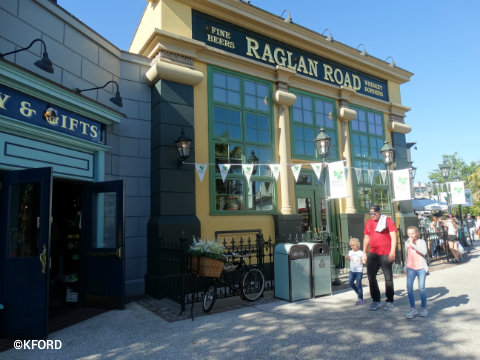 Can't make it to Raglan Road? You can listen to the infectious sounds of The Maguires in your home or car by ordering their CD on the their website, maguireband.com This debut album, "Little Giants and Other Oxymorons," was released in December 2016, and six of the eleven tracks were composed by the family members. One of the songs has been picked up by Tourism Ireland and used as the soundtrack on a promotional video about Ireland and its musical heritage.
DISCLAIMER: I was a guest of Raglan Road during the preview of its Mighty St. Patrick's Day Festival. My opinions are my own, and this did not affect my story.