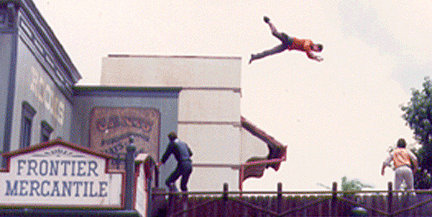 Performers flip and tumble on the rooftops in Frontierland during a live action show in the early 1980s. [Courtesy of Ben Rossi]

Return with us to Walt Disney World, circa 1980.
The Magic Kingdom has been up and running for nine-plus years and is living up to its "vacation kingdom of the world" nickname. Indeed, the idea of a destination vacation to central Florida has really caught on and plans are moving forward for a second theme park on the vast property, this one loosely based on Walt Disney's idea for an experimental prototype community of tomorrow.
Inside the Magic Kingdom, change has been a constant.
Several new, cutting-edge attractions have been added since opening day in 1971, enhancing the park's already strong appeal.
In 1973, Pirates of the Caribbean debuted in Adventureland, and suddenly, everyone was singing "Yo ho, yo ho, a pirate's life for me."
In 1975, the much-anticipated Space Mountain was launched, giving Tomorrowland guests the heart-pounding experience of speeding through the universe on a roller coaster in the dark.
And in 1980, a classic runaway train adventure was added to the park when Big Thunder Mountain began thrilling guests on the outskirts of Frontierland.
Frontierland is a section of the Magic Kingdom that celebrates the rootin', tootin' days of America's Wild West. The building fronts were designed to make you feel as if you were walking through a western town, with names like Pecos Bill and Texas John Slaughter featured on storefronts.
During the 1980s, Frontierland also was a place where live shows were staged, using the roofs of the buildings and those Western-themed building fronts as a realistic backdrop.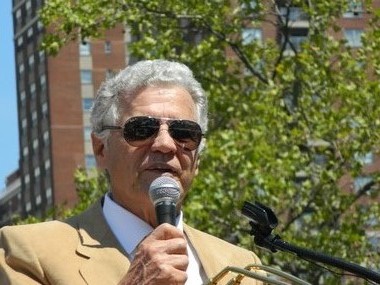 Former Walt Disney World show producer Ben Rossi. [Courtesy of Mike Virgintino]
Back then, live entertainment was featured throughout certain areas of the park, not just in front of Cinderella Castle or up and down Main Street. And there was one producer who saw to it that those shows were entertaining and enjoyable. His name is Ben Rossi.
It's safe to say that when a young man or woman applies for a job as an entertainer at Walt Disney World, they would have a background that includes singing and dancing lessons. They might have taken acting classes as well. Their resume likely features stage performances in high school, college or community theater.
It's also safe to say that their backgrounds don't include trick roping at the tender age of 5, or being a trick horse rider or a circus acrobat at the advanced age of 7.
The name Ben Rossi may not ring a bell among Walt Disney World fans, but it should. Rossi's talents – both as a performer and as a show producer – touched literally millions of park guests during two tours of duty with WDW entertainment in the 1980s.
Rossi earned his stripes at an early age, performing at carnivals, fairs, bazaars or traveling circuses, first as a 5-year-old trick roper, then as a trick rider and circus acrobat at 7.
As he got older, the tricks got more difficult and the venues got bigger until he found himself working at Freedomland, a Disneyland-style theme park that was located in the New York City borough of the Bronx, in 1961. He started out as a member of the "Colossus" show in the park, playing – appropriately enough – an American cowboy.
"The show, which was produced by Sandy Howard [who also produced A Man Called Horse and a number of early Tarzan movies] included Roman chariot races, the Three Musketeers and a segment called The Greatest Horsemen in History, which I took part in," Rossi said.
"They made me the American cowboy, but I also did Roman stunt work during the show." That stunt work included a variety of daring acrobatic moves, vaults, cartwheels and shoulder stands – all while riding atop his trusty palomino.
"'Colossus' didn't return, nor did I, in 1962. I went to Hollywood with my wife."
But Rossi would return to Freedomland a year later. "Art Moss, who at the time was in charge of publicity and shows, asked me to come back, so I returned to Freedomland in 1963 and 1964 when the park was unwinding." He spent those two years as a park performer and show producer.
Members of the Frontierland Stunt Show pose for a photo near the entrance of the Walt Disney World land devoted to the Wild West. [Courtesy of Ben Rossi]

After Freedomland closed in 1964, Rossi appeared in or directed action scenes and stunt sequences for several television commercials, TV series and feature films.
Rossi then headed south, where he served as the entertainment director at a number of smaller amusement parks in Florida. He was Corporate Director of Live Shows for the National Recreation Service before landing a position at Walt Disney World in 1978.
"I started at Disney as Area Stage Manager and then ended up being General Manager of Resort Entertainment," he said.
"I produced a number of shows, which I wrote myself, including 'The Red, White and Blue Showboat Revue,' different Halloween shows ['Ghosts, Goblins and Ghouls Revue' was one of them] and a Christmas special called 'The Marvelous Magical Christmas Tree' … there were quite a number of them."
As General Manager of Resort Entertainment, Rossi also had a hand in nightly shows at the Disney Village, the Village Lounge, Disney's Golf Resort, the Contemporary Hotel and several other venues around WDW property.
Rossi left Disney in 1984 to form his own company, Benros Worldwide Entertainment, but he returned to WDW to produce the popular live action cowboy shows which appeared daily in Frontierland.
"I was asked by [legendary talent booker] Sonny Anderson from Walt Disney World to come back and produce a show in the Frontierland section for the next nine years under my own company's banner," Rossi said.
One of the bad guys walks through Frontierland during a live action show in the early 1980s. [Courtesy of Ben Rossi]

Those Disney guests with long memories may recall strolling past the Country Bear Jamboree when seemingly out of nowhere, a cowboy shoot-out would erupt right in front of you … and the often wise-cracking bantering bandits would try to escape the long arm of the law – as well as the sheriff's trusty six-shooter – by running away on the rooftops of the Frontierland buildings, near the sign that reads Frontier Mercantile.
To the relief of all those in attendance, the bad guys would be captured and the man in the white hat would always win out in the end.
According to park brochures at the time, the performances were called the "Frontierland Stunt Show," where "Heroic good guys pursue nasty bad guys over the rooftops."
Those Rossi-produced live-action shows [and many similar ones in other sections of the park] were a staple in the Magic Kingdom for many years.
After leaving WDW, Rossi produced similar shows at Six Flags in Texas and Marine World in California, as well as shows at amusement parks in Germany and Taiwan.
"We were pretty busy for the next 20 years" after leaving WDW, he said.
Of all the parks his worked with – and there have been many around the world – Rossi has a special affinity for both Walt Disney World and Freedomland.
"I'd rate Walt Disney World No. 1," he said, "but for its period in time, I'd rank Freedomland No. 2."