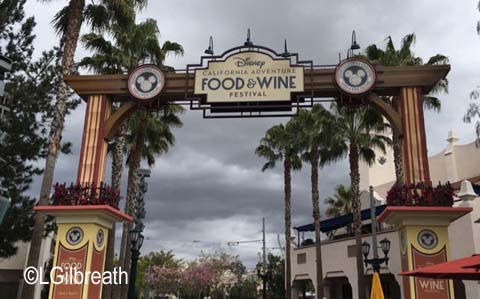 The Disney California Adventure Food & Wine Festival runs from March 2 – April 12 this year. It's almost a week longer, and surprisingly ends on a Thursday instead of a Sunday – but Pixar Fest starts the next day, on April 13.
Festival events take place both along the "Festival Corridor" (from the entrance to "a bug's land" to Paradise Gardens), and in Hollywood Land.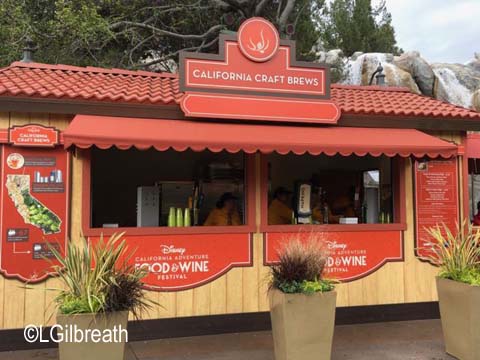 This year's Festival Guide, available at the Welcome Center, is a nice fold-out pamphlet with a map of the Festival and a listing of all of the Festival offerings. Consult the regular Times Guide for specific information on the entertainment schedule.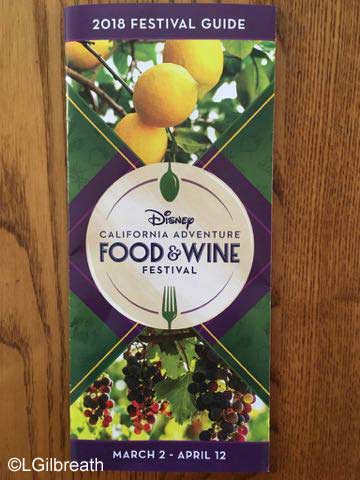 Festival Marketplaces
There are fourteen Festival Marketplaces, which serve a variety of foods, beers, wines, and cocktails. Many of the food Marketplaces showcase a different ingredient, such as cheese, peppers, garlic, artichokes, strawberries, avocados, or corn.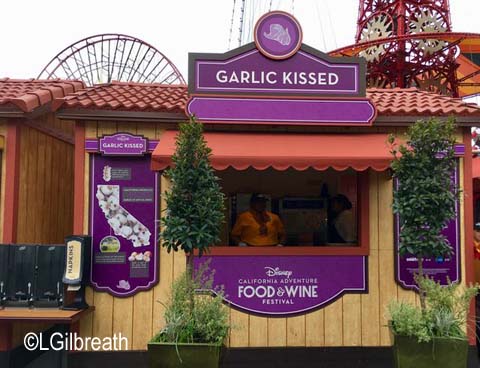 With over 900 breweries in California, there are two different marketplaces dedicated to beer, as well as a beer stand in the Paradise Pier Beer Garden.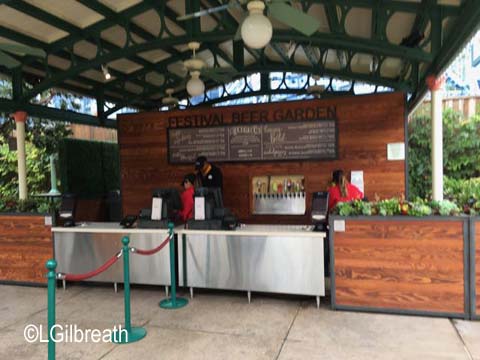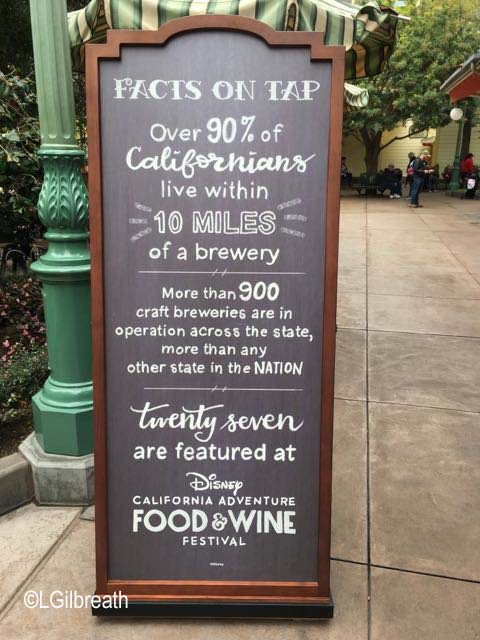 There's also a wine marketplace, and a number of the other marketplaces offer wine as well as food.
A souvenir tumbler is available with purchase of a specialty beverage at a number of the marketplaces.
A free Tasting Passport available at the Festival Welcome Center and the Marketplaces. There are different stamps available at 12 of the marketplaces (no purchase required). After getting all 12, the Stamp of Completion is available at the Festival Welcome Center or the AP Corner.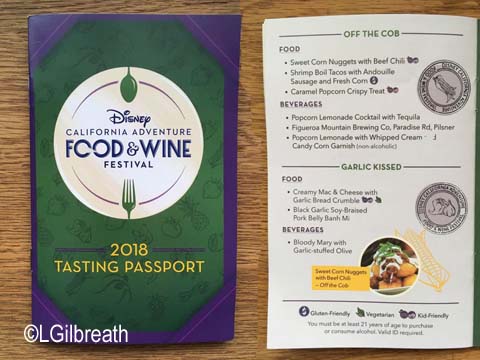 Annual Passholder Offerings
Passholders can purchase a Sip and Savor Pass for $45 at Festival merchandise locations. (Must show AP at time of purchase.) Each of the eight tabs can be used for marketplace food and non-alchoholic beverage items. It's a good deal if you stick to items valued at $6.00 or more (which is most of the non-dessert food items).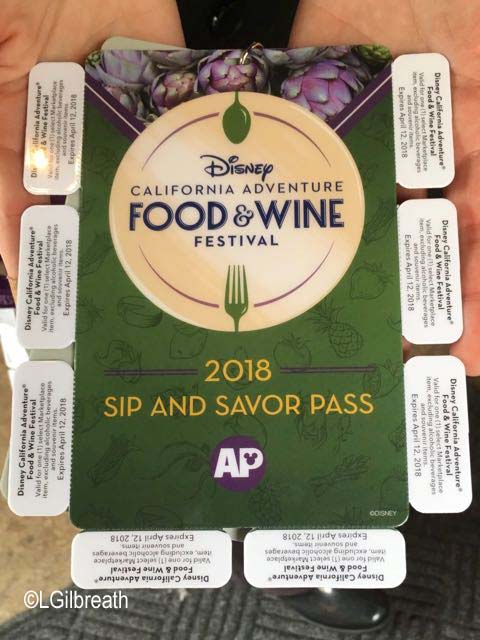 The AP Corner is located in Hollywood Land next to Stage 17, rather than in the Paradise Gardens area, which is the more usual location. There's an AP-exclusive photo backdrop and Photopass photographer. There's also an AP-exclusive Festival button – one per AP holder.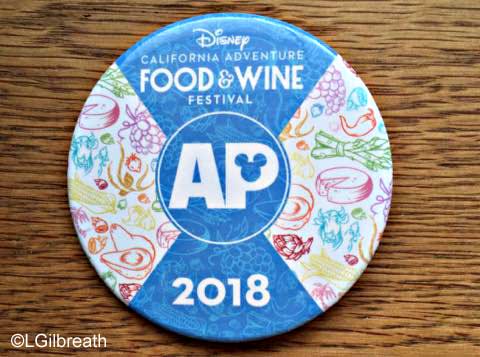 Passholder merchandise: shirts, hat, pin, and beverage cup, is available at the Studio Store in Hollywood Land.
Seminars and Demonstrations
Thursday-Sunday at the Backlot Stage in Hollywood Land there are a series of family-friendly seminars and cooking demonstrations. The topics are Farm to Table, Family Time (easy to prepare dishes), and Festival Favorites (favorites from the Festival Marketplaces).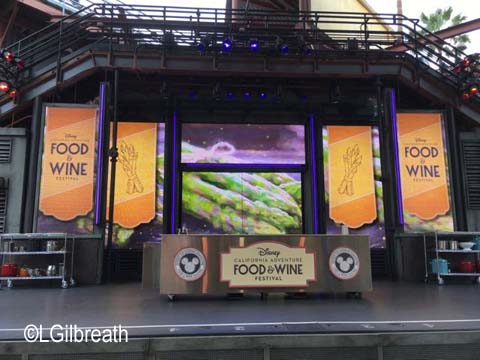 Merchandise
Festival merchandise is available at The Studio Store and a kiosk in Hollywood Land, and merchandise carts along the Festival Corridor. There's items for the home and kitchen in addition to cookbooks, Festival-logo attire, and pins.
For Kids
There's a craft area for kids in Hollywood Land next to the Backlot Stage. Kids can color a chef's hat there.
The Junior Chef program takes place on the Backlot Stage. Kids split up into teams and under the guidance of Chef Lilly and Chef Goofy they mix up a batch of dough…and with a little Disney magic receive a treat to take home. The event is free and available on a first come-first serve basis – interested kids and their parents should proceed to the Backlot Stage area in advance to participate.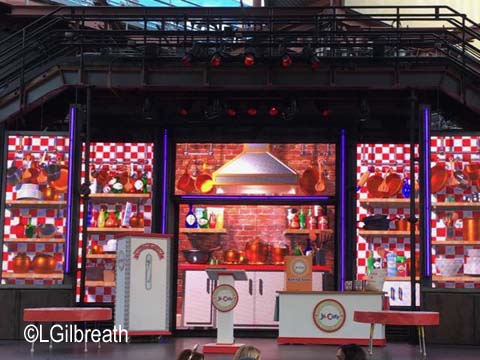 At the Paradise Pier Obelisk, cast members occasionally bring out a cart of culinary items that kids can play with, bang together, etc.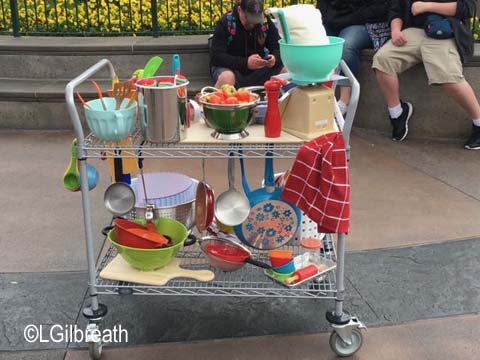 Entertainment
Live entertainment is offered throughout the day in the Paradise Pier area. The Jammin' Chefs, along with Chip and Dale, perform in front of the Paradise Pier Obelisk. Kids get a chance to join in the fun.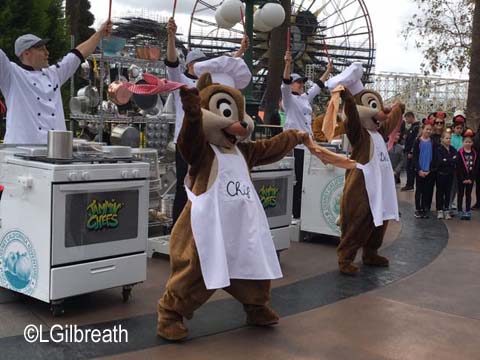 The Paradise Stage hosts a variety of music groups throughout the Festival. Unlike the Festival of Holidays, there's only one group performing on the stage each day. Currently on the schedule is Phat Cat Swinger (West Coast Swing), Adelaide Tropical (Caribbean Salsa), Grilled Cheese Soundwich (Pop Rock), and Smith (Country).
There's also live performances at the Paradise Garden Bandstand, again a single group per day. Featured are The Tina Aldana Band (Latin Rock), Five Got Rhythm (40s Jazz), LALA Brass (Brass Funk), Adelaide Tropical (Caribbean Salsa), and Island Reggae Band (Reggae/Calypso).
Signature Events
These are the events that are available at an additional cost. While there might be same-day availability, many events are already sold out, and advance reservations are recommended. Prices listed do not include applicable tax and gratuity.
Culinary Demonstrations
Demonstrations featuring a variety of celebrity chefs, including Jet Tila, Alex Guarnaschelli, Cat Cora, Jamie Gwen, and Maneet Chauhan, take place on Friday, Saturday, and Sunday at 4:00 and 6:00 p.m. at the Palisades Stage in Paradise Park. While the demonstrations are free, they are standing room only. A VIP Package is available for $30/person which offers reserved seating for the demonstration as well as a meet and greet with the chef and a sample tasting following the demo.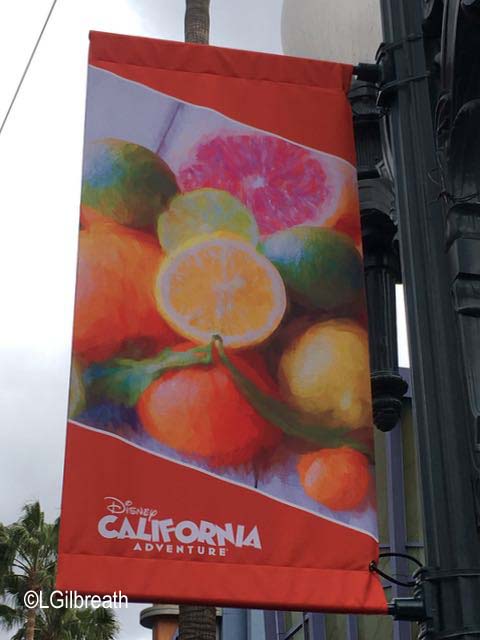 Wine, Beer, and Spirits Education & Tasting Seminars
Take place daily at the Sonoma Terrace, and featuring visiting winemakers, brewmasters, and mixologists on weekends, and Disney Sommeliers Monday-Thursday. $20/person.
Celebrity Chef Live! at the Hyperion
Guy Fieri and Robert Irvine appear on stage on March 9 and 30, respectively, during a 60-minute show and cooking demonstration. Following the show, music and sample tastings are available. The event runs from 8:00-10:30, and is $99. The $250 VIP Experience is already sold out – a limited number of guests sit on stage and also receive a private meet and greet.
Sweet Sundays
This year Sweet Sundays moves to the Napa Rose restaurant at the Grand Californian. These events ($99) are also sold out. The featured chefs are Keegan Gerhard (March 4), Emily Ellyn (March 11), and Duff Goldman (April 8). This event includes a light breakfast, sparkling wine, and a baking demonstration with the opportunity to sample the finished products.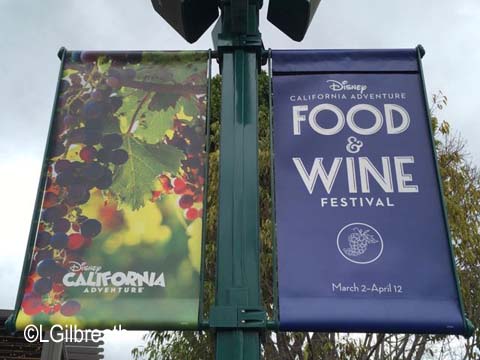 Winemaker and Brewmaster Dinners
These two-three hour dining experiences include a multi-course meal paired with wine or beer . A guest winemaker or brewmaster presents each course.
Karl Strauss Brewmaster Dinner – March 8, 6:00-9:00 p.m., Steakhouse 55, $150/person.
Flora Springs Winemaker Dinner – March 15, 6:00-9:00 p.m., Steakhouse 55, $175/person.
Disney Family of Wines Winemaker Dinner – March 29, 6:30-9:00 p.m., Napa Rose, $250/person.
David Arthur Vineyards – April 5, 6:30-10:00 p.m., Carthay Circle Restaurant, $300/person. Limited to 24 guests.