Disney Channel is going back to high school, but this time it's taking the undead along for the ride. The network's newest original made-for-television movie, "ZOMBIES" premieres at 8 p.m. Feb 16.
Disney describes the show this way: "Disney's "ZOMBIES" is a music- and dance-filled story set in the fictitious world of Seabrook, a cookie-cutter community brimming with perky conformity 50 years after a zombie apocalypse. Today, the zombies pose no threat but are required to live in Zombietown, an isolated, rundown community infused with their unique creative spirit.
"When zombies are finally allowed to enroll in Seabrook High School, the charming, charismatic zombie Zed, who is determined to play football, meets freshman Addison who dreams of being a cheerleader — the ultimate form of status in Seabrook. Addison takes a lot of flak for befriending Zed and his zombie friends but comes to learn that zombies and cheerleaders aren't so different after all. Zed and Addison work together to show Seabrook what they can achieve when they embrace their differences and celebrate what makes them a community."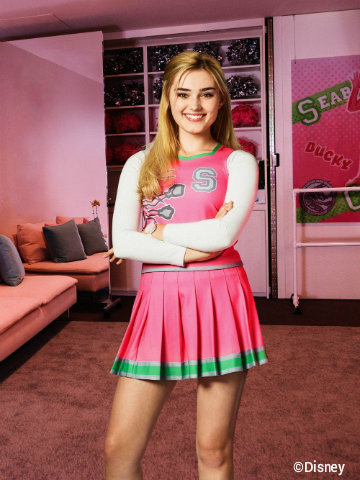 In a tradition that started in 2006 with the first "High School Musical," Disney Channel is telling its latest story of teen angst, friendship and coming together in a musical format. "High School Musical 2," "Descendants" and "Descendants 2" rank among the most-watched movies on Disney Channel.
Disney veteran Paul Hoen ("The Cheetah Girls: One World," "Camp Rock 2: The Final Jam," "Jump In"), will direct "ZOMBIES." And the cast has some familiar faces: Milo Manheim ("Ghost Whisperer") plays Zed; Meg Donnelly ("American Housewife") as Addison; Trevor Tordjman ("The Next Step") as Bucky; Kylee Russell ("Jump In") as Eliza; Carla Jeffery ("Curb Your Enthusiasm") as Bree; James Godfrey ("The Swap") as Bonzo; and Kingston Foster ("Fuller House") as Zoey.
The "ZOMBIES" soundtrack from Walt Disney Records will be on sale Feb. 16. The soundtrack features five original songs and four reprises performed by the cast. Driving the story forward, the featured songs include the high-energy, dance single "BAMM," the '90s style hip-hop opening number "My Year," the cheer anthem "Fired Up," a mid-tempo R&B/Pop duet "Someday" performed by Manheim and Donnelly, and the contemporary power ballad "Stand."
After the premiere on Feb. 16, the movie will be available to watch on VOD and stream on DisneyNOW at 12:01 a.m. Feb. 17.
Disney Channel's "ZOMBIES" Spirit Challenge is inviting kids and tweens nationwide to show their zombie spirit for a chance to win a "ZOMBIES" screening party with a Disney Channel star or have their photo featured during the movie's premiere telecast. The "ZOMBIES" Spirit Challenge will take place through Tuesday, Feb. 6, allowing kids and tweens nationwide to dive into the movie's unique take on zombies — where they are the heroes in a world filled with cheerleading, football, dance and music. Participants are invited to get creative and express their unique spirit by participating in "ZOMBIES"-themed photo challenges including best green "ZOMBIES" hair, outfit, nail art, cheer pose, zombie "draggy leg" pose, zombie slime photos, or a photo of them eating something green. Submission details and more information will be available at Disney.com/ZombiesSpiritChallenge.