This week, I was invited to hear what's new and what's next with the Disney Vacation collections. For those not familiar with that term, it refers to four groups "beyond the theme parks" that provide the service, storytelling and attention to detail that Disney is known for: Disney Cruise Line, Adventures by Disney, Hawaiian resort and spa Aulani and Disney Vacation Club. Here are the highlights:
Aulani, A Disney Resort & Spa
"We have put a lot of thought into delivering an authentic experience where our guests can learn about Hawaiian culture," said Yolanda Cade of Disney Public Relations. "All of these things are incorporated into our incredible luau, which includes firedancing, traditional hula and storytelling where you learn about the culture and history of Hawaii."
The all-new Ka Wa'a luau features a local island buffet, lively music and traditional Hawaiian dance, including hula kahiko and modern hula 'auana. Through Disney's signature storytelling, guests experience Hawaii's history and its deep cultural roots in canoe exploration. Before the luau, guests can also enjoy special hands-on pre-show entertainment, family activities and traditional crafts. The luau is a three-hour experience.
There are two seating packages for the luau:
** VIP Seating — $169 for adults and $109 for children ages 3 through 9). VIP guests receive early check-in, priority up-front seating, complimentary beverages (both alcoholic and non-alcoholic) and an enhanced welcome lei.
** General Admission — $129 adults and $79 for children ages 3 through 9.
Both seating packages include gratuities but not taxes.
Curious about the menu? Here's what is served:
Salads: Waipoli lettuce, vine-ripe Kula tomatoes and shaved Maui onions with papaya seed and Maui onion dressing, taro and guava croutons; Lomi Lomi Salmon Salad; Aulani-style Ahi Poke; Taro macaroni salad; Poi.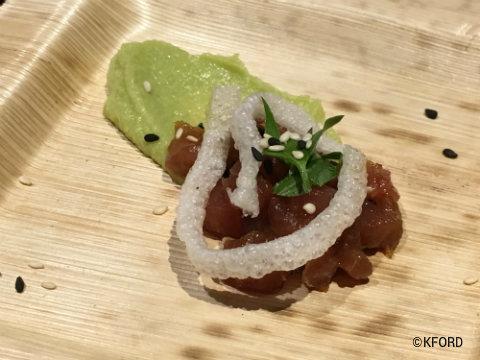 I sampled an Ahi Tuna Poke dish at the recent media event that was inspired the luau menu. Although I am not usually a big seafood eater, I did enjoy this appetizer because it didn't have that heavy fish taste.
Entrees: Braised pork imu-style with Maui onions; Hawaiian waters local catch with crushed macademia nut sauce; Teriyaki chicken )oven roasted) stir fry; seasonally sourced vegetables; steamed short grain rice; sweet potato duet, puree Okinawan and Uala potato.
Carver: Whole-roasted, Hawaiian-rasied sucking pic; slow-roasted prime rib; alea sea salt-crusted bao buns; taro rolls with Liliko'I butter.
Desserts: Macademia nut brownies; Haupia (coconut pudding) guava cake; banana bread pudding; seasonal and tropical fruits and berries.
Kids' menu: carrot and celery sticks with ranch dip; big wave fruit cup with marshmallows; Shaka macaroni and cheese; tiki chicken tenderloin with pineapple BBQ sauce; Mickey pasta with tomato sauce and meatballs; Moana surprise dessert
Complimentary beverages: Kona blend regular and decaffeinated coffee; whole leaf organic and herbal teas.
Disney Cruise Line
"Although we have new ships coming in 2021, 2022 and 2023, we continue to invest in our current [Disney Cruise Line] fleet to surprise and delight everyone in the family," said Carrie Matson, director of Disney Cruise Line marketing strategy.
The Disney Magic goes into dry dock next month and when it comes out on March 9, there will be a new restaurant that combines dining and live music, much like Tiana's Place onboard the Disney Wonder. This one will be Rapunzel's Royal Table.
According to the press release: "Guests will step inside a regal ballroom in the royal castle, lit by glowing wish lanterns and adorned with colorful drawings that reflect Rapunzel's artistic talents. Here, the King and Queen of Corona invite everyone to take part in a festive celebration of Rapunzel's birthday and the anniversary of her return to the kingdom. Throughout dinner, guests of all ages will be treated to live entertainment, including spirited singing and dancing led by the maître d', a merry band of musicians, the mischievous Snuggly Duckling Thugs and of course, Princess Rapunzel herself. The family fun is complete with themed menus, special activities and a lively parade to cap off the evening in Corona. The charm and enchantment of "Tangled" in Rapunzel's Royal Table is the perfect pairing to "Tangled: The Musical" — the spellbinding original production that delights guests during each Disney Magic sailing."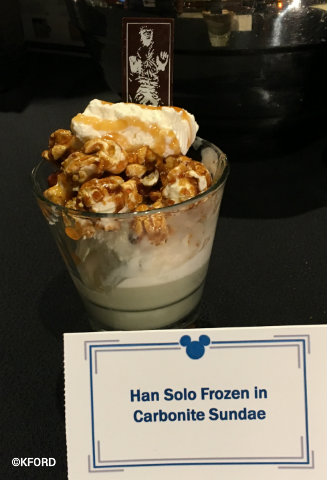 Disney Cruise Line also is continuing its popular Marvel Day at Sea and Star Wars Day at Sea on select sailings in 2018.
Both themed days feature all-day entertainment including special character interactions, youth activities, special merchandise and unique food and beverage offerings. The Marvel Day at Sea culminates in a spectacular stunt show on the tops decks, while the Star Wars Day at Sea end with fireworks set to the memorable music of Star Wars.
The Marvel Day at Sea takes place on eight five-night western Caribbean voyages that depart from Miami in 2018. The Star Wars Day at Sea takes place on seven-night Eastern and Western Caribbean cruises sailing out of Port Canaveral through April 2018.
Adventures by Disney
River cruises tend to skew a little older [when it comes to guests]," said Ken Potrock, senior vice president and general manager of Disney Vacation Club and Adventures by Disney. "Disney has made it more of a family adventure and one with more active options."
As such, he announced that Adventures by Disney is adding a third river cruise — on the Seine in France — in 2019. Read all the details of the this amazing 10-day adventure that includes two days in Paris on our News Blog.
Plus, a new experience, the Southern California Adventure, will join the lineup of shorter vacations that offer exclusive experiences. And the three-night excursions can be paired with Disney Cruise Line sailings out of San Diego.
"It will take you to a variety of Disney-oriented icons in that Southern California area — you'll go to the Studios, Imagineering, our Archives, into Disneyland for a very special opportunity and Walt's apartment," he said.
Disney Vacation Club
At the D23 Expo in July, it was announced that Disney Vacation Club would be adding a new resort to its properties. This time, the resort would be new construction, rather than adding villas to the existing resorts on the Walt Disney World monorail loop.
The new resort will be built near Epcot and called Disney Riviera Resort. The new gondola transportation system, Disney Skyliner, will connect Disney Riviera to other areas on Walt Disney World property.
No additional details were revealed about Disney Riviera, but it is expected to open in the fall of 2019 with approximately 300 units that will encompass a variety of accommodation types.
Disney Vacation Club's 14th resort, Copper Creek Villas & Cabins at Disney's Wilderness Lodge, opened in July 2017.
For more information about any of these Disney vacation offerings, you can visit DisneyVacations.com.