Look for Hidden Mickeys during the Epcot Fall and Spring Festivals. Sometimes they're convincing images, and sometimes they're questionable. What about this image in this year's Food & Wine Festival? It's on Ratatouille's cheese just inside the front entrance of Epcot? (Thanks to Martha Tischler).
The following two images in Epcot are not temporary. The first one is on the loading dock mural at "Living with the Land." A classic Mickey is formed by shrubs (the "head" has yellow dots on it) to the right of the brim of the farmer's hat near the top of the mural.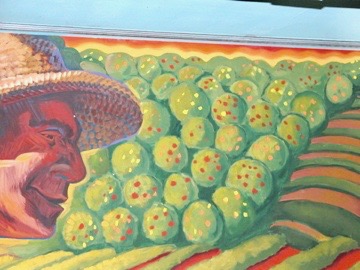 This second Epcot image is inside the "Character Spot." At the right side of the first greeting bay, a white Mickeyesque movie/video camera is on a blue and white monitor screen. (Thanks to the Hade Family).

On a wall along the inside entrance to "Buzz Lightyear's Space Ranger Spin" at the Magic Kingdom, what do you think of this image? Do swirls on the right middle of the side of the 'Green Planet' form a classic (three-circle) Mickey? (Thanks to James Girard).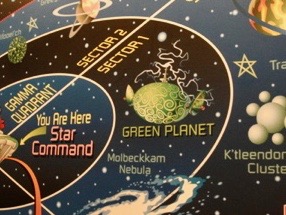 Enjoy the search!