Photographing Pandora – The World of Avatar in Disney's Animal Kingdom at night poses many challenges. The first one I was lucky to avoid having visited just after Hurricane Irma had passed and attendance was way down. People will be everywhere with long lines for the two attractions which will test any photographer's patience. Having said that, try and be courteous of the people there with you. If you use a tripod like I did. Be mindful where you setup so as not to trip people walking by.
Another challenge is the color pallet used in the lighting of Pandora at night. I call it fluorescent RGB for Red-Green-Blue. They are color copier hues like magenta and cyan. Such colors play havoc with digital camera sensors and you have to be careful not to over saturate them or you get a blob of colors with little to no detail. Especially the blue lighting which Disney tends to use a lot in all their parks.
My approach was to find lighting or other colors to mix with the predominate blue lighting. Below, I photographed the Floating Mountains in the Valley of Mo'ara after sunset. The sky was still brighter than the mountains. The long exposure of thirty seconds allowed the many colors found in the valley to come out. I further enhanced the vibrancy of the colors in my post processing using Adobe Lightroom CC while controlling the blue channel. I also photographed in RAW (something I rarely do) so I could adjust the white balance, if needed, in post.
Floating Mountains of Pandora after sunset.
Nikon D750/24-120VR, 30s, f/6.3, ISO 100, EV 0, 24mm Focal Length, Tripod.
Here are three examples of the other ways to mix the colors.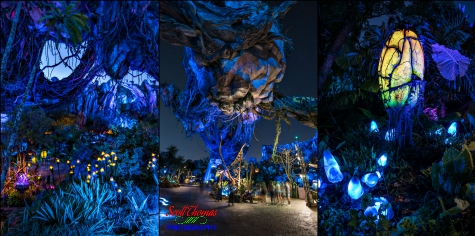 Variety of images from the Valley of Mo'ara in Pandora.
Left: I really loved this composition using the framed sky as a reference. The yellow flowers give the eye a starting point to then wander the scene. Exif: 30s, f/8, ISO 100, EV 0, 48mm focal length, tripod.
Center: People walk and rest under the Floating Mountains mixing the incandescent (human) lighting with Pandora's "natural" blue lighting. Exif: 13s, f/8, ISO 400, EV 0, 16mm focal length, tripod.
Right: I made a large yellow "pod" (anyone know what they are called?) the main subject with mysterious blue cone-like flowers as a complementary color and shape. Exif: 5s, f/8, ISO 800, EV 0, 24mm focal length, tripod.
Noticed I used different ISO settings to change the shutter speed. My camera was in Aperture Priority mode. It got a little breezy as the time went on so I kept wanting to increase the shutter speed to keep motion to a minimum.
Ah, the waterfalls I showed you earlier in the post about Pandora's waterfalls. I knew I would be coming back at night to the same location and here it is. This time I did have a tripod. The reds, blues and greens came out very well.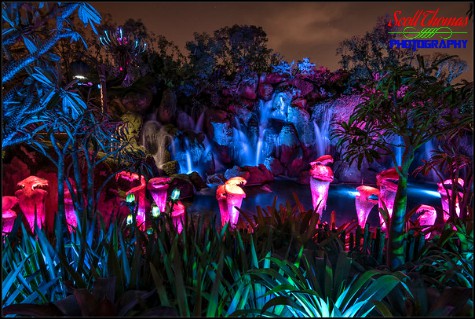 Valley of Mo'ara waterfalls at night in Pandora.
Nikon D750/16-35VR, 30s, f/16, ISO 400, EV 0, 16mm Focal Length, Tripod.
Below is the type of color I was afraid of getting all night. Totally blued out. This started happening the later and darker it got. In comparing this photos with others, a shorter shutter speed and higher ISO would have let the other colors not get overwhelmed by the blue.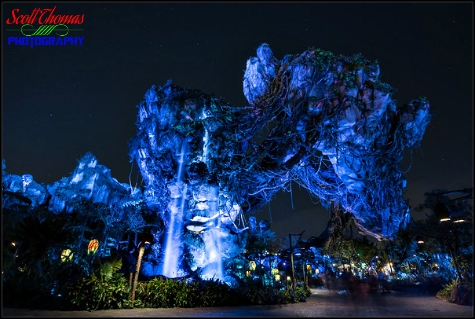 Floating Mountains at night in Pandora.
Nikon D750/16-35VR, 30s, f/16, ISO 400, EV 0, 16mm Focal Length, Tripod.
While I am very happy with these results, I still want to experiment the next time I visit Pandora – The World of Avatar.