Regular readers of my blog probably have read about my family's annual excursion to the winter festival, Now Snowing, at the town of Celebration just outside Walt Disney World. That's right around the corner — already?! — but to tide us over, Celebration Town Center has its Oktoberfest that offers fun fall favorites in much the same format as the winter festival.
The two-night event takes place Friday, October 20, and Saturday, October 21, and is free and open to the public. Hop on a hayride, dance to live music, paint a pumpkin, or just stroll and enjoy the crisp fall air and enjoy the great savings at the lakeside promenade during the celebration of all things autumn.
Instead of the town's signature snowfall, visitors can experience falling leaves on Market Street multiple times each night. The experience works the same way as the snowfall: Simply step into the street at 7, 8 or 9 p.m., and the leaves will begin to swirl around you. No need to stake out a spot or line up early!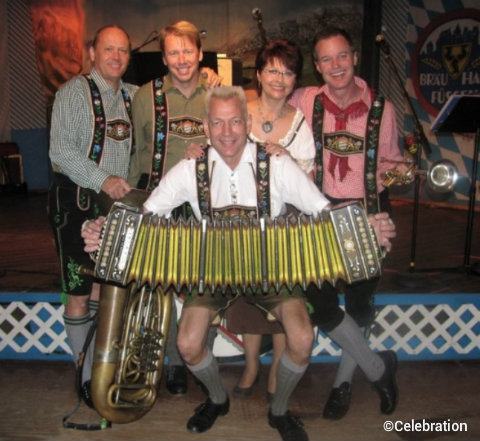 Dan Witucki & Heimatland Musikanten
On Friday, Oktoberfest will be celebrated in the old-world German tradition with music from Dan Witucki & Heimatland Musikanten. The interactive live show includes yodeling and crowd sing-a-longs. On Saturday, Celebration will host "Rocktoberfest" with party band Lovestruck Robot, which is also family friendly.
DJ Tami kicks off Friday's event at 5:30 p.m., which is also when pumpkin painting begins. Dan Witucki & Heimatland Musikanten first take the stage at 6:10 p.m. On Saturday, DJ Tami and pumpkin painting begin at 5 p.m. Singer Tracey Coryell will perform at 6:05 p.m., and Lovestruck Robot starts at 7:15 p.m.
Celebration's 11th Annual Oktoberfest features hayrides from Misty Blue Acres Carriage, the same company that does the carriage and wagon rides during Now Snowing. In the past, the wagon and hayrides gave been $5 per person. The hayrides begin at 6 p.m. and last until 10 p.m. when the festival ends for the evening. (Misty Blue Acres Carriage also provides horse and carriage experiences for Make A Wish children at Give Kids the World Village.)
There are a variety of restaurants in Celebration to fit a range of budgets and tastes. Our family outing usually consists of eating dinner and then enjoying the entertainment. There are some wonderful places to dine, such as Cuban treasure the Columbia Restaurant, but for an inexpensive family meal, try Upper Crust Pizza. Through the years, we have learned that planning to have an early dinner helps avoid a long wait for a table (and also makes street parking, which is free, easier) on weekend nights during events. The later it gets, the more crowded the streets become and the harder it is to find a close parking spot.
Celebration's downtown is a traditional retail and business district modeled after those found in small American towns and built by The Walt Disney Company. Retail shops, restaurants, a town hall, post office and offices are among the downtown businesses. Many of these buildings are situated along a wide promenade circling a lake.