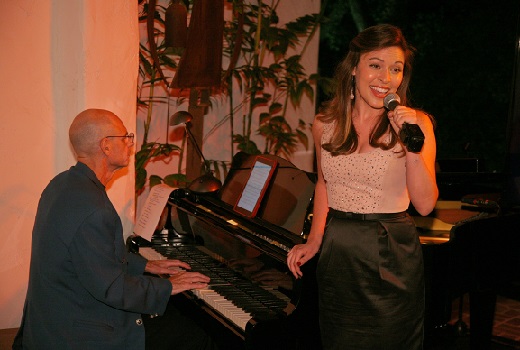 Juliana Hansen, accompanied by Nelson Kole, sings "A Kiss Goodnight" for the guests at the Celebrating Marty Sklar fund-raiser for Ryman Arts. [Courtesy of Ryman Arts]

During dinner at the Ryman Arts fund-raiser in the Hollywood Hills home of Marty and Leah Sklar on Sept. 16, guests were asked to write down words of inspiration for the main benefactors of the evening's event: Namely, the hundreds of talented young people in the Southern California area who participate in the free arts program that the Sklars helped establish 27 years ago.
With pens in hand, the scores in attendance all appeared to be collectively deep in thought for several moments as they transferred their musings to the index cards that will eventually be shown to the students, the idea being for the unseen mentors to provide sage advice and pearls of wisdom to the students as they embark on their life journeys.
If those mentors needed to be inspired themselves, all they had to do was look to the center of each table, where famed quotes from Marty Sklar himself were on display in 5 x 7-inch frames.
Things like: "Celebrate diversity and different points of view" … and perhaps his most oft-quoted gem: "Life is like a blank sheet of paper; you never know what it can be 'til you put something on it!"
Leslie Sklar, left, and her mom Leah were the gracious hosts of the Ryman Arts fund-raiser on Sept, 16. [Courtesy of Ryman Arts]

In many ways, the Celebrating Marty and Supporting Ryman Arts event was the ultimate blank sheet of paper. For years, Marty and Leah Sklar hosted what was known as An Affair of the Art in their home, sharing art, fellowship and an unwavering commitment to the mission of Ryman Arts. The nights were always filled with laughter, camaraderie and a sense that something good was being done … that so many under-served young artists would be able to realize their dreams and reach their full potential.
When Marty passed away on July 27, there was some doubt that this year's fund-raiser, which had been scheduled months in advance, would be held. This was uncharted territory: A Ryman Arts event without Marty Sklar's guiding hand. But thanks to the grace and courage of Marty's widow and their daughter Leslie, the night went on as planned. And what a special night it was.
There was, to be sure, a tinge of sadness in the air as guests arrived during the comfortably warm evening. As they walked up the long, cobblestoned driveway, they were surrounded by lush landscaping, accentuated by stunning metallic works of art.
Upon entering the Spanish-inspired home through the front door, guests walked into the entrance foyer, where they were greeted by a large photo of Marty, smiling, seated on a bench at his beloved Disneyland.
To the left and down a few steps is a comfortable living space where, guests would learn later in the evening, Marty and Leah had recorded a short documentary, Ryman Arts: The Early Years, just a few weeks before Marty passed away.
Off to the left was another room, Marty's office, which was roped off but brightly lighted, so guests could peak in on the place where he ran Marty Sklar Creative, sent out hand-written notes in his famous red felt marker, conducted telephone interviews and did most of the work on his books Dream It! Do It! and One Little Spark! and his untitled final book. On the walls are some of the awards Marty received over the years, as well as photos of Walt Disney. There also were stacks of books, photos of his family members, pictures with many of his colleagues, as well as a sprinkling of Disney memorabilia.
Wayne Hunt, president of the Ryman Arts Board of Directors, addresses the attendees. [Courtesy of Ryman Arts]

During the course of the evening, several of Marty's colleagues, either from Ryman Arts or Walt Disney Imagineering, where he was the creative leader for so many productive years before retiring in 2009, offered their heart-felt remembrances of a man they both admired and loved.
One particularly touching tribute came from Imagineering's Tom Fitzgerald, who referred to Marty as "my second father." As Fitzgerald spoke, several people could be seen dabbing away tears.
"Marty was one in a million!" Fitzgerald added. "We were fortunate he was so generous with his wit and wisdom."
Indeed, generosity has always been a hallmark of the Sklar family. One speaker talked about how a former Ryman Arts student had been accepted into the fine arts program at a prestigious California university. The problem was, he and his family couldn't afford the tuition. When Marty and Leah found out about the student's plight, they set up a scholarship for him.
Several Ryman Arts alumni, including Josie Trinidad, who is now head of story at Walt Disney Animation, Adrianna Arambula and Shane Prigmore, offered their thoughts on Southern California's preeminent free arts program and how important it was to both their personal and professional lives.
Also in attendance were several former and current Imagineers, many of whom Marty often referred to as "my kids." In addition to Fitzgerald, Kevin Rafferty, Frank Stanek, Paul Comstock, Joe Lanzisero and Rick Rothschild were there to help celebrate Marty's long and productive life and honor his legacy. Also among the attendees was Walt Disney's granddaughter, Michelle Lund, the daughter of Sharon Disney Lund.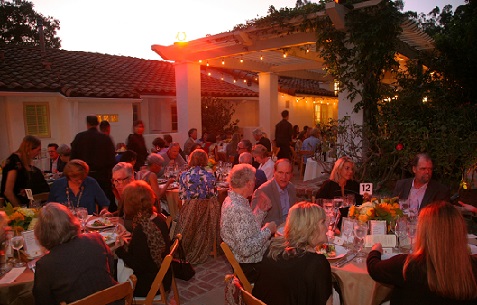 Guests enjoy dinner outdoors on the verandah at the Sklar house in the Hollywood Hills. [Courtesy of Ryman Arts]
According to Rafferty, "A great part of the evening was catching up with old friends I rarely see anymore."
The event was topped off by a stirring rendition of the Richard Sherman-penned song "A Kiss Goodnight" by Juliana Hansen. [Sherman wrote the song in conjunction with the release of the Disney Editions book of the same title, which tells the story of Walt Disney's life through words and beautiful illustrations by Disney Legend Floyd Norman and his wife, Adrienne Brown Norman. Brittany Rubiano is credited as co-author of the book.]
Ms. Hansen is well-known in Disney circles for her work on Disney productions, such as Mary Poppins, voice acting, and Broadway productions, including Les Miserables. Ms. Hansen and Sherman introduced "A Kiss Goodnight" at the D23 Expo in mid-July, a performance that touched Marty deeply.
It was a fitting way to end the evening: Warm, poignant and powerful.
As Rafferty put it: "Leah and Leslie are incredible people. The evening went exactly as Marty would have wanted it to."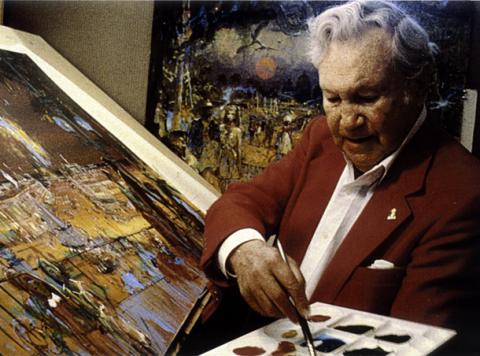 Disney Legend Herb Ryman. [The Walt Disney Company]

More on the fund-raiser and Ryman Arts
The program was hosted by NPR radio personalty Kai Ryssdal. Dinner was prepared by Alexandra Poer of alexandra's table and Gale Kohl of Gale's Restaurant. Wines were provided by Frank and Irene Stanek of Chareva Vineyards and Ron Miller of Silverado Vineyards.
Ryman Arts is a not-for-profit fine arts education program based in Los Angeles. It is named in honor of Disney Legend Herb Ryman, the man who drew the first concept drawing of Disneyland in 1953, as well as concept drawings of Walt Disney World in the 1970s and Epcot in the 1980s. Before and after his career with Disney, Ryman was a prolific artist who worked on a number of films for MGM Studios during Hollywood's "golden era." His pre-Disney screen credits include the Emerald City scene in The Wizard of Oz. He also was the art director for Fantasia and Dumbo.
Ryman Arts was founded in 1990 by Marty and Leah Sklar, Ann and Buzz Price, Lucille Ryman Carroll and Sharon Disney Lund.
The organization provides free art classes in drawing and painting with master teachers to Los Angeles-area high school students. It began with 12 students and has grown to several hundred. The students, from more than 80 Southern California high schools, take classes at either the Otis College of Art and Design or Cal-State Fullerton. For more on Ryman Arts, go to www.rymanarts.org.