The 2017 Epcot International Food & Wine Festival begins tomorrow — and lasts a mouth-watering, record 75 days. My family and I look forward to this special event every fall. For years, my children, who are now a tween and teen, have enjoyed sampling the new foods and perennial favorites. We have learned a few tips and tricks over the years that we think will help other families maximize their time and increase their enjoyment of the festival. Here are our top suggestions:
** The day and time you visit the World Showcase promenade for the festival makes a huge difference in how your experience will play out. The best time to go is at 11 a.m. (when the food booths open) on weekdays to avoid crowds. However, that's obviously not practical for families with kids in school. So, if you must go on the weekend, opt for Friday afternoons and evenings or Sunday mornings. The most crowded days by far at the festival are Saturdays, when many locals visit Walt Disney World.
** Another strategy for avoiding the thickest crowds is to start sampling foods and beverages farther around World Showcase, rather than at the front of the 1.2-mile loop. Take the Friendships Boats across the lagoon to either Germany or Morocco and begin your culinary tour at one of those countries. Bonus: Parents of young children know that even Disney transportation counts a ride in kids' minds and is cause for excitement!
** If you plan to be at Epcot at park opening at 9 a.m., you can still enjoy several Food & Wine Festival activities, even though the marketplaces do not begin serving until 11 a.m. The Festival Center is located in Future World at the front of the park. There, families can walk through the Ghirardelli Chocolate display, which includes amazing sculptures made of chocolate; demonstrations of the process of turning the bean into a bar; and samples for each visitor. Guests also can see a short movie about the making of the Epcot International Food & Wine Festival, as well as shop for exclusive merchandise, visit a snack station, or attend a cooking demonstration in the air-conditioned center.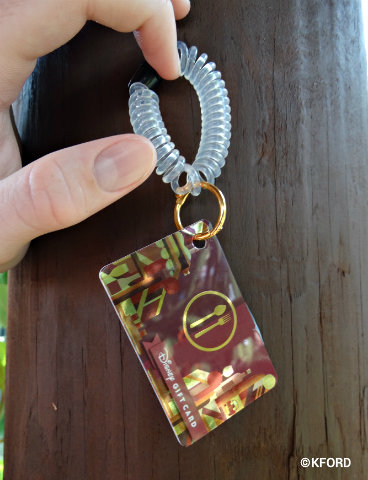 ** When you get to Epcot, purchase festival gift cards that include the wristband. If your children are old enough to trust, allow each to wear one of the gift cards. My kids always get a kick out of paying, and it's easier for my husband and I, too. If you do not want your children handling the money, the wristlet gift cards are still a good idea for the adults because it means not having to dig through your purse or wallet to pay at each marketplace. Swipe and then eat!
** Get a festival passport — available at the Festival Center or each marketplace — for each family member. There are stickers included to commemorate each marketplace you visit, and kids usually love to do this. The passport also lists all the menus, so you can keep track of what you have tried and make your Bucket List for the rest of the festival.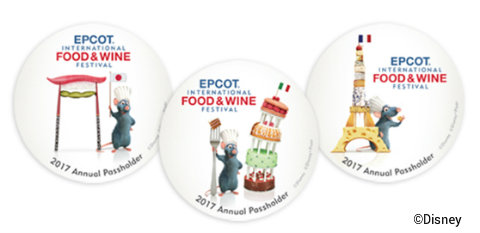 ** Walt Disney World is again offering its passholders each a collectible gift for visiting the Food & Wine Festival. This year, there are three buttons with designs based on Disney-Pixar's "Ratatouille," and guests can collect one per visit. Annual passholders must present their pass and a photo ID before receiving a button.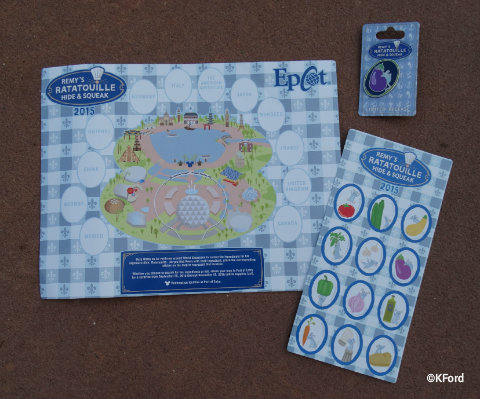 ** Finally, Remy's Ratatouille Hide & Squeak game returns and takes family members on a scavenger hunt around World Showcase as the little chef collects ingredients for his signature dish. Maps and stickers for this interactive game can be purchased at several locations, and the price includes a surprise that is rewarded when the map is redeemed before the end of the festival. (The 2017 surprise is different from the pins participants could choose from in past years.)
The 22nd Epcot International Food & Wine Festival runs through Nov. 13. Admission to the festival is included with regular admission (or annual passes) to Epcot.
Coming soon on my blog: Favorite festival foods for families. (Try saying that quickly five times!)