Various paintings hang on the walls in The Plaza Restaurant in the Magic Kingdom. This painting is on a rear wall to the right as you enter. Two sets of small circles on the front of this woman's dress suggest classic Mickeys. One group of circles is near and below her right hand. The other sets of circles repeat down the middle of her dress. Any Hidden Mickeys here? (Thanks to Wayne and Angie Vaughn).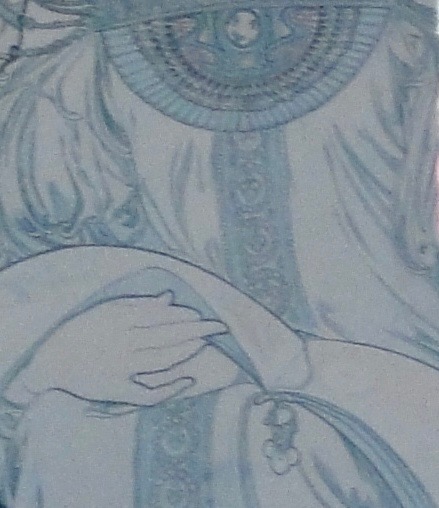 On the Living with the Land ride in Epcot, groups of bushes in the field to the right of the farmhouse on the left side of your boat might come together as classic Mickeys? (Thanks to Kelsey Knee).

When you board The Seas with Nemo & Friends ride, look down over the left side of your clam shell and spot this image on the bottom platform of your vehicle. A Hidden Mickey? (Thanks to James Girard).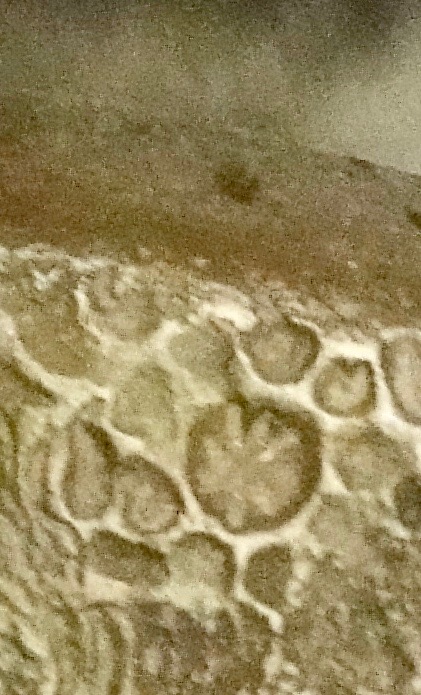 Large sets of gears, partially covered, are in the outside walls on both sides of the rear entrance (the doors facing toward World Showcase) to the MouseGear shop. This one seems to be a pretty good classic Mickey image to me. (Thanks to Kolding Rasmussen).

What about these circular stones in the ground? Find them in a painting on the first floor lobby of the Polynesian Village Resort, near the elevators. A Hidden Mickey? (Thanks to Rebecca Friedman).

Long live Hidden Mickeys!