It's finally here! Well, just about. In a little over a day, Disney "Descendants" fans will be able to find out what's next in the lives of the children of infamous Disney villains when the sequel premieres. July 21 has been a highly anticipated date for many Disney Channel fans, including one at my own house. And now we have learned about a few surprises for fans, too.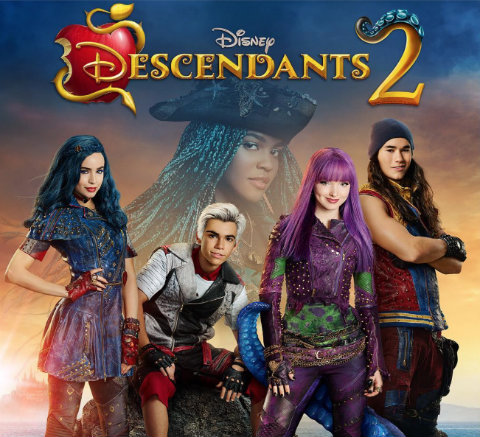 "Descendants 2" will air simultaneously at 8 p.m. ET Friday on Disney Channel, Disney XD, ABC, Freeform and Lifetime. And ABC announced this week that fans should stick around afterward for "Descendants 2: ABC After-Party," which will air immediately following the sequel at 10:30 p.m. The principal cast — Dove Cameron, Cameron Boyce, Sofia Carson, Booboo Stewart and China Anne McClain — plus Director Kenny Ortega will take viewers on a visual and verbal tour of their experiences making the movie.
Expect to get a look behind the scenes on set and see some outtakes that didn't make the final cut of the film. Plus, if you missed last week's Disney Parks Blog livestream of the cast serving as grand marshals in Disneyland's parade down Main Street U.S.A., you can see that, as well as the actors meeting fans at the red carpet premiere of their movie.
With the cast doing press for the movie's release, we're learning some details about the "Descendants 2" storyline, too. No spoilers here; just a few intriguing details! Dove Cameron, who plays Maleficent's daughter Mal, revealed earlier this week that the movie will start with time jump of six months. Some of the characters are still struggling to fit in, though.
"My character Mal is actually having the hardest time adjusting, considering that she is the most villainous of them all," the actress explained on "Live! With Kelly & Ryan," according to peopleschoice.com. "It's really not meshing with her so she's trying on this whole princess cape persona to try to sort of fit in and be accepted by these people that she hopes to find a home with but she's finding that it's against her nature."
On the other hand, Sofia Carson told J-14.com that her character Evie has really grown up and is very happy being a fashion designer in the second film. She even has her own clothing line, Evie 4 Hearts. In real life, girls can find outfits inspired by Evie in the D-Signed collection sold at Kohl's.
Brenna D'Amico — who plays Jane, the daughter of Fairy Godmother — revealed a few more details about "Descendants 2" to Variety.com. "There's a lot more action – the sets are bigger, the music numbers are insane, everybody's amazing, and the little love stories they've plopped in there," she said.
The "Descendants 2" soundtrack also will be available tomorrow (July 21), and the DVD will be for sale Aug. 15. Bonus features will include:
** Cast Secrets – Personal secrets are revealed by cast members Dove Cameron (Mal), Cameron Boyce (Carlos), Sofia Carson (Evie), Booboo Stewart (Jay) and China Anne McClain (Uma) during the filming of the movie.
** Bloopers – The cast cracks up on set during some crazy takes.
** Deleted Song and More — Includes an extended song, a deleted song and two alternate endings.
** Descendants: Wicked World – A collection of all the animated shorts from season 1.
Disney describes "Descendants 2" this way: "The Villain Kids are back in a high-stakes adventure that's badder than ever! When the pressure to be royally perfect becomes too much for Mal (Dove Cameron), she flees Auradon only to have Evie (Sofia Carson) and the rest of the gang sneak onto the Isle to retrieve her. But there's a new, self-proclaimed queen of evil in town: Mal's archenemy Uma (China Anne McClain), daughter of Ursula. Together with her pirate crew including Captain Hook's son Harry and Gaston's son Gil Uma unleashes havoc on Auradon! With swashbuckling action, amazing song & dance numbers and must-see bonus features, Descendants 2 rocks all-new ways to be.. W-I-C-K-E-D!"