If you or someone in your family loved the "Dolphin Tale" movies, this month might be the perfect time to visit Clearwater Marine Aquarium, where the film was shot and Winter and Hope, the dolphins, live. The young stars of the movie — Nathan Gamble (Sawyer), Cozi Zuehlsdorff (Hazel) and Austin Highsmith (Pheobe) — are visiting the aquarium again, and fans can meet them.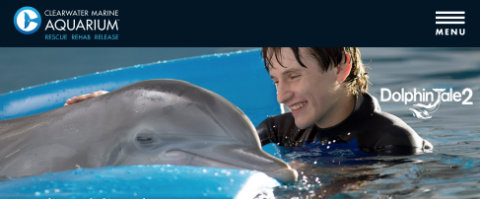 Gamble will be at CMA July 22 through 25; Highsmith, July 23 through 28; and Zuehlsdorff, July 24 through 29. So, July 24 and 25 will be the only days when visitors can meet all three actors. The other days, they will appear singly or in combinations. For example, Gamble and Highsmith will be greeting guests together on July 23, and Highsmith and Zuehlsdorff will appear July 26 through 28.
Here is the schedule:
July 22 and 23 in Spectrum Theatre at Clearwater Marine Aquarium:
12 p.m. Autographs and Photos
2:30 p.m. Autographs and Photos
July 24 and 25 at Winter's Dolphin Tale Adventure (downtown Clearwater):
12:30 p.m. Q&A Session moderated by David Yates
2 p.m. Autographs and Photos
July 26 through 29 in Spectrum Theatre at Clearwater Marine Aquarium:
12 p.m. Autographs and Photos
2:30 p.m. Autographs and Photos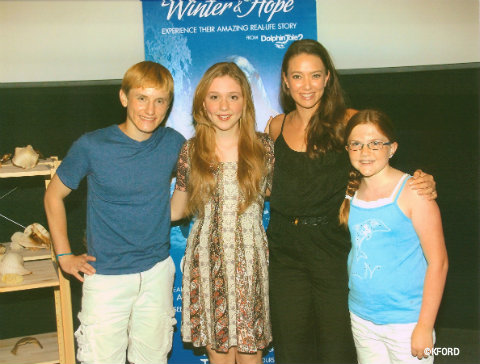 The trio of actors has made several appearances at CMA over the years to promote "Dolphin Tale" and "Dolphin Tale 2." My daughter was fortunate to be able to meet them a few years ago, and she was thrilled with the opportunity to talk with the stars of her all-time favorite movies.
If the meet-and-greets work the same way as ours did, CMA had one of its photographers there, and you have the option to purchase the professional images afterward as prints or digital images. You also could take your photos. The event itself is included in the price of admission.
When we visited, the three actors joined Clearwater Marine Aquarium CEO David Yates for a question-and-answer session, much like the one scheduled later this month, that we attended. You can view it here.
Clearwater Marine Aquarium is just a 90-minute drive from Orlando. It's not a planned tourist attraction, so don't expect elaborate displays, shows and rides. What you will find at the working hospital is amazing in its own right — volunteers and staff working to save animals, and you can visit the creatures and talk with the trainers. Plus, if you've seen "Dolphin Tale" and "Dolphin Tale 2," it's fun to recognize and walk through the places featured in the movie.
Included in your ticket to Clearwater Marine Aquarium is transportation and admission to Winter's Dolphin Tale Adventure in downtown Clearwater. This location shows images, re-creations and actual props from the movie. For a complete explanation of what you can do at the two locations, see my previous post.
NOTE: Prices and operating hours were correct at the time of that blog's publication, but they have since changed. Tickets can be purchased in advance online at seewinter.com at a discount or in person at the box office.