Our nation celebrates its birthday a week from today and if you're looking for a place to celebrate with fellow Disney fans outside the theme parks, the town of Celebration is hosting its annual "A Sci-Fi 4th of July."
Celebration is a master-planned community originally developed by The Walt Disney Company and located just off Walt Disney World property. It hosts free community events throughout the year in its Town Center, the downtown area that is a mix of retail shops, restaurants and offices.
This year, visitors are invited to come dressed as their favorite Sci-Fi or superhero characters for the chance to win prizes. There will be two categories for judging: those 15 and younger and those 16 and older. The costume contest takes place at 7 p.m.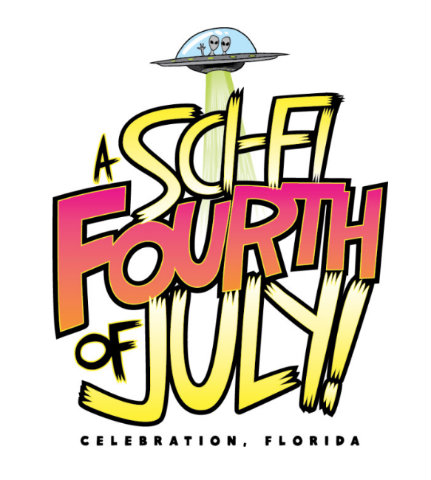 A patriotic celebration begins at 9 p.m. with the singing of the national anthem by Gina Marie Inacandela and a synchronized fireworks spectacular set to a Sci-Fi themed soundtrack. (Fireworks are scheduled to end at 9:25 p.m.)
Celebration's A Sci-Fi 4th of July will be hosted by Mark Daniel who also hosts "Inside Disney Parks" and the Disney Parks Blog LIVE Streams. The evening starts at 4 p.m. when DJ Tami begins performing. Katty Shack, known for its '80s covers, takes over from 5:30 to 7 p.m. and returns to the stage from 7:30 to 9 p.m. and 9:30 to 10 p.m. Also, don't miss The Dixieland Jazz Band, made up of former members of the "Rosie O'Grady's Good Time Band," which will be performing patriotic favorites for the whole family to enjoy.
In addition, Celebration's Town Center will feature a KidZone with an assortment of inflatable games for kids and teens, such as a jousting area and bounce houses, face painting and more. And, of course, the shops and restaurants will be open for business. There are some wonderful places to dine, such as Cuban treasure the Columbia Restaurant, but for an inexpensive family meal, my family and I like the Market Street Cafe.
Admission and parking are free. There also will be a park-and-ride service from 215 Celebration Place that starts at 5 p.m. and runs through 11:30 p.m.
A Sci-Fi 4th of July is sponsored in part by Melia Suites Hotel, The Celebration Town Tavern, Axis Magazine and Sam Adams.