I've been wondering about a few images that folks have let me know about. This first image is on the steampunk dragon (Maleficent) in the Festival of Fantasy parade. Find it on the plate just below the right shoulder joint. Three faint circles in the metal might form a classic Mickey. What do you think? (Thanks to Andy Webb).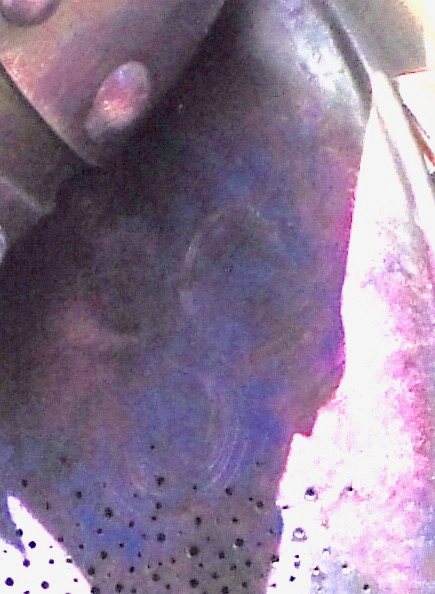 As you know, lots of potential Hidden Mickeys are scattered through the newer areas of Fantasyland. Here's a collection of circle depressions in a rock wall that comes close to forming a classic Mickey, maybe? As you approach Be Our Guest Restaurant, look over the left side of the bridge at a wall of the restaurant. The image is at the lower left of a block in the fourth row of blocks from the top of the wall and not far to the left of the pillar at the end of the bridge. (Thanks to Anthony Flynn).

Walk to the restrooms located near Fairytale Garden. In the wall between the restrooms is a green "Fire Hose" door. Indentations are hammered into the horizontal black metal strips that cross the doors. Three indentations near the middle of the bottom right strip might resemble a classic Mickey, tilted to the left? (Thanks to Suzanne Perez).

On the ceiling about halfway along the entrance queue for Splash Mountain, and near a wall picture of Brer Fox, you'll walk under this image made of the ceiling mount for a lantern and two nearby rocks. Is it close enough? (Thanks to Terry Berringer).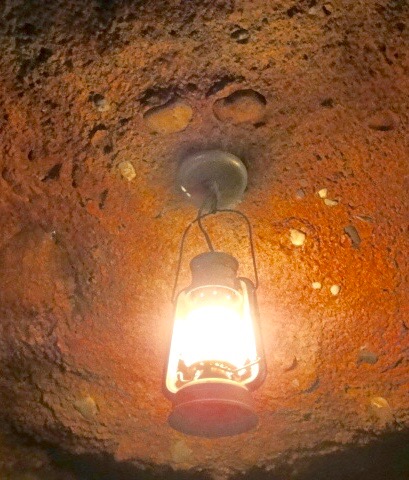 Keep up the search!