CORRECTION: (4/24) For some reason, I thought this breakfast was $24/per person. It is $34 per person. At that price, this breakfast is not worth the cost until the food greatly improves.
On April 2, 2017, the Boardwalk's Trattoria al forno converted its breakfast offering to a character meal called the Bon Voyage Adventure Breakfast. Rapunzel and Flynn Rider from Tangled and Ariel and Prince Eric from The Little Mermaid are the showcased characters. Linda and I have always enjoyed breakfast at Trattoria so we thought we'd give it a try.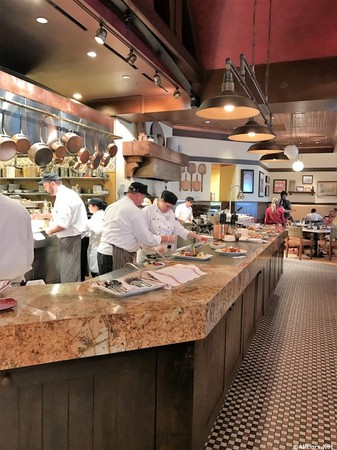 Two of the characters, Ariel and Rapunzel, you can see in the parks, but the big hit of this meal is the ability to see both Flynn Rider and Prince Eric! In fact, in all my visits to Walt Disney World, this may have been my first encounter with Prince Eric (excluding parades, of course).
The breakfast offering takes a few items from Trattoria's former breakfast menu with some twists and new names.
Our server, Mary, was great. She first approached the table and gave each of us an Adventure Journal and a set of character autographs.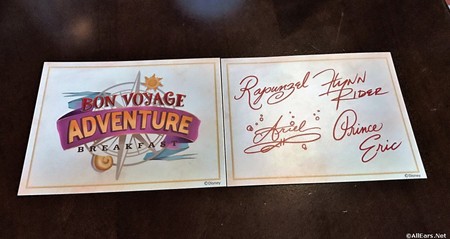 Despite our group being two adults with no children, we got the full themed treatment from Mary and we really appreciated it. The meal begins with a bowl of pastries for everyone at the table to share. Keeping in the theme, there is a clam shell pastry and also a braided chocolate bread (Deb's favorite). And they are served in a frying pan! She took our beverage orders and left us to decide on our selections.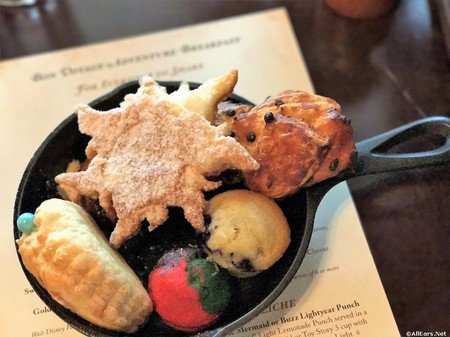 You have two choices for a "appetizer": a Fruit Salad or a Berry, Yogurt and Granola Parfait. We got one of each.
For me, the yogurt parfait was way too sweet. I could barely get two spoonfuls down. I typically eat Greek yogurt, and this was MUCH different. Also on top was layer of something sweet, like honey, but wasn't the right consistency. The red item on my yogurt represents Sebastian from Little Mermaid.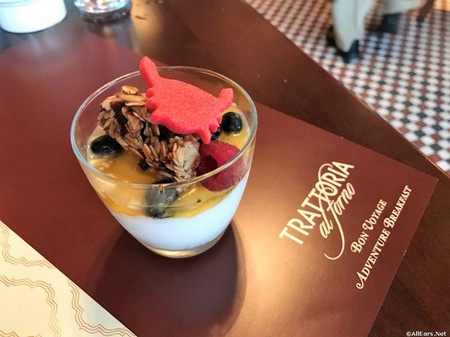 Linda's fruit cup was the standard melons with a couple berries. It was supposed to come with a little crown, which was missing. The melons were good, but the berries were mushy.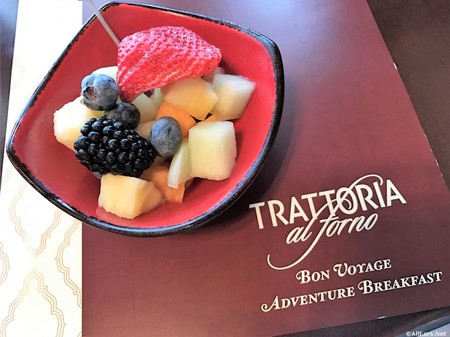 There are seven entrees to choose from, including a breakfast calzone, pancakes and Tangled eggs. You can find the complete menu HERE
Linda chose the Golden Frittata – Prosciutto di Parma, Piquillo pepper, scallions and pecorino Romano Cheese with roasted potatoes. This sounded so much like the fritatta on the old breakfast menu so our taste buds were expecting that. But that was not quite what we got at all. Linda didn't care for all the peppers in her frittata or the strong taste of the melted cheese.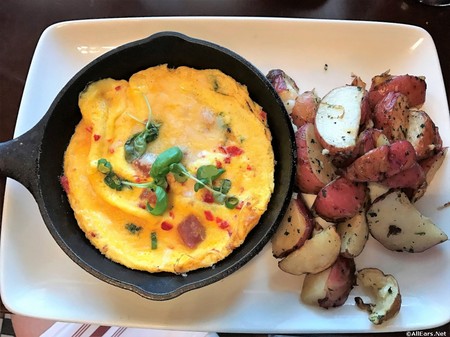 I ordered the Royale Breakfast which included Oak-grilled steak, cheesy-egg torte, and Fonduta with roasted potatoes and crispy onions. I ordered it without the onions. Our server asked how I wanted my steak prepared, and I said "medium." I didn't want it still mooing!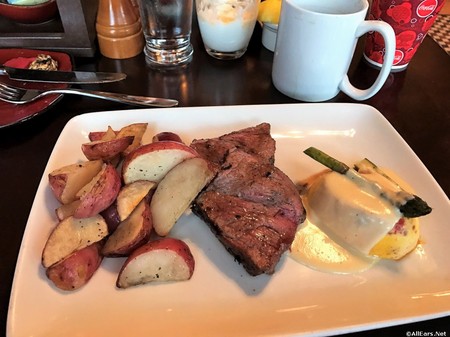 The steak was actually good with a nice flavor. However, most of it was on the rare side. The potatoes were great and served hot — hard to mess those up. Unfortunately, the "cheesy-egg torte" was bizarre and mostly inedible.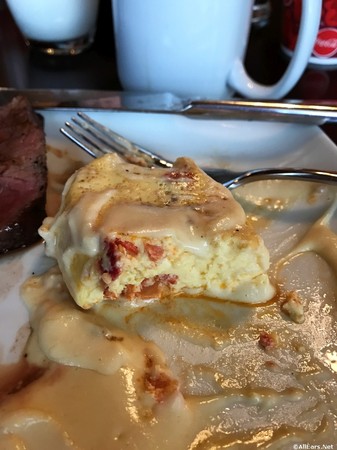 The "Fonduta" was cheesy and almost overpowered the egg torte. The torte was full of red pepper and as I said, not good at all. I barely got my first bite down. Linda tried a bit and totally concurred with my assessment.
At some point, our server came back to explain the Bon Voyage Adventure Journal. It opens up to a cartoon map of Walt Disney World showing all four parks. Kids (or adults) can fill in their "favorite ride", "favorite snack" favorite souvenir, etc. We thought this map was a pretty cool thing that some kids would enjoy.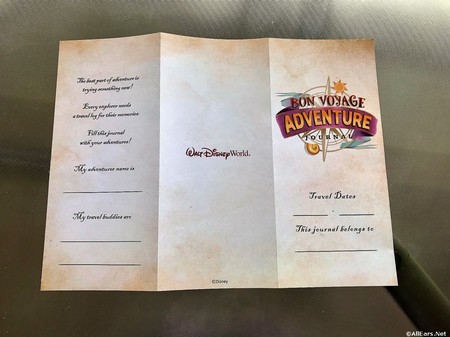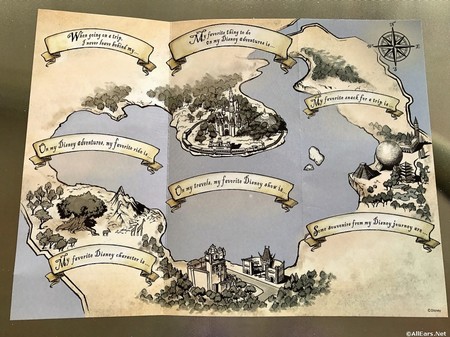 Characters are the absolute best part of this experience and make it worth the money.
When we entered the restaurant we noticed most of the characters were up near the entrance. It was a good 20-25 minutes after we were seated that we saw any characters.
An announcement was made introducing the Tangled characters while "I Had a Dream" played in the background. Flynn and Rapunzel made their way partially around the dining area and then disappeared into a portion of the dining room we were unable to see. (We were seated in the far back corner.) We assumed they were dancing. Once the song was coming to an end they came to the back of the restaurant and started meeting with each table. Note that they don't visit the tables together.
I have to say Flynn was one of the best, if not the best Flynn I have ever met and Rapunzel was pretty fantastic and reminded me of her when I met her a couple years ago at the Magic Kingdom. They were totally in character, playful, personable and in no apparent rush to leave. We had a great time with them.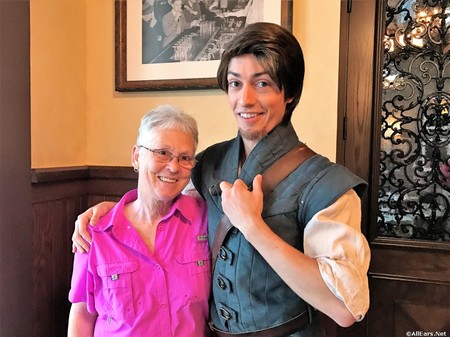 Soon thereafter, "Under the Sea" began playing and Eric and Ariel made their way into the dining room. As with Flynn and Rapunzel, The Little Mermaid characters made their way around the dining room. Again, they were very entertaining and interactive with us and all the tables, children or not. That means a great deal to us, as sometimes characters don't see kids and we get a wink and a quick pic and that's it.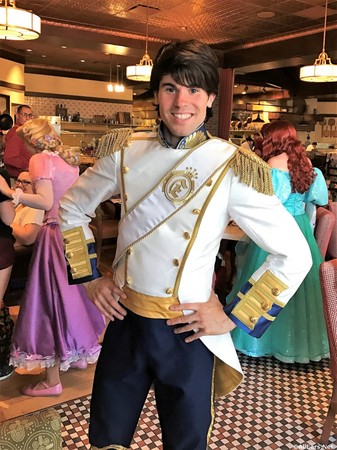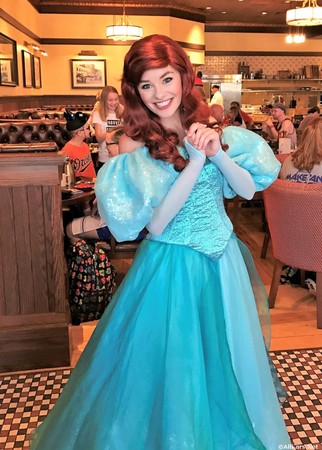 The character attendant working the room did an excellent job making sure the characters flowed through the room and checked back with each table to make sure everyone saw each character.
Please see above correction: At $34 per person this character meal is not worth the cost until the food greatly improves.

For the characters, the experience was certainly worth the cost is $34 per person (not $24 as originally stated: plus tip and tax. However, keep in mind unlike other character meals, this is not an all you care to eat menu. You can apply your Tables in Wonderland card or Annual Passport discount, though.
Go for the fun, not for the food!
P.S. At the podium, the cast members asked each party if they realized this was a character meal. For those who didn't realize that and want to dine without characters, there is a small back room for those folks. The breakfast menu back there is pretty similar to the character breakfast menu and when you add up the entrees and beverages, you are at the character meal price. The traditional breakfast menu is no longer available.