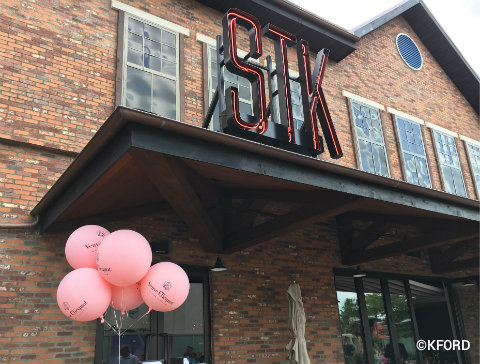 Looking for a weekend brunch in Orlando that offers more than the typical breakfast foods served at a traditional buffet?
Just in time for Easter, STK Orlando at Disney Springs has launched its upscale brunch. The new service includes fun twists on favorite foods, the hefty steaks STK is known for, new cocktails and a DJ spinning tunes, giving the brunch more of a party atmosphere.
Guests are seated on the lower level for this event, with their choice of tables, booths and bar seating. The DJ is positioned centrally near the stairs, so if you prefer a quieter atmosphere, you might want to request a table farther away from the action.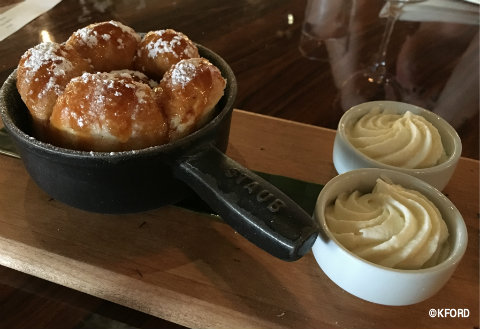 Monkey Bread
STK's brunch has a separate menu, and diners can choose from appetizers, sandwiches, salads, entrees, sides and steaks. Our table started with the Cinnamon Monkey Bread with Cream Cheese Icing ($6), which is perfect for those with a sweet tooth. Or, try a bag of Stuffed Donuts with a new flavor daily for the same price.
Nueske's Smoked Bacon
The appetizers offer new, interesting selections, such as the Hangover Cerviche with shrimp, mussles, crab, octopus, jalapenos and house-made clamato ($21), as well as popular dishes from the main menu, such as the Tuna Tartare with Hass avocado, soy honey emulsion and taro chips ($18) and the Lil' Brgs with Wagyu beef, special sauce, sesame seed bun ($18). I tried the Nueske's Smoked Bacon with balsamic BBQ, celery leaves and pickled onion ($16). It was a beautiful presentation and a thick piece of meat — not at all what most of us think of as bacon.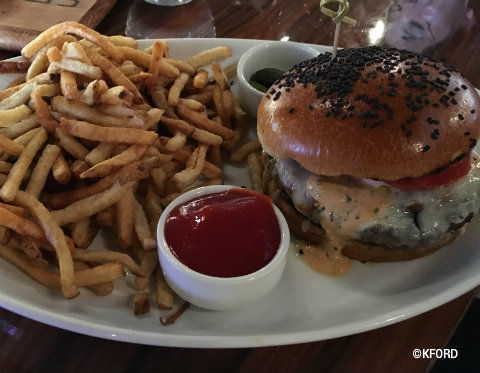 Big Lil' Brg
For those who have a favorite in the classic Big Lil' Brg ($24), it is available during brunch. Guests also can choose the STK Salad ($23), which consists of skirt steak, tomatoes, chimichurri and Point Reyes blue cheese, or the Beef Short Rib and Egg Sandwich ($19) with pickled onions, aji amarillo sauce and hand-cut fries. One of the guests at our table ordered the Avocado Toast ($16) with poached eggs, smoked bacon and shaved radishes, and she really enjoyed it.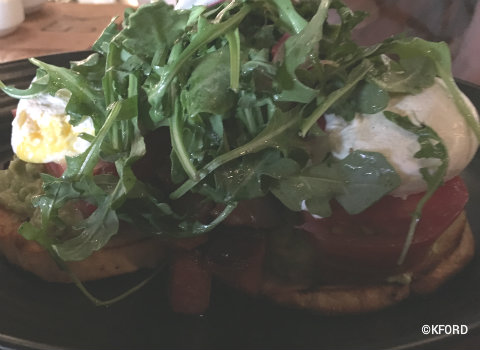 Avocado Toast
Among the entrees, diners will find Shrimp & Grits ($23) and Old School with eggs, thick-cut bacon and fingerling potato home fries ($16), but there are also the inventive Fried Chicken & Funnel Cake served with sriracha honey, lime and burnt onion powdered sugar ($25) and the Lemon Ricotta Pancakes with marinated berries, lemon curd and whipped cream ($14). My companion tried STK's take on the popular chicken-and-waffles combo and thoroughly enjoyed it, while I sampled the pancakes, which were delicious. Portion sizes at the STK brunch are quite generous, and I could have easily shared with another person or taken home plenty of leftovers.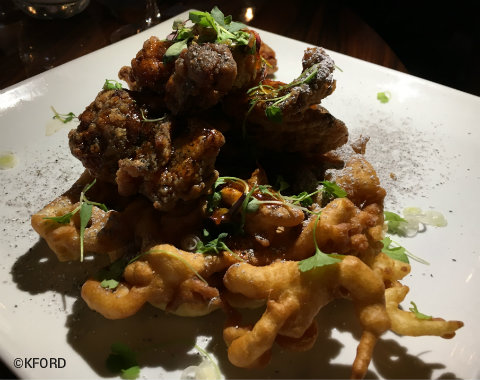 Fried Chicken & Funnel Cake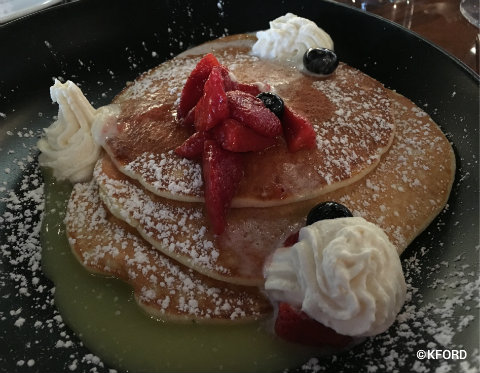 Lemon Ricotta Pancakes
For those looking to impress, The Ultimate Brunch for Two serves up Dry Aged Tomahawk Steak, Butter Poached 2 Pound Lobster, King Crab Scrambled Eggs and a Bottle of Veuve Clicquot ($275). And the restaurant's signature steaks are available in a variety of sizes and cuts with toppings and sauces.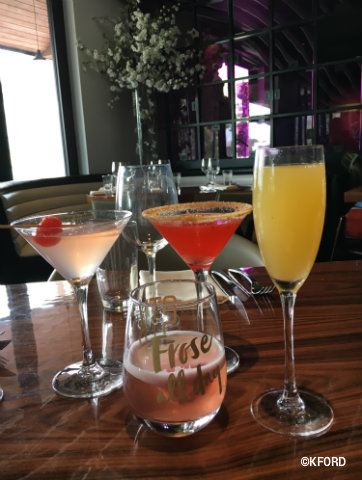 On the cocktail menu, guests will find Frose, raspberry sorbet dropped in chilled rose ($13); a mimosa with apple, melon and citrus ($12); a Jolly Rancher-flavored martini, whose flavors will change weekly ($14); and the Strawberry Cobbler ($15) from the main menu, among other choices. I tried the Strawberry Cobbler, which has Belvedere, fresh muddled strawberry and a graham-cracker crust on the rim of the glass. It's delicious, especially for those who don't like drinks with a heavy alcohol taste.
Brunch is served from 11 a.m. to 3 p.m. on Saturdays and Sundays, and reservations are available by calling the restaurant directly at 407-917-7440. The restaurant will have special offerings for Easter Sunday, Mother's Day and Father's Day, as well as a monthly brunch party with special menu items, themed cocktails and live entertainment.
DISCLAIMER: I was a guest of STK Orlando on the first day of its new brunch. My opinions are my own, and this did not affect my story.