I'm a big fan of Disney's Imagineers! They do a terrific job.
One of the things that continually impresses me is the little details that they build into the theme parks, sometimes in the most unusual places. Some of them are right in the middle of high traffic areas yet people walk right past and never notice. As an example, remember the blog titled "Science at your Feet" I wrote few months ago? There it is, right under your feet as you walk toward Soarin', yet very few people ever notice it!
Today we'll look at an interesting feature that the Imagineers built in an out-of-the-way place. It's a history of EPCOT; a pictorial timeline of the theme park.
This timeline isn't the least bit obvious, in fact it's just the opposite . . . you have to go looking for it. But it's worth the time you spend tracking it down!
As you walk south from the park entrance, heading toward World Showcase, keep your eyes pointed to the right. Between the Fountain View Restaurant and Club Cool you will see the doors pictured below. They're way in the back, behind that umbrella.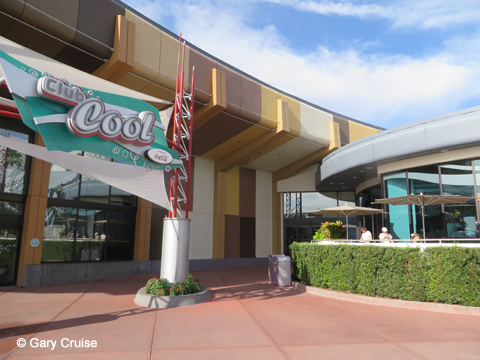 Walk through those doors and look around. You will find this interesting timeline on one of the walls. Carol is standing at the beginning, on the extreme right.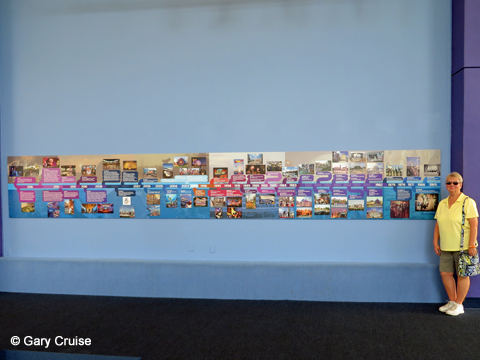 The first date, beside her shoulder, is 1965, when Walt first announced "The Florida Project" As you move toward the left you move forward in time, with 2016 on the extreme left.
Here's a closer look at the earliest years. Click on each of the next four images to see a larger version.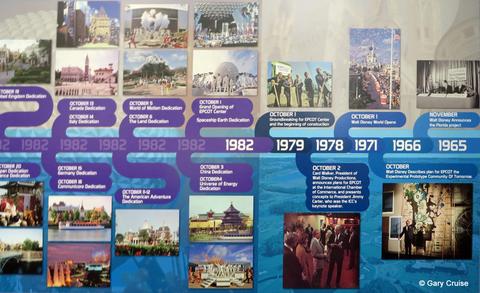 There was a lot happening in 1982. The park opened October 1st and a number of pavilions were dedicated during that first month!
From 1988 to 2003 the park continued to change, as new attractions were added and older ones were updated. Do you remember Food Rocks, The Wonders of Life and Communicore?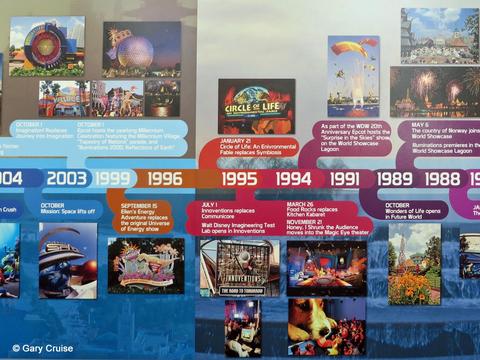 The pictorial time line currently ends with the 2016 addition of "Soarin' Around the World" and "Frozen Ever After", but of course there's plenty of wall space available in those back corridors to add more and more as the park continues to change and grow.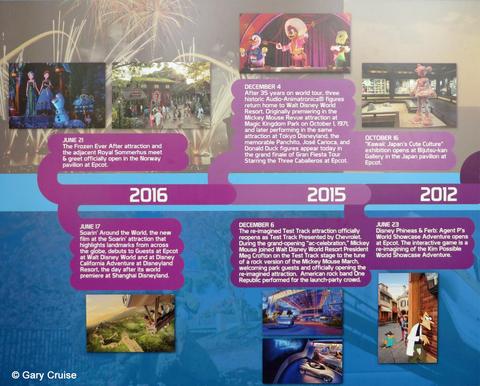 Stop by some time and check it out! It's a great place to hide out during a Central Florida thunderstorm, and a great place to cool down on a sweltering summer day!