A promotional tour for the upcoming Cars 3 movie is in Orlando for the weekend and it's completely free and open to the public. Here's your guide on what you can see and do, along with some tips for making the most of the event.
** The Road to the Races tour kicked off yesterday at Disney Springs, and it continues through Sunday. Hours are 11 a.m. to 7 p.m. today and Saturday and 11 a.m. to 5 p.m. Sunday.
** Road to the Races is set up in the old bus loop area, which is located outside Once Upon a Toy store on the Marketplace side. Your best bet for parking is the Lime garage, which is free.
** On the first day, we saw folks lining up about an hour before the Cars 3 area opened. I wouldn't be surprised to see queues other days, given that the event takes place in a limited space and officials will want to manage crowds for a popular franchise.
** So, what can you and your children do at the event? One of the coolest things is the mobile Cinetransformer 90-plus-seat air-conditioned theater where you will be able to view a 10-minute (or so) film that shows some elements of how the animated movie was made and includes an exclusive clip from the actual movie. It's upbeat and most likely will get you excited about the release of Disney-Pixar's Cars 3 on June 16.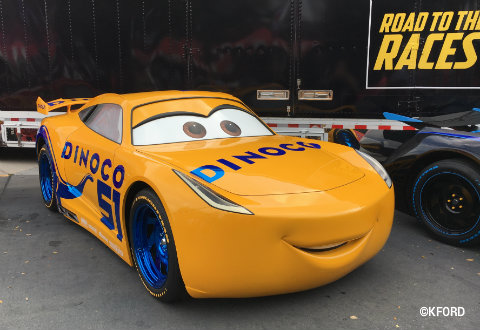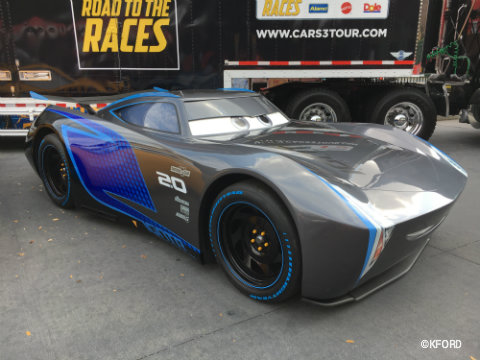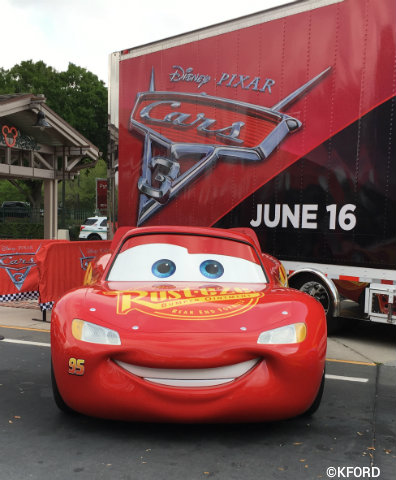 ** Another big attraction is, of course, "meeting" Lightning McQueen and two new characters from the movie, Cruz Ramirez and Jackson Storm. All three are life-size models that guests can pose with for photos.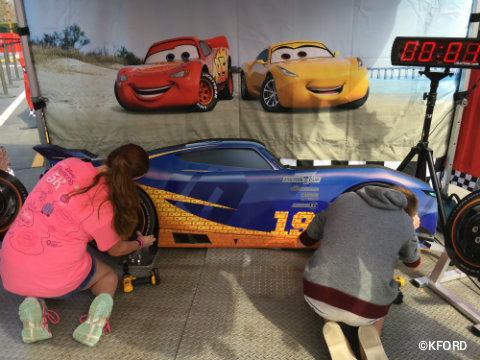 ** There are plenty of other activities to keep everyone happy, too. Even at ages 12 and 14, my kids enjoyed competing against each other to see who could change a tire the quickest and become an honorary member of the pit crew. That competition was sponsored by Coppertone. They also liked the street art booth, sponsored by Alamo Rent A Car, that invited them to color on a giant mural of Lightning McQueen and friends.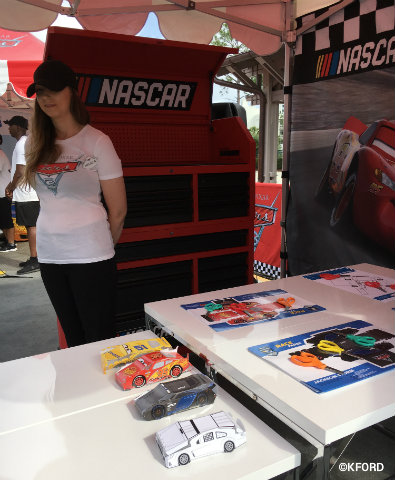 ** Freebies include make-and-take cardstock Cars 3 characters (sponsored by NASCAR); samples of energy-boosting smoothies (Dole); and temporary tattoos, toothbrushes and toothpaste (Crest).
** Don't worry if you forget your camera! At least two of the booths have cameras set up to take photos and then text or email them to you.
The Road to the Races tour will make 27 stops, including Disneyland in California right before the movie opens in theaters. To see the full schedule, go to CARS3tour.com
DISLAIMER: I was a guest of Walt Disney World at the Road to the Races tour at Disney Springs. This did not affect my story; my opinions are my own.