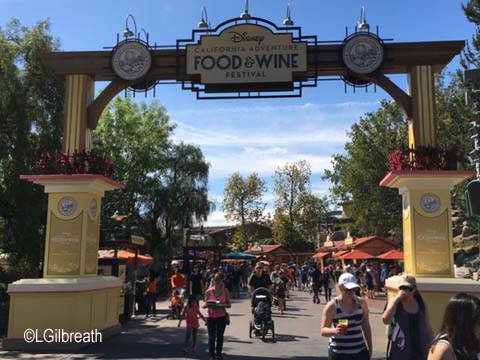 The Disney California Food and Wine Festival runs from March 10 through April 16 this year. The schedule has been expanded this year with culinary demonstrations and wine, beer, and spirits tastings scheduled daily. A number of Premium events were also added, including Sweet Sundays (my favorite) and Winemaker and Brew Master dinners. There are new Festival Marketplaces and new entertainment offerings. With all of the new events the Festival has expanded into new locations around Paradise Bay and Hollywood Land such as Paradise Park and Paradise Gardens, The Vineyard Room, and Stage 17.
Jason already posted an overview of the Food and Wine Festival from opening day. I'm going to focus on some of the other things that I experienced on my first visit to the Festival, such as Marketplace items and demonstrations and tastings.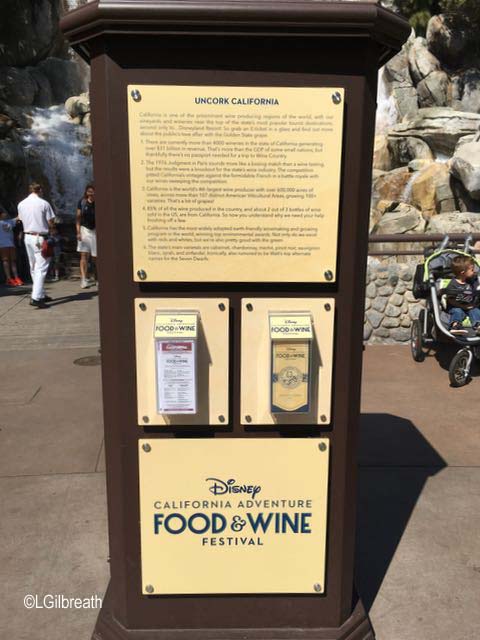 I went to the Festival on Tuesday. Disney California Adventure seemed surprisingly crowded for a weekday, but apparently it's Spring Break for some schools. Despite the crowds in the park, the lines at the Marketplaces were short. I saw much longer lines at the quick service restaurants like Award Wieners and Boardwalk Pizza & Pasta.
One of my complaints about last year's Festival, as well as the Festival of Holidays, is that I thought the food prices were too high. That really hasn't changed. Last year the most expensive food item was $8.00, and this year it's $7.75 – but there are several at that price. There are more items in the $5.50-$6.50 range this year, but desserts are all $4.25 and over, up from $3.50 at the low end last year. Returning items like the Lemon Macaron, Cheddar Cheese Soup, and Pork Belly Bao all went up $0.50.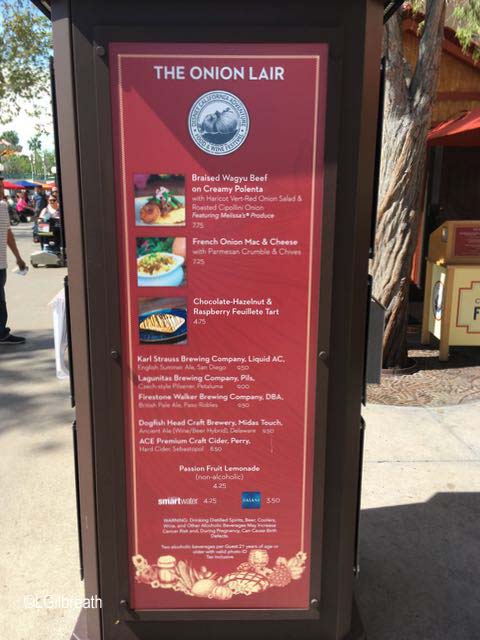 One of the things we really enjoyed about last year's Festival was the shaded arbors next to many of the food booths – and many of those returned this year as well. There were also some high tables, and a few with chairs.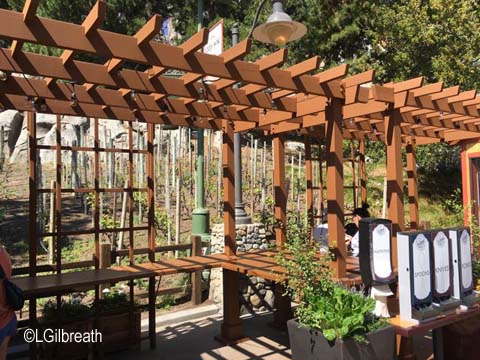 I tried a number of food items. As something a little different I'm going to assign grades to each, for Taste, Presentation, and Value. Though I'll warn you that nothing got an "A" for value. "Presentation" combines a number of factors such as creativity, interesting use of ingredients, and the way it looked. GIA denotes whether or not I would Get It Again.
From Nuts About Cheese: Baked ham and Swiss cheese croque monsieur roll with smoked pistachios. $7.00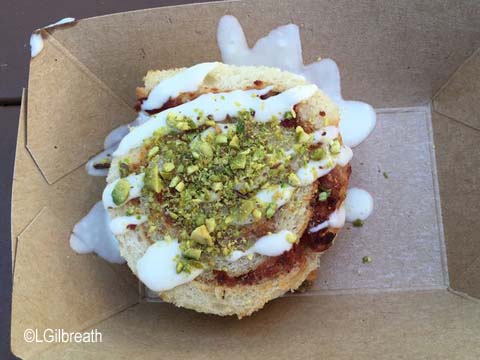 Taste: B
Presentation: A-
Value: D
GIA: No
Comments: Small serving size.
From I (Heart) Artichokes: Artichoke carbonara with garlic aioli and smoked bacon. $6.00
Taste: B
Presentation: B
Value: C
GIA: Probably not
Comments: This was surprisingly spicy (spicy hot).
From Garlic Kissed: Black garlic-soy braised pork belly bao with pickled vegetables. $7.00
Taste: A
Presentation: A-
Value: C-
GIA: Yes
Comments: Basically the same as one of last year's items – but $0.50 more this year. But it's really good – I'd eat the sauce with just the bun.
From Lemon Grove:
Roasted cauliflower and Meyer lemon-infused Dannon Oikos Greek nonfat yogurt cauliflower puree with sundried tomatoes and fried capers. $6.00
Taste: B
Presentation: A-
Value: C
GIA: Maybe
Comments: This dish was really interesting. It took them a while to prepare it because so much went on top – sundried tomatoes, fried capers, diced green onions.
Duck confit on potato smash with Meyer lemon preserves. $7.00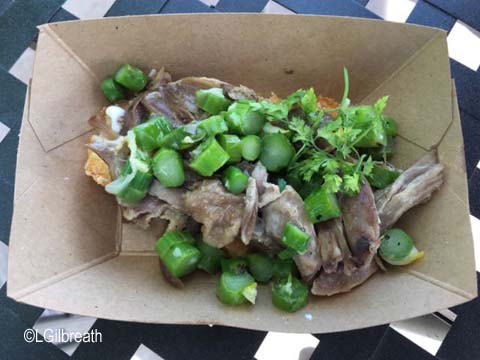 Taste: B-
Presentation: B-
Value: C-
GIA: No
Comments: The duck was a little dry. The green stuff on top – pickled asparagus, I think? – was tasty. The "smashed potatoes" were smashed tater tots.
From The Onion Lair: French onion mac and cheese topped with parmesan crumble and chives. $7.75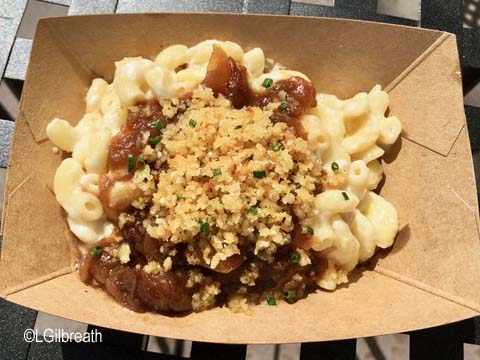 Taste: A-
Presentation: B+
Value: C+
GIA: Yes
Comments: The caramelized onions and parmesan crumble on top were delicious. It was a pretty good-sized serving, so it got a C+. 🙂
From Off the Cob: Jackfruit carnitas banh mi nachos with cilantro crema and "pickled" de gallo. $6.75
Taste: D
Presentation: A-
Value: C
GIA: No
Comments: The "carnitas" are really made of jackfruit. But that gave them a weird texture and a really odd flavor that I found very unpleasant. But they still get an A- for presentation because it was a really interesting idea, and it looked good.
From Sweet & Sourdough: Bay shrimp Louie salad served in a mini Boudin sourdough boule. $6.75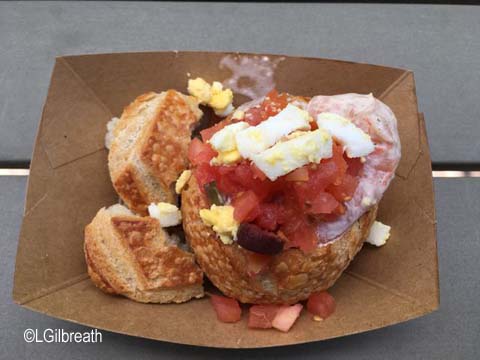 Taste: A
Presentation: A
Value: B
GIA: Yes
Comments: This had a surprising number of shrimp in it, but there was too much dressing. It was very filling because of the bread bowl.
From LA Style: Chicken Teriyaki slider with spicy Dole pineapple jam. $6.50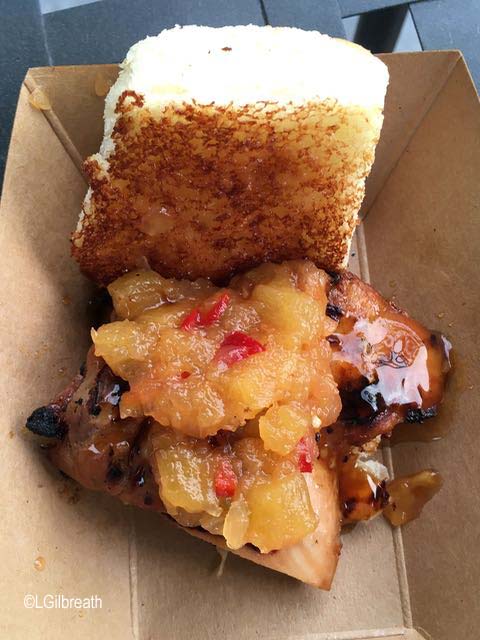 Taste: B
Presentation: B
Value: C
GIA: Probably not
Comments: It had two pieces of chicken which were cooked well. I didn't care for the pineapple jam, which had red and green peppers in it, and was too sweet.
So…more misses than hits for me. I didn't get a chance to try any of the dessert items, though to be honest most of them did not appeal to me at all.
Annual Passholders can purchase a "Sip and Savor Pass". It's $45, and has 8 tabs that can be redeemed for any food or beverage item – excluding alcohol – at the Festival Marketplaces. I did the math – you want to use it for items costing more than $5.60. That still gives you a lot of choices, though.
Each Marketplace has a different AP button that you receive when you redeem one of the tabs there. I only have five of them so far. I think it's a decent value if you plan to purchase a lot of the $6.50-$7.75 items – it actually makes them more the price that I think they actually should be. 🙂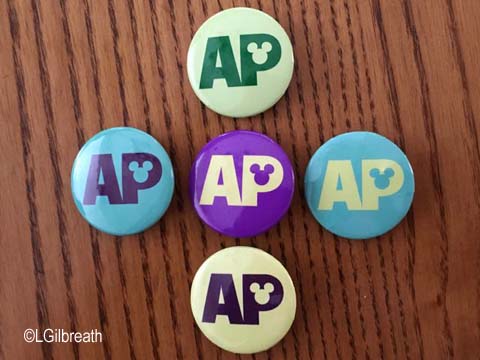 There are several ways to find out about Festival events. Everything is listed on-line at disneyland.com/foodandwine. A few different brochures are available at the park. The Food and Wine Festival Guide has a map of the Festival Marketplaces and the other event locations as well as an overview of the events. There's a weekly single page Festival Schedule which provides details on the times and topics of the Culinary Demonstrations and Wine/Beer/Spirits tasting seminars in addition to information on the Premium events like "In the Kitchen With…", Sweet Sundays, and the Winemaker/Brewmaster dinners. The regular park Times guide lists the schedule for the Festival live entertainment like bands, the Jr. Chef program, and the Jammin' Chefs.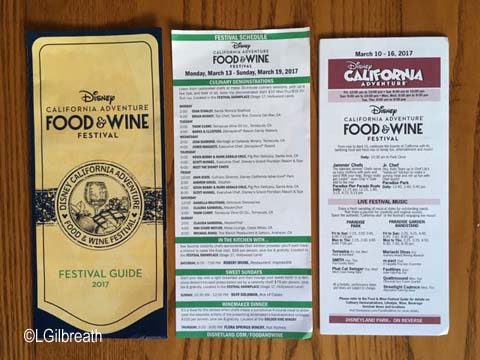 I attended one of the winetasting sessions, which I had reserved in advance. These take place in the Sonoma Terrace area, as they have at previous festivals. It's a nice outdoor patio, mostly shaded by wooden patio cover. Check-in is at the entrance, by last name. The sessions are open to those age 21 and over only, and everyone is required to show id to get a wristband.
This presentation was by MacRostie Winery in Sonoma County. Most of these presentations include three wine tastings: we had two Chardonnays and a Pinot Noir. It was an interesting talk by the winemaker.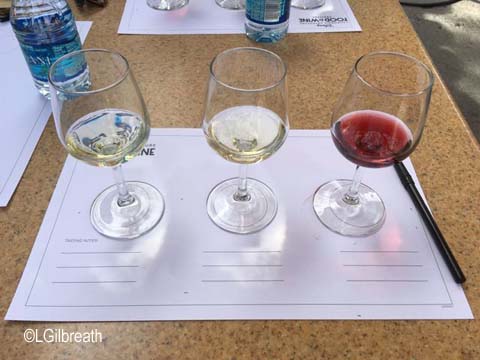 This year the culinary demonstrations and beer/spirits tastings are being held in the Festival Showplace – Stage 17 in Hollywood Land. The culinary demonstrations are a pre-paid event this year where attendees receive samples – last year they were free, but no samples were available.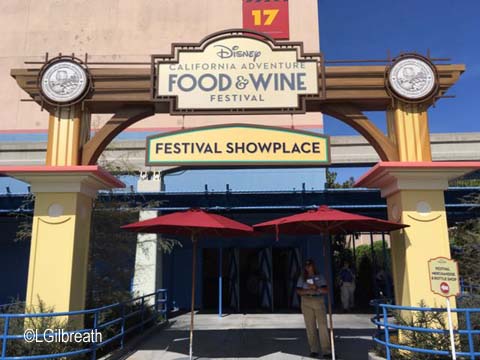 Inside there are two different seating areas – a larger one with a kitchen, and a smaller one for the beverage tastings. Check-in for events is at a table just inside the entrance. Upon checking in guests receive a paper ticket. The ticket is presented upon entering the line for the seating area.
Stage 17 is awfully dark…I prefer the outdoor locations they've had for these types of events in the past – particularly for the beverage tasting. The lighting was better over in the culinary demonstration area.
I attended a culinary demonstration by one of the Disneyland candy makers. The topic was Barks and Clusters.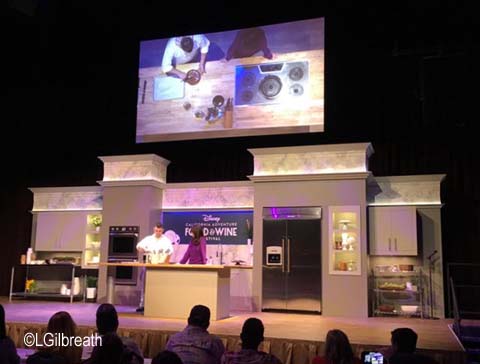 The chef made the Sangria Bark, which is one of the offerings on sale at the Wineology Marketplace, and a chocolate cluster with hazelnuts and port wine-soaked cherries. The Sangria Bark was topped with fruits that had been soaked in sangria. We received samples of both of them. It was very interesting to watch a professional temper chocolate on the fly!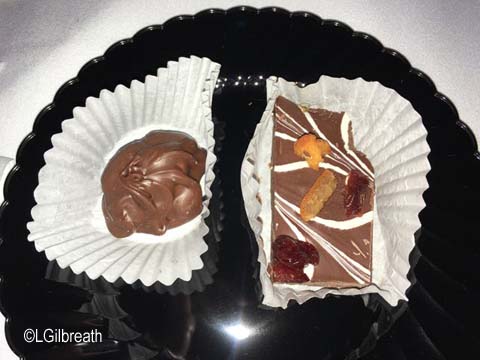 Later I attended a beverage tasting by ACE Cider. That was really very interesting, and I learned a lot about the history of hard cider! It was the drink of choice during Colonial times in America, until immigrants from Germany and Austria introduced beer brewing.
There's still availability for a lot of the wine/beer/spirit tasting sessions. They can be reserved on-line at disneyland.com/foodandwine. Monday-Thursday sessions are $15, plus tax and gratuity, and Friday-Sunday sessions are $20. Culinary demonstrations are $10 during the week and $15 on the weekend. Sessions can be reserved same day at the Festival Showplace if there is availability.
Also inside the Festival Showplace is a merchandise area – the same merchandise that is available at other locations around the park.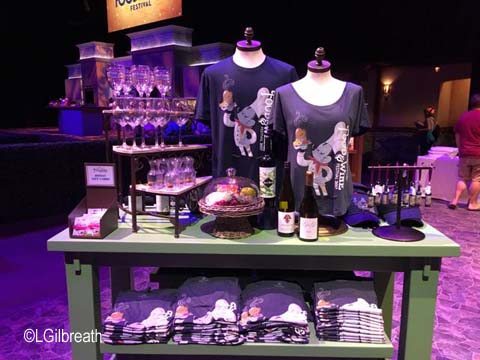 There's also a wine bar. 1 oz, 2 oz, or 5 oz pours are available of the different wines. The process is somewhat unwieldy, though – you have to go to the register to make your purchase, then take it to the bar area to get the wine. And at this point there aren't any prices posted anywhere! So be careful, because some of them are quite expensive: up to $24 for a 5 oz pour!
I didn't try it, but one of the wines that really intrigued me is called Toad Hall. Somewhat more modestly priced – $57 for a bottle, and $15 for a 5 oz glass.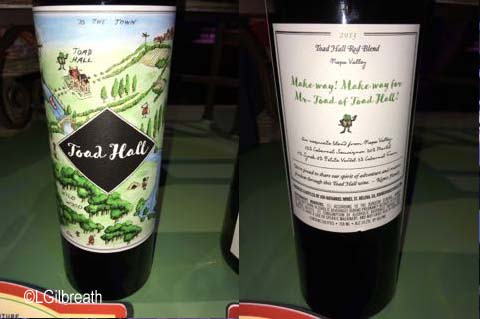 One event that was part of previous Food and Wine Festivals, and is back this year is the Junior Chef program. This is a complimentary event for kids which takes place several times a day. Kids get to help Chef Goofy make oatmeal cookies, and at the end they get a sweet treat to take with them. The sessions take place outdoors in Paradise Park (though there are umbrellas to provide a little shade). It looks like they can accommodate about 30 kids per session, and each session takes about 20 minutes.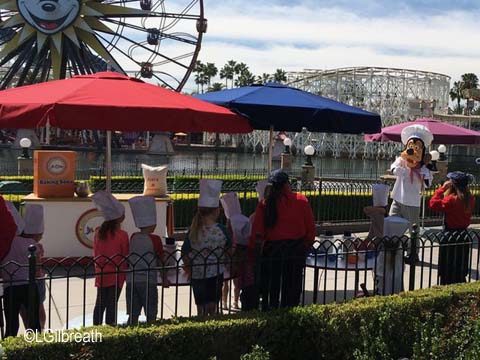 Another activity for kids (and adults) is crafts. In front of Ariel's Undersea Adventure are several craft tables where guests can color their own chef hats.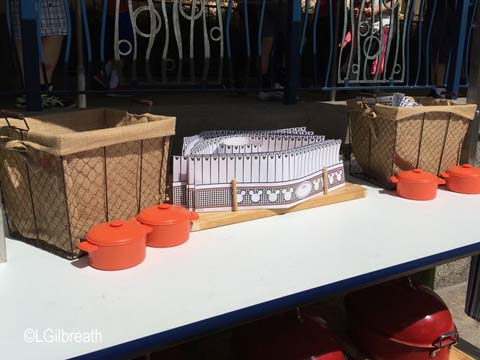 I made the most of my first Festival day, and was able to get a pretty good overview of the available events. I'm looking forward to returning a few more times during the Festival's run.