Contributing photographer Jason of disneygeek.com sends us these photos from his trip to the parks on Friday, March 10, 2017.
Let us start off with a video overview of the Star Wars / Rivers of America Construction site.

A couple pictures of the Star Wars / Rivers of America construction this week (I have many more in my full picture set on my site). The large show building continues to grow as more steel is lifted into place. Notice the new structures on the ground.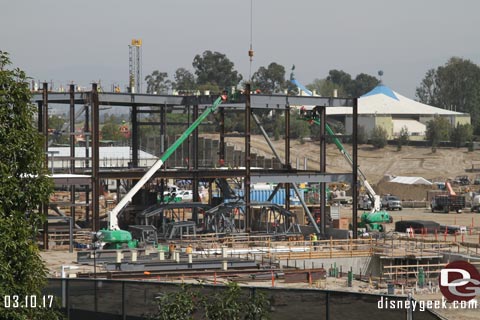 A closer look. Speculation on many sites is these are AT-AT structures.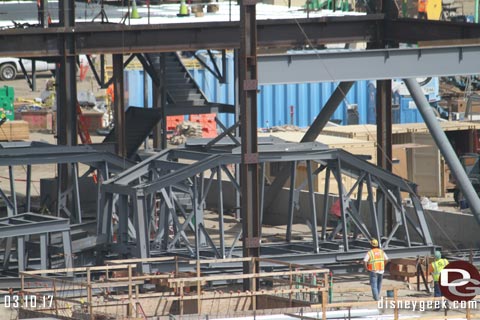 Trees have been planted on the new berm since last week.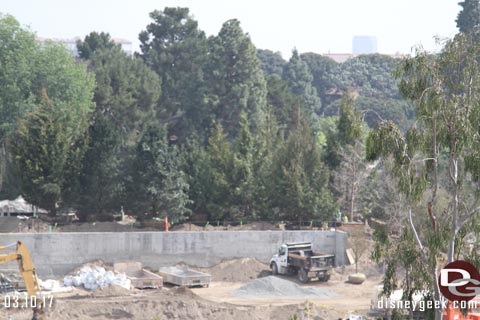 The 2017 Disney California Adventure Food & Wine Festival kicked off today and runs through April 16th.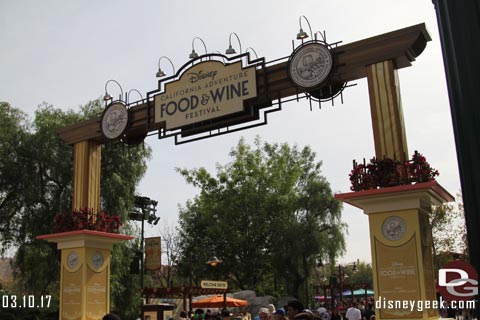 The festival followed the signage format from the Festival of Holidays.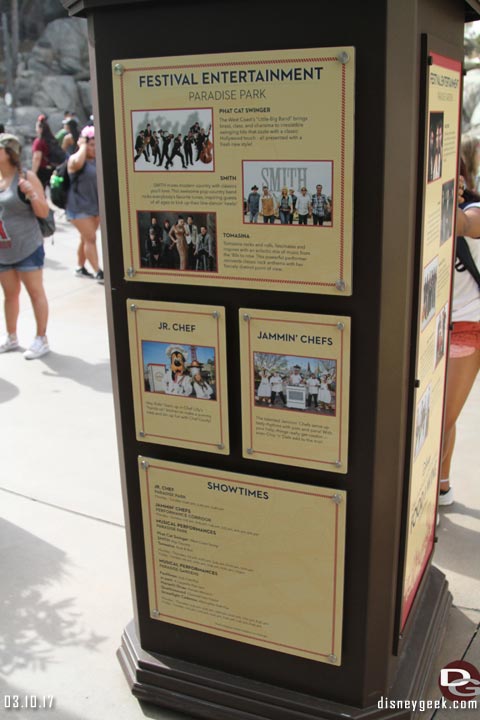 Here is a representative marketplace. Each has the main items on the top under the sign as well as with a picture on the booth. The other side of the booth has some info about the topic/theme of the booth. There is also a visual menu with prices near the queue entrance and a smaller text menu at each register.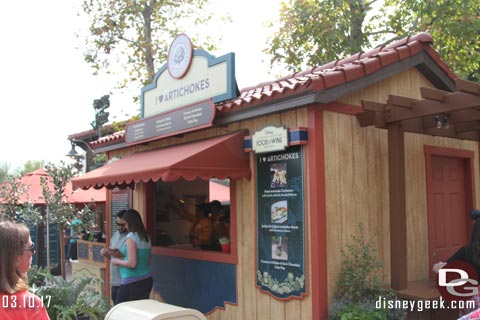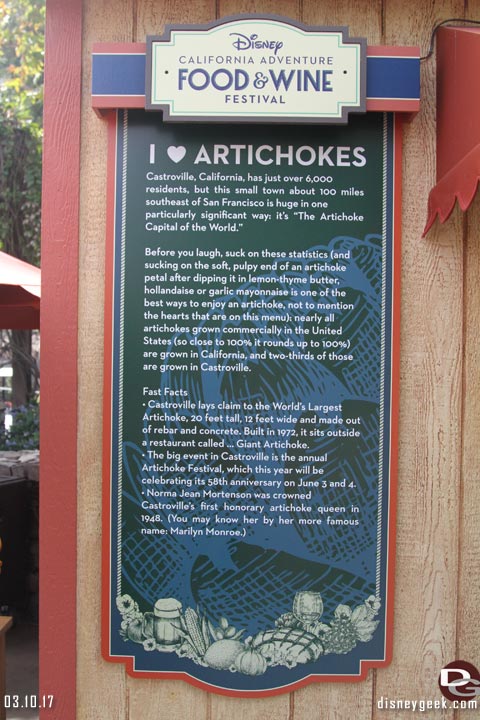 Here is the full list of menus, with prices:
Festival Marketplace Menus
A look at one of the merchandise carts.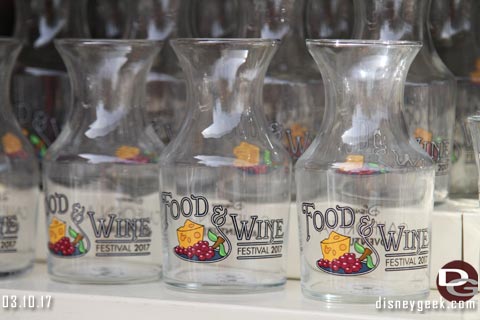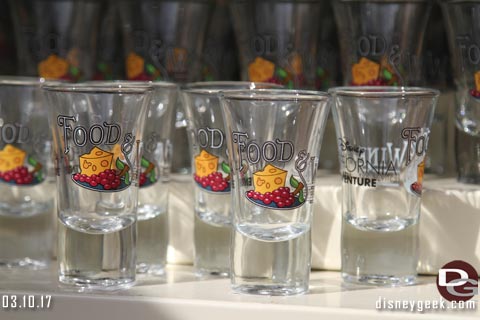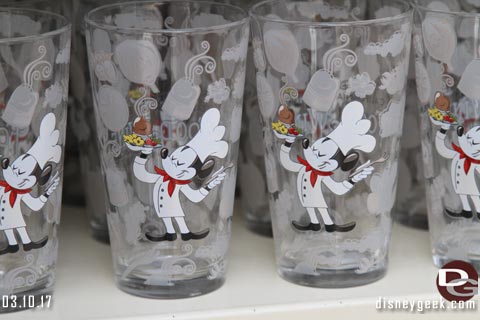 Another merchandise location in Paradise Pier.
Paradise Park features concerts five times a day. Today Tomasina was performing (you may remember them from Tomorrowland Terrace). Upcoming groups are SMITH and Phat Cat Swinger.
Paradise Park also hosts a Jr. Chef event three times a day. Cast Members are preparing for the next event.
Paradise Gardens is the Festival Beer Garden.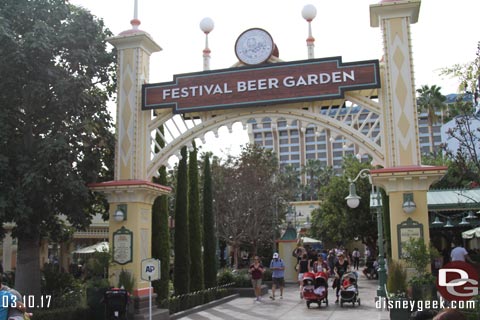 To the right when you enter is a beer sales area this year.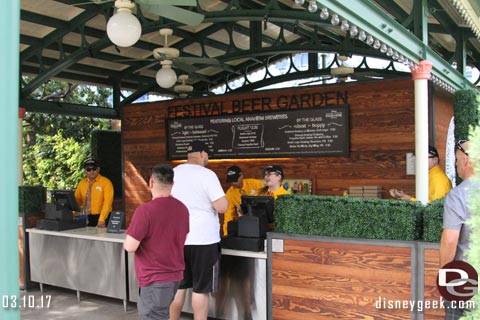 New tables in Paradise Gardens.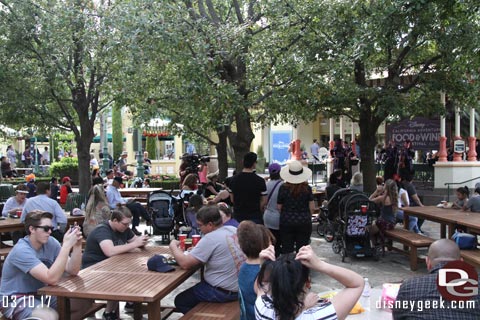 Bands perform a half dozen times a day on the Paradise Garden Bandstand. Today was the Mariachi Divas. Future groups are m-pact, Faultlines, Quattrosound, and Streetlight Cadence.
There is an AP Corner near Boardwalk Pizza & Pasta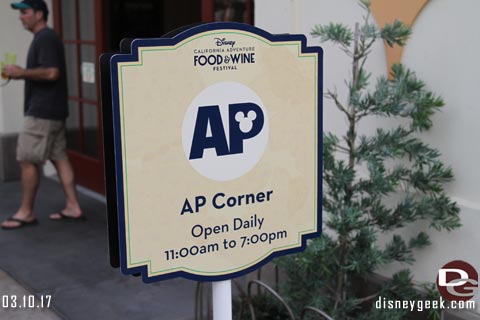 Annual Passholder buttons.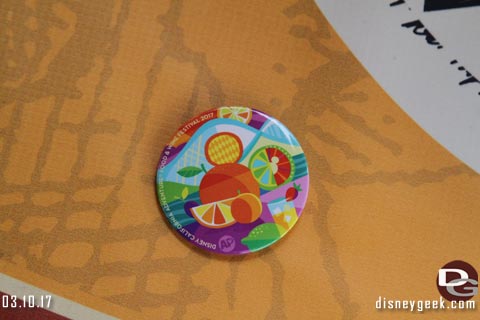 An ad for AP Items.
They also had leftover recipe cards from AP Days out.
The Garden Grill has a special menu for the event.
Not related to the Food & Wine Festival but thought I would mention that the pizza at Boardwalk Pizza has changed crusts recently.
New MaxPass poles and a digital wait time sign are installed at Toy Story now.
Walls are down on the FastPass distribution area too. Still no date announced as to when this will be operational but it seems like it should be sooner rather than later now.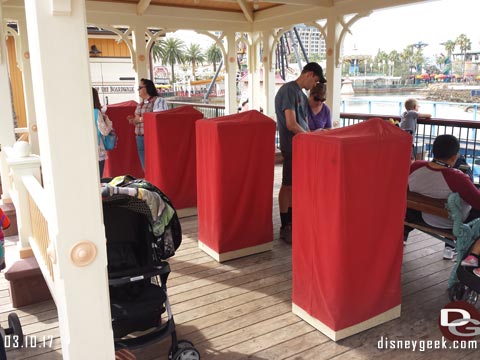 The Jr. Chef event was going on as I walked by. There was a Disney camera crew there. Between the umbrellas and the camera guy it was hard to get any decent pictures.
Goofy was the star of the show.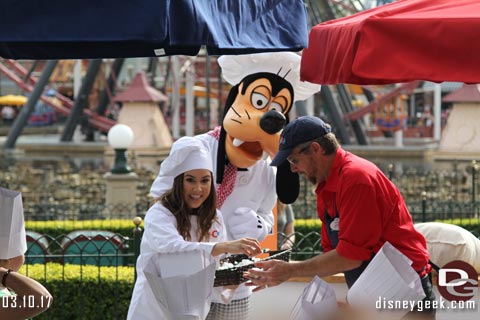 A couple video clips from the Jr. Chef show.
The Jammin' Chefs perform in Paradise Pier and feature Chip and Dale.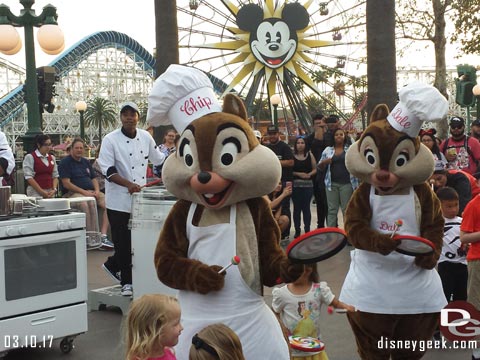 Some video clips of the Jammin' Chefs performance.
A second set of Jammin' Chefs video this time with a wider lens.
Ghirardelli was passing out chocolate bunnies today.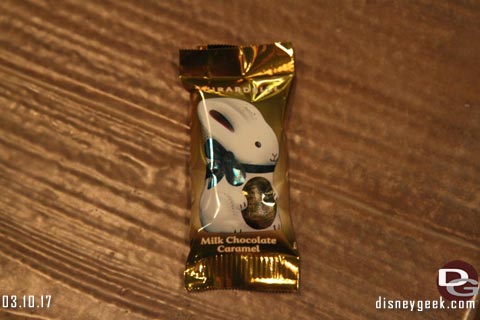 The Backlot stage is hosting Lifestyle seminars. On the stage Kris Bonner was talking about tomatoes.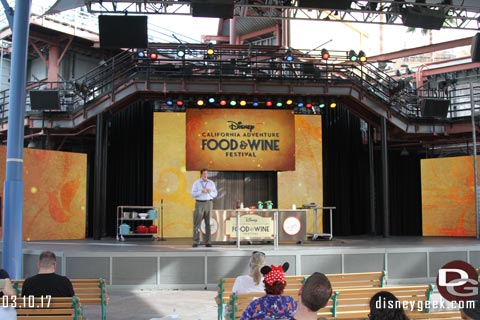 Stage 17 hosts the Festival Showcase.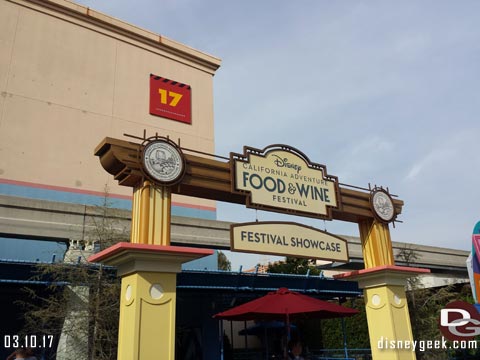 Inside the showcase is a shopping area then two presentation spaces.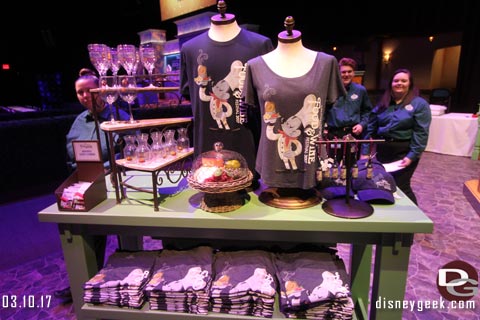 A large area for Culinary Demonstrations (there is a cost to attend these)
There is a smaller venue set up for Beer & Spirits Education & Tasting Seminars (also a fee to attend).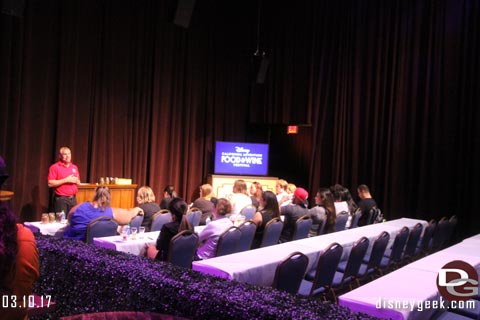 Spring flowers were in bloom in Paradise Park.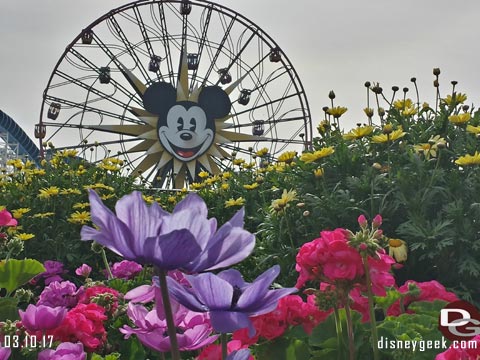 A large crane is onsite and parked behind walls onstage. It is holding a banner when not in use.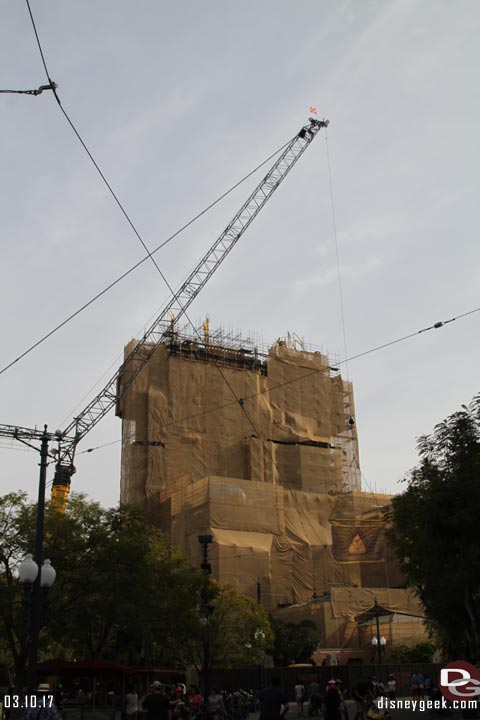 Moving over to Disneyland and looking at the new trees that partially obstruct the parking structure now.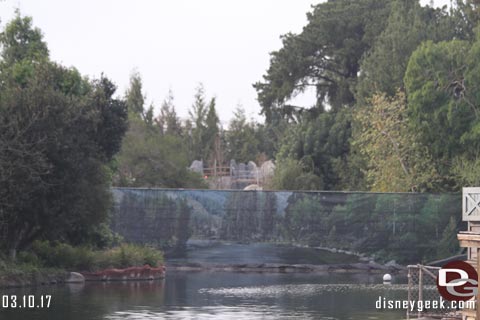 From Critter Country a look at the current state of the Rivers of America as it races toward a summer reopening.
Mickey, Minnie, and Pluto were working the crowd line. They were high fouring (fiving) guests and waving.
Clsoed out my evening with Remember Dreams Come True.
Hope you enjoyed this highlight tour of the Disneyland Resort. For additional photos and details from this trip you can check out the full Disneyland Update I posted on my site, https://disneygeek.com Also be sure to follow me on twitter @disneygeekcom for pictures from the parks.