Great news: Captain Ron is making his return to the Epcot International Flower and Garden Festival! Captain Ron is a dog who is a member of Disney's sea turtle conservation team trained to sniff out sea turtle nests along the beach at Disney's Vero Beach Resort so that scientists can mark the nests to protect them.
Guests can see a short presentation and then meet Captain Ron several times each day on March 31, April 1 and April 2 at the festival center. My now-12-year-old daughter met Captain Ron last year and thoroughly enjoyed the experience.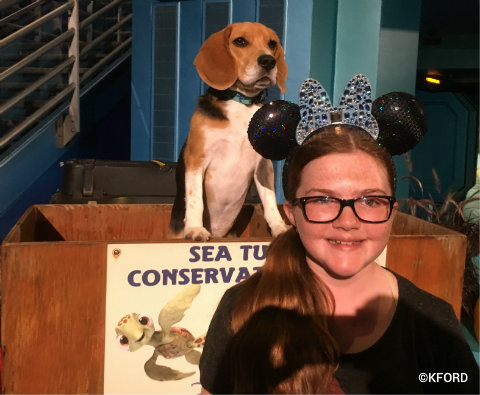 "The strip of coast is one of the largest sections on Earth for green sea turtles to lay their eggs," said Kyle Huetter, education manager of Animals, Science and Environment at Walt Disney Parks and Resorts.
This special dog and his trainer, Pepe Peruvero, can be seen helping the sea turtle conservation team patrol the beach at Disney's Vero Beach Resort on Tuesday, Wednesday and Thursday mornings from late June through the end of August. Captain Ron, a 3-year-old pocket beagle, joined the team in 2015.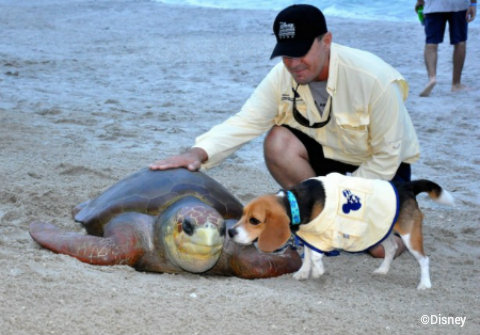 "Dogs have amazing noses, and Disney is the first organization to use them for sea turtle conservation. A good nose, like Captain Ron's, can cut egg-finding times from 30 minutes to about 30 seconds," said Dr. Anne Savage, conservation director of Animals, Science and Environment at Walt Disney Parks and Resorts.
"He is trained to locate a specific scent that is attributed to newly laid eggs, as eggs smell different throughout their time on the beach. Captain Ron is being trained to provide an alert when he sniffs sea turtle egg mucus. This will allow the team to better survey the beach for nests and protect them from common threats — foot traffic, construction activity, and even predators."
So how did Peruyero train a dog for such a unique task?
"I selected him out of a litter that I monitored for several weeks," he said. "The name Captain Ron was actually selected before I even picked the dog — it's a very funny movie that I have enjoyed in the past with a character that is very similar to my dog's personality. In the movie, the character's personality, and sort of offbeat exterior, is only a cover for a more sensitive, internal personality. The captain in the movie is also a problem solver. These are all characteristics that my Captain Ron has.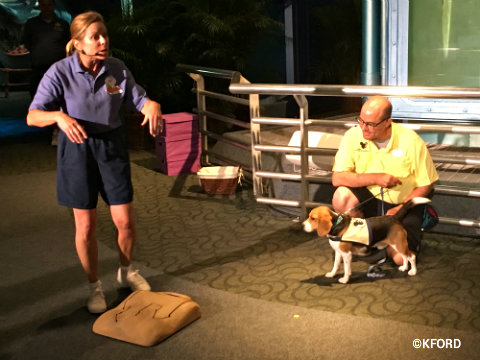 "Captain Ron's training is based on a toy-reward system. He has associated the odor of sea turtle egg mucus with the response of the toy. Most dogs take several weeks to learn and are older and take much longer to master the discipline. Captain Ron was a bit of an anomaly — it took him less than 30 minutes to imprint on the odor and approximately 4 to 5 days to begin to respond in an acceptable fashion that we could transfer out into the field.
"During the off-season we have frozen samples that are collected by the research group that allow us to train and keep him on track," Peruyero said. "We also have an artificial beach which we have created at our facility which is approximately 30 yards around and has beach sand mixed with salt water and it also has shells, seaweeds and other distractors. This is the area that we use to train since we are well over 100 miles from the nearest beach."
"Captain Ron's job as a sea turtle and detection expert is seasonal, therefore there's a lot of off-season time that he is just my buddy and pet. Most days he just hangs out with me at work and helps me train some other dogs. He has a tremendous personality, very even-tempered. This is something Captain Ron has naturally."
Captain Ron and Peruyero will be in the Festival Center at the Fresh Epcot Stage at noon and 3 p.m. March 31 through April 2. The presentations will last about 20 minutes and then guests can meet Captain Ron for a photo and talk with Peruyero.
"Beyond Captain Ron's abilities, if we can help make a connection to him because people love dogs, and they can see what he's doing to help sea turtles, then we can inspire more people to care about the environment and how we can all help to make a difference," Savage said.
To increase the public's awareness about the plight of sea turtles, the U.S. Fish and Wildlife Service and the Florida Fish and Wildlife Conservation Commission allow a few trained and approved groups to conduct nighttime turtle walks along certain beaches in Brevard County. The walks take place in June and July, and registration usually takes place in May. My family and I did one of the turtle walks several summers ago, and we were fortunate to see a sea turtle come ashore and nest. You can read about our experience here.